The Schiit SOL Turntable Page 2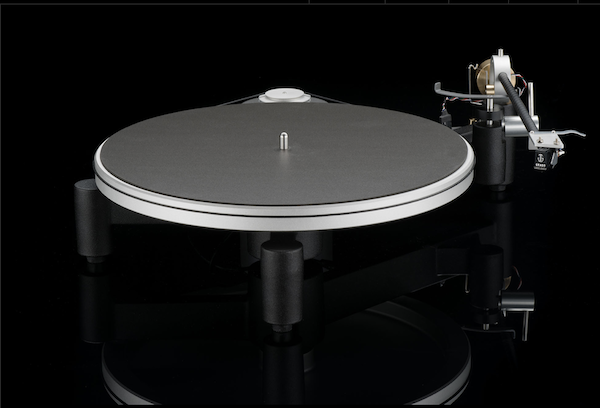 I'm not going to go into how each of the set-up parameters get adjusted. They are well described in the instruction booklet.
Place the motor behind the turntable sufficiently back to produce adequate belt tension and if you have a strobe disc, use it to help you locate the best motor placement. Distance from the platter slightly affects speed.
Use
Once set up, using the SOL is straightforward though the placement of the "on/off" switch is less than convenient (but I know why it's where it is: saves $) and of course those unused to unipivot's "floppy" behavior will at first be put off but don't worry! Once the stylus has stopped its wobble it will be well-behaved and you'll hear rock solid and stable imaging and soundstaging.
After a few days of letting the motor constantly run I used the Platterspeed app to check speed accuracy and consistency. Here's what I found: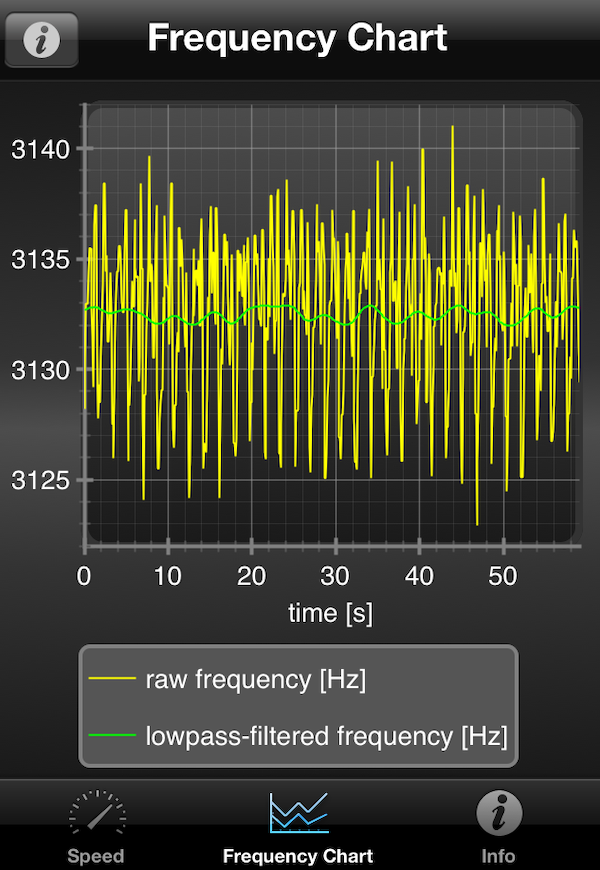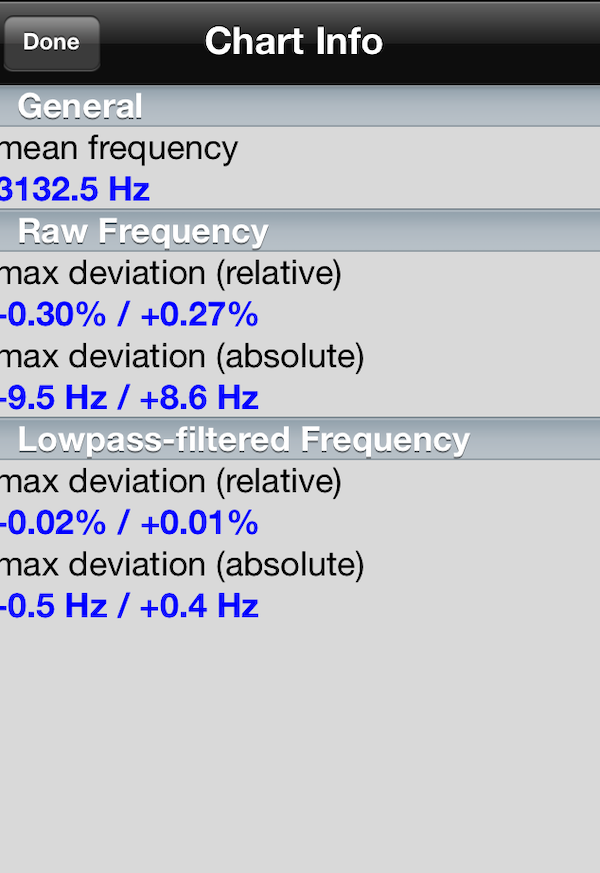 As you can easily see, the 3150Hz tone gets reproduced slow— around 3132Hz and the filtered green line though not "flat" is reasonably consistent and typical of decent belt drive performance. Other than the speed being considerably slow (3150Hz reproduced as 3132.5Hz) the chart numbers are reasonably well balanced. The slow speed did bother me though, but in my opinion better slow than fast.
Enter Music Hall's Cruise Control 2.0
A reader who knew I was about to review the SOL turntable emailed to say he'd bought one and his ran slow—about the same speed as mine. He recommended Music Hall's Cruise Control 2.0, an outboard box that can control either a 120V A.C. synchronous motor or a 16V A.C. motor like the one Schiit uses. I asked Music Hall for a review loaner and once installed (you run the belt of the 45rpm pulley) I was able to achieve 3150Hz. The Controller's digital read out lets you know the frequency needed to achieve the correct speed. Its quartz oscillator is claimed to have speed stability of 0.0001% and its pitch control offers 20 steps in 01rpm increments. At the push of a button the controller also switches between 33 1/3 and 45rpm. Here's what the Platter app looked like with the controller in the line: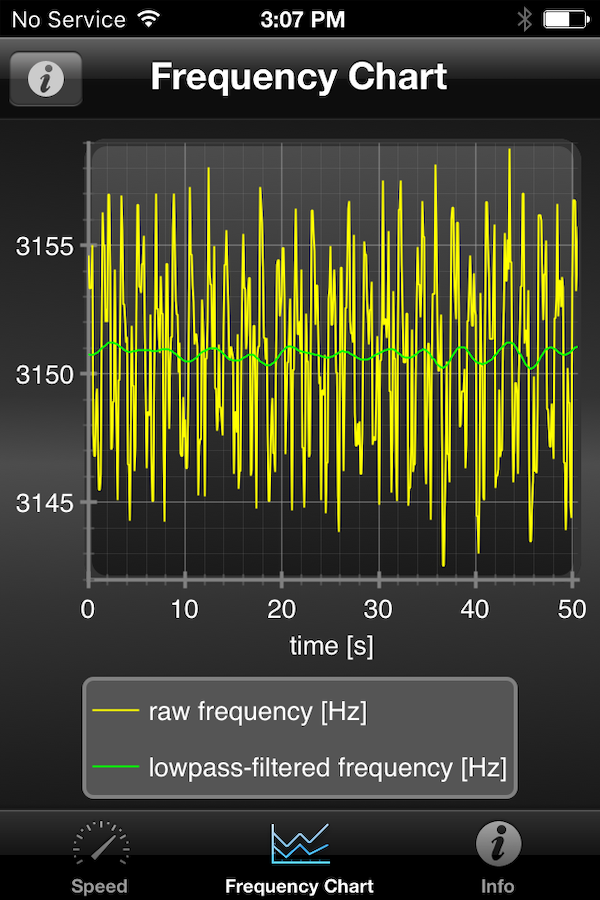 The speed was correct now (with the digital readout saying 33.6) though the speed consistency was about the same. Should you buy a SOL and it runs equally slow, whether or not the Cruise Controller 2.0 is worth $338.71 is of course your call.
Warm SOL Sound
Using either supplied cartridge the immediate reaction playing familiar recordings was "rich, warm and full on bottom, maybe "thick" but definitely not "resonancy-y" as in the bass notes are hanging around too long. They were as solid and rhythmically well defined as you could possibly ask for from any turntable costing less than a few thousand dollars., never mind $800 with cartridge.
Above the bottom octaves was all sweetness and light, precision and smoothness with, despite the "floppy" nature of an unrestricted unipivot, rock solid imaging and (if you correctly set azimuth) a wide open and deep soundstage when the recording offers that.
I played all four sides of the recently released male vocal showcase album The Wonderful Sounds of Male Vocals (APP 131) mastered by Ryan K. Smith at Sterling Sound using DSD files (the only way to produce such a compilation). As with the female vocals set, I wrote the annotation. In order to do that I played these tracks repeatedly for weeks, especially getting to know the unfamiliar ones so I could organize the running order. I didn't choose the tunes, just the order.
Without exception, the Audio-Technica cartridge produced that full thick bottom end through either the new budget priced iFi Audio Zen phono preamp ($149) or the more costly ($995) Channel Islands PEQ-1 MKII.
As did the Grado Opus3 on every record. I know both of these cartridges and of course I know these records, so I first decided to remove the thick cork mat and replace it with a Funk Firm Achromat. HUGE IMPROVEMENT with either cartridge. Though it's somewhat dependent upon the size of your speakers and the general sound of your system, I strongly recommend replacing the supplied cork mat!
With the Achromat in place (I used the $130 5mm thick one to better match the height of the cork mat) bass greatly tightened, but more importantly became less of a "thickening agent" that interfered with everything else. Baritone Greg Brown's searing "Brand New '64 Dodge" went from overwhelmed on bottom both on his voice and the drums, to being properly "grounded" on bottom, with deep, full and well controlled bass you simply do not get with most similarly priced turntables (and I'm listening on the new Wilson Audio Specialties XVX speakers that produce astonishingly great bass).
The same was true of the kick drum on Roy Orbison's atmospheric "Blue Bayou" and Elvis Presley's "Fever".
The A-T is a fine starter cartridge but if you can spend the extra few bucks for the Grado, you'll be rewarded with more top to bottom timbral and imaging solidity, a richer midband balance and greater transient precision on top. Well worth the difference especially if you are not comfortable doing cartridge set up.
I also played Lang Lang's superbly recorded Goldberg Variations (DGG 481 9736) with both mats. The Achromat was transformative, unclogging the bass clarifying the midrange and allowing the top end to sing, thus producing a timbrally believable piano in my room, or more accurately transporting me to the Berliner Studio space that I've been in more than a few times.
I also tried an IsoAcoustics ZaZen 1 isolation platform ($199) designed for 25 pound and under turntables and electronics. However, the turntable was already sitting on an $8000 Stillpoints ESS rack, so not surprisingly it had little effect on the sound. That said, if your stand is "meh" consider an upgrade like this one under any unsuspended turntable.
Conclusion
I spent a great deal of time listening to, playing with and "tweaking" the Schiit SOL turntable (I think Schiit can produce a few good "tweaks" too, like, perhaps a silicon damping reservoir and paddle designed to fit under the ring). It is a fascinating design, incorporating many good, fundamentally sound ideas priced to bring vinyl lovers on a budget, both tech and sound quality otherwise out of their reach, but (and it's a zoftig butt) getting the most out of the SOL requires more than a casual set up, though even then you'll get pretty good sonic performance. However, it would be a shame to buy one and not pursue the sonic excellence it is capable of providing, starting with as good a medium to high compliance MM or MI cartridge you can possibly afford.
So, please consider getting the necessary tools to properly adjust the iconoclastic, versatile arm including in addition to an accurate VTF gauge, a Fozgometer to set azimuth and if you can at least borrow one, a microscope to set SRA. Oh, and remember to set overhang using the paper alignment tool's arc before aligning to the grid.
Also at the very least, please, if you find the SOL's sound in your system somewhat "thick", consider replacing the thick cork "Mr. Softee" mat (cork works well on lesser 'tables IMO) with an Achromat or other harder surface mat used in conjunction with an inexpensive Record Doctor clamp ($30), and if yours runs slow or fast, consider adding the Music Hall Cruise Controller 2.0. if your turntable sits on a less than idea platform, be sure to level it and consider an isolation device such as the Isoacoustics Zazen 1.

I will now make clear why I suggest all of these things: the final cartridge I auditioned on the SOL was a vintage Grace F9 MM cartridge that I've had for years with no stylus to use. Soundsmith began producing super high quality styli in various configurations for this legendary cartridge. I got the laser mounted to a Sapphire Cantilever CL Nude stylus "Ruby" $399 option (there's one more costly) and I set up the F9 carefully to get the most from it.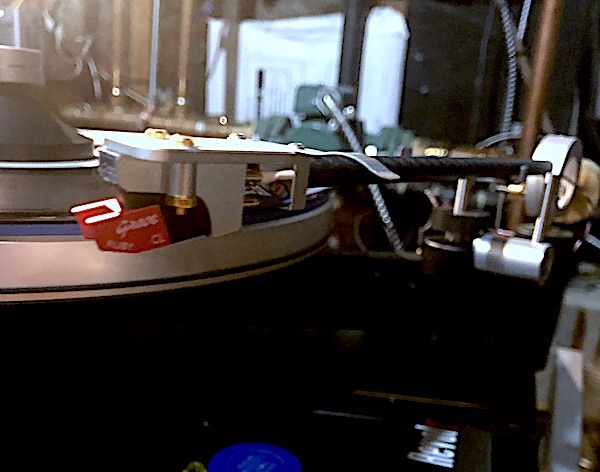 So, here's what the F9 sounds like tracking at 1.2 grams in the Schiit Sol turntable (I hope the copyright police don't take down this file) using the Channel Islands PEQ-1 MKII (with optional $299 power supply). Are you Schiiting me? (Okay, one Schiit joke).
<!- ------------------------------------>