Exemplary New Abbey Road Studios Half-Speed-Mastered 180g 1LP Of The Who Sell Out Delivers a Rich, Warm & Round Listening Experience
An excellent new, 180g half-speed-mastered vinyl reissue of The Who's December 1967 classic third studio album
The Who Sell Out
has recently been released by Polydor/UMC, and the results are quite impressive. If you are a
serious
fan of this record — it is my own No. 2 favorite Who album, right after October 1973's
Quadrophenia
— there is enough significant new detail resonating in this new edition to make it worth your while to pick up,
even
if you have the most recent remaster, which came out just last year in April 2021 in a 2LP deluxe edition set (the second disc contains 12 bonus tracks). The lacquers for this new Abbey Road Studios edition were cut by acclaimed engineer Miles Showell with updated mastering from the original tapes handled with care specifically for this vinyl edition by The Who's longtime engineer/producer, Jon Astley, and the LPs were pressed in Germany.
The first thing that struck me with this reissue was how rich, warm, and surprisingly round the album sounded — many a half-speed master I've heard seem to enable additional brightness (which can be great, in some instances). This one does offer brightness for sure — but it is in the right places, striking an appealing balance to showcase deep instrument and heady amplifier tones, yet not losing the sense this was a record made in 1967. At times, a sort of three-dimensional presence of the studio where the recordings were made is apparent.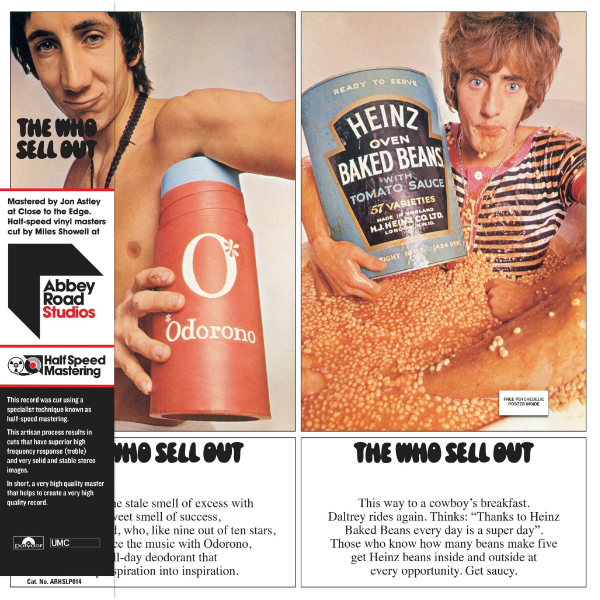 The above-noted 2021 180g 2LP expanded edition of The Who Sell Out quickly became my favorite version, easily outshining my original U.S. stereo pressing and taking a happy place in my collection alongside my Classic Records 200g mono edition. Unfortunately, I have never owned an original UK pressing, as they're very hard to find and quite expensive if you do come across one in the stores or online. But this new edition outshines even the 2021 edition, and I suspect it would fare well alongside an original UK copy, if I ever find one.
I reached out directly to reissue producer Jon Astley of Close To The Edge Mastering for insights on why this new edition might be sounding so inviting to my ear. His answer, which follows in italics, indicates that thoughtful handling of the original tape remastering — coupled with intimate knowledge of how the physical disc-cutting lathe process works — was crucial for preparing the recording for the half-speed vinyl mastering.
Jon Astley:The main difference when mastering for vinyl is to make sure you're not adding a lot of digital processing. Especially limiting, as that seems to cause confusion with the lathe. And of course, [it is] far better to control essing during the mastering than have the automatic de-esser working on the lathe which happily takes out the top-end off everything. If you do it during the mastering you can just use it in the small sections that need it.
Astley's careful remastering work, in tandem with Miles Showell's half-speed disc mastering/cutting process at Abbey Road Studios, seems to be a winning combination.
Ultimately, the decision as to whether you need another copy of this classic album in its new half-speed-remastered form really comes down to a) how "into" this Who music you are, b) how much you care about hearing the full depth of what was actually recorded by the band back in the day, and c) if you're willing to fork over the $38.99 list price. (These are answers only you can provide.)
For me, the instruments, vocals, and amplifier tones — and the woodiness of certain guitars — coming through my speakers make this edition of The Who Sell Out worth the price of admission alone. It is near-revelatory to more clearly hear the intricate multitrack overdubs and edits, super detail work that makes this version all the more essential in my mind (speaking here as pretty much a lifelong Who fanatic). [I concur!—MM]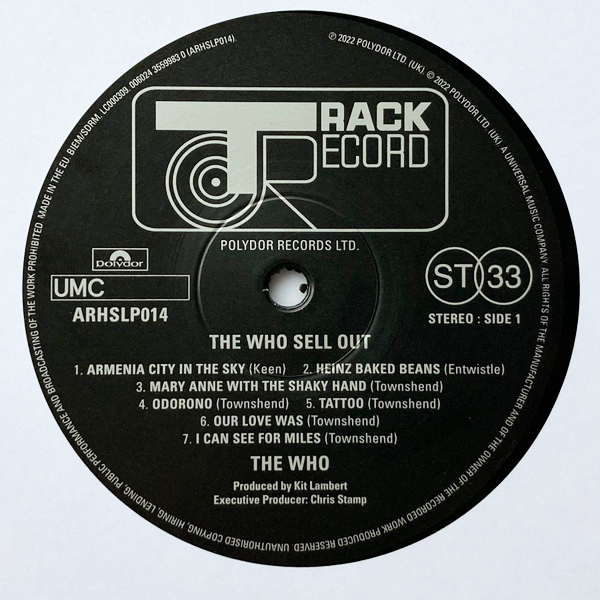 The 180g black vinyl on this new half-speed-mastered edition of The Who Sell Out is thick, dark, and well-centered. The latter point is especially important, as it is very easy for an album like this to sound awful if the pressing wavers in an out of tune. I have owned off-center copies of this album in the past, so believe me when I say songs like "Tattoo" — with its long-held harmonies, and such — sound really bad on an off-center disc. Thankfully, this new edition is not one of those cases.
I've never heard the acoustic guitars on "Mary Anne With The Shaky Hand" sound quite so rich, round, and clear— and the faux flamenco guitar middle section rings through truer than ever.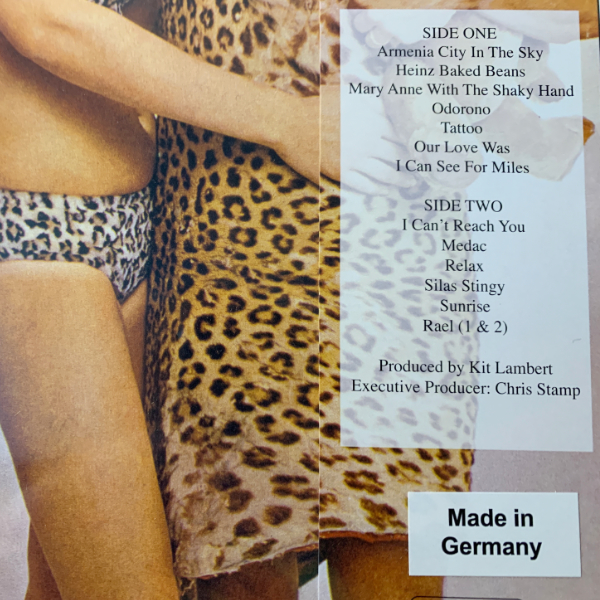 For those not in the know, The Who Sell Out is a concept album in the form of a quasi-radio show, and all the voiceovers on the mock commercials are especially realistic-sounding. At times, it feels almost as if different personalities were stepping up to the announcer's microphone on an old-time radio show while the orchestra plays in the background. For example, drummer Keith Moon's mad voicing on the "Charles Atlas" commercial just before "I Can't Reach You" at the start of Side 2 feels huge!
The lead guitar riff on "Odorono" is stunning, as you can hear Pete Townshend's amp responding to his heavier picking in contrast to the guitarist's more sensitive, signature single-string riff-plucking. His vocals here sound remarkably full-bodied.
Moon's pings and tings on the bell of his cymbal on the opening to "Tattoo" are striking, as is (again) Pete's acoustic guitar. And Moon's little bell-like textures on "Our Love Was" simply sparkle in this new edition.
This version of "Sunrise" is the best I've heard to date. Townshend's double-tracked guitars here now sound much more distinct. Overall, the instrument presence — such as the tambourine on the Side 2 opener "I Can't Reach You" — is more realistic, giving the listener more of that "you are there" sensation.
The opening to the Side 1-ending "I Can See for Miles" rocks madly. I've honestly never heard this song deliver quite this sort of punch before. Townshend's overdriven amp and lead guitar sound positively ripping! There is pretty incredible drum separation on this new edition — listen for that amazing, shotgun-like reverb on the proto-Tommy "Sparks"-like section of "Rael" at the end of Side 2. (Speaking of May 1969's Tommy, I will be delving into the new half-speed-mastered version of that perennially classic Who album in the weeks ahead, so stay tuned.)
I could keep going with further examples, but I think you are getting the sense by now this new half-speed-mastered vinyl edition of The Who Sell Out is a clear winner. If you are a Who fan who likes listening on black discs spinning at 33 & 1/3 rpm in the best possible fidelity, this half-speed master should be on your shopping list.
(Mark Smotroff is an avid vinyl collector who has also worked in marketing communications for decades. He has reviewed music for AudiophileReview.com, among others, and you can see more of his impressive C.V. at LinkedIn.)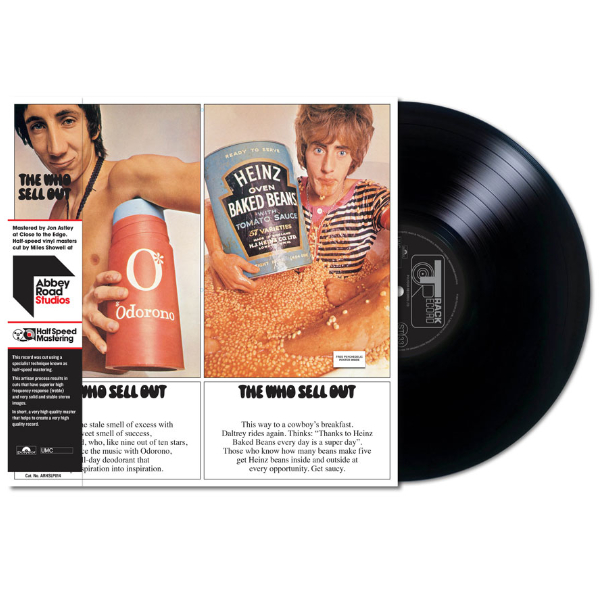 THE WHO
THE WHO SELL OUT
180g 1LP (Polydor/UMC)
SIDE 1
1. Armenia City In The Sky
2. Heinz Baked Beans
3. Mary Anne With The Shaky Hand
4. Odorono
5. Tattoo
6. Our Love Was
7. I Can See For Miles
SIDE 2
1. I Can't Reach You
2. Medac
3. Relax
4. Silas Stingy
5. Sunrise
6. Rael (1 And 2)
<!- ------------------------------------>