Pioneering Saxophonist Benny Carter's 1958 Jazz Giant Album Walks Tall on All-Analog 180g Bernie Grundman-Remastered LP From Craft Recordings
In the annals of jazz history, one artist who often gets overlooked was one of the early architects of the saxophone sound — and of jazz music itself, for that matter — dating back to the 1920s when he was arranging for Fletcher Henderson. Aficionados certainly know Benny Carter's name, but for a younger generation of music enthusiasts — or simply those new to exploring jazz — he often seems to get passed over.
Benny Carter had an incredible, long career — he lived until the ripe age of 95, and was still performing on stage until quite late in his life. He also won three Grammy Awards and received nine Grammy nominations in total along the way.
But now, a new reissue of a 1958 classic Carter album — called simply Jazz Giant — will hopefully go a long way to turn on a new generation of listeners to Benny's music. I am hopeful this new Jazz Giant reissue, from the good folks at Craft Recordings, may help shine more light on Benny Carter the artist. Actually, not just on Carter, but also on essential innovators like Lester Young, Coleman Hawkins, and Ben Webster, all of whom are at risk of being forgotten while later stylists like John Coltrane, Stan Getz, and Charlie Parker retain much of the "legend limelight" when it comes to jazz saxophone playing — not to mention living legends like Wayne Shorter and Sonny Rollins.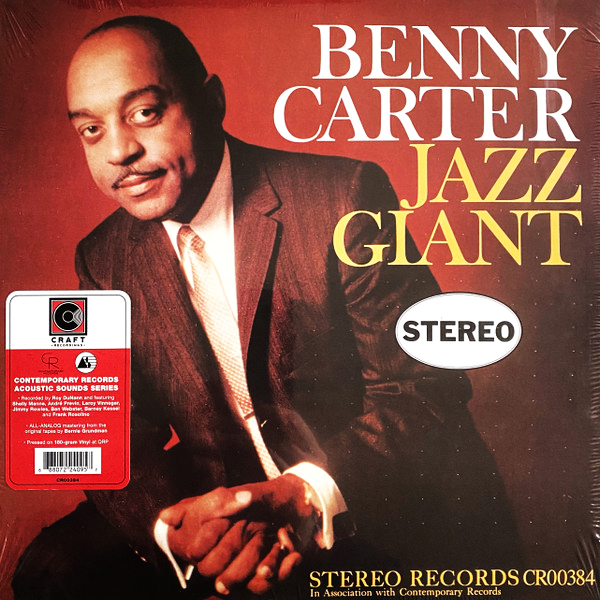 First, the stats: the 180g 1LP Craft Recordings release of Jazz Giant is an all-analog remaster by Bernie Grundman (the original album was recorded by Roy DuNann), it was pressed at QRP, is presented in Stoughton old-style tip-on jacket, and its SRP is $29.99.
Jazz Giant is an apropos title, when you stop to think about who is on this fine, fine album. From Craft Recording's site, we learn, "Released as part of the Acoustic Sounds Series celebrating 70 years of Contemporary Records, saxophonist Benny Carter's Jazz Giant album features performances by André Previn, Shelly Manne, Barney Kessel and Ben Webster amongst others."
Stop to think that you have not one but two of jazz's finest saxophone players backed by some of the then-hottest West Coast players here, as recorded by one of the finest audio engineers of his time. People talk breathlessly about Rudy Van Gelder's productions for Blue Note and Prestige Records, but I find Roy DuNann's work far more consistent, balanced, and — perhaps of more importance to we audiophiles — generally more high fidelity in nature.
If you are looking for demo-worthy albums, many of the releases on Contemporary Records are ideal for just that purpose. And Jazz Giant is a great session that puts bits of bop and big-band swingin' through the West Coast chill jazz combo blender, and the results are super-appealing and pretty timeless. This music retains a freshness and sounds like it could have been recorded both yesterday — or 60 years ago.
Contemporary Records was a great independent label, and by 1958, they were embracing the new stereophonic recording format with forward-leaning gusto. Well, maybe with too much gusto! Initially, they marketed their stereo releases in a somewhat confusing manner by creating an entirely distinct and separate brand called "Stereo Records." This moniker was short-lived, as I suspect they realized they couldn't "own" the overall notion of "stereo" in general — a recording and playback format that would soon be issued by most every label and would eventually supplant monaural releases within 10 years.
Anyhow, Jazz Giant is indeed a great album, but finding clean original pressings is not easy, something that makes this new reissue all the more welcome. As far as I can tell, this is the first reissue of the stereo mix since the 1990s edition from Analogue Productions, and, before that, the fine and affordably priced 1980s "Original Jazz Classics" series version.
What are the challenges of finding clean original 1958-era copies of Jazz Giant in stereo? Well, if Discogs is any indicator, at the time of this posting, there seems to be exactly one copy in the U.S. presently listed there, while just one copy is currently available on eBay as well (selling from the UK). That said, there were some copies sold on Popsike in 2021 and 2019.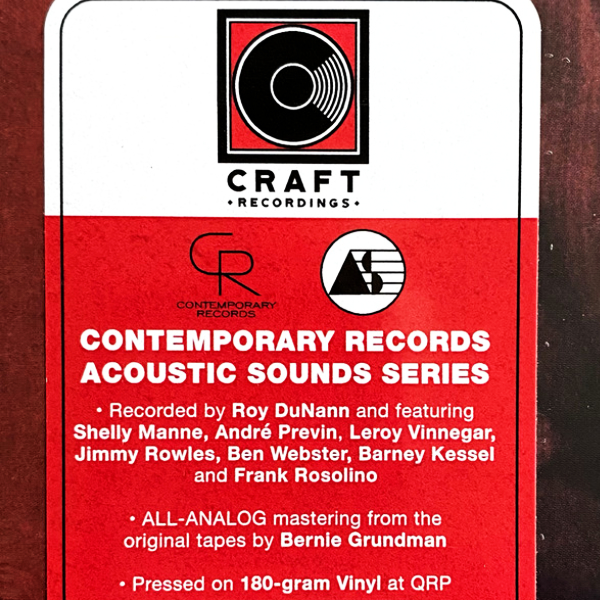 Point is, Jazz Giant is not that common a record to find in its original form out in the wilds of collecting, so a high-quality reissue was long warranted. I myself didn't find a decent copy until a year or so ago, so this new 180g 1LP Craft Recordings reissue is both overdue and welcome.
True to form, Craft Recordings has done an exemplary job of remastering this music from original tape sources in an all-analog process overseen by the aforementioned great audio engineer Bernie Grundman. Together, they've done the right thing by delivering a recording true to the original that also offers wider dynamic range and a better sense of the studio in which it was recorded, better than even the 1958 pressings. This music may be vintage — I prefer terms like "classic" or "timeless" — but these more modern pressings are designed to take advantage of the capabilities of today's sophisticated audiophile turntables and cartridges.
Interestingly, when I switched between my original pressing and the new one, I discovered the volume levels were quite a bit lower. But this was not entirely surprising, and as I turned up the volume a bit, the recording began to push sweet jazz-fueled air through my speakers, the music opening up beautifully with lush, room-filling saxophone tones from Webster and Carter.
Listen closely to the breathiness coming through on the bluesy "A Walkin' Thing," and you'll get an idea of what I'm talking about here. And Leroy Vinegar's acoustic bass comes through beautifully throughout the album with a great sense of studio presence.
Also interesting on Jazz Giant is we get to hear what an accomplished trumpet player Carter was, delivering a beautiful fat tone somewhat reminiscent at times of the legendary Louis Armstrong. Carter's own composition "How Can You Lose" features his trumpet playing the rich melody lines, and the track just swings madly (to borrow a popular phrase from Duke Ellington).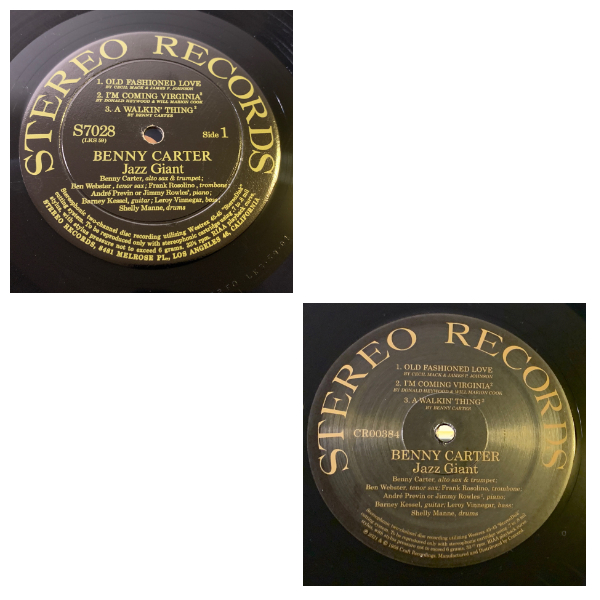 This new 180g vinyl pressing of Jazz Giant is excellent, thick, dark, and well-centered. Attention to detail is everything on a reissue like this, and the producers made sure to include period-accurate labels — not exact, as you can see from the comparison photo above, but still pretty darn close. Also, the cover is constructed similarly to the original, so the album feels like the real deal.
In fact, since this reissue feels and sounds so good, I'm wondering if I even need to keep my original pressing at this point. This edition will no doubt be my go-to "play" copy from here on out. Even so, hopefully someday, I'll find an original mono copy of Jazz Giant —on the yellow Contemporary Records label — just to have both mixes covered in my collection.
The bottom line with Jazz Giant is this — if you like classic, timeless jazz sounds featuring some of the best musicians of the period, this Benny Carter album should be instantly added to your must-have and must-listen-to list.
(Mark Smotroff is an avid vinyl collector who has also worked in marketing communications for decades. He has reviewed music for AudiophileReview.com, among others, and you can see more of his impressive C.V. at LinkedIn.)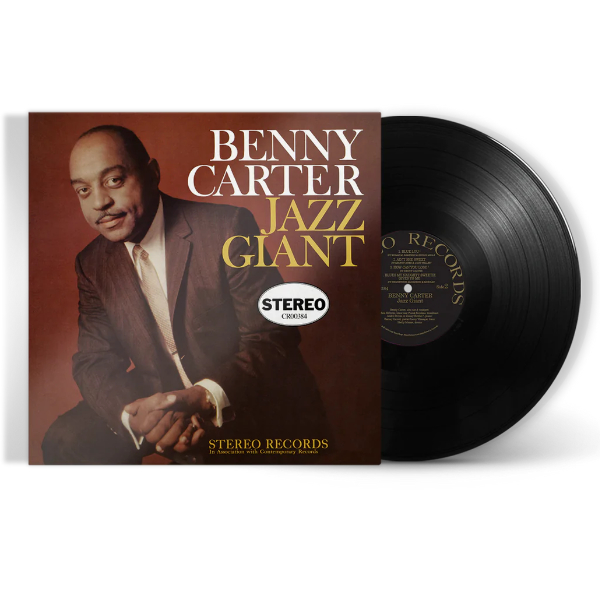 BENNY CARTER
JAZZ GIANT
180g 1LP (Stereo Records/Contemporary Records/Craft Recordings)
Side 1
1. Old Fashioned Love
2. I'm Coming Virginia
3. A Walkin' Thing
Side 2
1. Blue Lou
2. Ain't She Sweet
3. How Can You Lose
4. Blues My Naughty Sweetie Gives To Me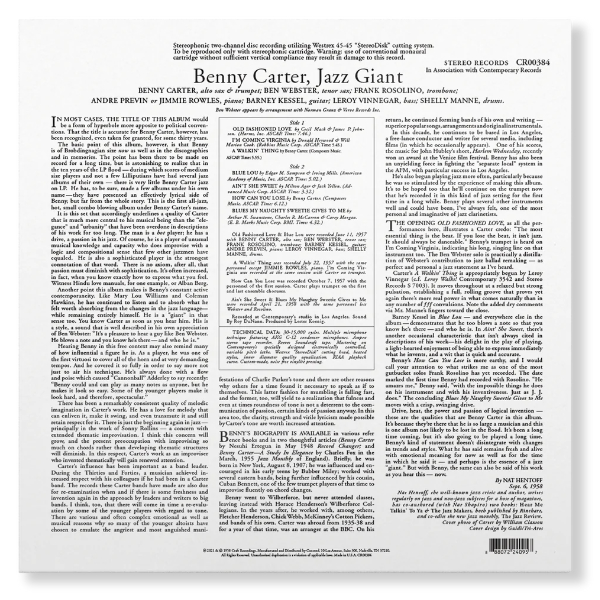 <!- ------------------------------------>