Steely Dan's 200g 45rpm 2LP Aja Is the Pride of the Analogue Productions UHQR Neighborhood
Aja has long been my personal favorite Steely Dan album, so it goes without saying how much I've been looking forward to the Analogue Productions 200g 45rpm 2LP UHQR edition that was finally released back on October 27 after being pushed forward a month-ish. It's the fourth, and first non-sequential, entry in this series that commenced late last year with Steely Dan's November 1972 debut Can't Buy a Thrill, followed by July 1973's Countdown to Ecstasy, and then February 1974's Pretzel Logic.
Now, rather than rush-post my review of the Aja UHQR just to coincide with the release date (having only gotten it in hand that midweek), I instead chose to live with this particular collection a bit longer in order to properly compare it with some of my other cherished LP copies of Aja — namely, my original September 1977 ABC AA-1006, 1980 Mobile Fidelity MFSL 1-033, and 2007 Cisco CLP-1006 — to see if this UHQR edition is worth all 1,500 of its dime dances — a.k.a., the going UHQR series' $150 freight.
We shared the balance of the Aja release stats in our News post back on August 8, but to summarize the most vital portion of its core vitals, the Aja UHQR was remastered by Bernie Grundman from an analog, non-EQ'd, tape copy. The reason for this tape-copy exception to the full-original-source AAA standard that we prefer and the balance of the UHQR series proffers is that parent label UMe confirmed there is "no evidence" the original tapes containing the flat mixes of Aja were delivered to the record label, and it remains presumed those tapes "no longer exist." (The tape boxes pics you see here both directly below and a little further on in this review are what's shown in the Aja UHQR liner notes booklet.)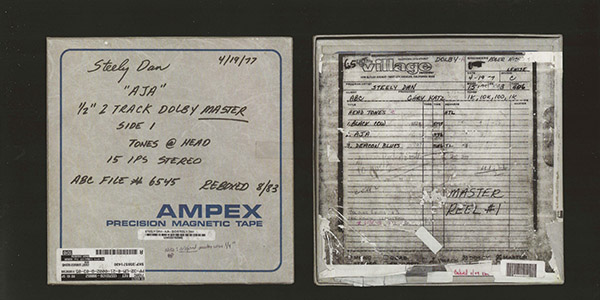 That all being said, there are indeed numerous threads out on the interwebs about the source material for this release, as well as that 2007 Cisco reissue overseen by Elliot Scheiner, one of Aja's original engineers, the one that Kevin Gray and Robert Pincus mastered from "the original analog tape" at AcousTec, not to mention the other Aja LP offerings that can be found here, there, and everywhere.
For additional source-centric perspective — and to reiterate the balance of one of the extended Comments I made underneath that initial August 8 Aja News post — I went back to the transcript of my firsthand interview with the late, great Steely Dan co-founder Walter Becker that took place by phone on January 25, 2005, a landline call that started at 1:20 p.m. Eastern time. We were both in New York City at the time of that interview, and Becker had also just recently appeared on a panel I hosted at CES in Las Vegas just a few weeks prior, one that was centered on multichannel sound. (Dweezil Zappa was also on that panel, but I digress.)
During our interview, when I asked Becker about the status of any/all Steely Dan reissues at that point in time in 2005, he said, direct quote, "Aja is missing some of the master tapes. At one point, we offered $600 for their return, but there were no takers." When I then suggested, "Maybe if you had offered $750, you would've gotten somewhere," he replied, "Yeah, in Euros. Not American, not Canadian."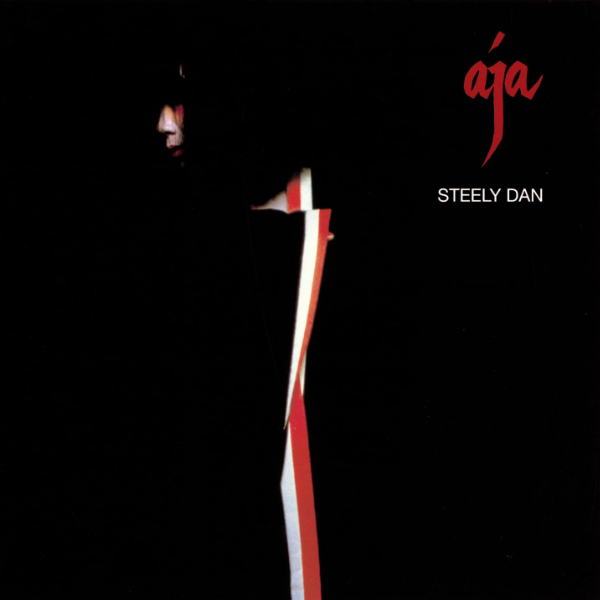 So, just what did he mean by "their return"? Well, if we go back to the liner notes Becker and Donald Fagen provided for the 1999 MCA CD reissue of Aja and get to the part where they discuss what happened when they "sent for" the multitrack masters of Aja, they, quote, "discovered that the two-inch multitracks of the songs "Aja" and "Black Cow" were nowhere to be found. They had somehow become separated from the other boxes. which the producer [whom we can reasonably presume is a reference to Gary Katz] had abandoned here and there (studios, storage lockers, etc.) almost twenty years before."
After providing a then-management address and phone number to reach out to for "anyone having information about the whereabouts of these missing two-inch tapes," the final kicker they added was, "There will be a $600.00 reward for anyone who successfully leads us to the tapes. This is not a joke. Happy hunting." And, as Becker had confirmed with me as quoted above, which was at a time between five and six years after that initial offer was made, no one had taken them up on it — at least not at that particular reward amount, I should add.
Admittedly, both of those above-cited direct comments each occurred a few years before the aforementioned Cisco LP was released in 2007, so perhaps the missing two-inch multitrack tapes were indeed found and returned in the interim, but I'm honestly not so sure about that. Scheiner didn't recall it that way about having the originals in hand when I asked him about it in 2017, and Gray has since offered his own theories about what tape materials the UMe parent company gave him to work with (and why) elsewhere on the interwebs.
At any rate, I felt including all that source-centric preamble upfront gives you some extended food for thought as you contemplate adding the Aja UHQR to your own SD LP collection. So, how does it stack up? Let's dive into it.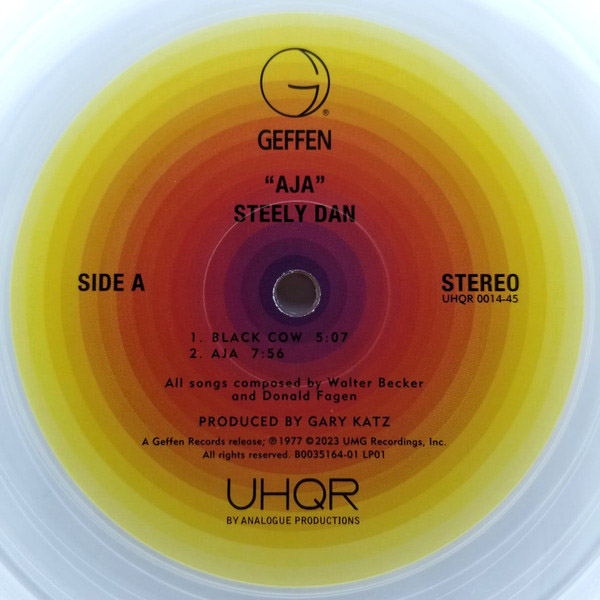 Overall, I experienced no inner-groove distortion nor any pops and/or clicks each time through all four sides of the Aja UHQR. Both clarity-vinyl LPs are well-centered, quiet, and flat. Even better than all that important needle-drop data, the UHQR Aja is an exciting listen. It's engaging. The top is there, the mids are there, and the low end is where it belongs — in the intended pocket rather than being intrusive and/or distracting like it is on a certain other Aja pressing that I'll get further into later.
On the Side A album-opening track, "Black Cow," Joe Sample's clavinet has a presence that's more dimensional than it is on the other pressings, and the four femmes background vocal blend (courtesy Clydie King, Sherlie Matthews, Venetta Fields, and Rebecca Louis) is upfront, precise, and clear on lines like "I can't cry anymore / While you run around / (While you run around)" — ditto how they consistently complement Fagen's leads. Plus, Tom Scott's tenor sax just swings.
Track 2, "Aja," continues the UHQR excellence. Steve Gadd's cymbal work, the right-channel guitar counters, and Sample's left-channel Fender Rhodes at the outset, in addition to Victor Feldman's percussion on the choruses, are all highlights — though I did notice Fagen's lead vocal appears to be tightly clipped after he sings "you" in the first occurrence of the phrase "I run to you," something that's not that way on the other vintage pressings but is also noticeable on the concurrent Geffen/UMe 180g 1LP Aja. (A "hmm" moment, to be sure — but not enough to qualify for a ratings demerit.)
Naturally, I also zeroed in on the interplay between tenor saxman Wayne Shorter and drummer Steve Gadd during their solo sequence in the title song's back half, wherein the two of them come across even bolder and on equal par on the UHQR, by far.
When I spoke with Gadd about his work on the song "Aja" during a phone interview conducted on February 7, 2018, he confirmed that the furious nature of that solo section (and the ensuing outro) was exactly what was called for there by the two main Dans, Walter Becker and Donald Fagen. "I was just trying to understand musically what they wanted me to do there in terms of how 'busy' it was," Gadd explained, "and I was trying to play around those figures." In effect, Gadd was responding to what Shorter had already laid down for the track, since the two artists didn't play that sequence together. "It was building toward the end of the song, and that's the way I would have approached it either way," Gadd continued. "Those were the figures they wanted me to cover — so that's what I did. And it was not normal for that to happen in pop music. It was more of a jazz thing at the end, which pulled it together and tied it all together." Gadd's sixteenth note triplets toward the very end, with those slabs of synths aswirl all around him, is as sublime as it gets.
Comparatively, the mix of "Aja" on my Cisco pressing is, frankly, too laid back and too polite for my taste — and I can say that for the balance of what I've heard (and continue to hear) overall on the Cisco LP time and again, for that matter. Sure, the Cisco is admittedly quite a good listen if it's your main reference point, and it's certainly preferable to the low-end-offending Mobile Fidelity pressing where the bass content consistently pops and burbles in places where it really shouldn't. If I didn't have that original AA-1006, perhaps I'd like the Cisco even more than I do, but it just doesn't move me like the 1006 consistently has over all these years. That all said, none of those other pressings are as engagng a listen as the UHQR Aja is, period. It's the next level up from the overall dynamism of the original 1006 — and, ultimately, isn't that what we all want to experience if we're going to invest our time and money in reissues and remasters that carry hefty price tags like the entries in the SD UHQR series do?
Every time I've cued up all four sides of the Aja UHQR — sometimes respecting the running order and other times not, just to dive into it fresh — I've been fully engaged in what I'm hearing. It's a thoroughly thrilling listening experience from beginning to end, and back again.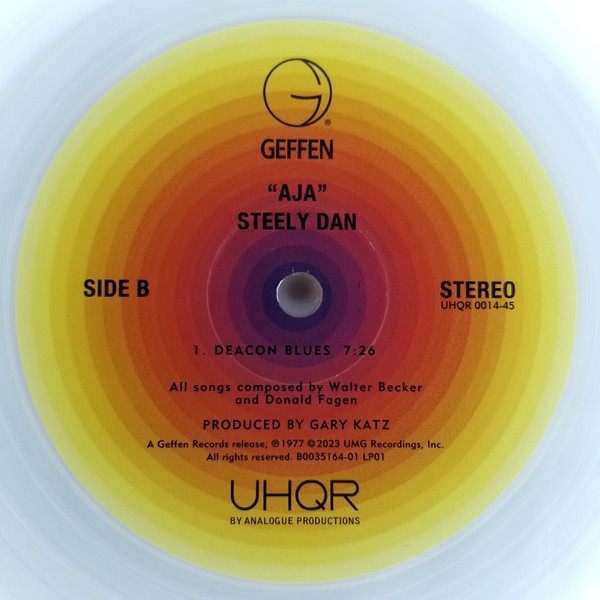 "Deacon Blues," the only track on Side B, again comes through with the Fagen/three femmes (King, Matthews, Fields) vocal blend — something that has been admittedly less so on other pressings. Pete Christlieb's tenor sax is in the right support spot on the choruses and in the transitions to the ensuing verses, later coming to the forefront for his wonderful solo then laying down a fine sax bed amidst the wide guitar chucka-chuckas through the fade, all of which benefits from being able to breathe as this side's lone track, rather than it being the third track at the end of the first side of the other LPs.
I'll get to "Peg," which opens Side C, in a moment, but its Side C songmate, "Home at Last," sees Feldman doing double duty on piano (clear and resonant, and all on its own during the intro) and vibraphone, with Becker taking a clean, tasteful guitar solo. Side D opens with the funkified "I Got the News," where Chuck Rainey's bass has got the right muscle and is in the right place, as are Feldman's recurring piano stabs. Finally, "Josie" takes it all home to end the album — so good! The opening chimes wash clean across the soundstage, Fagen's emphatic "No!" — his in-the-moment sneer/response kicker to the previous line, "She'll never say no"— exhibits the volume punch and coy swagger it requires, and then the full stop after the first guitar solo has exactly the right impact as intended.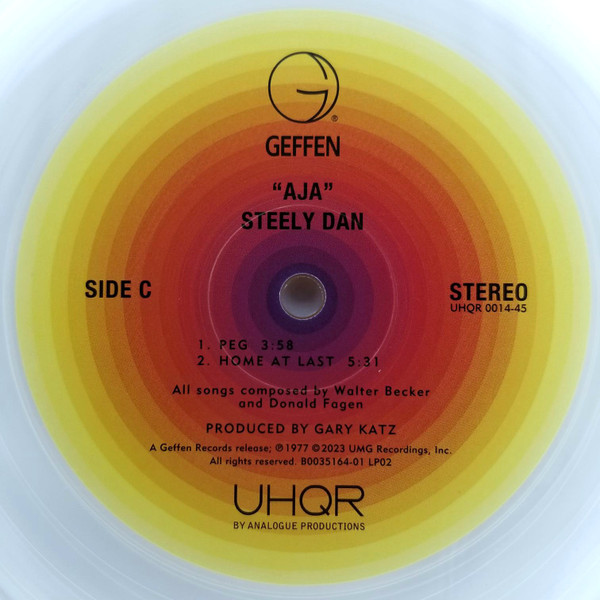 But now, back to the Side C opener "Peg," a song that again delivers on the dynamics. Rick Marotta's cymbal work spreads wide across the soundstage and his snare crack just a few seconds before Fagen's lead vocals begin is super-tight. Rainey's bass resides right where it belongs — though, on that youknowwhat MoFi, it's much too prominent and pronounced on the verses. And, again, yes, the 1006 "Peg" is indeed closer to the UHQR, but still somewhat in its shadow.
The lilt in Fagen's lead vocal seems to foreshadow that of the character he portrays while singing Gaucho's "Hey Nineteen." Meanwhile, Michael McDonald's multitracked backing vocals on "Peg" are crystal-clear, smooth, and out front on each chorus, perhaps even taking some of the focus away from Fagen's own singing, but that doesn't bother me any. Those up/down swoops of each syllable of "the shutter falls" and "3-D" are Master Class-level. (Yes, Paul Griffin also gets a backing vocal credit here, but apparently he's the one doing all those vocal improvs in the back half. Maybe, just maybe, he's giving a wink and a nod to a certain lead-vocal member of The Jacksons with that first brief "ohh-hoh!" outburst — or maybe not. Or maybe Fagen did that one.)
McDonald's vocal character is less engaging on the Cisco, especially given how it is so distinct on the UHQR. In short, "Peg" is textbook McDonald. "I learned something about my voice in the sense of my doing backgrounds — when I sang with myself, there was a certain kind of ethereal quality to doing that that caused a certain kind of phasing and a certain kind of sound that I used, to a great extent, with the Doobies later," McDonald told me when I asked him specifically about what he did on "Peg" during a phone interview we conducted on March 14, 2019. "There were songs where I realized, 'If I do the backgrounds alone on this one, it'll create that kind of vibe and that sound that I learned to do with Steely Dan.'" (See the 1978 Doobies classic single "What a Fool Believes" for the chart-topping evolution of that particular M.McD M.O., which also extends to his leads on the choruses.)
With all that in mind, I'm very much looking forward to hearing just how McDonald's backgrounds come across on other SD tracks like "Time Out of Mind" on the Gaucho UHQR that's slated to come our way next month, as well as on "Bad Sneakers" and other entries on the Katy Lied UHQR, which should be forthcoming sometime in 2024.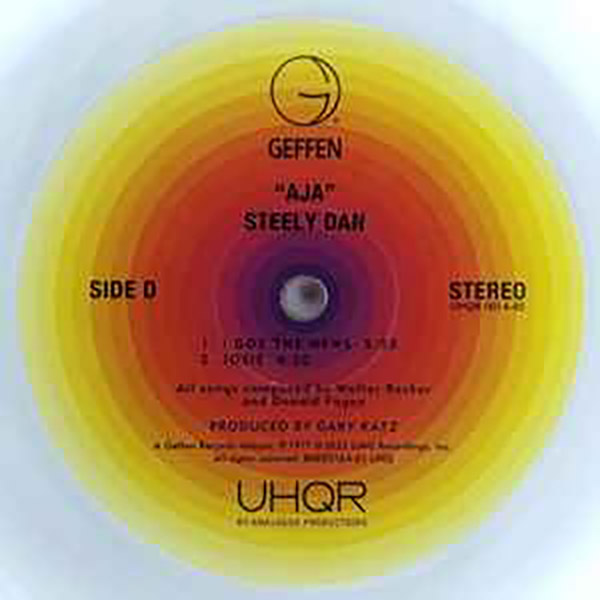 To recap it: The Aja patterns I've outlined at length here essentially hold true from track to track and from LP to LP, the bottom line being that the UHQR wins every time. It's the most exciting and engaging version of Aja I've heard to date. It's a notch-plus above my 1006, which I've loved since inception.
Dollar for dollar, here's how they all measure up in terms of what I paid for them — and do note that current prices may vary on Discogs as of this posting, depending on any available NM and/or, if lucky, M copy you might seek. I paid the original sticker price for my original 1006, $37 for my MoFi (which also has a split seam at the top, but I uncharacteristically decided to live with it), $29.99 for the 180g UMe that we reviewed back on October 11, and (yep) $300 for my Cisco — the latter of which is straight up double what the UHQR will cost you. And the UHQR Aja is indeed worth every bit of those 1,500 dime dances, mind you — a.k.a. $150 — and you can buy your copy of it right here.
To quantify my ratings, musically, Aja is an 11 — and always has been. Soundwise, the UHQR Aja hits at an 11. It never fails to engage me, spin after spin after spin. The original ABC 1006 is a 9, the Cisco is an 8, the MoFi is 7.5 (mainly due to that pesky bass content issue), and that recent 180g Geffen/UMe is a 7 — so there you have it.
Onward, then, to the UHQR for Gaucho, amigo, which is slated for an early December release and has reportedly been sourced from a 1980 analog tape copy originally EQ'd by Bob Ludwig. Needless to say, keep a keen eye out for our Gaucho UHQR review when the time comes — and, of course, we'll also review the concurrent Geffen/UMe 180g 1LP Gaucho for further comparative context.
In the meantime, if you want to consistently experience the best of what this particular 200g 45rpm 2LP Steely Dan series has to offer, then the Analogue Productions Aja fits the bill for being the pride of the UHQR neighborhood, hands down.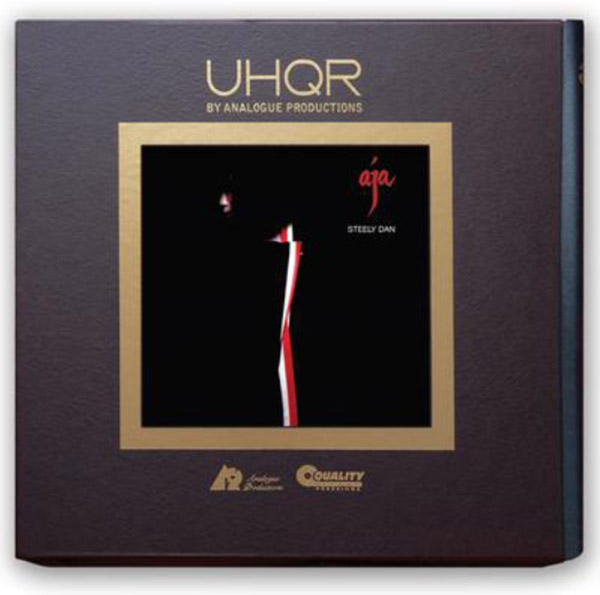 STEELY DAN
AJA
200g 2LP 45rpm (Geffen/Analogue Productions)
Side A
1. Black Cow
2. Aja
Side B
1. Deacon Blues
Side C
1. Peg
2. Home At Last
Side D
1. I Got The News
2. Josie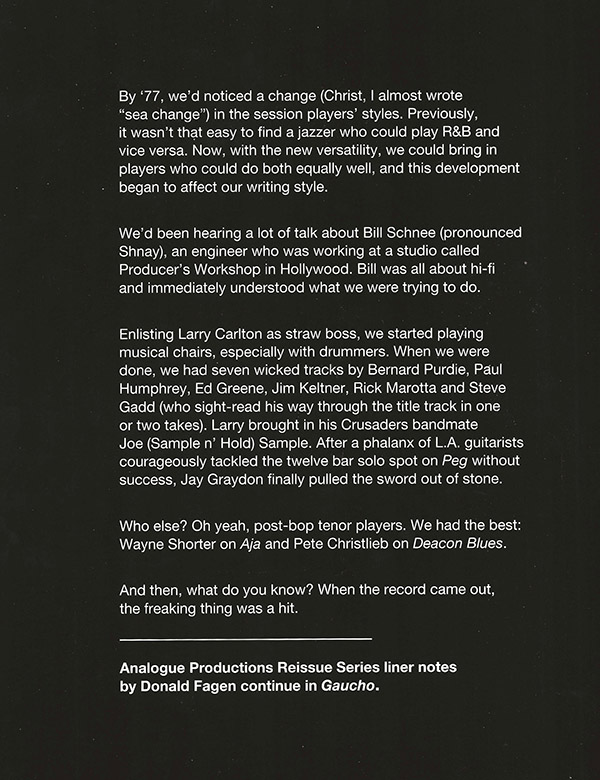 <!- ------------------------------------>