Steely Dan's AAA Analogue Productions 200g 45rpm 2LP Pretzel Logic Tackles a Few Twists and Turns to Find Its Way Toward Upholding the UHQR Standard
Steely Dan were on a clear roll by the time their third LP on the ABC Records label, Pretzel Logic, hit the shelves in February 1974. Coming off the creative uptick of July 1973's stride-hitting sophomore effort Countdown to Ecstasy, the band's two self-admitted "autocrats," Walter Becker and Donald Fagen, wanted to turn the recording knob, so to speak, more toward the first-call studio musicianship feel they experienced firsthand while spending time at other artists' recording sessions that took place in the ABC Dunhill recording complex in West Hollywood. As a result, relied less on the bandmember chemistry they'd only recently established out on tour with the core musicians who had collectively honed much of Ecstasy's material together out on the road, and instead leaned more toward the "perfection and grace" studio style that would essentially define the balance of their recording career.

Following that premise, Pretzel Logic has a different overall feel to it than those previous two SD albums have. It's a transitional album that refined how the table was again reset for all the purely studio-driven Steely Dan albums that would follow it — albums that tracked the insular decline and festering paranoia of West Coast culture in the back half of the 1970s.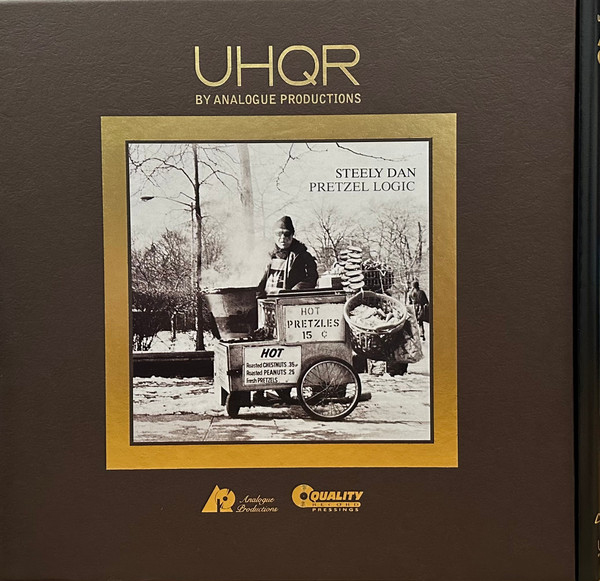 Released on July 28, this edition of Pretzel Logic is now the third entry in Analogue Productions' all-inclusive Steely Dan UHQR series, which commenced last fall with the band's November 1972 debut LP Can't Buy a Thrill, and was then followed earlier this year in February with July 1973's aforementioned Countdown to Ecstasy. As reported here on AP on August 8, September 1977's Aja will be the next SD release to come in this series on September 29, jumping the chronological timeline ahead of March 1975's Katy Lied and May 1976's The Royal Scam — but, as I noted elsewhere here on AP, I can't recall anyone from the label side of things confirming this series was going to follow a strict, chronologically oriented release schedule all the way through. Given the importance of Aja in both the band's canon and in audiophile circles alike, it makes quite a bit of sense that it's the next UHQR to arrive in the fall — and just in time for the holiday buying season to boot. If you want to read more about what's what with Aja (and follow how much further we dive into its tape copy origins in the Comments section especially!), go here.

For more Steely Dan reissue series FYI, you can also read my News report about the entire slate of their UHQR editions here, then you can read my esteemed colleague Mark Smotroff's review of the Thrill UHQR here, and then you can read my own review of the Ecstasy UHQR here. (Incidentally, Mark's review of the new Geffen/UMe version of Pretzel Logic will post on August 11.)

Back now to chronicling more of the basic SD LP reissue stats, for the literal record. The 45rpm 2LP UHQR version of Pretzel Logic has been plated by Stan Bishop, pressed at Analogue Productions' own Quality Record Pressings on 200g Clarity Vinyl, packaged in a deluxe box, and contains a four-sided booklet detailing the entire process of making a UHQR along with a certificate of inspection and a four-sided Acoustic Sounds release hype sheet, similar to the one that appeared in the box. Each UHQR is pressed using hand-selected vinyl. The Pretzel Logic box, just as all other entries in this UHQR series do, has an SRP of $150, and it can be ordered here.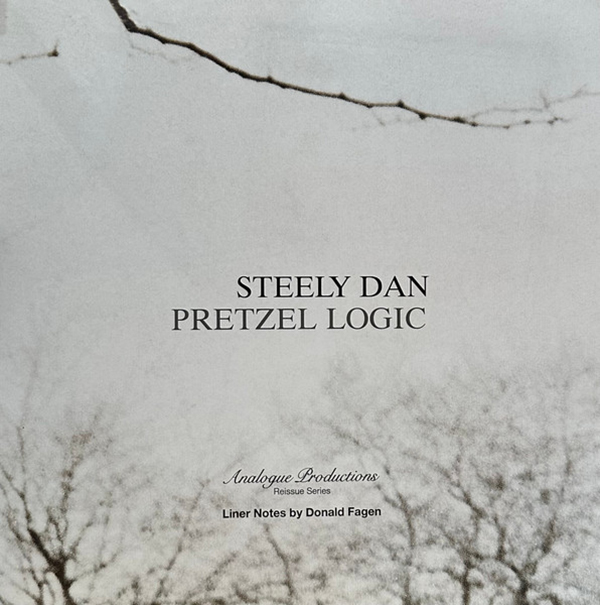 The Logic of Unboxing
As I noted in my Ecstasy UHQR review, I give considerable, concurrent weight to any given box set's contents and overall presentation from both the audiophile and collector's perspective, respectively. And in the specific case of Logic, its black textured box fits perfectly shelf-adjacent with my other UHQR boxes — seven of them all told, as of this posting — and, since there are at least four more entries in this particular SD series to come, I'm already considering how, when, and where I'll be moving the other non-UHQR boxes currently shelved alongside them. (I know everybody doesn't love this [articular box-set design style, but I'm cool with it for what it is.)

Pretzel Logic (UHQR 0011-45) also comes with an easy-to-read spine delineated with sans-serif gold type. As per usual, I unfurled my trusty Lufkin Red End folding ruler to measure this box's size exactly, just to confirm its uniformity. The box indeed measures 13 3/8 x 12 13/16 x 1 1/8 inches (w/h/d) — just as its two SD UHQR brethren do — and it glides open to the right with ease, due in large part to its convex edge. Similar to what I noted in my prior Countdown UHQR review, the absence of having to struggle just to get to what's inside the box remains quite refreshing, given how many times I've inadvertently marred too-snug boxes with a telltale fingernail scratch or two while attempting to pry open their vacuum-like seating.

As is my custom, I also affixed both hype stickers from the outer shell's protective plastic wrap directly onto the box's front cover, positioning both of them on the all-black right side so as not to cover up the exactly centered, gold-framed black-and-white Pretzel Logic album cover image. It's a lovely black-and-white shot taken by Raeanne Rubenstein of a pretzel vendor on the job in New York City — and if anyone finds a hot pretzel going for just 15 cents these days anywhere in Manhattan, contact me immediately.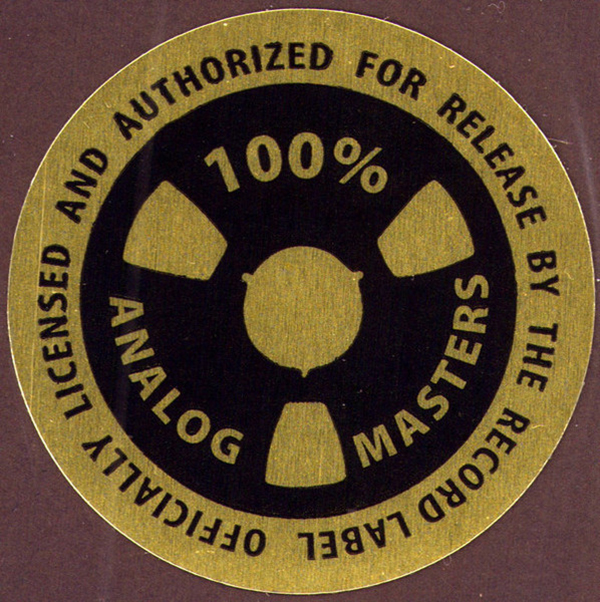 That all said, just as what happened when I followed the same routine with Ecstasy, I fared much better with placing the 2½ x 3¾-in rectangular "Guarantee" sticker at the bottom right than I did with the shinier, circular ¾-in "100% Analog Masters" one upwards near the top right. Since it's hanging on by a slim, barely sticky thread, I may have to put that latter sticker inside the box sooner than later (and I may also have to reconsider whether I even bother trying to affix that spherical sticker on the front of any future UHQR releases when I get them in hand).

Inside that sturdy outer box, the contents within the half-cornered durable interior Pretzel box mirrored that of what was in Ecstasy, so I won't repeat all that info here. The four-sided Logic liner notes booklet includes nine new paragraphs from Donald Fagen, which practically doubles the five grafs that were in the Ecstasy liners — though some of the Logic grafs are admittedly quite short. Both individually sleeved 45rpm black-labeled clear discs were housed inside one outer plastic sleeve, separate from the glossy cardboard gatefold Logic album sleeve. (Naturally, I won't be sleeving either LP in that jacket.)

Finally, a few more words about the liners before I move on to the music. Here, Fagen outlines the rhyme and reason for the band's studio-musician shift, a decision that definitely impacts the tone, temper, and even tempo of Logic in comparison to its predecessors. He also cites some of the vintage jazz elements and themes Steely Dan incorporated throughout the album — I won't spoil those here, as they're worth investigating by your own ear, and not just by his/our words alone.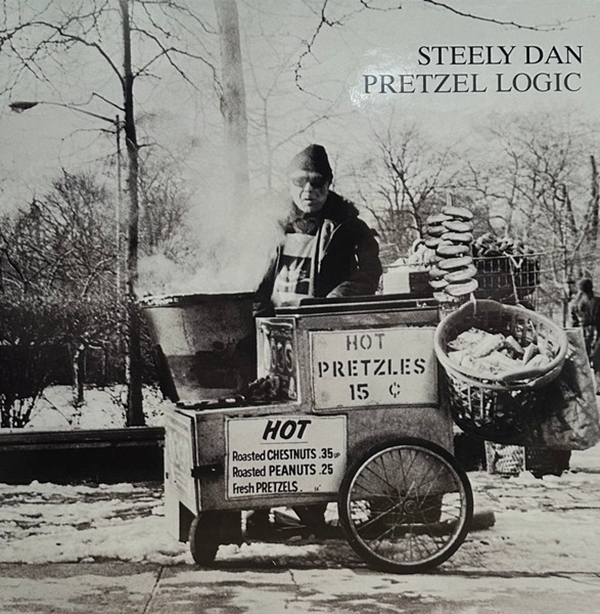 Listening Sessions
Both of my clear-vinyl Pretzel discs were spot-clean and well-centered, with the first disc fitting a good bit more snugly on the spindle than the second disc did (the latter one slid on with ease), so I was extra mindful of how I had to lift Disc 1 up and off the spindle when the time came to flip Sides A and B.

As was the case with the previous two SD UHQRs, the black labels sport a Geffen logo centered at the top where various ABC-era logos were located on earlier LP editions. Incidentally, while each Pretzel side's label denomination follows an alphabetical ordering — i.e., Side A, Side B, Side C, and Side D — the tracklisting on the back cover of the glossy gatefold sleeve instead lists the sides numerically — Side 1, Side 2, Side 3, and Side 4. A minor quibble, to be sure, but an inconsistency still worth noting.

Disc 1 was well-clamped into place before Side A began to spin. Just as it was with the first Countdown UHQR disc, the length of the run-in groove gave me plenty of time to get back into my sweet-spot Eames listening chair after I dropped the needle.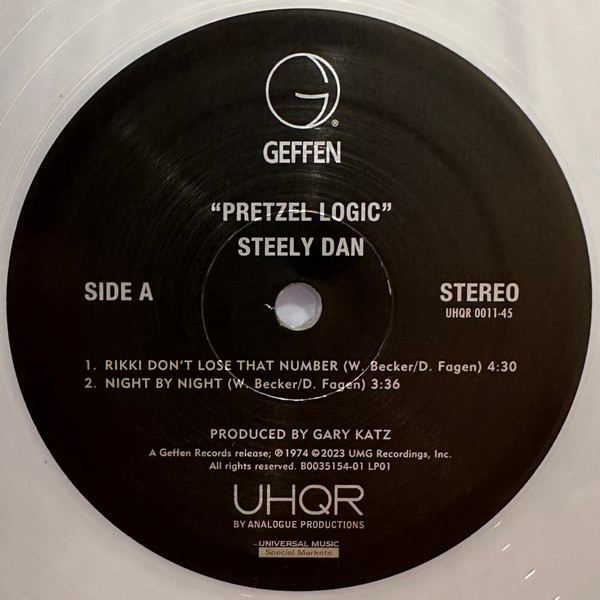 Now it was time to listen, and then listen some more. Track 1, "Rikki Don't Lose That Number," was actually the Dan's highest-charting single, believe it or not, peaking at No. 4 on the Billboard Hot 100 singles chart. I make mention of that chart fact here for a reason. It was actually quite a treat to hear all 23 seconds of Vince Feldman's flapamba intro on the UHQR "Rikki," as listeners less familiar with the LP version of this song than they may be with the ABC-released single version, and/or what they may have heard on the radio, various playlists, and other broadcast/streaming media, might be surprised by the extent of its elegant album-opening presence.

The understated, but unmistakable, character of this wooden percussive instrument set the tone for a track that takes its time to unfold — but unfold it does. You should be able to discern both the flapamba and the chimes underneath the piano intro (and elsewhere, usually after the choruses switch back to the verses) — as well as Jim Gordon's laid-back drum roll before switching to cymbal taps once Fagen's lead vocal enters right up the middle. I'm always fascinated by which words Fagen puts a bit of a back-East twist on, such as how "heart" becomes more and more like "hawt" as "Rikki" carries forth. When Jeff "Skunk" Baxter's 30-second guitar solo takes center stage about three minutes into "Rikki," it leaps out as SD signature solos often tend to do — but as Logic continues to spin, moments like these become few and far between.

Track 2, "Night by Night," has more of a kick to it in terms of volume, verve, and its own inherent funkiness. Some of its punch is no doubt due in part to Jeff Porcaro's presence on drums, which is more impactful than Gordon's "stay back, and in the pocket" approach as Porcaro accents words and phrases in a quite different, more instinctive manner. Fagen's vocals are doubled throughout, with the guitar accents and horn section swinging along as they should and neither overwhelming his lead, with the horns jumping out for emphasis in the right channel at the end of lines and then back to a more supportive role on the choruses.

Incidentally, Side A is the only Pretzel side comprised of two tracks, as Sides B through D each sport three tracks apiece. Given the shorter length of the balance of the songs on as opposed to some of the much lengthier cuts on both Countdown and Thrill (no Pretzel song clocks in at even close to 5 minutes in length), these specific side-split choices all seem quite, well, logical to me — and they also serve to lend a proper parallel to ensure the key track that ends Side A on the original 1974 LP appears as the side-ender of Side B.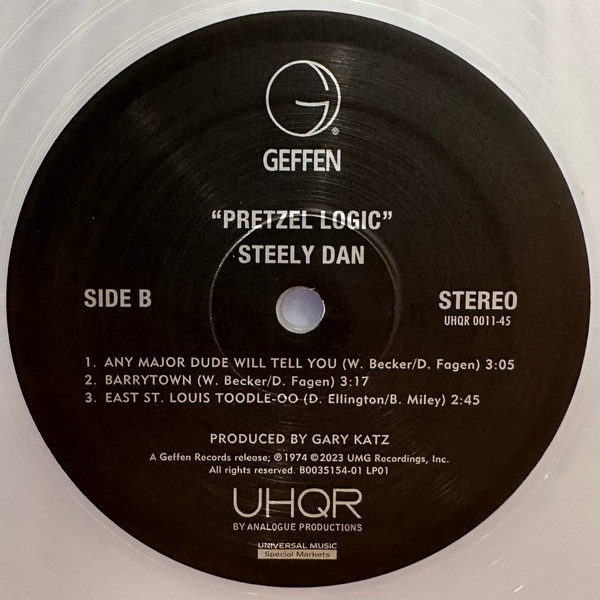 And speaking of Side B, Track 1, "Any Major Dude Will Tell You," opens things up with crystal-clear full-soundfield acoustic-guitar strumming, with Gordon back for light snare taps ahead of the piano accent leading into Fagen's single vocal track on the initial verse, which immediately is doubled on the chorus. Loping is the word I'll use to describe the way "Dude" unfolds, its overall lighter touch buoyed at times by Fagen's drawn-out, multi-syllabic "tell-eh'll you." The guitar solo, if we can even call it that, is brief and supportive rather than in your face, but it fits. (Bonus points to those who know what particular word in this song equates directly to a classic mid-'70s song by Genesis.)

The FM radio favorite "Barrytown" swings into view next as Track 2, still in that loping SD mode with Fagen's single-tracked vocal on the lightly caustic, punched-word verses up the middle before the echo-laden chorus-doubling and bridge come (yeah, it's a pattern). Light supportive accents via Skunk Baxter's pedal steel are present after the bridge, and just as the noodling comes to the forefront, "Barrytown" fades out rather than plays out. They do things very strange, indeed.

One of my forever-favorite SD tracks ends Side B, the earlier alluded to "East St. Louis Toodle-Oo," a truly masterful take on a Duke Ellington classic penned almost 50 years prior to this recording (in 1926, that is). The inventiveness of how the SD crew paid homage to the original, albeit with different instruments, is a pure pleasure here. To mirror Bubber Miley's trumpet tone on the original, Becker plays the melody through a squawky, and quite expressive, talk box, while Baxter's pedal steel takes over for the trombone, as tasty as can be. And, in this particular case, Gordon was the right call to hold down the backline (such as with his refined cymbal placement during the featured piano section), plus we get banjo from Dean Parks and wah-wah from Baxter. And the final, dramatic gong hit — courtesy engineer Roger Nichols — resonates subtly, a la Queen's "Bohemian Rhapsody," and in prime Goldilocks fashion (i.e., just right).

Bottom line — this particular "Toodle" has a bit more "Oo" to it than what I've heard on my original (and admittedly well-played) 1974 ABC Records Santa Maria Pressing Logic LP, with its decidedly ringworn cover.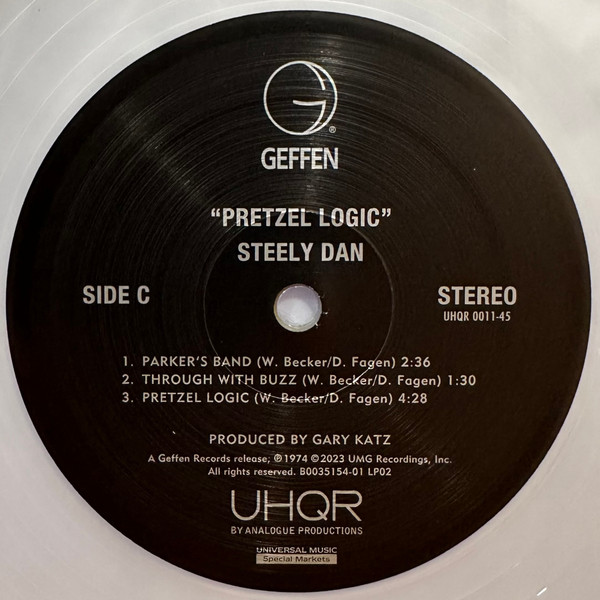 Side C commences with a pair of over-too-fast winners — namely, "Parker's Band" and "Through With Buzz." Frankly, I wish both tracks had more room to breathe — as in, more time to unfold, as both of these songs have a number of intriguing elements to them that end all too abruptly. Porcaro is back behind the kit for "Parker's Band," which swings with panache and contains a smoking guitar intro leading into Fagen's doubled vocals. Keep an ear out for the organ fills and the bright character to the quick bridge, as well as the ping-ponging sax solo toward the end. On Track 2, piano and strings commence "Through With Buzz," which feels light and airy as it should. (Some may call it thin, but that's more about the arrangement.) The briefly repetitive string stabs in the middle have more presence here, as do those held notes before the fade. And, with that, "Buzz" is literally through with itself before I am.

Luckily, the title track "Pretzel Logic" closes the side, my alternate favorite cut here next to "Toodle-Oo." Okay, so maybe they rushed through the previous two tracks just to get to it, but nonetheless, "Pretzel Logic" sneers and steers itself into the proper direction, right from the Wurlitzer-piano jump. When the layered vocals come to the forefront with the lines, "Yes, I'm dyin' to be a star, and make them laugh / Sound just like a record, on the phonograph," you should be able to discern where Timothy B. Schmit and Jim Hodder (the onetime SD band drummer, now relegated to a one-off vocal-only role) blend with Fagen. ("Ohh yea-ahh!") Becker tackles the lead-guitar duties here, and powers through a pair of building, unfurling, gnarly windouts frankly missing from most of the record (and they're both nicely buttressed by the horns too).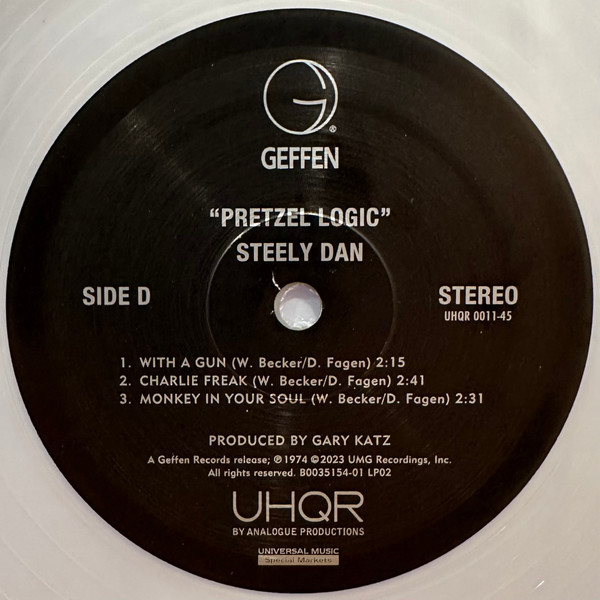 Side D slow-peters it all out, as the acoustified folky strum-and-twang of "With a Gun," the odd piano ramble-tamble and swelling strings of "Charlie Freak" (though I do dig the presence of the sleigh bells in the back half), and the funky-tunk slap-and-clap of "Monkey in Your Soul" (with that right-channel horn-swing thing goin' on) closing up the Pretzel tent. Not my favorite side of the album, clearly, but maybe it speaks more to you than me.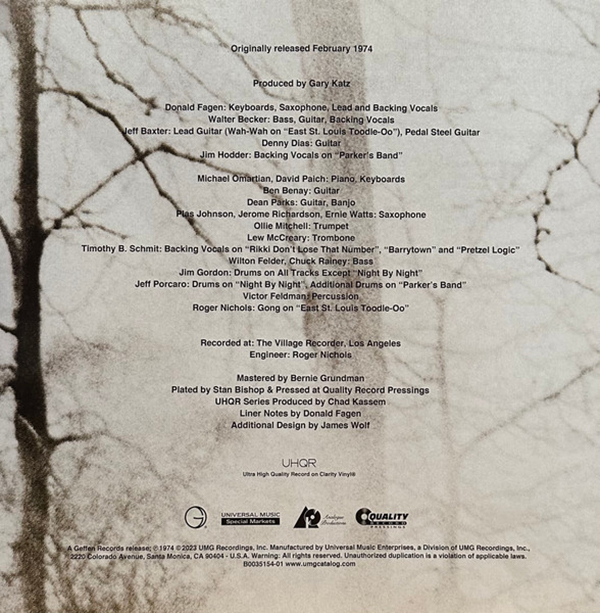 Conclusions
While Steely Dan's Pretzel Logic UHQR may not share the full-on Wow factors that its predecessors Countdown to Ecstasy and Can't Buy a Thrill do (each in their own respective ways, of course), that doesn't discount this 2LP set's value when it comes to overall worthiness or what you'll get out of repeat listens — because the more you hear it, the more you get into it. If Pretzel Logic is your personal go-to Steely Dan album, this UHQR edition is absolutely for you. If you want to test your jazz-lineage chops and get further inside the music to hear how SD are literally transitioning their studio acumen right before your very ears into a signature style that wound up blooming in full force on their subsequent albums, then this UHQR edition is definitely for you too.

Yes, I'm giving Logic an 8 for Music and a 9 for Sound (are both closer to 8.5 than 9? Well, mayhap) — but, hey, any Steely Dan music at an 8 or even 8.5 is still miles ahead of many, many acts you'll ever drop the needle on. Given what's to come on the SD UHQR horizon — with Aja being next at the end of September, and Gaucho reportedly to follow by the end of the year before Lied and Scam arrive in 2024 — Logic stands tall in all its 200g 45rpm 2LP clear-vinyl glory, just like many a great record on the phonograph should.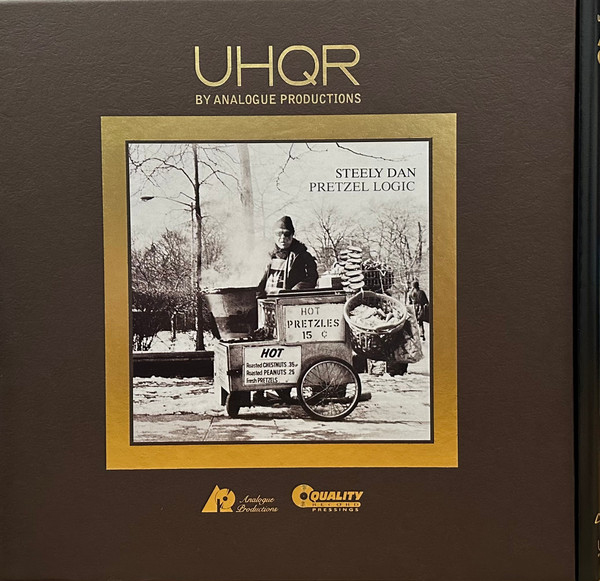 STEELY DAN
PRETZEL LOGIC
200g 2LP 45rpm (Geffen/Analogue Productions)

Side A
1. Rikki Don't Lose That Number
2. Night By Night

Side B
1. Anu Major Dude Will Tell You
2. Barrytown
3. East St. Louis Toodle-Oo

Side C
1. Parker's Band
2. Through With Buzz
3. Pretzel Logic

Side D
1. With A Gun
2. Charlie Freak
3. Monkey In Your Soul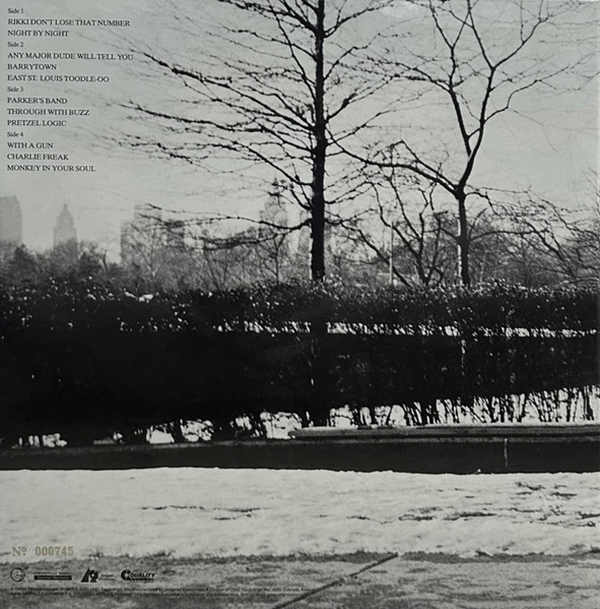 <!- ------------------------------------>