Verve By Request Cooks Up Tasty 180g 1LP Reissue of Mel Brown's 1967 Impulse Records Debut Album Chicken Fat, Pressed by Third Man Records
Mel Brown's Chicken Fat was something of an anomaly for pioneering jazz label Impulse Records in 1967, with perhaps its closest of-era relatives being Shirley Scott's swinging, organ-driven, bluesy soul-jazz releases. Neither pure jazz nor rock, this album of funky-slinky, bluesy guitar workouts was hyped on the album cover as "An Impulse Discovery," which is at least partially true. The liner notes reveal Brown was not quite the label's "discovery," per se:
"Chicken Fat is designed to introduce the guitar work of 27-year-old Mel Brown, an active musician in the Los Angeles area for the past decade. Brown, during the past year has recorded with Bill Cosby, Nancy Wilson, Brenda Lee and as a member of the group accompanying fellow blues guitarist, T-Bone Walker. . . He jobs around Los Angeles with his own small unit and has also played and recorded with a group known as The Olympics." (The Olympics had a big hit with "(Baby) Hully Gully" for Arvee Records in 1959, which apparently initiated the whole Hully Gully dance craze.)
Brown had some serious established musician street cred going on prior to this seminal release. Chicken Fat was recorded just a few days after The Beatles' seminal Sgt. Pepper's Lonely Hearts Club Band was released on June 1, 1967, and there is no doubt in my mind that Impulse Records label head Bob Theile sensed the writing on the wall of the sea change happening in music. I suspect he was scrambling to get some hopefully radio-friendly rockin' blues grooves out the door to help keep the label on the charts — or at least above water. Indeed, the title track "Chicken Fat" was issued as a 45rpm single in 1967. I imagine it must have been daunting to try to even consider radio play (even in the form of an edited promotional single) from one of Impulse Records' leading lights at the time, John Coltrane, who by 1966 had entered the outer cosmos of free jazz with landmark albums like Ascension.
A brief sidenote about the challenges of running a jazz label after the Summer of Love: by 1969, Theile was out from the label after apparent clashes with the head of parent company, ABC Records, and was off piloting his own Flying Dutchman label.
That said, there is no doubt Impulse Records did give Brown a broader public face — and for quite a number of years and across six albums, he put out a solid body of work, from what I have heard (and I have four of his albums so far).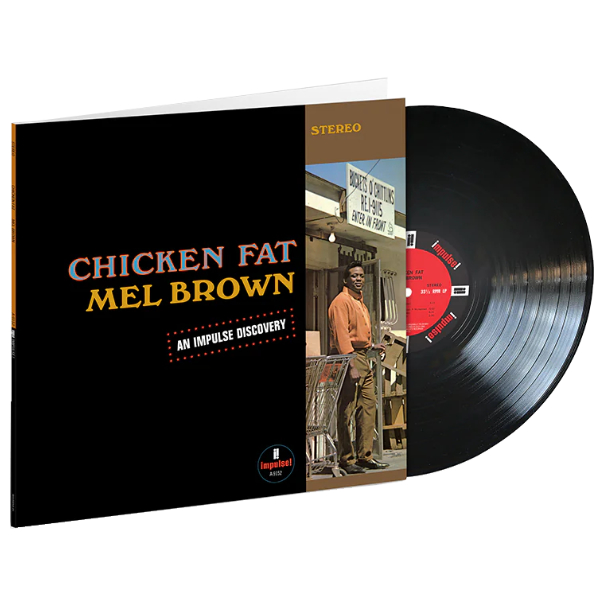 And it all began with Chicken Fat. I first became aware of Mel Brown and Chicken Fat quite innocently, as I was perusing my older brother's record collection one day, and I noticed the distinctive orange spine jumping out at me. This was odd, as I knew my brother wasn't quite the level of jazz fan to get into music from this label. Inquiring, it turned out he'd picked it up blindly at a garage sale — and while he liked it well enough, he said if I wanted it, I could have it. I happily obliged, as I had seen the album around in collector's shops but had never heard it.
When I got it home and put it on my turntable, I realized this was some pretty spunky-funky, bluesy rockin' fun featuring some searing guitar work that at times reminds me of Frank Zappa's stripped-back early playing in the mid-'60s — and, at other times, it pre-echoes Shuggie Otis. Needless to say, I was immediately hooked.
After ten or so years, I still don't have all of Brown's albums in hand, as they are fairly elusive to find out there in the wilds of record collecting. Thus, a good Mel Brown reissue series is no doubt welcome and warranted.
While I was perhaps getting a little spoiled by al the fancy Acoustic Sounds and Tone Poet level reissues from UMe, I was a little surprised to learn of this project being released in conjunction with Third Man Records. However, the connection makes good sense, no doubt, especially given how backed up so many pressing plants are these days. [Testify!—MM] Being able produce respectable, quality 180g reissues here in the United States is appealing to keep costs down.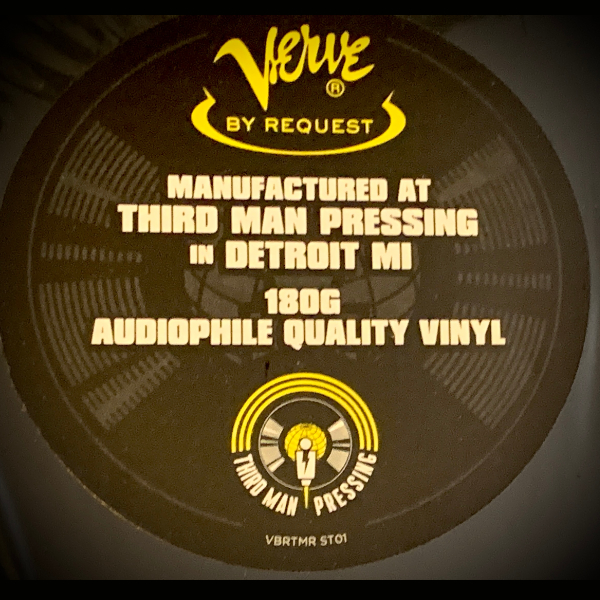 From the official press release, we learn, "Verve Records/UMe and Third Man Records have partnered to resurrect the popular reissue series, Verve By Request, with a vinyl twist. Focusing on rare gems and fan-requested jazz albums from the Verve Label Group's stable of iconic labels, the series will offer two titles per month — each hand-picked by Verve and Third Man Records. The records will include both long-out-of-print titles from the vault as well as the first-ever vinyl pressings for albums released in the '90s and aughts that were only originally released on CD."
The press release also indicates these albums "will be newly remastered from original analog sources, when available." We do know Ryan K. Smith did the lacquers at Sterling Sound, and, based on what I'm hearing here on Chicken Fat, I have no reason to think that this was made from a digital source — but if it was, they did a great job of matching the vibe of my original pressing. (More on that in a bit.)
Their choice of including Mel Brown's Chicken Fat in this inaugural run is also timely. Prior to this posting, I found just three original pressings on Discogs ranging in price from $50 to $150, and listed as in no better than VG condition. There is clearly a need for these reissues. While these copies are priced quite fairly; you can find other copies online and in stores for about $30, or even a bit less. [MM adds: For further comparison, the SRP for the new pressing Mark is reviewing here is $29.99.]
Still, I was wondering, so I also checked the WhoSampled site to see if this album might have become a hot collector's piece among DJ types for sampling — something that, these days, often drives up the price for obscure and rare albums. But, no, this album hasn't been digitally henpecked, if you will, though some of Mel Brown's later releases have been sampled.
Hence, it seems that Chicken Fat is a tastemakers choice release — the tastemakers in this case being the folks at Verve, UMe, and Third Man. This ties in with some of the promotional language the label has issued for this record, as follows (this time, in italics):
Brown's clean picking style — honed while playing alongside John Lee Hooker, Bobby Bland, and T-Bone Walker — marinates deliciously with the swinging soul-jazz organ of Gerald Wiggins. Featuring the simmering lament "I'm Goin' to Jackson," the electrifying "Greasy Spoon," and the standout title track, "Chicken Fat" is quite possibly the funkiest and most unique album ever released on the label.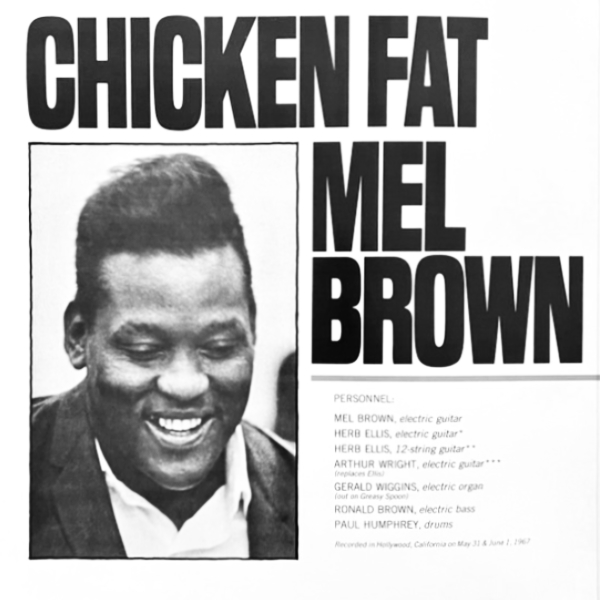 I can't dispute this. Chicken Fat is a stellar session with some stellar session players on it, including smoking 12-string support from the great Herb Ellis. I don't usually pair Ellis' name with a word like "smoking," but this is perhaps the best soloing — and collaborative playing — I've heard from him. And he's playing an acoustic 12-string guitar here to boot.
But we are here for Mel Brown's playing, and his clean, precise, and heartfelt style shines through on this version of Chicken Fat. This is also before there was lots of distortion and such being brought into the blues universe, but that makes his playing no less passionate. In some ways, he reminds of Larry Coryell's early sound, albeit with a different level of authority on the fretboard.
The killer grooves are courtesy of no less than drummer Paul Humphrey, who played with everyone from Charles Mingus, Frank Zappa, and Steely Dan to Jerry Garcia's short-lived Legion of Mary. Ronald Brown's bass playing is pretty knocked out, grooving tightly with Humphrey on these nine Fat tracks. There are some nice moments where the low end really pumps here.
The thick, black vinyl pressings are well-centered and quiet. And the great news is, it compares favorably to my near-mint-condition original pressing in terms of sound quality. The new edition is perhaps a little quieter, but other than that, it delivers that clean and crisp but still round, full-bodied Impulse Records sound. I suspect it was perhaps originally mixed with a slight edge toward pop radio, so even my original pressing is a little on the bright side, but nothing that I find problematic. I'll put it this way — Chicken Fat sounds great when you pump up the volume.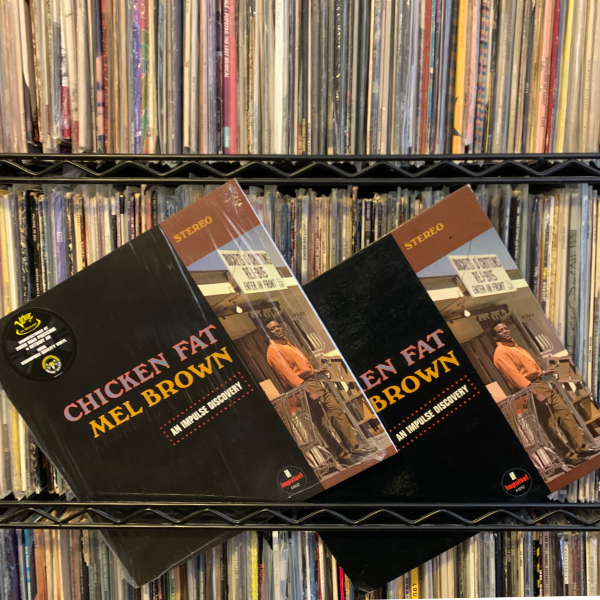 The cover features the original album art in a high-quality level that matches up very impressively next to my original pressing (check out the side-by-side photo above). I suspect they used the original art elements, as even the font on the spine is pretty much identical to my 1967-era pressing. They even reproduced the original Impulse Records label, which is almost period-accurate. (More on that in a moment.)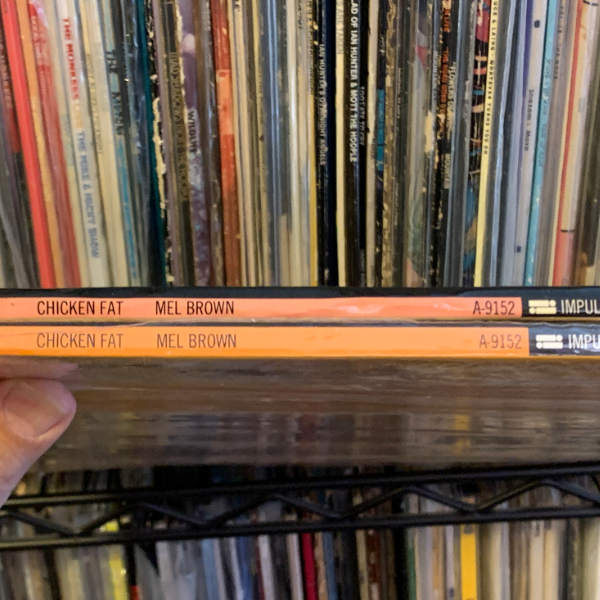 What are the downsides? Well, this reissue isn't quite manufactured at the same level of production values as the Verve/Acoustic Sounds and Blue Note Tone Poet reissues, so one needs to set expectations accordingly. That doesn't make it any less good, mind you — it's just different. The cover manufacture is more of the modern style, printed direct to a good-quality, white oaktag-type stock instead of the thick cardboard with printed art pasted on and laminated to the gatefold covers, as found on those other reissues.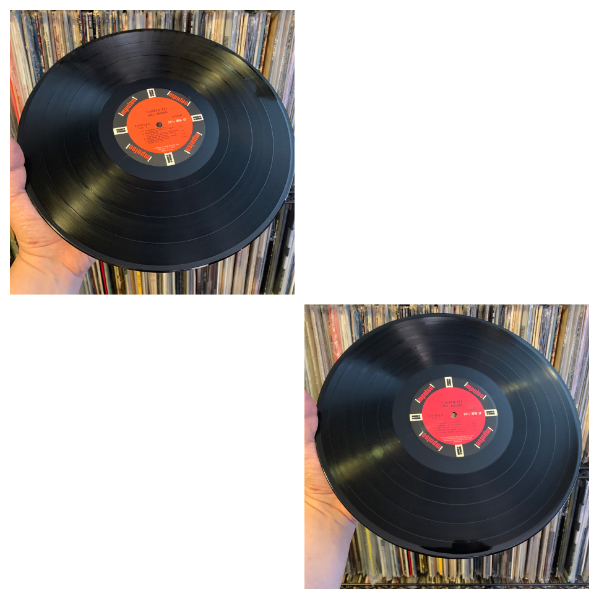 While they did recreate the appropriate Impulse Records label, for some reason, my copy came with a label that is deep, vivid, fire-engine red instead of the bright orange of the original.
While I have asked Universal about this admittedly nit-picky little detail, I think I may have figured out what happened on, at least, my copy. As part of this new Verve By Request series, Third Man Records is also pressing a limited-quantity yellow color variant of each LP (available exclusively via Third Man and uDiscoverMusic). Each of these editions are packaged in a curious two-color, screen-printed variant design album jacket. If you look closely at the photo of the yellow vinyl edition, it indeed has a red Impulse Records label, not the orange.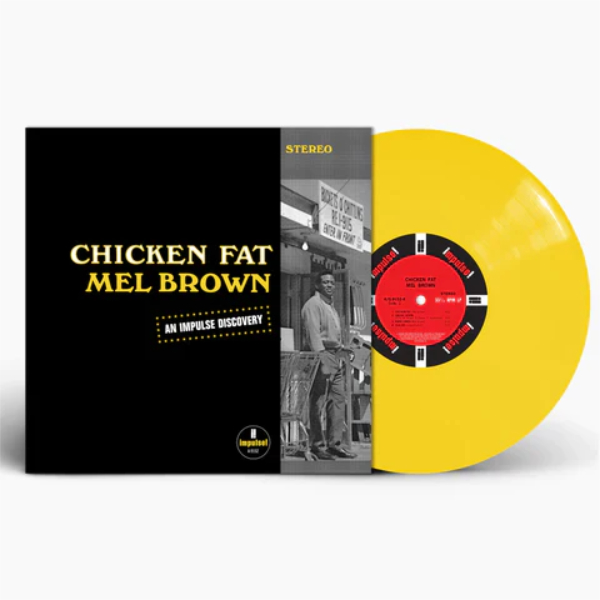 Well, as many fellow music fans remind me at moments like this when my collector's obsessiveness starts to makes its presence known, "You can't play a label!" That's very true. But in this case, if you just want to enjoy Mel Brown's rich Chicken Fat in all its funkin' rockin' analog glory, this new 180g 1LP reissue will taste mighty fine indeed.
(Mark Smotroff is an avid vinyl collector who has also worked in marketing communications for decades. He has reviewed music for AudiophileReview.com, among others, and you can see more of his impressive C.V. at LinkedIn.)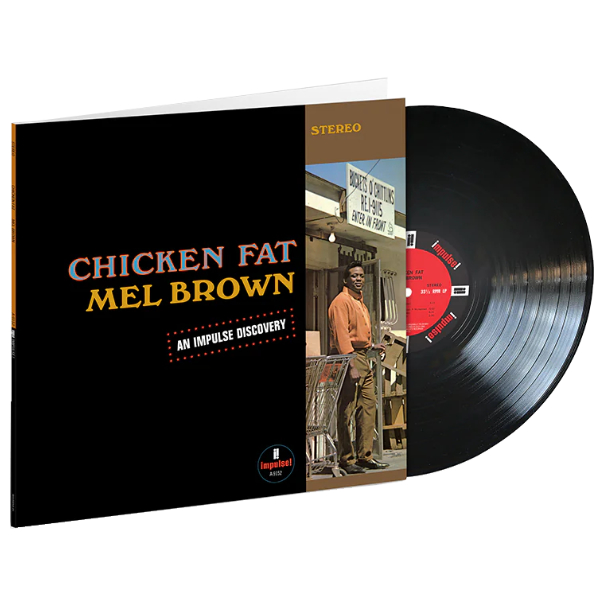 MEL BROWN
CHICKEN FAT
180g 1LP (Impulse/Verve By Request/UMe)
Side A
1. Chicken Fat
2. Greasy Spoon
3. Home James
4. Anacrusis
Side B
1. Hobo Flats
2. Shanty
3. Sad But True
4. I'm Goin' To Jackson
5. Slalom
<!- ------------------------------------>