The Wind of Excellence Permeates All Aspects of Peter Frampton's All-Analog Frampton@50: In the Studio 1972-1975 180g 3LP Collection From Intervention Records — a.k.a., How Vinyl Box Sets Should Be Done
I'm going to start my review of Peter Frampton's excellent new Frampton@50: In the Studio 1972-1975 180g 3LP box set from Intervention Records with three key numbers: 100, 50, and 75. What do they mean? Glad you asked.
Let's take them in order. First, "100" represents an important distinction regarding all the music in this historic collection being "100% analog from ½" safety copy of UK production master," as per the text in a key graphic element on the back of each of the three Frampton LPs in this must-have Intervention Records box set.
Next, "50" stands for the 50-year designation in the box set's core title itself, reflecting the vintage half-century nature of the music in this collection as culled from three of the first four albums that comprised Frampton's early solo career on A&M Records, following his departure from Humble Pie — namely, July 1972's Wind of Change, May 1973's Frampton's Camel, and March 1975's Frampton. As many of us already know, October 1974's Somethin's Happening was deliberately left out of this box set's equation for quite logical and mainly technical-oriented reasons both the artist himself and Intervention Records head honcho Shane Buettner explained near the outset of my interview with Frampton that posted on AP back on July 12, which you can read in full here.
Finally, "75" is the volume level I cranked my amp up to while listening back to all three of these albums, which I found to be the sweet spot required in order to achieve maximum AAA enjoyment with absolutely clean, fully rich, and wholly undistorted playback. (Your own preferred volume level may vary.)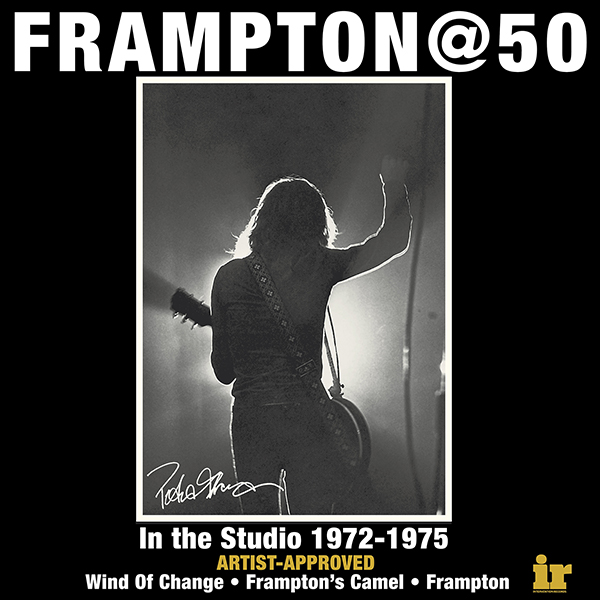 Show Me the Packaging
Let's begin the review proceedings in earnest by assessing the ultra-important Frampton@50 box set stats and packaging details. This numbered, limited edition AAA 180g 3LP collection tops out at 2,500 copies, sports an SRP of $159.99, and its official release date is this upcoming Friday, July 28. (Ordering information can be found at the end of this review.) My own copy arrived a few days early, packaged snugly — but not too snugly — in a sturdy Intervention Records-branded white cardboard box, with 1in of reinforced cardboard inside the shipping box itself on either side of the box set to keep it from moving around during the transporting process. If you've been reading our Album Reviews section faithfully, you already know we always point out how loose LPs, torn inner sleeves, random dust and/or residue on the discs themselves, and more can all be the result of less-than-meticulous shipping and packaging efforts — but Intervention had those bases covered quite handily here with the pristine condition of the Frampton@50 I received.
Each of these three Frampton@50 LPs was "100 percent" (that number again!) analog mastered by Chris Bellman at Bernie Grundman Mastering from the "best-sounding" analog tape sources available (i.e., via the ½" safety copies of UK production masters that were cited earlier in this review). These 180g LPs were plated at RTI and pressed at Gotta Groove Records in Cleveland, Ohio. All three of my box set's LPs were well-centered and clean when I removed them from the plastic-lined inner sleeves. The only minor flaw of note was one miniscule burr on the outer circumference of my copy of that was, if you were to draw an imaginary line from the literal edge of the disc on upwards, located on that edge under the right side of the label area where the lowercase "ir" logo and catalog number info appears. That said, let me be absolutely clear here — that burr in no way had any effect on the overall playback, playback speed, or sound of either side of this LP whatsoever.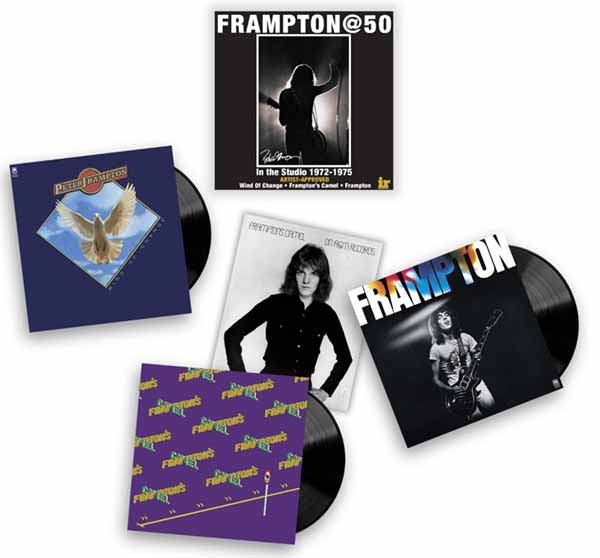 The Frampton@50 box set itself measures 12.5 x 0.6875 x 12.07in (w/h/d), making it quite easy to shelve alongside most standard LP box sets. The size of the type used for the album title and the all-caps label name on the box set's spine is big and bold in white on black — all of which makes it quite easy to locate and read from a distance.

The jackets for all three Frampton@50 LPs are "old-style" tip-ons and are courtesy Stoughton Printing, done with a QC standard that makes each of them among the most accurate cover reproductions I've seen in quite some time. Both Wind of Change and Frampton's Camel boast the "brown-in" blanks true to their original UK LP releases, along with the period-accurate old-school red A&M-atop-trumpet company logo next to the track listings. (Said trumpet is in deference to label co-founder Herb Alpert's instrument of expertise.) The Frampton label reflects the mid-decade A&M logo's curve-and-fade style.

All three LP jackets in this box set are printed on heavy stock, and they're also film-laminated. While both Change and Camel remain true to their single-LP slot origins, the original Frampton LP came with an inner sleeve containing lyrics printed on both sides — but here, Intervention decided to extrapolate them to instead comprise the interior panels of this album's new 1LP gatefold, which is quite a-ok by me.
The Frampton@50 box set itself comes in a deluxe slip case, with a matte-textured finish and spot Gloss UV highlighting the main image, and it boasts double-pass foil numbering around back, near the bottom-right corner. Frampton@50 also comes with an authentic reproduction of the Peter Frampton promo poster that was included only in the earliest original LP copies of Frampton's Camel (here, tucked inside and folded, in four-panel style), along with a Certificate of Authenticity adorned with a message from Peter himself.

About the only nit I could pick here in terms of packaging is that I would have liked to have gotten some historical liner notes that covered the inner history of these albums in more detail, especially in regard to the production teams and performance personnel and why Frampton chose to work with them — but that's hardly a dealbreaker. Fact is, Intervention went the extra mile to guarantee packaging accuracy and durability for Frampton@50 — and, speaking as an inveterate collector-slash-critical listener who has more box sets to shelve than I care to admit, these efforts are beyond appreciated.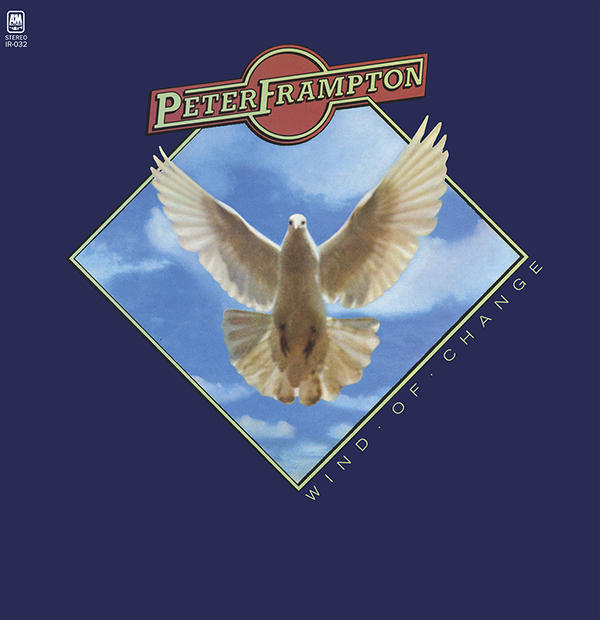 Wind of Change . . . for the Better
And now, let's get to the listening sessions, plural! First, I have to commend Intervention for ensuring there was plenty of run-in groove on each side of each LP in the Frampton@50 box set — more often than not these days, both new and reissue LPs alike barely give you enough time to drop the needle and get settled into your favorite listening position before the music starts.

But not here! As I dropped the needle on Side One, I had ample time to nestle into my Eames listening chair perch and enjoy the full breadth of Track 1, "Fig Tree Bay," a buoyant song that contains some critical sequences featuring strings arranged by Del Newman. "Fig Tree Bay" is also the immediate raison d'être start to Frampton's solo career, and lesser pressings have failed to represent it accurately. Mike Kellie's cymbal taps are clear and the strings buttress, rather than intrude, on Frampton's first guitar solo. Newman also handles the flute and marimba you'll hear elsewhere in this track, instrumental details that can get (and have gotten) swamped in the mixing murk on inferior LPs.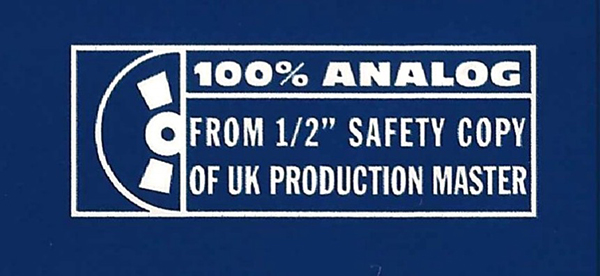 The shift to the acoustic-guitar focus that opens and then floats throughout Track 2, "Wind of Change" — a sequencing tone-shift strategy found on more than one Frampton LP during this era — emits a clear-hearted jangle and purpose of intent if ever there was. Side Two commences with a personal favorite of Frampton's — and of mine, as well — "All I Want To Be (Is By Your Side)." Percussion is a notable part of the overall mix here, neither dominant nor distracting and right where it all should be to buttress Frampton's vocals and guitarwork. As Frampton glides into the next three tracks — "The Lodger," "Hard," and "Alright" — there's a palpable sense of utter joy in his playing, something that isn't rushed or too show-offy, and I too felt that joy while listening to an album that benefits from being able to in its all-analog glory.

All this and more make the Intervention Wind LP preferred listening over both my U.S. and Japanese pressings.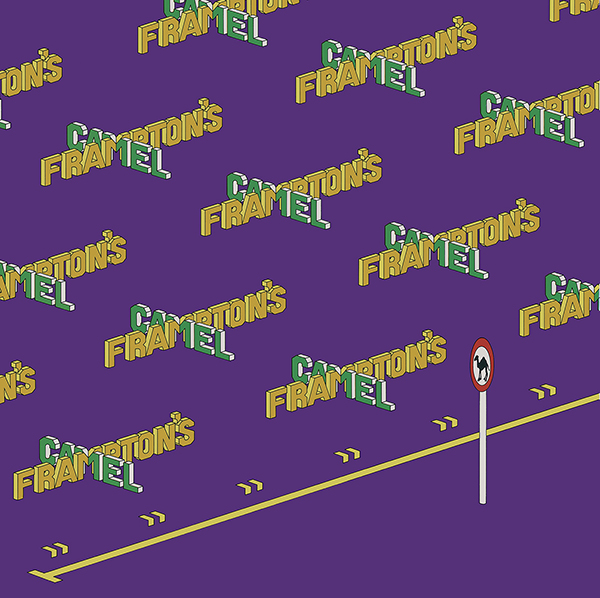 Frampton's Camel Gets Over the Hump
For the 1973 follow-up, Frampton decided to travel down more of a band-oriented route, hence the collective designation of the title. I can't say the cover design is amongst my favorites in his canon, but Intervention gets full kudos for insisting on holding firm to capturing its quite vibrant purple hue — albeit to the detriment of the slightly washed-out band photo on the back cover, but that too remains true to form and initial intent — as well as going with Frampton's own wish for the spinal type to remain upside down to mirror its UK pressing origins.

The opening tracks on each side — "I Got My Eyes on You" and "White Sugar," respectively — share a certain "the band's all here" mentality, with "Eyes" awash in a funky-tunk crunch and "Sugar" doing the anti-coke ramble-tamble accordingly. The more intimate nature of Track 3 on Side One, the perennial concert favorite "Lines on My Face," and Track 2 on Side Two, "Don't Fade Away," both lean much closer toward the artistic intimacy that dominate the balance of .

That said, the Side Two closer, "Do You Feel Like We Do," is a stone-cold marvel — a perfect album-ender clocking in at 6:45 that's well worth a listening refresh for anyone used to the more frenetic version that's on Frampton Comes Alive!. The soundstage is nice and wide on this one, wholly allowing Frampton's gnarly lead guitar lines some air to snarl all about — the character of which you simply won't feel digitally, by the way — with a fine bed of Mick Gallagher's Wurlitzer electric piano rightly underneath as support (plus, he gets to take one well-deserved soloing counterpoint). Also, pay special attention to how the layered vowel sound in the second "you" gets drawn out with slight variations in the oft-repeated, pronoun-modified titular phrase query, "Do you — you! —feel like I do?"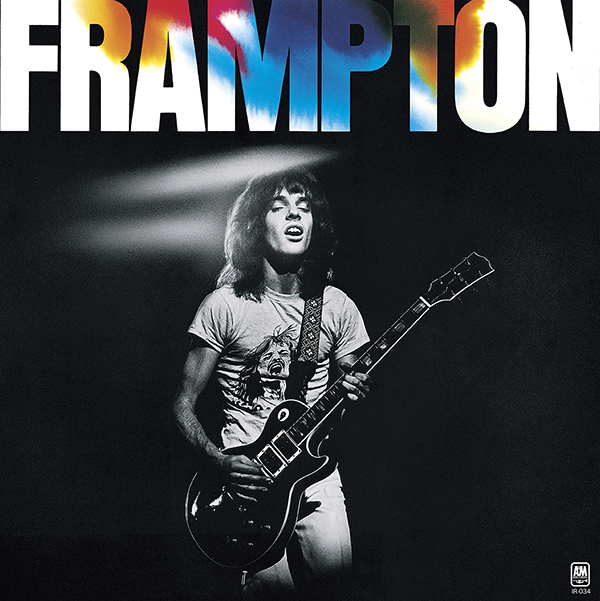 Frampton in Studio Foreshadows Frampton Comes Alive!
The self-titled 1975 release Frampton rounds out the box set in its above-noted and much appreciated gatefold form. Frampton had more commercial impact than its three predecessors, and it gave even more clues as to where the ensuing blockbuster double-live album, January 1976's earlier-noted Frampton Comes Alive!, would be going.

Track 2 on Side One, "Show Me the Way," marries Frampton's instantly recognizable acoustic strum with that signature talkbox effect in an almost demo-like way, given how the song has opened up considerably in the live arena in these subsequent decades — but I also like how the talkbox is used as support in various spots on the verses and choruses in addition to its featured solo spots.

Besides that, I reconnected with both the sentiment and vocal effects on the final track on Side One, "Fanfare," as well as the thrust of the instrumental intro section for the somewhat sentimental Side Two opener, "Nowhere Too Far (For My Baby)." And that, of course, leads directly into the one-two punch of Tracks 2 and 3, "Nassau" and "Baby I Love Your Way" — technically listed as a "Medley" here. I still love the noodly, sunset-vibe nature of the guitar-and-piano interplay on "Nassau" that sets the table for "Baby I Love Your Way," which I guarantee will hit you somewhat differently than the audience-singalong version you may be used to hearing. Zero in especially on the freewheeling acoustic guitar and John Simon's rim taps during the verses to see what I mean here.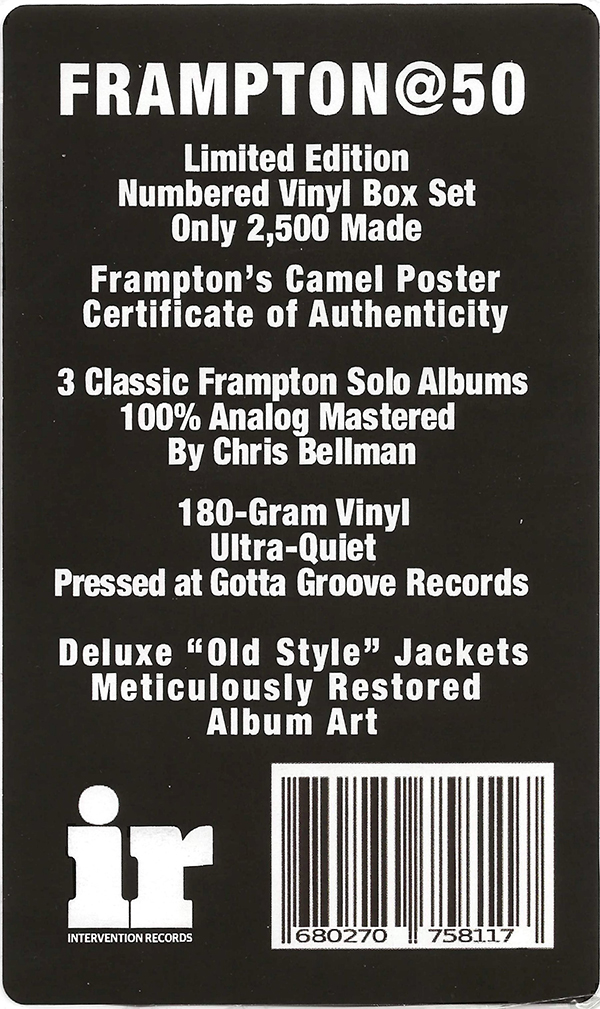 Frampton and Intervention Records Are a Perfect AAA Match
I could go on and on, but the bottom line here is clear — Intervention Records has achieved a new plateau with the full-on AAA excellence of Frampton@50: In the Studio 1972-1975. This is one box set that holds up upon repeated listens, and it's also one that will be revisited across the years, especially when future Frampton AAA catalog installments arrive — yes, I'm looking directly at you (you!), original tapes and safety masters of Comes Alive!.

Why wait? Since Frampton@50 is a limited edition of 2,500 and likely to sell out sooner than later, I suggest you order your copy STAT, if you haven't done so already. The wind of Frampton@50's complete AAA-level brilliance could soon enough be upon your ears — and then, you too can truly feel like we do while you're listening to it all.

The Frampton@50 box set (SRP: $159.99) can be ordered directly from Intervention Records here.
Additionally, Frampton's own official webstore has an exclusive allocation of 250 Frampton@50 vinyl box sets that include an autographed version of the Frampton's Camel promo poster, with the proceeds benefitting the Peter Frampton Myositis Research Fund. This SRP for this special version of the box set is $259.00, and it can be ordered here. Supplies are limited, as the saying goes.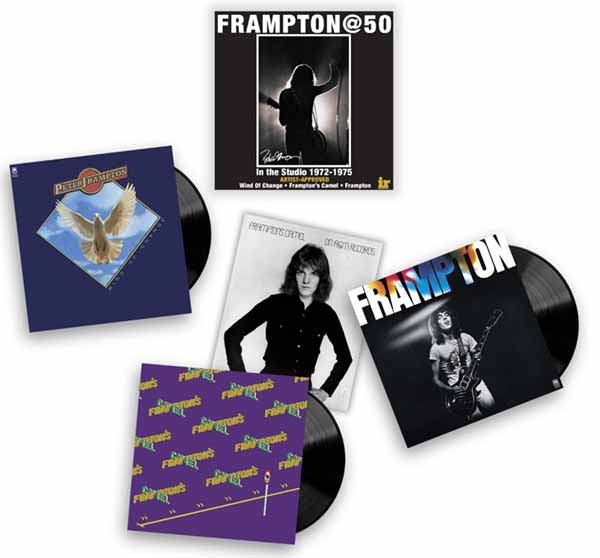 PETER FRAMPTON
FRAMPTON@50: IN THE STUDIO 1972-1975
LIMITED EDITION BOX SET
180g 3LP (Intervention Records)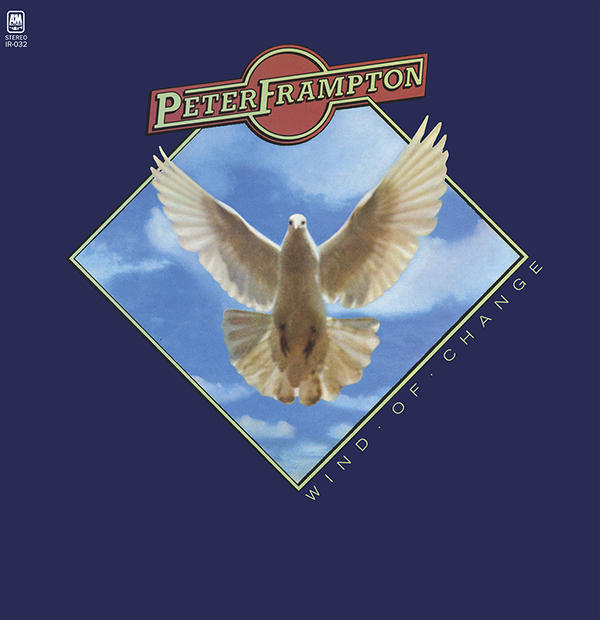 WIND OF CHANGE (1972)
Side One
1. Fig Tree Bay
2. Wind Of Change
3. Lady Lieright
4. Jumping Jack Flash
5. It's A Plain Shame
6. Oh For Another Day

Side Two
1. All I Want To Be (Is By Your Side)
2. The Lodger
3. Hard
4. Alright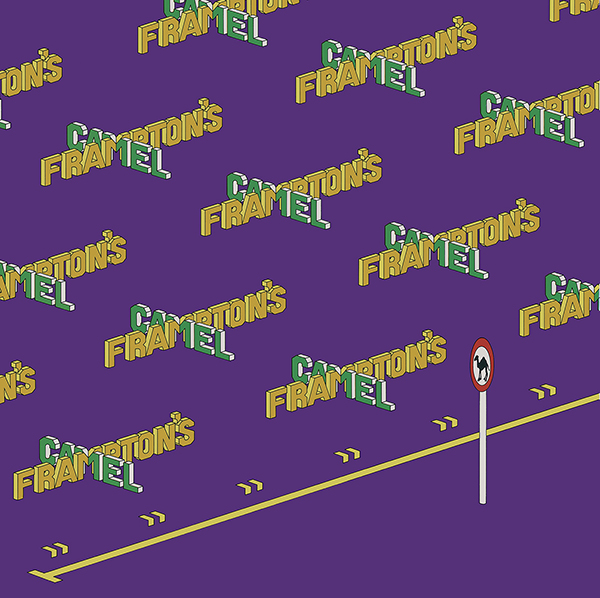 FRAMPTON'S CAMEL (1973)
Side One
1. I Got My Eyes On You
2. All Night Long
3. Lines On My Face
4. Which Way The Wind Blows
5. I Believe (When I Fall In Love With You It Will Be Forever)

Side Two
1. White Sugar
2. Don't Fade Away
3. Just The Time Of Year
4. Do You Feel Like We Do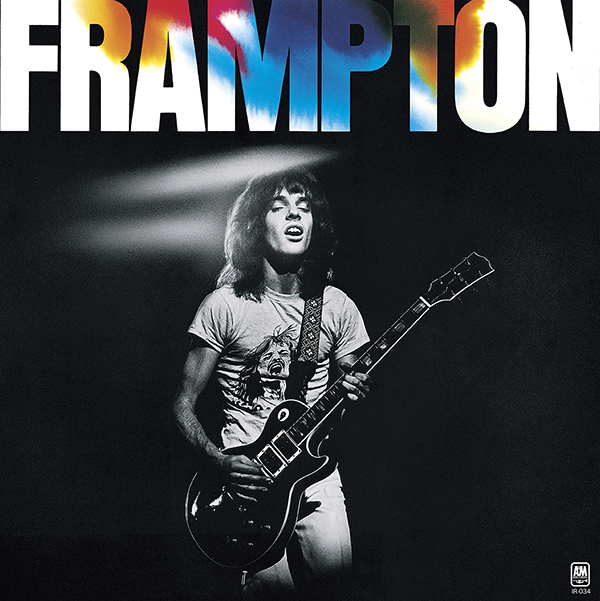 FRAMPTON (1975)
Side One
1. Day's Dawning
2. Show Me The Way
3. One More Time
4. The Crying Clown
5. Fanfare

Side Two
1. Nowhere's Too Far (For My Baby)
2a. Nassau
2b. Baby, I Love Your Way
3. Penny For Your Thoughts
4. (I'll Give You) Money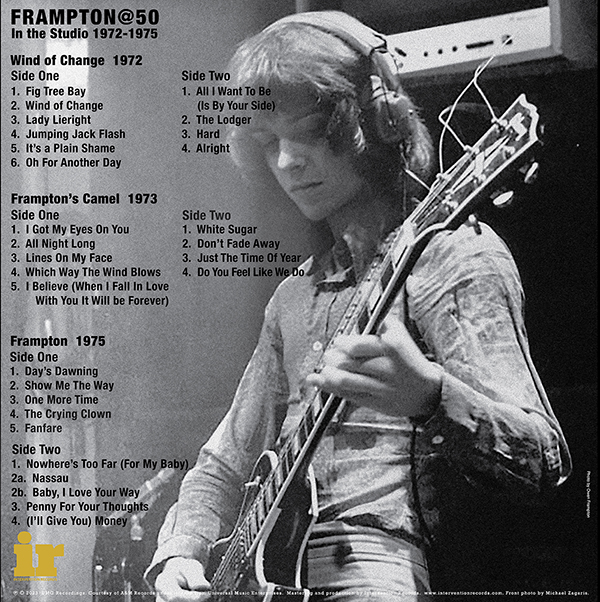 <!- ------------------------------------>