Capital Audio Fest 2021 Day Two Coverage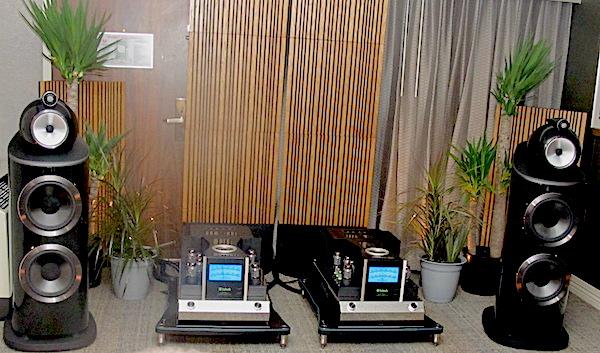 Day two of the Capital Audio Fest began outside where I ran into Theremin manufacturer Arthur Harrison who'd been invited to give two talks on the spooky sounding instrument. The usual show stuff follows that fascinating encounter. I try to not review hotel room sound unless something sticks out as being unusually fine sounding.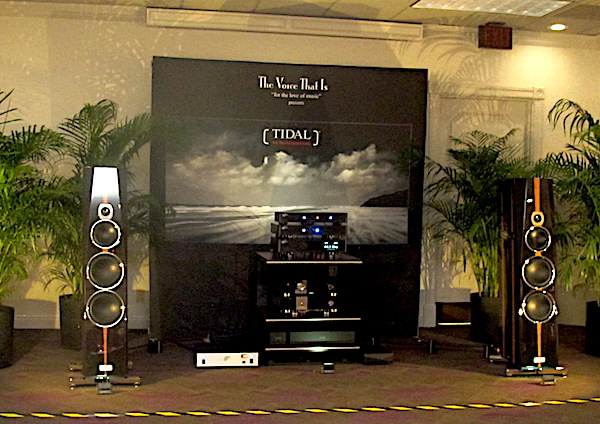 Doug White of The Voice That Is, in cooperation with Audio Skies Michael Vamos were the only exhibitors who chose to host an early morning press conference, so I attended along with a many other journalists on hand to cover the show. For most of us it was our first audio press conference in more than a year and it was a welcome return to semi-normalcy.
The system consisted of TIDAL Contriva Loudspeakers, normally $69,000 with a special limited to 20 pairs worldwide edition on display costing $72,000. Very handsome looking speakers! The electronics consisted of TIDAL's Prisma Preamplifier ($40,000) and TIDAL's new Intra stereo amplifier ($33,000). The source was the new triple box made in Greece and imported by Audio Skies Ideon Audio Absolute Epsilon DAC ($44,000), Ideon Absolute Stream ($$19,900), and the Ideon Absolute Time ($8,900) together called The Absolute Suite System. Obviously the 2nd and 3rd units are a streamer and an outboard clock. Accessories included Siltech Classic Legend and Crown cables, Computer Audio Design Ground Control-1 ($1995); GC-3 ($4500), which I reviewed and bought. It's a passive grounding system that removes noise from your system, not necessarily noise you hear as noise, but when it's gone you'll know it! Power conditioning was Equitech's 2RQ Balanced Power Conditioner ($6,545) and the rack was the Ictra Design Proto-AS Rack. I have to give this company the "self-centered home page award." They are so into their superb close up photography they don't bother to tell you there what their product even is! I swear. You have to dig in to get it.
Mr. Vamos, who also imports the very fine Pear Audio Blue turntables, spoke about the Ideon Audio DAC and said it was "the most analog-like" DAC he'd ever encountered and he said it was also the most dynamic. He said it could decode all formats. I asked about MQA and he said the company chose to not include it. After the description, Mr. White played about a half-hour's worth of music, mostly small group pop and jazz efforts, much of which (though not all) featured processed vocals. It was confounding because none of it demonstrated what Vamos claimed were the DAC's strong suits: dynamics and "analog-like" sound. At the end The Absolute Sound reviewer Andy Quint, who I was sitting with (the two of us agreed about the curious musical choices), got to hear some classical music he'd requested that did produce the promised dynamics and analog-like sonics. After the event I spoke to both White and Vamos and stuck my nose into their business, saying "If you are going to make claims about "dynamics" and "analog-like" performance from the DAC you are demonstrating, why not pick out some music that produces both of those and announce same before playing? I felt that after all of this prep work it was a lost opportunity, save for Quint's file, which may or may not have been an excerpt from Berlioz's "Symphony Fantastique". That was the sonic highlight that showed off the entire system capable of filling the large room with authoritative sound.
The $50 Reliable Corporation Uberlight Flex light reviewed here a while back was all over the show. The manufacturer smartly shipped a bunch to many exhibitors so attendees could see how great a product this is for so little money and now it's also available in black.
The pent up demand for a show plus good organization by Gary Gill and a pleasant venue made Cap Audio Fest 2021 a great way to start up the audio show season. This past weekend I went to Seattle to play records at a listening event produced by Audio-ultra's Ed DeVito (who along with Rex Hungerford visited twice and helped fix my bad electricity so it was the least I could do). One of the Zoom meeting guests was Franc Kuzma who "Zoomed in" from Slovenia. At the end of his presentation I said "See you in Munich, Franc" and he replied that he didn't think there would be a Munich show in 2022 because Covid is again plaguing Europe. That was depressing news and I hope it's not true, but hopefully I'll see some of you at AudioCon in Irvine, CA January 14-16th, 2022 (yes, that's what it's called). In any case, enjoy day two of Cap Audio Fest 2021!
<!- ------------------------------------>