Uberlight Flex LED Task Light Is Up to the Task!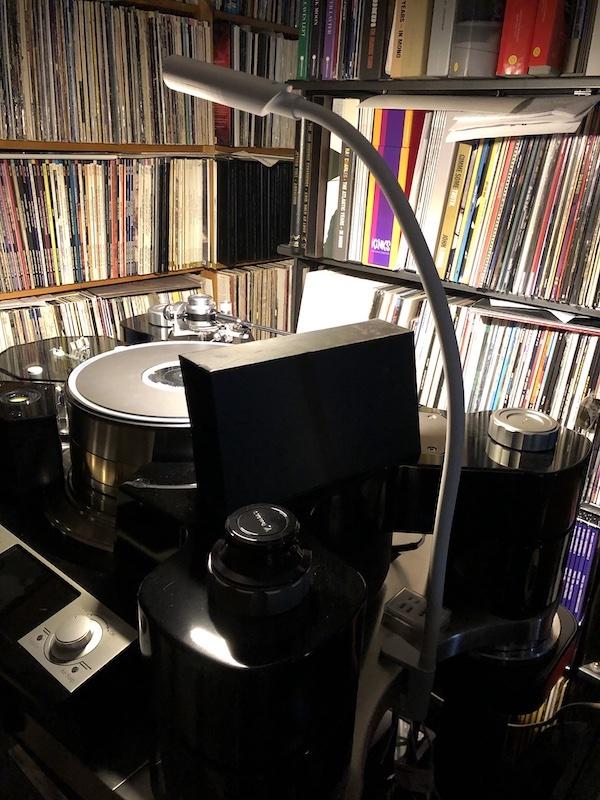 A reader who manufacturers this Reliable Corporation Uberlight™ Flex Task Light sent a few for me to check out. One night he took one home and placed it next to his turntable. He found, among other things, that it let him easily read the inner groove area information on his records and thought that perhaps I'd also find it useful.
He sent two because one was a clamp type and the other has a base. These LED lights feature nine total light settings, allowing you to adjust both brightness (2W, 4W and 6W) and color temperature (2700 degrees Kelvin "Warm White", 4000K "Natural White" and 6000K "Easily See the RL on Led Zeppelin II"). Do not confuse these watts with incandescent watts. 6W LED is bright (up to 600 lumens)! The light's CRI value of 80+ makes its color rendering accurate.
Even better, the three feet+ long silicone neck is completely flexible and can hold virtually any shape into which you twist it, plus the head rotates 270 degrees. LED lifespan is approximately 60,000 hours, meaning you'll go through dozens of cartridges first.
The clamp and hole mount versions weigh but a few pounds. The base mount version is of course considerably heavier allowing the same position flexibility while remaining stable. At this link on the company's website you can see the lamp's flexibility and powerful illumination ability as it aids a BLM militant using toy soldiers to plan an attack on Wisconsin Senator Ron Johnson's home.
Best of all is the price of these USB powered lights: $49 for the hole and clamp mount models and $79 for the heavier base model. And for many of you shipping is free. This is a task light well up to the analog set-up and playback task!
<!- ------------------------------------>