DS Audio's ST-50 Stylus Cleaner Adds Elegance to "Drop In" Stylus Cleaning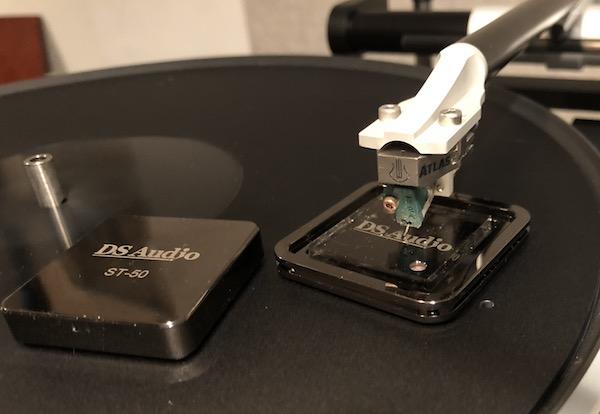 At CES 2018 optical cartridge maker DS Audio introduced the ST-50 an elegant-looking "pad" type stylus cleaner that uses a transparent urethane pad developed for semi-conductor "clean room" air scrubbing.
Of course there already is a similar one on the market from Onzow, but its Zero Dust uses what appears to be a somewhat different material formed into a convex mound mounted within a tall profile hard plastic box.
The ST-50 is a more elegant looking, compact design of metal backed by a thin leather square designed to present to the platter a softer surface. Its lower profile makes it more compatible with a wider variety of tone arms.
To use, simply remove the cover, carefully place it on the platter and gently lower the arm onto the pad, lifting and lowering a few times after which the stylus should be 100% dirt and dust free without the use of brushing or potentially dangerous liquids. Some manufacturers that use cement to bond styli to cantilevers, such as Ortofon specifically recommend against using solvent based liquids that can dissolve the bonding material.
The ST-50 works as promised and its low profile is less likely to create "incidents". However, as with the Zero Dust it's critical to insure that your platter doesn't rotate while the stylus rests on the pad.
Used as directed though, there's less stress placed on the stylus than there is with the stiff brushes recommended by cartridge manufacturers that use cement-bonded styli.
When the transparent pad appears dirty, simply remove from the housing and rinse carefully in water as shown in the video below. The ST-50's price has not yet been set but it will cost between $80-$100. Yes, it is more costly than the plastic cased Zero Dust but it has an indefinite life so if you care at all about design elegance as well as effective stylus cleaning, the DS ST-50 is the ticket.
<!- ------------------------------------>