C.E.S. Wrap-Up: Was 2017 The Final C.E.S.?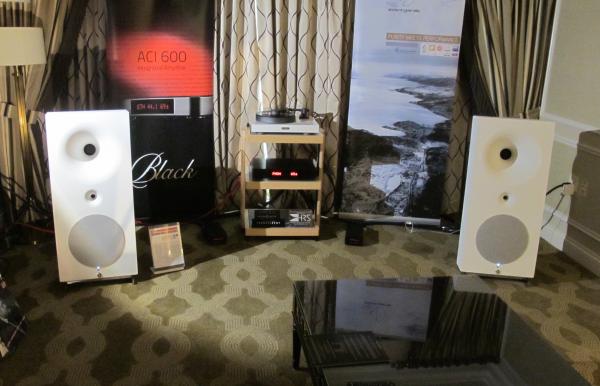 Of course C.E.S. 2017 will not be the final C.E.S. for the gadget hawkers and manufacturers of products that upon introduction are born obsolete. The big halls will continue to attract those who traffic in appliances, gadgets, and soon to be commoditized and devalued innovations.
The question on the minds of those in the high performance audio floors in the Venetian Towers, was whether or not this C.E.S. segment will survive.
Attendance last year and this year was clearly down, but more significantly so was industry participation. Almost all of the high performance audio exhibits were found on two floors of the Venetian and even then there were some strangers in our midst: Simmons Mattresses and AARP were both located on our floors.
That makes for easy pickings among cynics who would say our segment is a "snooze fest" populated mostly by "geezers". However, that's simply not true thanks to vinyl, which is re-invigorating high performance audio, especially among young enthusiasts.
Clearly the "softathome" room (a French telecommunications company that also really didn't belong) produced the most snickers, especially among adolescent minds, mine included. How would you like to introduce yourself as working for "softathome" other than to be handed free Viagra and Cialis tabs? Speaking of bad names: Cialis? It should be called Cdick. But I digress.
The upper suite floors were where some of the 'heavier hitters" set up shop but this year very few were up there: LAMM, McIntosh Group and a few others. Otherwise these suite floors were filled with hospitality suites unrelated to audio and to semiconductor companies. It was grim.
I've been attending the Consumer Electronics Show since 1978. Haven't missed a year. I've watched it grow in size, stature and professionalism. Saw it through the car stereo boom, the introduction of the VCR, and then of course the iPod, with Apple, the biggest game-changer MIA.
High Performance Audio has always been an outlier at C.E.S. It began at The Jockey Club, moved to the seedy, moldy, Sahara bungalows and the Riviera. More recently it was exiled to the Alexis Park, a garden apartment-like complex far from the convention center. At the same time T.H.E. Show set up shop next door, not part of C.E.S.
For a few years, this set-up proved ideal for many reasons but a few years ago management moved us to The Venetian. Some liked it better, some didn't. It surely made hall roaming easier and overall most were happy with the inclusion into the show-proper since The Sands Convention Center adjacent and connected to The Venetian was growing in stature as part of C.E.S. The curious could check us out without bussing it across town.
Combine the not so crowded halls, the drop in industry participation and the lack of dealer attendance and it would be easy to claim that C.E.S. is "down for the count"—at least for high performance audio. However, some with whom I spoke said they met with enough dealers and took a sufficient number of orders to make worthwhile the time, expense and hassle of exhibiting.
Speaking of expenses, what's happening to the costs of attending is analogous to what's happening with rents in big cities: the mom and pop stores are being squeezed out by the chains. Our industry is "mom and pop" compared to the big industrial giants that can afford the rents (hotel display rooms and subsidiary charges). In addition the sleeping hotel room rates have been skyrocketing—at least for the first few days of the show. And the airlines have gotten into the avarice act too: I could have flown to Hong Kong for what the flight cost this year from Newark to Las Vegas. They know you gotta go, so they know they can charge whatever they want and they do.
Still, I don't think 2017 will be the final C.E.S.—even for High Performance Audio. However, if the trends continue it will be only a matter of time before Munich takes over completely because that's where it's heading.
Nonetheless once you get there, C.E.S. is fun even if, like me, you leave your bag in a room and suddenly discover you are without it and have to frantically double back to every room to find it, in my case while you are being filmed for a Stereophile feature video! I can't wait to see that one.
Don't expect "best sound at show" awards from me. I think that's a foolish endeavor and a waste of time. Getting good sound at a show is nearly impossible. Most of those 'awards' are really for getting advertising and the cynicism reeks IMO.
The exercise is also excellent for acting out vendettas in print against companies particular reviewers don't like or wish to get back at because the manufacturer dares to not provide "long term permanent loans" of gear. When I retire I'll write a book and name names. I'm sick enough to puke over what goes on.
"Best sound" awards are also an excellent opportunity to excuse companies you favor ("the room had issues") and attack those you don't ("why would anyone use that speaker brand? Their drivers don't cohere") etc.
Nonetheless I did enjoy listening in some rooms including the one pictured at the top. Those are Avante-Garde horn speakers disguised as "box" speakers driven on top by a Bel Canto integrated Class D amplifier similar to the bigger separates i reviewed for Stereophile with analog sourced from a Bergmann turntable.
Another system I particularly liked included ATC speakers and a Prism DAC. Really honest and natural sounding like the ATC system I wrote about at the New York Audio Show. Also, I played in a number of rooms a double LP Taj Mahal set just released by Analogue Productions that I'll shortly review. Overall my favorite rendering of that record was in the Devore Fidelity room.
You'll have to find the Stereophile coverage for the particulars, but it was far from the most expensive system, you can be sure. I find the bigger the speaker, more difficult it is to get good sound at a show. This was the right sized speaker in the right sized room and it made the live to two mic recordings sound "live". You could really hear the acoustics of the room in which it was recorded twenty years ago and first released now.
Andrew Jones demoed some not quite finished but impressive sounding (what else is new?) ELAC stand mount speakers that will sell for around $2500 a pair. The performance was more in line with his work for TAD, while the price was ELAC-friendly.
Also sounding good are the rooms pictured here but again for complete show coverage of these and other rooms please go to Stereophile.com, which had a team of writers fanning out across the show, whereas I alone covered only analog for this site and so skipped the details: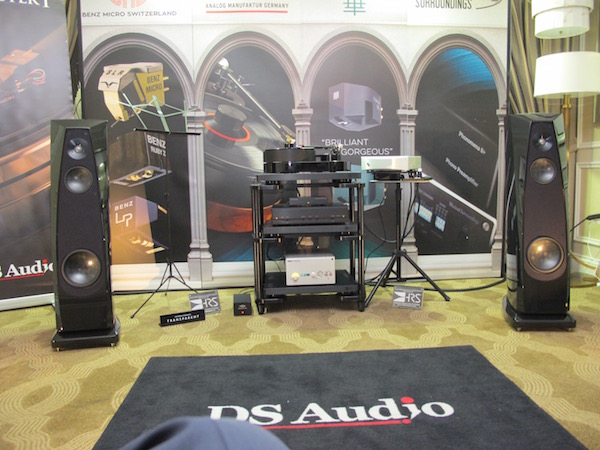 The DS Audio Musical Surroundings room featuring Rockport speakers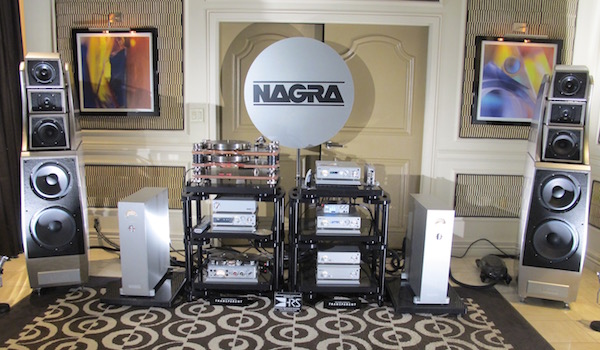 The Nagra room with Wilson Alexx speakers (currently under review here. Guess what? They sounded okay at the Mirage but much better at home).
The big Lamm amps driving these big Kharma speakers in a big room sounded great.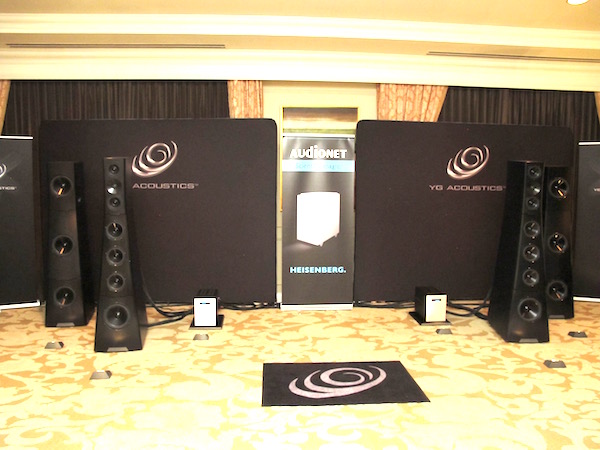 And finally the big, new four box YG Acoustics speakers driven by Audionet amplifiers with a Kronos turntable front end set up a spacious, full bodied sound stage with effortless dynamics.
Now I'm putting to bed C.E.S. 2017 and getting back to work!
<!- ------------------------------------>