Which $10,000+ Cartridge Do You Prefer?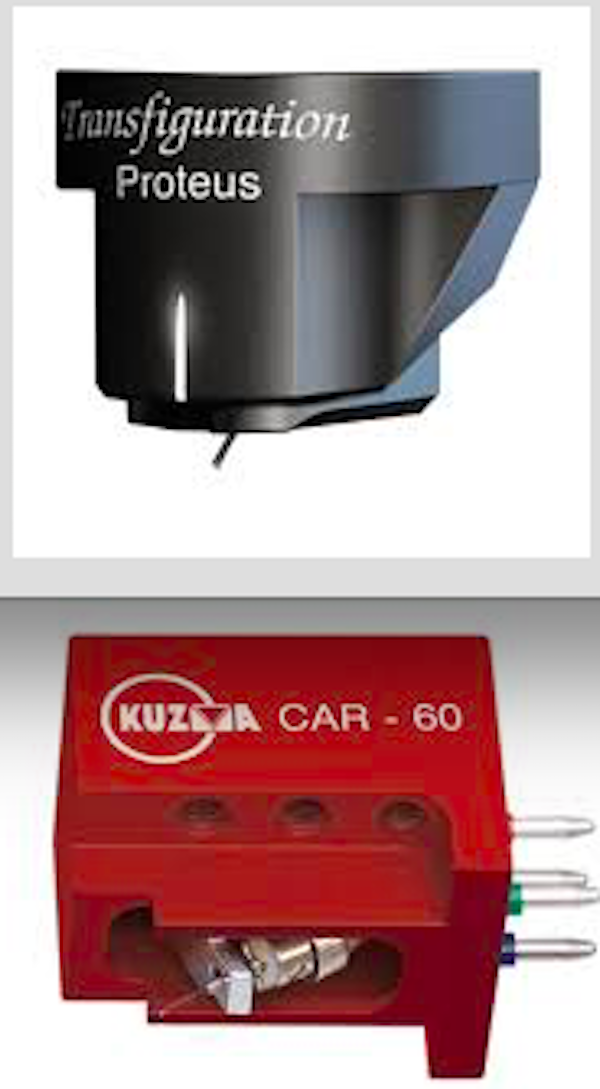 In a recent issue of Stereophile, Analog Corner covered a number of products including two very expensive cartridges: the Transfiguration Proteus D ($10,500) and the Kuzma CAR-60 ($12,995). Both feature diamond cantilevers but that doesn't mean they sound at all alike.
My take was that the CAR-60 lacked the slam or bass grip or low-end extension delivered by the somewhat less expensive Transfiguration Proteus D and that the CAR-60, with its strengths being transparency, liquidity and freedom from additive artifacts like hash, grain and edge, which I conclude here makes it better suited to acoustic chamber music rather than rock.
In the current Stereophile I re-visited the CAR-60 after Franc Kuzma and the American importer suggested that a voltage amplifier might be a better partner than the $50,000 current amplifier CH Precision P1/X1 power supply that I used for the review. I agreed to have another listen through the CH Precision's voltage amplification input and through the equally costly Silver edition of the Ypsilon VPS-100 phono preamp with MC-16L step-up transformer.
I'd previously recorded The Who's "Bargain" from the Classic Records' reissue of Who's Next using the Proteus D installed on the SAT arm. So when the CAR-60 returned I mounted it on the SAT and recorded the same track (both recordings at 96/24 resolution). When I compared the recordings I was satisfied that my original observations of both cartridges were accurate, though i admitted to having injected into the review too much of my own preferences and not sufficient objectivity.
I also promised to post here, when that issue of Stereophile was released, both files so you could listen for yourself and choose your favorite. Since I've already gotten a few emails from readers asking where the files were, I assume the issue has shipped to subscribers. My copy usually arrives later than most but since the emails have started, here are the files. It doesn't matter which you prefer, or if you don't like either one for that matter! This Classic Records reissue cut by Chris Bellman at Bernie Grundman mastering features spectacular sound in my opinion, better than the U.K. original cut by "Bilbo" (Denis Blackham), better the the original American Decca and even better than the "Heavy Vinyl" MCA release that I was involved in cut by Kevin Gray (though the lacquer of that that I have, surprisingly still sounds great).
There's no need to make this a guessing game, so here they are identified:
.
<!- ------------------------------------>