Abbey Road 50th Anniversary Remix Full Review!
2012 wasn't all that long ago and culturally not
that
much has changed, yet from that year to the September 27th release this year of the 50th anniversary edition of
Abbey Road
is how long The Beatles made records.
Think about it! Had The Beatles released "Love Me Do" in October of 2012, by this September 27th they would have recorded and released Please Please Me, With The Beatles, A Hard Day's Night, Beatles For Sale, Help, Rubber Soul, Revolver, Sgt. Pepper's Lonely Hearts Club Band, the Magical Mystery Tour EP, The Beatles, Yellow Submarine and Abbey Road. That's not just "unprecedented", it's kind of insane.
This doesn't include all of the American releases that contained countless singles that were omitted from the U.K. releases but appeared on American Beatles albums, nor does it include the "Red" and "Blue" double LP collections or the 16 song U.K. hits package A Collection of Beatles Oldies (EMI PCS 7016), the import album that startled many Americans completely unfamiliar with the British originals.
Hearing some of these songs in real stereo for the first time and others not "Capitolized" with gobs of reverb and odd equalization was an ear-opener that caused many fans to seek out the rest of the difficult to obtain U.K. originals. Books have been written about all of this including Bruce Spizer's vinyl-centric ones and, Hunter Davies' authorized Biography and of course Beatles scholar/obsessive Mark Lewisohn's definitive chronologies.
For those of us who grew up with The Beatles (or who were for all intents and purposes already grown up), they were, whether or not they intended to be, more than just a group of musicians who wrote great songs that became the soundtrack to our adolescent lives.
As a group and as individuals they became spiritual and relationship advisors, fashion and personal grooming counsellors, figurative drug dealers, and probably more than anything, for the better part of a tumultuous decade they led us into the future, while simultaneously providing comforting security.
The Beatles were always "there". There would always be the next Beatles album to guide us into the future. This wasn't only a teenager's fantasy wish.
No wonder when the group officially broke up in April of 1970 when Paul publicly called it quits (Lennon left around the time of Abbey Road's release in September of 1969), fans of all ages felt lost and abandoned, were bewildered and actually became resentful of being "betrayed" by The Beatles!
Poor Yoko Ono was unfairly accused by otherwise rational adults of "plotting" and succeeding in breaking up the group. If you weren't around back, then you might find this difficult to believe but it's true.
Let It Be, the "next" Beatles album to be released but of course recorded before Abbey Road, was a mess of a production with multiple producers starting with George Martin, and then moving to Glyn Johns and finally Phil Spector who got the official credit but not before George Martin is reported to have said "I produced the original, and what you should do is have a credit saying 'Produced by George Martin, over-produced by Phil Spector'". Even the distribution was mired in legal controversies but that's best covered when Let It Be gets 50th anniversary treatment if it in fact gets it!
Even though the album sold well, critical reception went from muted to downright hostile.
Back to Abbey Road! The graphics-free cover broke new packaging ground. The iconic photo said "The Beatles" better than any typeface could and in retrospect the message that the "boys" were exiting the building literally and figuratively couldn't have been any clearer.
The 50th Anniversary edition is, as most everyone reading this knows, a brand new remix by producer Giles Martin and mix engineer Sam Okell using the original 8 track session tapes. The original stereo mix provided guidance but the remix does effect some changes similar to what was done on the previous Beatles remixes. However, unlike those, recording to 8 tracks required less "track bouncing" than had been used on previous Beatles albums.
With the messy Let It Be events and production staffing behind them, Giles Martin points out in the set intro (all editions) that engineers Geoff Emerick and Phil McDonald were brought back as was his father George to produce and contribute musical arrangements as in "the old days" (two years earlier!). EMI had installed a new TG12345 mixing desk and between it and the new 8 track recorders, the original album's excellent sound speaks for itself.
So why do a remix of a masterpiece? My inbox was flooded with readers asking that question as many asked about The Beatles double LP, which to many was "perfect" as-is.
That remix was, in my opinion, a complete success because it remained true to the original but made some useful improvements that included restoring the bottom end that had been attenuated on the original LPs to better play on the lesser turntables used by kids back then. Martin's mix was also a more "in the pocket" edition that produced greater mix coherence and placed everything more tidily than did the original mix. The original U.K. vinyl edition does things the remix doesn't and vice-versa. It's nice to have both!
The Abbey Road Remix
I compared to this new remix an original very early U.K. pressing bought within a week of the album's release (side 1 second lacquer [I assume the first was damaged], 3rd mother, stamper #70, side 2 first lacquer, 3rd mother, 21st stamper), a somewhat later U.K. pressing with a white inner sleeve instead of the black original that has the offset green apple under the side one track listing and other cover art anomalies (same lacquers and mothers but triple digit stampers), three original U.S. pressings one pressed by U.S. Decca that's super rare and doesn't include "Her Majesty" on either the jacket or label, one pressed at Capitol's Winchester, VA pressing plant and a third, the provenance of which I didn't bother checking out. If you really want to get into the American pressing "weeds" go to the Fab 4 Collectibles website. A mint U.S. Decca pressing must go for stupid money because that site didn't list the price it sold for, but after listening to these three, I wouldn't give you ten cents for any of them. The sound is atrocious: bright, grainy and not at all pleasant. I guess if you are a jacket and/or rarities collector, you might enjoy but if sound is important to you, I doubt there's ever been a worthwhile sounding American pressing.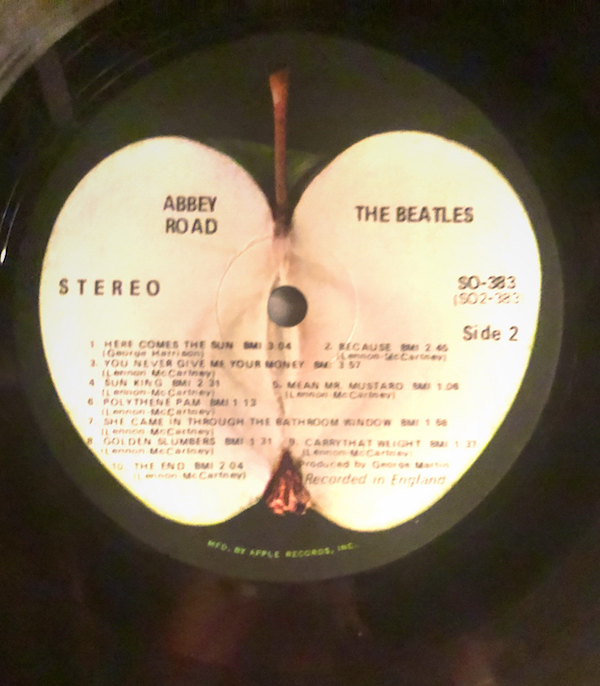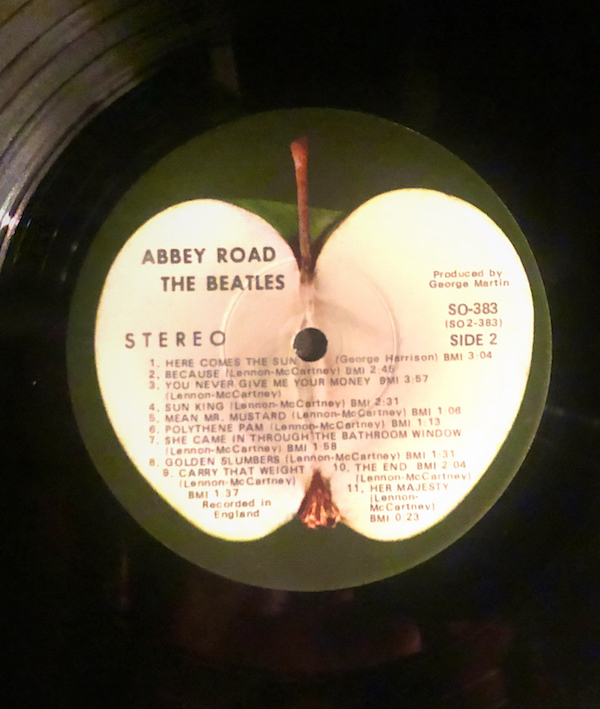 I also listened to the Toshiba "Pro-Use" Japanese pressing (EALF-97001), the Mobile Fidelity box set version with the "smiley face" equalization and especially to the 2011 box set version cut from the digital master used to produce the CD and I gave the USB stick 24 bit version a quick listen. Oh, and I fired up the Nakamachi BX-300 and played the original
cassette
that I happen to have.
Of course all are from the same original mix, though they are sonically very different. The Mo-Fi is very "clean" and well-detailed with black backgrounds but with the midband life sucked out if it. The Toshiba is similarly kind of dry and sterile but with more midband life.
I haven't played the 2011 box set version since I reviewed it so I went back and at first it sounded 'okay' but as it played it got really annoying and by "Oh Darling" I couldn't take any more of it and I'll spare you why. The stick was similar but with a "bit" more (actually 8 bits more) resolution and life but still sterile.
The only truly exceptional sounding original I found here was the early U.K. pressing, with the second somewhat later pressing cut from a much later stamper coming very close.
I'll leave it at that, which means most Beatles fans have never really heard a great original pressing of Abbey Road.
I brought a digitized version of the original pressing to the audio show in Tampa last winter and played to a full large room side 2 on a big rig and no one got up for the duration. When it was over there was applause and some people were weeping. I'm not kidding!
Young people getting into vinyl who bought the 2011 LP are "ripe for the picking" if this new mix is any good.
<!- ------------------------------------>