WAM Engineering's New, Improved WallySkater V2.1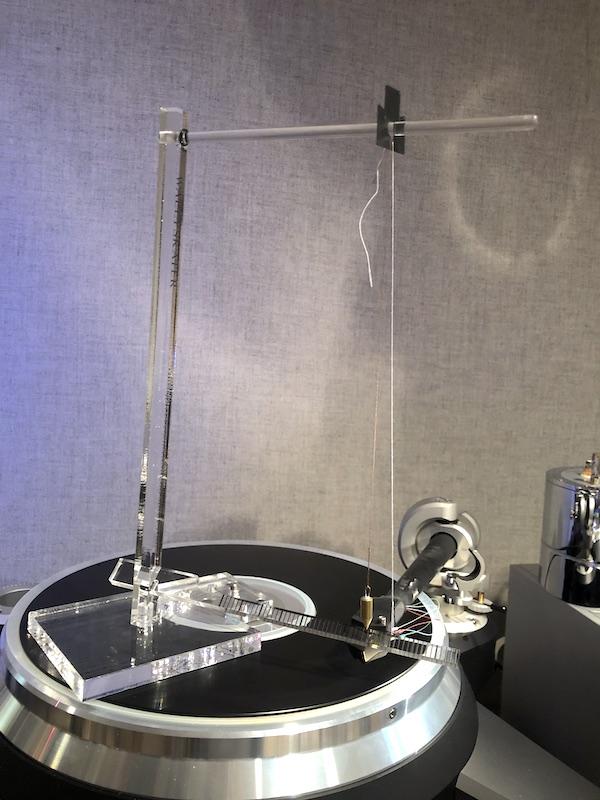 Skating, a pivoted tonearm's tendency to "skate" towards the record center is real, is not created by "centripetal force" and is
not
best ignored because compensating for it somehow worsens sonic performance.
If you do not apply some kind of skating counterforce, the stylus will ride the inner groove throughout the record side, producing uneven record and stylus wear. And it can't possibly improve record playback sound.
The cause of skating is friction produced as the stylus courses through the grooves. The amount of friction depends to some degree upon the stylus profile and even the record's particular vinyl formulation but VTF (vertical tracking force) is the greatest skating amount determinant.
As for why the groove friction causes the inward force, I'm afraid my mentor Wally was incorrect when he stated (and I repeated around the world) that the cause is the arm's offset angle wherein a line drawn directly behind the cantilever points to a "phantom pivot" and not the actual pivot located off to the left. That sounds reasonable but it's simply not true as will be shown in an upcoming post.
The implication of this correction is that longer arms, while reducing the offset angle due to geometry, do not reduce skating force by any measurable degree and arms produced with zero offset angles do not eliminate skating! (Though longer arms do exhibit slightly less skating).
For more than a decade now, I've used the original WallySkater created by the late mechanical engineer Wally Malewicz to set anti-skating on tone arms that don't have measurable anti-skating adjustability and to test the accuracy of those that do.
And though Wally's reasoning for the cause of skating was incorrect the device worked effectively and still does, though it could be cumbersome and somewhat difficult to use.
Now, J.R. Boisclair, working with Wally's son Andrzej, whose "day job" is as a mechanical engineer in the medical field, has released a much improved WallySkater v2.1. WAM Engineering's original 2.0 improved WallySkater was quickly superseded with version 2.1 and all 2.0 customers received free of charge the upgrade.
The new device, along with being a more physically "finished" product (the original's lower rod had marking lines drawn on with a "Magic Marker"), lets you more accurately set anti-skating depending upon arm length and it allows you to accurately measure at two points, one near the outer groove area where skating is greater and one closer to the record's center where skating diminishes. Properly designed systems apply less anti-skating as the stylus approaches the inner groove area.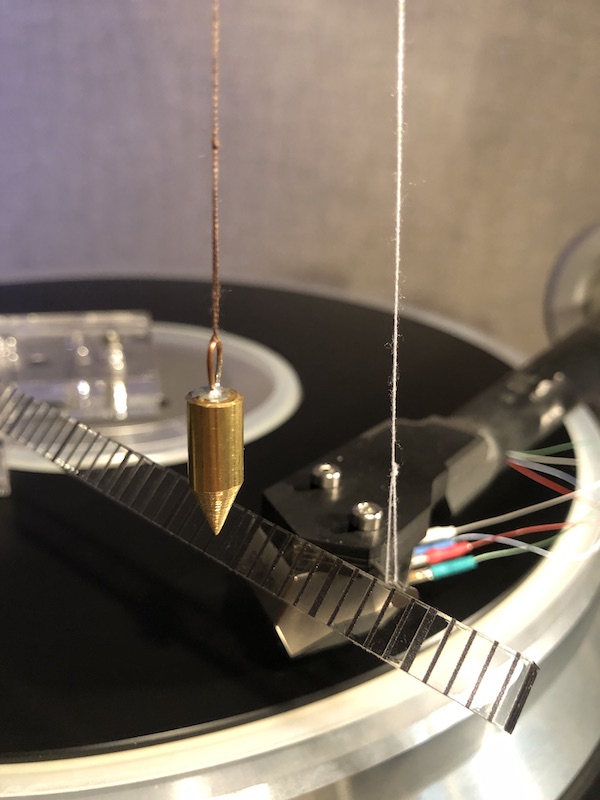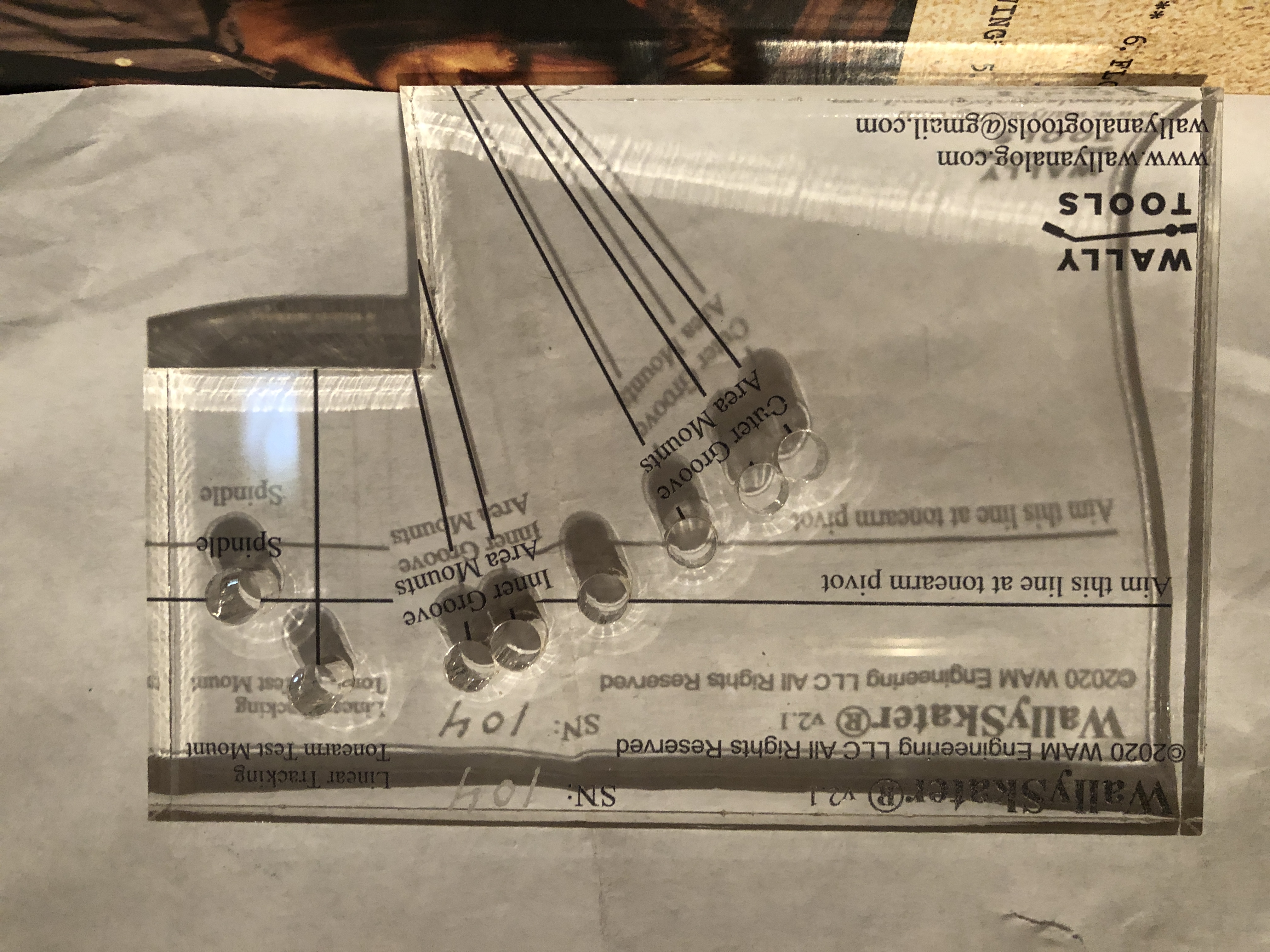 .
I'm not going to go into set up and use details here other than to say that the goal is to produce a deflection of the loop holding up the arm at the fingerlift from the plumb bob, depending upon arm length, of between 9 and 11 markings, which represents between 9 and 11 percent.
You can download the instruction manual yourself from the website and see how it's done. There's definitely a learning curve involved, and it's definitely not for "klutzes" (though, for that matter, neither is setting up your own cartridge). It's best to experiment with the stylus guard on until you get "the hang" of it (pun intended). The WallySkater is also useful to check vertical bearing quality (vertical bearing being what produces horizontal arm movement) and the effect of tonearm wire on free arm movement.
WallySkater 2.1 costs $260 and can be ordered directly from the WAM Engineering LLC> Website.
If your arm has a built in anti-skating gauge like what Rega or Pro-Ject offers, I've found those to be accurate using the original WallySkater so you really don't need to own one, but for most arms, even some with notches on lever arms, you'll get far greater accuracy using the WallySkater AND DO NOT USE A BLANK RECORD! It's a very useful device for an audio club to own so it can be borrowed and passed around as needed if you don't want to invest in one for your own use.
Quick story: once traveling in Europe with my set up tools, I forgot to pack them in my checked luggage. I got through the first security check at Amsterdam's Schiphol airport no problem. But when I got the gate check the security guard saw it on the X-ray and pulled it out of the bag.
I'm thinking "good luck explaining that thing to an airport security agent!", when it suddenly came to me! She pulled out the disassembled WallySkater and said with some skepticism and caution, "What is the purpose of this?" I looked her directly in the eye and said "This is used for skating". And being from Amsterdam and not wanting to look ignorant she said "Oh! Right! Okay. Pack up and go!"
Coming up shortly, a detailed explanation of why skating occurs even when an arm has no offset angle.
<!- ------------------------------------>