Graham Slee's $1449 Accession Raises the MM Playback Bar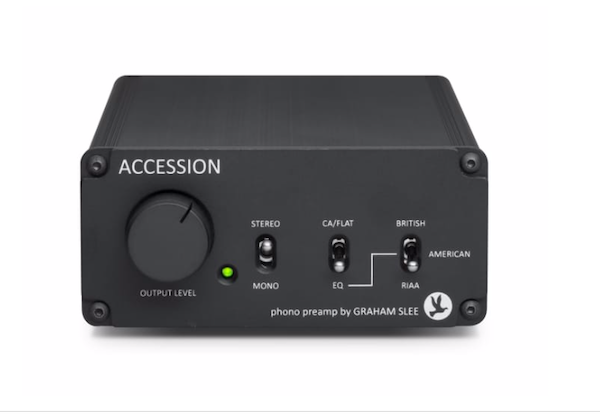 For almost two decades now British phono preamp manufacturer Graham Slee has been designing, producing and selling specialized high quality phono preamplifiers. His latest is the $1449 Accession, an unusually versatile model that includes a volume pot, which means the Accession can be used as preamplifier to drive a power amplifier. If all you plan on doing is playing records using one turntable and a moving magnet cartridge (or a high output MC or moving iron), the Accession obviates the need for a separate preamplifier.
The Accession's instruction manual opens with a short, imprecise history of electric phonography that may confuse some readers. On the manual's page 3 Slee claims that "In the beginning…cutter heads cut records with falling treble and the record were played back with the rising treble response of early high output moving coil cartridge—one cancelled out the other and no equalization was required—what the listener heard was flat."
Here he's not referring to recent history but instead to the period of time when phonographs went from acoustical to electric playback. To compensate for falling high frequency response treble boost was added. Then came piezoelectric cartridges that were amplitude proportional (displacement-based) like today's optical and strain gauge cartridges not velocity-based transducers like moving magnet and moving coil cartridges (and cutter heads) and so required no equalization. The problem of course is that equalization is "baked into" the grooves of every record you now play. In any case, if you want to really learn all about this read the excellent article in Stereophile "Cut and Thrust: RIAA LP Equalization" by Keith Howard.
I'm afraid Mr. Slee's history and description of modern playback will only confuse most readers in part because it is confusingly written and in part because it contains some grievous errors. He claims that if you play an RIAA encoded record (most every record in your collection) using a magnetic cartridge into a line input of your preamp the sound will be "all toppy" because the cartridge output rises at 6dB/octave. That is it doubles in amplitude for every doubling of frequency. Of course the RIAA equalization 'baked' into the record also has a rising frequency response. You can read a more complete and useful analysis by Slee on his own website but I find it curious that while he addresses the need to boost high frequencies in disc cutting, in his analysis he completely ignores the need to reduce bass in order to limit the cutter head excursion, which allows for longer sides and makes tracking the grooves far easier. For some reason he claims "RIAA records have boost from 50Hz to 500Hz…."no, they do not—as this RIAA graph shows! Boost, of course, comes in playback.
In any case, Mr. Slee claims in his instructions that his circuit does separately record EQ (inverse RIAA—the red line in the above graph) and magnetic cartridge de-emphasis (since cartridges inherently boost response by 6dB octave). You'd think if the record has one curve "baked in" (blue) and the cartridge inherently produces the opposite (similar to the red curve), RIAA circuitry would not be necessary, but of course it's not quite that simple because it is more than just a basic low pass filter. There's a "shelf" at the RIAA curve's 3 "turnover" points of 50Hz, 500Hz and 2122Hz. Why do you have to know this stuff? You don't! But if you're interested, go to the two hyperlinked sites.
Mr. Slee's point is that by separately doing the RIAA and the magnetic cartridge response correction (honestly, this is all news to me—I've never previously heard this discussed or mentioned anywhere) the Accession more precisely handles the turnover points rather than having to "decide (one or the other points) empirically". There are other theoretical advantages to doing it this way, but I'll skip them for the purposes of this review.
Four EQ Settings
The Accession includes 4 EQ settings: RIAA, NAB, FFRR and "flat". Because of how Slee's circuit accomplishes this, there is no interaction between the record EQ and the magnetic cartridge response correction, the correct "shelf" frequencies for each of these curves can be precisely calculated rather than approximated.
The "flat" setting is the one to use if you wish to digitize vinyl and use a program like Channel D's "Pure Vinyl" program to apply EQ in the digital domain. That program offers a dizzying number of precisely calculated curves for 78rpm records and "oddball" curves and is said to be more precise than any analog filter, but of course you're digitizing your analog.
Set the EQ switch to "British" for UK DECCA FFRR mono (don't believe anyone who tells you this curve persisted into the stereo age at DECCA) and for pre 1953 English Columbia records, and to "American" for pre 1953 American Columbia and probably Capitol as well.
The Accession also includes a very useful "mono" switch. Again, to my amazement Slee writes about this switch "Some mono records can give an undesirable whirling or swishing effect due to the record middle being slightly eccentric. Use the mon switch to effect an improvement".
WTF? That is not the main benefit of a mono switch, which is that when playing a mono record with a stereo cartridge, flipping the mono switch will null out all unwanted vertical modulation products ie: rumble. That makes a huge difference!
Finally there's the volume pot, which via the variable output can control a power amplifier's output obviating the need for a preamplifier. Or you can use that output for recording to an A/D converter and set the level to prevent clipping which is really useful. Finally the rear panel includes dipswitches for capacitive loading choices of 100pF, 220pF or 320pF as well as a ground terminal.
Slee provides an outboard PSU1 power supply that can be placed well away from the turntable and the Accession itself, in order to minimize noise. Of course if you are using a moving magnet, a moving iron or a high output moving coil cartridge and later decide to go to a low output moving coil cartridge you can just add an outboard step up transformer (SUT) and you're good to go!
<!- ------------------------------------>