Pro-Ject's Versatile DS2 USB MM/MC Phono Pre Sounds Good And Digitizes Too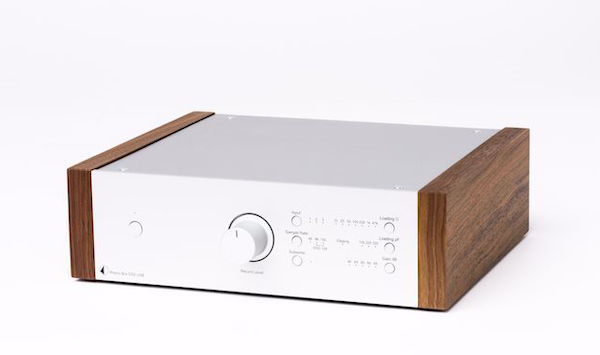 Pro-Ject's DS2 USB combines in one chassis a versatile MM/MC phono preamplifier and a high resolution A/D converter capable of digitizing at up to 192/24 bit PCM or 128 DSD (A/K/A "double DSD"). It's a feature-packed unit that includes 2 independently adjustable phono inputs and a line input and both USB and optical TOSlink digital outputs as well as an analog output. An outboard 18V "Walwart" powers it.
All functions and adjustments are front panel pushbutton accessible including choice of inputs, sample rates (48K,96K,192K and DSD 128), resistive loading (10ohms, 20, 50, 100, 200, 1kOhm, 47kOhm), capacitive loading (100, 220 and 320pF) and gain (40dB, 45, 50, 60 and 65dB). In addition there's a subsonic filter. The large front panel knob lets you set record level to avoid clipping.
Pro-Ject offers all of this functionality, versatility and convenient adjustability for the surprisingly low price of $599 encased in "basic black" aluminum/metal casing. Add $100 for silver with "side cheek" options in walnut, rosenut or eucalyptus. The review sample was black with walnut "side cheeks" (the above image is from the "Internets").
The DS2 USB puts clearly into focus the tension between features and performance. Do you want to use your $599 to achieve the highest possible sonic performance? Or are you willing to compromise somewhat to get the convenience the DS2 USB offers, particularly if you are interested in digitizing your vinyl—or whatever other analog source you choose to introduce into line input #3 (cassette deck, radio, etc.).
The real question worth asking here is how much sonic performance do you give up to get the DS2 USB's other features and versatility because obviously something has to give in the sound performance department to get the extra goodies.
By the way since the DS2 USB was used for the Denon 103 Slip Over Aluminum Body comparison I confirm that the second file is the one with the aluminum slip over body, though not everyone heard the improvement and some listeners chose the first file.
How Does the DS2 USB Sound?
That Denon cartridge comparison used a sweet sounding cartridge to begin with so that pleasing sound shouldn't surprise anyone. However, if the DS2 USB's sonic personality was strident and/or bright it would have imposed itself on the sound, which it did not. I ran the DS2 USB with a variety of MM and MC cartridges commensurate with the DS2 USB's $599 price, or perhaps somewhat above its price point.
For MM I used a Grace F9E that I've had kicking around here for decades with no stylus. Soundsmith's Peter Ledermann offers (offered?) a series of limited edition stylus replacements for the Grace and he kindly sent me a sapphire cantilevered Ruby CL version. I also used the $299 Sumiko Moonstone as well. For MC, I started with the $899 high output Sumiko Songbird and then the least expensive low output choice I had, which was the $795 Ania supplied for the Rega Planar 8 review.
Considering the DS2 USB's price and its generous feature set, the sound it produces is attractive and pleasingly "musical" in that its faults were acts of omission not glaring "tacked on" ones like etch and bleach on top, or weak or overly soft bass on bottom, plus even with the gain nearly maxed it was quiet.
The tonal balance was on the warm, even somewhat rich side, while dynamics were modest compared to more costly phono preamps. Transients were also somewhat soft but as the Denon files demonstrate the DS2 USB produces an overall attractive and enjoyable sound.
If you want to digitize your vinyl in pleasant though non-archival quality sound and have a modestly priced turntable to go with it, the DS2 USB is a good choice. It includes a red LED that lights if the signal goes into clipping making level setting easy. However, if you're interested in maximizing sound quality and don't care about digitizing your vinyl (or any other analog source), for the same $600 you can probably get somewhat better performance, or for less the same performance from whichever Pro-Ject box is the same as this one but minus the A/D converter. How does this compare to other similarly priced phono preamps we've reviewed here? Honestly it's impossible to say without having them here to compare.
Were I buying a DS2 USB I'd probably go for an open and "fast" cartridge. Both the Sumiko Songbird and the Rega Ania with their faster, more extended on top ends and detailed and snappier personalities were particularly good matches for the DS2 USB, but more costly than what a DS2 USB buyer would probably spend. That said, if you did spend the extra on one of those two cartridges, you'd not be wasting your money. Overall I liked the Pro-Ject DS2 USB. I almost forgot to mention that it made pleasing sounding 96/24 files as well—but if you listened to the files in the Denon review you already know that!
<!- ------------------------------------>