HRS's Next-Gen E1X Isolation Base Minimizes Noise-Related Complications for Turntables & Amplifiers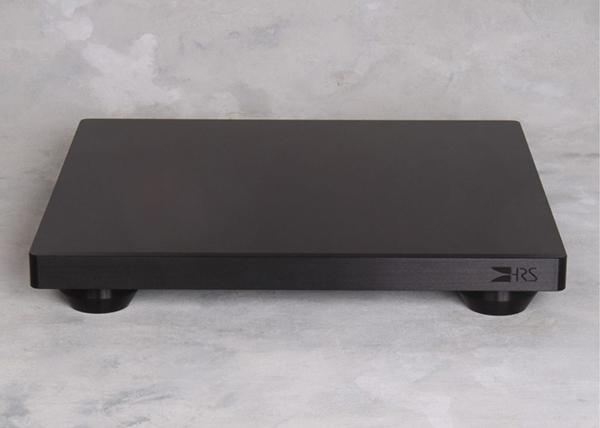 You can have the best gear in the world in your system ready to play all those new and/or vintage LPs in your collection, but if any piece of equipment in the playback chain is not properly stabilized — especially when it comes to fortifying your turntable and/or amplifier(s), for example — then you're just asking for unnecessary noise-related complications. With that in mind, the E1X Isolation Base from HRS might make for quite the good, stable option.
The E1X is the next step up from the company's notable E1 isolation base series, and it's manufactured from four different materials, including a resonance control stage. The E1X Isolation Base is initially configured at HRS (short for Harmonic Resolution Systems) to optimize the performance of a specific component in your system — though it can also be modified to optimize the performance of a different component at any given time, if you so choose.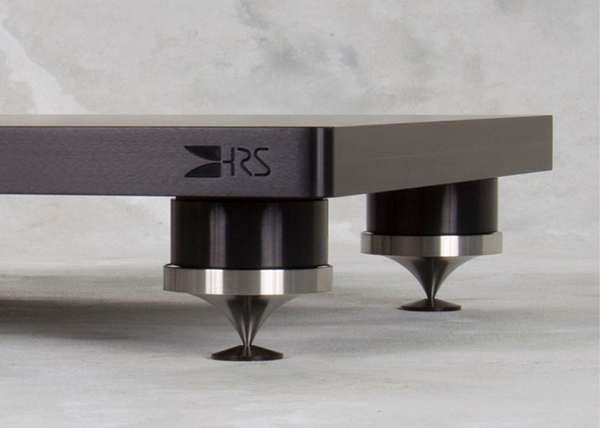 "The E1X Isolation Base is for customers who want true HRS performance in a very cost-effective design configuration," said HRS chief engineer Michael Latvis in a press statement. "The E1X uses the same noise reduction footer technology options found in our more expensive isolation base models combined with a proprietary HRS plinth construction. The E1X has the same constrained layer damping system originally developed for the E1 isolation base. The E1X has slightly more refined bass articulation and slightly improved midrange clarity compared to the E1 it replaces."
The E1X Isolation Base is designed with a billet-machined aluminum front trim, proprietary HRS constrained layer dampening plinth system, and thick custom-pressed resin fabric composite top and bottom plates. The top surface of the non-resonant high-density plinth also has a scratch-resistant coating applied to the outer surface to preserve finish integrity. The low-profile design — 3in, in terms of its height — is intended to minimize space requirement options. Every HRS Isolation Base option is said to be able to be set to either transfer and dissipate energy coming to and from the component, or to isolate the component from the supporting structure.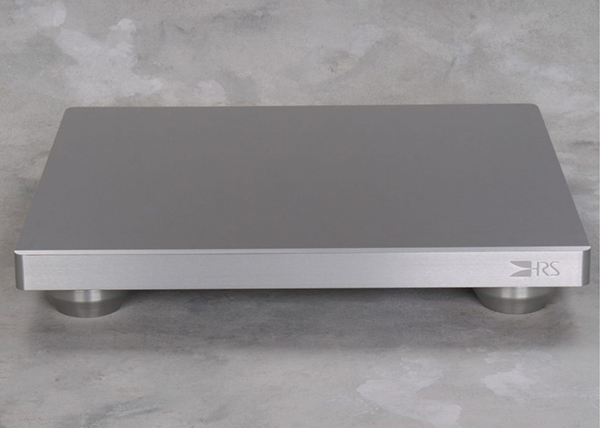 The E1X Isolation Base is produced in many standard and custom sizes, are of which all available in a black or silver finish. All surfaces on the black finish are black. All surfaces on the silver finish are silver except the right, left, and rear edges respectively, which are themselves black.
The E1X Isolation Base custom sizes are manufactured with 9.5in, 15in, 19in, 21in, 23in, and 25in width options in any depth needed in order to accommodate large turntables and amplifiers accordingly.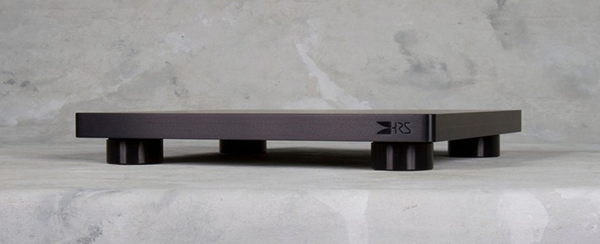 The broadband noise reduction system in the E1X is said to maximize performance on a wide range of surfaces and structures. The unit's low-profile compact design also minimizes space requirements, and it can integrate directly into HRS Audio Stands.
Each E1X size option can be purchased with any of HRS's different footer options to optimize performance for all different types of components. Each HRS Isolation Base includes the company's Broadband Isolation Feet (SF), Extended Low Frequency Feet (LF), or Bi-Directional Noise Reduction Feet (G7). Footer-type selection is initially made to optimize the performance of each component, though the footer type on each isolation base can be adjusted, swapped, or changed at any time.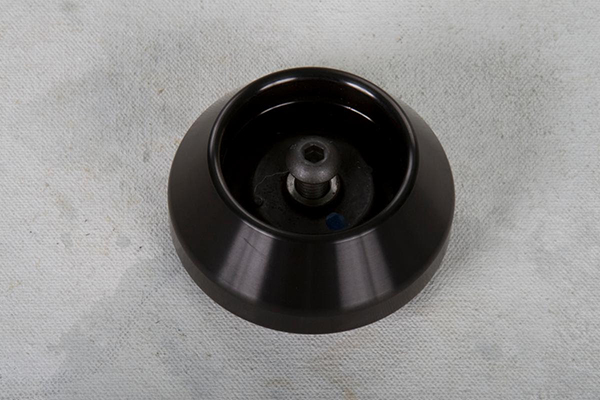 Here's a little bit more about each footer option. SF, a.k.a. the Broadband Isolation Feet, isolate components from below 20Hz to above 40kHz, and are said to be an "excellent starting point" for tube amps, tube preamps, DACs, phono preamps, and many turntables. For larger amps and turntables, HRS suggests contacting them directly to get custom settings.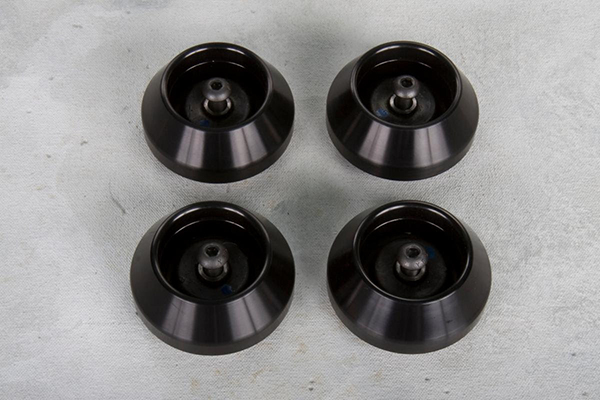 LF, a.k.a. Low Frequency Feet, isolate components from below 10Hz to above 40kHz. LF are intended for use with non-suspended turntables and when subsonic content is present and presents a potential feedback issue with the system. LF can also be used in custom applications wherein additional setup is required for each component.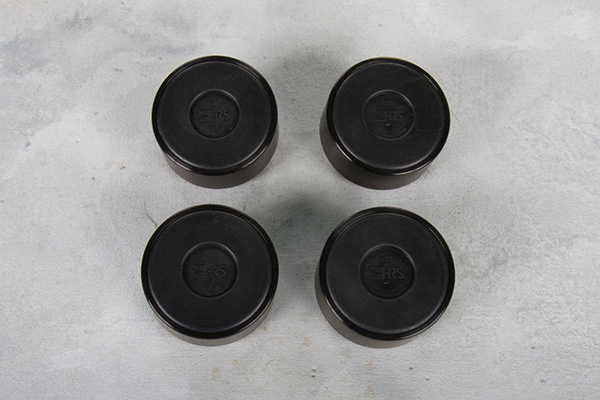 G7, a.k.a. Bi-Directional Noise Reduction Feet, transfer and dissipate energy coming to and from the component, and are designed to be used with solid-state power supplies, power conditioners, tape machines, vacuum pumps, solid-state amps, and solid-state preamps. The G7 can also be used if you prefer to not deal with different load ranges or where the use of chassis noise reduction products is not desired or possible. The G7 feet do not have any load limit, and can be used for any component.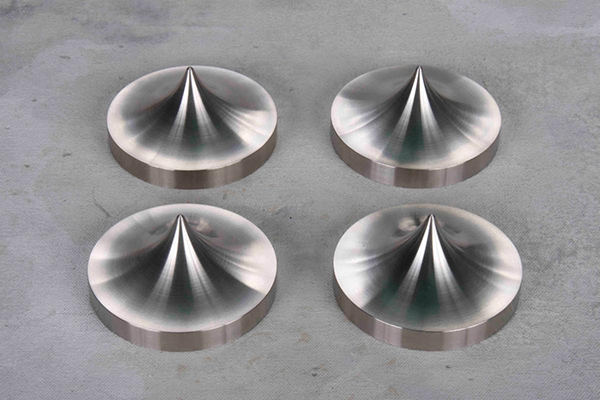 Finally, there is the recently introduced G-Link, which acts as an ideal interface between the G7 and any floor that does not already have an HRS frame system involved. The G-Link is said to ensure excellent coupling of a G7-equipped HRS Isolation Base to a carpeted surface or an uneven floor.
The HRS E1X Isolation Base has an SRP of $1,575.
For more about HRS, go here.
To find an authorized HRS dealer near you, go here.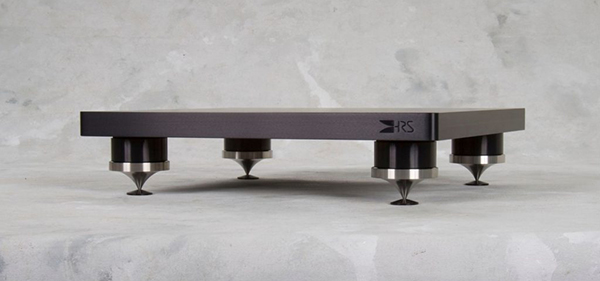 <!- ------------------------------------>