Jon Hassell—An Incomplete Discography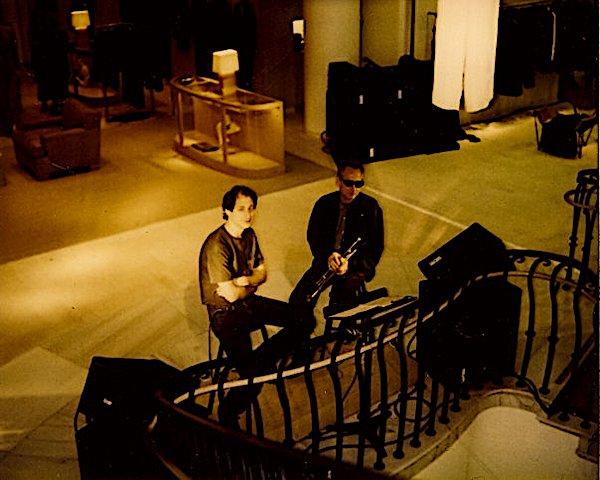 Dan Schwartz provides a brief look at some of Jon Hassell's records:
Vernal Equinox
(Lovely Music LML 10210, 1977)– his debut is a seriously worthwhile introduction to the incipient Fourth World esthetic. Wearing its goals on its sleeves, about 45 years on, it has to be judged a successful opening salvo.
Earthquake Island (Tomato TOM 7019, 1978) – I can't really recommend this one, despite the presence of giants like Miroslav Vitous. For my taste, Jon is a bit overwhelmed by all these guys in his attempt to indulge his Latin-jazz fantasies. But that's me – you might love it. Ignore it until you know that you love Hassell – then get into it.
Possible Musics (Fourth World, Vol. 1) (Editions E.G.EGED 7, 1980)– The BIG one, in that it served as most people's introductions to Jon's music. A series of very good collaborations with Brian Eno, although he only shares writing credit on a couple of pieces. But his production is evident throughout. Top 10 hits include the Percy Jones-driven "Chemistry", and, one of my absolute favorite pieces of Jon's, "Delta Rain Dream" – A VERY gradual treated trumpet solo drifts over drones and what sounds like slowed percussion parts. (In '88 John hired me to "score" a 3D film he was involved with by placing his existing music against a variety of scenes. I chose DRD for a scene of a glowing white orb undulating in 3D multi-colored space.)
Dream Theory in Malaya (Fourth World Vol. II) (Editions E.G. EGM 114, 1981) – take Possible Musics and play it over loops gathered in Indonesia, including water-splash rhythms. Not essential but damn close to it.
Aka/Darbari/Java (Fourth World Vol III) (Editions E.G. EEGCD31, 1983) – if one can imagine taking the available sounds and grooves of Volumes I and II and translating all of them to a Fairlight sampler, that's Aka/Darbari/Java. As such, it lacks the sensuality of the previous couple records, and to my ears is best left for those times when wants the angular.
Power Spot (ECM 1327, 1986) – this is THE most essential album of Jon's, for me. It had been suggested to me a couple years earlier that I play with him, but I couldn't hear it until this record's "Miracle Steps". Jon, blowing over a massive groove by J.A. Deane, with some quiet drones by Jean-Philipe Rykiel – it's the quintessential Jon Hassell. A brilliant record, top to bottom. Get this first.
Flash of the Spirit (Intuition/Capitol C1-91186, 1989) – Jon's collaboration record with the group Farafina from Burkina Faso, with whom he gave a series of terrific performances. Some more successful than others, but overall it has lots of beauty and bravado. (This is the one I came in on, playing electric bass and triggered percussion.)
City: Works of Fiction (Opal/Warner Brothers 9 26153 –1, 1990) ) – I can't possibly talk about this objectively, except to say that I'm responsible for its inception, and on it being manufactured I received a note from Jon that was both nice and conciliatory ("From this shiny disc point, I look back on how much you had to do with it, and I thank you") - and very soon after, somewhat less. He said to me, "It's the most money I've ever spent to make a record for a bass player." But I didn't set the levels of anybody! Anyway, it seems like we were both of two minds about it: me, because a couple of the players were picked simply because they'd show up without asking for money, and Jon – he may have had a tough time relating to what we'd constructed. I wish I could talk about the musical process but I'm too close to it. I will say that one of the songs should be credited to me, but I was too naïve to argue for it. Not that that stopped anyone else, I discovered. See? Too much of a mess – but a worthwhile album in that it marks a shift of direction. Stream it.
In '91 I took Jon (and his extended family) up to Santa Barbara to record trumpet without electronics (or as he put it, without eye shadow), to demonstrate how effective it could be, and he ran with it to an extent. And then, I lost track because I went off to do what became the Tuesday Night Music Club (which resulted in Sheryl Crow's debut album).
So let's discover it together.
<!- ------------------------------------>