Pro-Ject Today Introduces New Debut Carbon EVO Turntable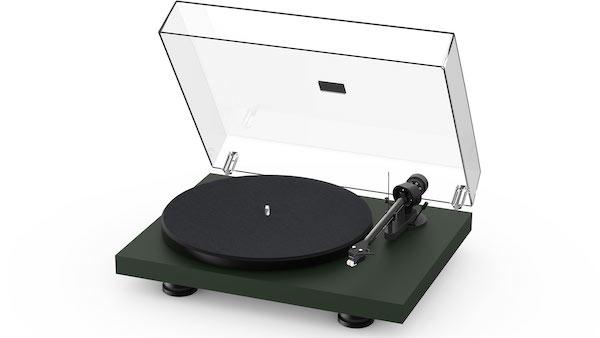 MISTELBACH, AUSTRIA– August 17, 2020 –
Pro-Ject Audio Systems today unveiled the new $499 Debut Carbon EVO turntable—a feature-packed priced-right addition to its Debut Collection.The new turntable incorporates a one-piece carbon fiber tonearm, electronic speed selection, suspension elements used in the more costly EISA award-winning
X1 turntable
and in America, a factory mounted Sumiko Rainier cartridge.
The 20 year old Debut series, with close to one million units sold, is one of the best-selling products in hi-fi history. The new EVO is available in nine finish options including varieties of eight-coat, hand painted high-gloss, matte pastel colors or wood veneer.
Features include an 8.6" one-piece tonearm with integrated head shell, low-friction precision sapphire tonearm bearings, Sumiko Rainer MM cartridge, 3 3/4 pound die-cast, TPE damped aluminum platter, electronic 33 1/3 and 45rpm (78rpm capable) speed selection, TPE damped motor suspension, gold-plated chassis mount RCA jacks, one-piece continuous run high purity copper internal tonearm wiring, shielded termination box, high adjustable TPE-damped aluminum leveling feet, hinged adjustable dust cover, "Connect it E" phono cable with attached external ground wire, and a two-year parts and labor warranty.
All of this information comes from the press release. What doesn't is this: Pro-Ject founder Heinz Lichtenegger has grown weary of what he says are the cosmetically enticing, but mechanically second-rate, poorly damped products coming in from Asia. He's expressed this to me on numerous occasions. With the new feature-packed, cosmetically attractive Evolution aggressively priced at $499 he's hoping Pro-Ject can grab and hold the popular $500 price point market. We will get one for review as soon as possible. The EVO is now available for sale.
<!- ------------------------------------>