SAT Pickup Arm Comparison Reveal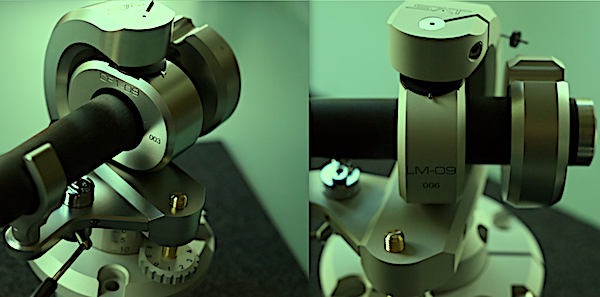 Here's the "reveal" for the five file
SAT pick up arm comparison
featuring the Ortofon MC Century. Thanks to all who participated and expressed their opinions.
The yet to be published CF1-09 review will be in the next Stereophile. On September 14th, shortly after the comparison story posted, Malachi Lui emailed:
"Listened to the files of SAT arms. 1 sounded too "hard" or "forward" for lack of a better term, 4 was too soft for me, 3 was natural and laid back, 2 was still between 1 and 3 and a bit less hard but not as natural as 3. 3 is the winner for me. I know I probably sound like Goldilocks in this paragraph: 'This one's JUST RIGHT!'"
The files were:
1) original SAT arm
2) LM Series ($24K) arm
3) CF1-09 (43K)
4) Technics SL-1000R ($20K--turntable, plinth, pick up arm)
The CF1-09 review has yet to be published. Yet Mr. Lui immediately "got" the sound of the CF1-09, whereas, as you'll read, I was finding it too smooth. Only over time listening did I realize that tapes sound smoother, records with a sharper transient edge that the CF1-09 seemed to eliminate while revealing more low level detail.
His description for the most part nails it, though I don't find the original arm "forward". Instead compared to both new models the original's bass is looser and slightly "larger". His description of the Technics as "too soft" was correct, as others noted in the comments. 3 was "natural and laid back" he wrote and 2 was between "1 and 3 in terms of the hard or forward sound he noted. So he pretty much nailed it, not just by number, but by accurately describing the sound—at least as I heard and wrote about it before he could have read it.
. Five minutes later he sent this:
"I actually noticed those differences from my iPad speaker. Guess I was right! There is a big improvement!"
Later, I sent the files to SAT designer Marc Gomez and challenged him to correctly identify them. I told him Malachi had done it. Fortunately for Marc, he aced it.
<!- ------------------------------------>