Seen at High End Munich 2023: Takumi TT Level 3.1 Turntable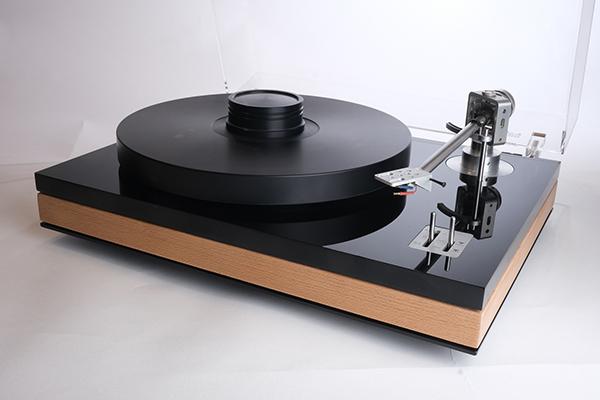 Continuing with our highlighting of some of the coolest gear seen and heard at High End Munich 2023, we now turn our eyes and ears to Takumi's TT Level 3.1 turntable.
To be more specific, over in Halle 4 R10 — a.k.a. Hall 4, Booth 10 — the Takumi TT Level 3.1 turntable was part of a top-shelf demo system comprising a Moonriver Audio 505 phono stage, Moonriver 404 integrated amplifiers, Aretai speakers, and Viablue cables. The haunting, affecting music used for the balance of this new Dutch turntable's demo'ing was courtesy Anouk, a singer/songwriter also from the Netherlands.
The stats are these. The Takumi TT Level 3.1 comes with a "precisely machined" (their words) Delrin platter, said to result in near-perfect coupling to minimize mechanical vibrations. With a higher density than acrylic platters, Delrin is further said to increase speed stability to reduce wow and flutter.
The Level 3.1's plinth is constructed from solid wood — the two options being beech and walnut — as enclosed by two acrylic layers, with the top layer mechanically decoupled to reduce possible vibrations.
Both the speed selection (for 33 1/3 and 45rpm) and tonearm-lift controls are located at the front right corner of the 3.1. The tonearm rest and damped tonearm lift are integrated with each other. The height of the tonearm rest can be adjusted to match the vertical tracking angle (VTA) of the tonearm. (Takumi points out that the final layout of these controls may differ slightly from the production model.)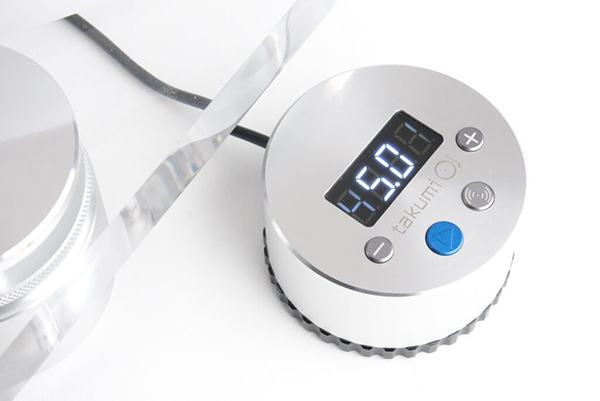 An optional SpeedPod (seen above) — which can also be used with the Level 3.1's predecessor, the Level 2.1DC — features a digital display showing the turntable's rpm. The SpeedPod also provides the option for the user to alter the speed manually via pitch control, although the company notes that calibration can also be performed by an authorized dealer.
The SRP for Takumi's TT Level 3.1 turntable is €2,495 (or $2,683 U.S., as of this posting). I have reached out directly to Takumi to find out more about the 3.1's window of availability, their overall worldwide distribution plans, and other pricing-related Qs. Whenever I hear back from them, I will include an addendum in this space.
For now, please enjoy how this 'table presents itself in fine listening company. (I'm told the dustcover was not in place for the actual demos, but only for purposes of how they chose to film the clip presented above.)
For more about Takumi, go here.
<!- ------------------------------------>