Vertere DG-1S Turntables

We're always on the lookout for letting you know about great, current turntable options at various price levels, more often than not with an eye toward what we consider to be relatively affordable these days — though we will, at times, push the SRP envelope a bit if we feel the gear is worthy of your (and our) attention.
With all that in mind, we wanted to look at what's what with Vertere, the vaunted British company we know quite well but admittedly haven't covered much of late — with the brief exception of what my esteemed colleague Ken Micallef showed of their latest offerings in his turntable-oriented AXPONA video report a few months back. And thus, this has brought us to eyeballing Vertere's DG-1S turntable, which is currently available in three different configurations.
First, some Vertere company FYI. Based in London, Vertere manufactures quite a number of high-end analog products including turntables, tonearms, cartridges, phono preamps, cables, and related accessories. The company is led by founder and CEO Touraj Moghaddam, who is also rightly well-known and well-respected for having co-founded Roksan back in 1985 — and for designing their groundbreaking Xerxes belt-driven turntable.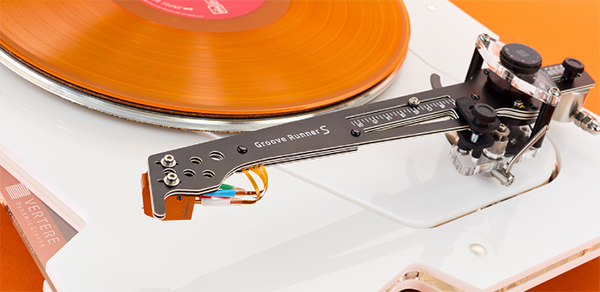 The DG-1S is the successor to the DG-1, and the updated belt-drive turntable comes in three configurations: the Magneto Package, the Redline Package, and the Sabre Package. The DG-1S's five-ply Groove Runner S top and lower tonearm beams are said to "possess much higher acoustic linearity than their predecessor" (Vertere's words). The top and lower beams are bonded and riveted to ensure optimum rigidity, combined with linear resistive damping.
Additionally, the Groove Runner S Kevlar thread bearing is adjustable for tension and azimuth, and sports a higher-tolerance matched main bearing with super-polished bearing spindle for "ultra-smooth, noise-free" running. The DG-1S's motor-drive software facilitates a three-step factory adjustment of the motor torque and noise setting with a final minimum noise adjustment. This software also allows for an initial setting of the sine-wave voltage, and fixes it to establish the reference. A separate, independent cosine-wave voltage setting with phase-angle adjustment is also available.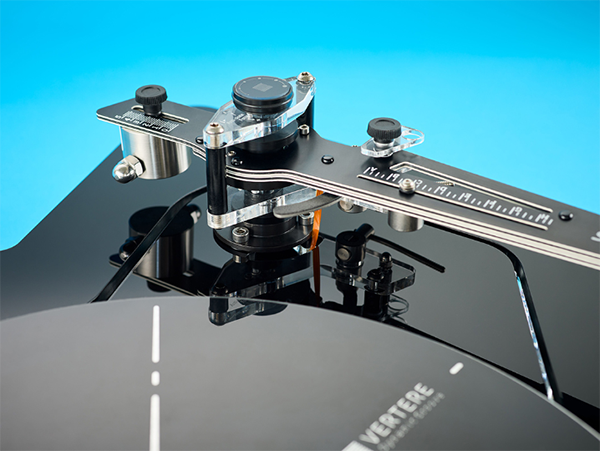 Other features of the DG-1S include a 24-pole synchronous motor, axially decoupled motor mount, super-precision aluminum alloy pulley, bespoke silicone runner drive belt, precision-machined aluminum alloy platter, PETG bonded interface mat, non-magnetic stainless-steel bearing spindle, super-precision machined brass bearing housing (with a bore tolerance of <5microns), super-precision tungsten carbide ball, three-layer cast acrylic plinth (with a middle clear plinth that's internally illuminated), black-coated Zintec steel chassis, three adjustable feel with resistive felt, and a bespoke formed tinted polycarbonate dust cover.
The 'table's electronically selectable speeds are 33 1/3 and 45rpm (±0.2%), its dimensions are 18 x 5 x 1.5in (w/h/d), and its weight is 17lbs. Additional specs for the Groove Runner S tonearm include an effective length of 8in, overhang of 17.5mm, offset angle of 22.9º, and a weight of 310g.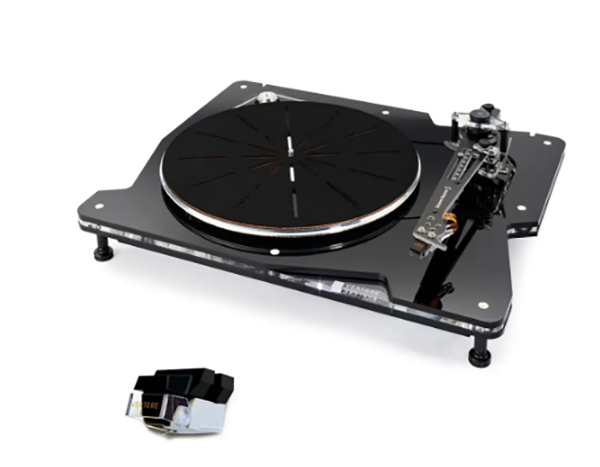 As noted earlier, the DG-1S comes in three configurations: the Magneto Package, the Redline Package, and the Sabre Package. The Magneto Package (shown above) features the Magneto moving magnet (MM) cartridge (which, on its own, sports a $399 SRP), and the 'table itself comes in either a black or white gloss finish, as do its other two companions in this series.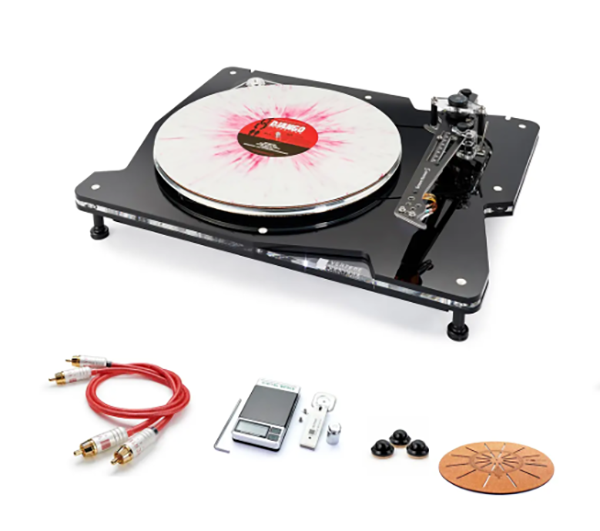 The Redline Package (above) adds Vertere's Redline interconnect cable, Stylus Balance, Iso Paw feet, and a Techno Mat, but it does not include a cartridge.
Finally, the Sabre Package (above) also boasts the company's Redline Interconnect cable, Stylus Balance, Iso Paw feet, and Techno Mat, and it does offers a cartridge — namely, the Sabre MM cart (which, on its own, has a $1,299 SRP).
The SRPs for each of these three fine Vertere turntables are as follows: the Magneto Package goes for $4,899, the Redline Package is $5,499, and the Sabre Package is $5,999.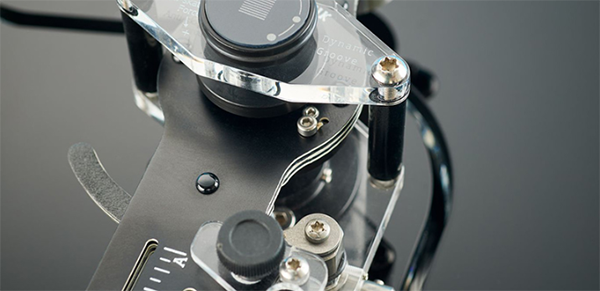 For additional SRP context here, Vertere's RG-1 Reference Groove top-of-the-line turntable goes for a considerably higher nut of $42,995. The company exhibited the RG-1 at the recent Hong Kong AV Show in a room they shared with Radar Audio.
For more about Vertere, go here.
To find an authorized Vertere dealer, go here.

<!- ------------------------------------>