Vinyl Me, Please (VMP) Announces New Denver Pressing Plant Opening Late 2022!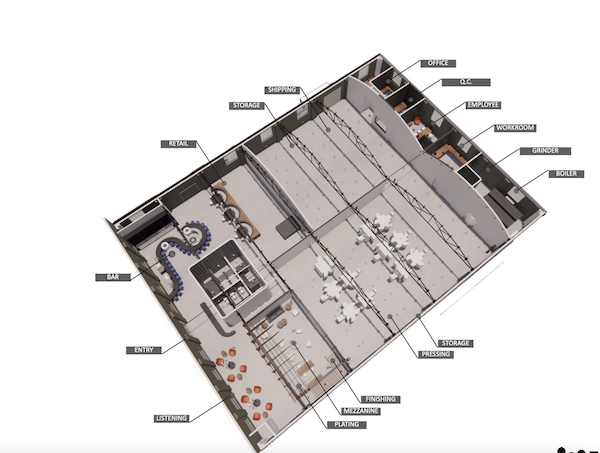 April 25th, 2022
—Vinyl Me, Please today announced in a press release its new Denver area pressing plant, which will open towards the end of 2022. Perhaps equally big news here is that the plant will be run by plating and pressing expert Gary Salstrom who has previously worked for QRP and RTI.
The plant's existence has been known to some industry insiders for some time, but the "code of silence" held and few outside knew about it---until now.
From the press release:
"I'm thrilled to have the resources and partners required to make the best vinyl LPs ever produced, in a place where the experience will be as special as the finished goods," said Salstrom.
Our 14,000-square-foot pressing plant will be located in Denver's RiNo neighborhood, otherwise known as the River North Art District. Sitting just across the street from Mission Ballroom, AEG's premier 3,950-capacity, state-of-the-art concert venue, the plant is being constructed as an experiential space with music fans in mind. Music lovers will be able to tour the space, see firsthand how records are made, and explore music together in an extraordinary environment.
"Quality, control and availability are critical to maintaining and expanding our leadership position in the vinyl industry," said VMP Chief Executive Officer Cameron Schaefer. "With this in mind, we've decided to press records in a way that provides an incredible experience for our customers and visitors to our plant."
David Rawlings, artist, producer and co-founder of Acony Records, has been appointed Chief Groove Officer for the plant, and will play a significant role as VMP's partner.
"It's a dream come true to work with Gary [Salstrom], optimizing, refining and innovating to press the finest records possible," Rawlings shared. "We want this facility to be a game-changer in an industry that has too often been focused on quantity over quality."
Not only will the atmosphere of our pressing plant provide an unprecedented experience for guests, the new addition will allow VMP to grow our mission, provide our customers with the kind of quality we've become known for at a greater scale and produce the highest quality records possible. It's no secret that vinyl records are the most popular and growing physical medium in the music industry, and that manufacturing them to meet the rate of demand, while preserving their quality, has been a challenge.
More great news for vinyl lovers, "tho" for some the location in the RiNo area may prove politically problematic (jeez, please take a joke, okay?).
<!- ------------------------------------>