VPI Debuts New $15,000 HW-40 Direct Drive Turntable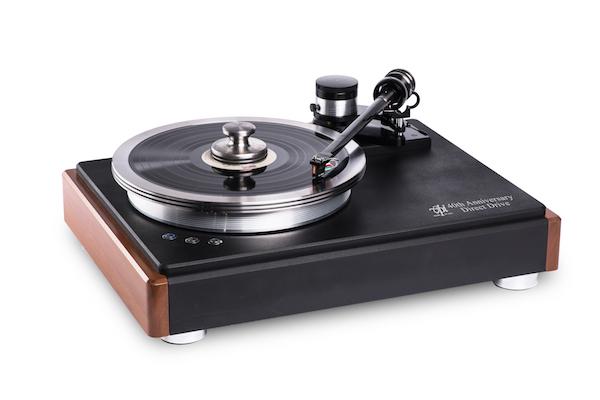 October 21st, 2018, Matawan, N.J.—VPI Industries today debuted a brand new $15,000 HW-40 Direct Drive Turntable at an event held at its Matawan, N.J. "VPI House" headquarters to help celebrate the company's 40th anniversary.
The HW-40 Anniversary Table is a refined version of the original far costlier DD turntable. The new one uses the same costly motor as the original but benefits from 2018 motion control circuitry/software and vibration isolation technology as described in the video by VPI's Mike Bettinger.
VPI was able to control costs by buying 400 motors. This will be a limited to 400 unit anniversary model. It comes complete with the new "Fatboy" arm, which, as you'll see in the video is all new and includes "hidden" wiring instead of VPI's usual wire loop/LEMO plug termination. It's a much cleaner look.
Here are some bullet point features:
• Top of chassis, front, and back made from solid machined .7500 thick 6061 aluminum painted textured black and damped internally with an MDF dampening plate. It is very heavy!
• Every part mounted with machined screws into blind tapped holes for a clean and sleek look/design.
• Removable machined aluminum arm-board.
• Beautiful limited-edition gloss wood sides.
• Start, 33, 45 buttons.
• All power supply and controls circuitry internal, no added-on boxes or power supplies.
• Creating not only a solid improvement in musical performance but a visually stunning record playing system reminiscent of the original VPI designs.
• Removable platter for easier shipping.
• Removable hinged Dust Cover.
• Newest version of 12" gimbal 3D printed Fat-Boy arm with triangular to circular resonance canceling design. The robust gimbal bearing used ABEC 9 bearings made in Japan for ultra-low friction.
• Tonearm has an adjustable counterweight on a threaded shaft or fast perfectly accurate VTF setting.
• New Fat-Boy VTA design with a finer adjustment more robust machined aluminum and steel knob.
HW-40 Direct Drive Motor
The HW-40 motor coils are constructed of a solid copper square cross-section wire embedded in a composite structure. This facilitates a high precision high efficiency motor, with high torque, excellent cooling, and near optimal interaction of the electromagnetic conductors within the magnetic rotor circuit. Providing an easy to drive, powerful, quiet next generation direct drive motor.
The unique ironless coil assembly avoids the use of magnetic materials its construction, combining this with overlapping V-shaped coil construction, eliminates the cogging that accompanies traditional Direct Drive motors, resulting in an unprecedented rotational smoothness.
The HW- 40 direct Drive system achieves 93% efficiency and a torque of 2.68 Nm/sec. Accelerating the 25lb platter assembly to full speed and decelerating to a stop in 1 second.
Mechanically the HW-40 motor assembly is milled from a solid billet of 6061 aluminum, and precision mated to the rotor, stator and platter bearing to create an integrated drive system minimizing vibration and noise. The motor assembly uses a 5-point mounting to secure it to the top panel.
Motor Control Feedback and Firmware
Motor speed feedback utilizes a ring encoder providing 2500 pulses/revolution, monitored by cutting edge motion control software and motor drive circuitry. The motor control programing utilizes the same hardware/software used in many state-of-the-art/precision manufacturing tools and inspection systems.
<!- ------------------------------------>