VPI Goldy MC Cartridge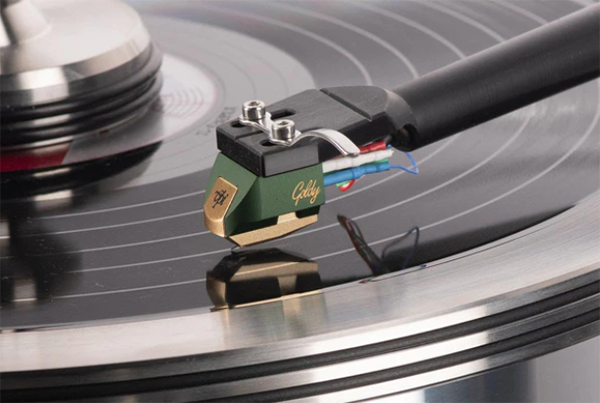 New Jersey-based VPI Industries are quite well-known for their rightly vaunted lines of high-quality turntables and tonearms respectively, but when they decided to get into the cartridge engineering universe, they turned to Audio-Technica for the manufacturing assist. VPI found early A-T/made-in-Japan partnership success with both the Shyla moving coil (MC) cart and the entry-level Shirley moving magnet (MM) cart — and now, one of their latest offerings, the Goldy MC cartridge, looks to continue the string.
The design goal here, according to VPI brand president Mat Weisfeld, is as follows: 'When voicing the Goldy, as with the Shyla, our main focus was to hit the midrange while still having a strong punch on the bass and detail on the highs." The Goldy also has similar internal and dampening modifications as the Shyla cartridge does (of which you can read more about here).
Using the AT-OC9 cartridge series as a base along with VPI's voicing, the Goldy sports a nude rectangular line-contact shank stylus on a nude boron cantilever. The stylus has a curvature radius of 1.5 x 0.28mil, while the cantilever is 0.28mm in diameter. PCOCC wire is used for the coil, the terminal pins are brass, and the mount is half-inch.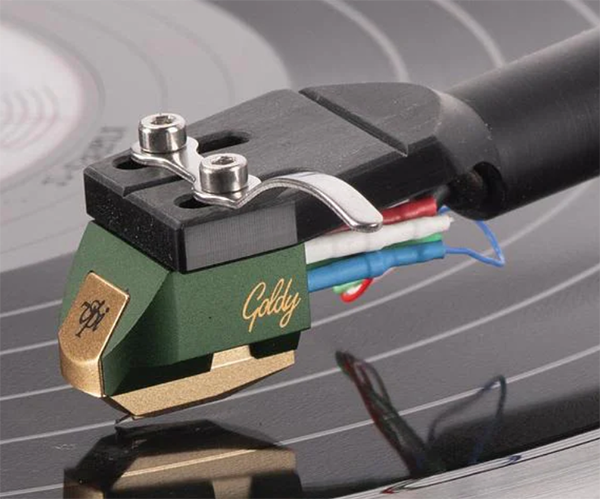 Specs for the Goldy include a frequency response of 20-50,000Hz, channel separation of 28dB (1kHz), vertical tracking angle of 20º, vertical tracking force of 1.8-2.2g (2.0g standard), recommended load impedance of 100ohms minimum when a head amplifier is connected, coil impedance of 12ohms (1kHz), DC resistance of 12ohms, coil inductance of 25mH (1kHz), channel balance of 05.dB (1KHz), static compliance of 22 x 10.6cm/dyne, and dynamic compliance of 18 x 10.6 cm/dyne (100Hz).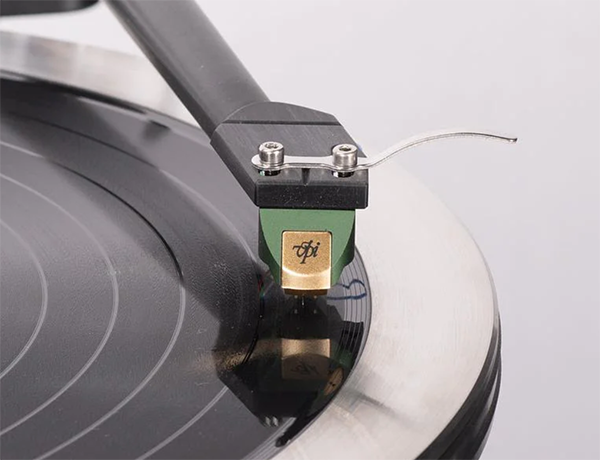 Additionally, the Goldy weighs 0.3oz (7.6g), and its dimensions are 0.66 x 0.68 x 1.01in (16.8 x 17.3 x 25.7mm), w/h/d.
The VPI Goldy cartridge has an SRP of $1,300. For additional SRP context, the SRP for the above-noted Shyla is $2,000, while the entry-level Shirley has an SRP of $100.
For more about VPI, go here.
To find an authorized VPI dealer, go here (though if you are located outside of the U.S., you will need to scroll up and click on the Dealerships pulldown menu to find your own country or territory).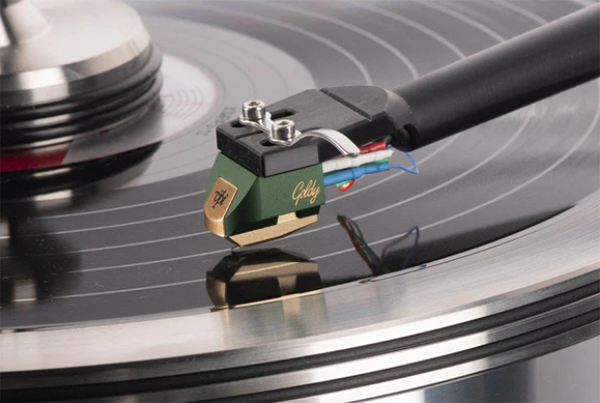 <!- ------------------------------------>