Malachi's First MC Cartridge: Ortofon's Quintet Black S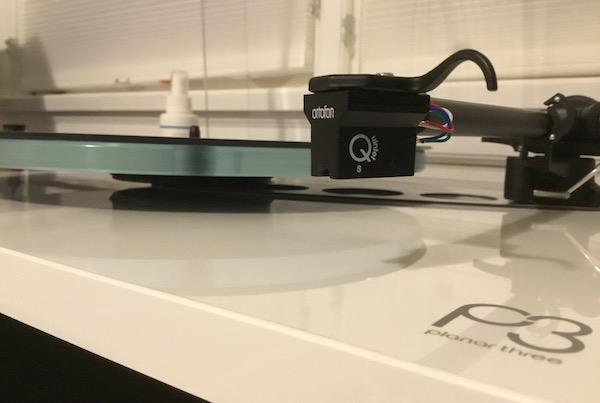 "The next piece you need to upgrade is your cartridge," my editor repeatedly reminded me for months. After receiving my Rega Planar 3 from a generous AnalogPlanet reader, I felt perfectly content with the pre-mounted Rega Elys 2 MM cartridge, as my new system (complete with AudioQuest speaker cables) was already a large improvement from my Audio-Technica LP120 turntable connected to a Panasonic home theater system. However, I researched cartridge upgrades nonetheless and came up with three potential moving coil choices ranging from $524 to $795, but I eventually settled on the $999 Ortofon Quintet Black S.
No more than a week later, a review sample of the Quintet Black S arrived at my house, but without having the setup tools or MC-compatible phono preamp, it sat in its box for weeks. Once I obtained Mobile Fidelity Electronics' $499 UltraPhono phono preamp/headphone amp and the late Wally Malewicz's Wallytractor overhang gauge, I finally installed the cartridge.
Features
As with Ortofon's 2M series of moving magnet cartridges and their more expensive MC Cadenza line, the $999 Quintet Black S tops the MC Quintet series. It features a sapphire cantilever and Shibata stylus, tracks between 2.1-2.5 grams (2.3 grams suggested) VTF, and weighs 9 grams. Originally, the cartridge (like the one reviewed in 2014 by Michael Fremer) used a boron cantilever, but Ortofon changed it to sapphire when there was said to be a boron cantilever shortage (hence the "S" now appended to the name). Ortofon's specifications list the output voltage at 0.3 mV, internal impedance at 5 ohms, and the recommended load impedance at greater than 20 ohms.
The box includes a flat head screwdriver, mounting screws, a plastic VTF gauge, and an Ortofon-branded stylus brush. Ortofon suggests against using solvents for stylus cleaning, as it may damage the stylus cement, the cantilever, and the cartridge's innards. In addition, the company suggests for the same reasons cleaning records only with an anti-static brush. Further, Ortofon advocates the use of their ST-7 step-up transformer and LH-4000 head shell for those who need such devices. Since the stylus assembly is non-removable, the company offers an exchange service for worn-out cartridges, but give little information other than to contact your local dealer.
Setup
Aligning the Quintet Black S was relatively simple, but the wide body made zenith angle adjustment for me harder than usual. It's also extremely tall, so raising or lowering the tonearm may be necessary to accommodate the Ortofon. I used the provided mounting screws for mounting on the Rega RB330 tonearm, and the Lofgren alignment scheme on the Wallytractor. The bottom of the cartridge body appeared to be parallel to the record surface, which, assuming high build quality, is a good sign for proper SRA.I set the MoFi UltraPhono's input impedance to 100 ohms and applied 60dBs of gain.
Listening
After initially installing the Quintet Black S, I wasn't impressed. "This for $999?" While detailed, the Ortofon sounded dark and veiled at first, especially on muddy mixes such as Jack White's Boarding House Reach (colored vinyl LP, Third Man Records TMR-540), but 10 hours of breaking in created a drastic change. Josh Tillman's excellent Father John Misty album Pure Comedy (2LP, Sub Pop SP1200) stunned, with Tillman's voice liquid and instruments presented with immaculate detail. Cymbals shimmered on "Two Wildly Different Perspectives," drums were present on "A Bigger Paper Bag," strings rich on the 13-minute epic "Leaving LA," and acoustic guitars realistic on "Total Entertainment Forever." I bought the album a week after release, and the Chris Bellman-mastered, RTI-pressed double LP remains one of my favorites, musically and sonically. I've heard it on two different turntables, three turntable mats, three phono stages, and now three cartridges. None have exposed the recording's excellence in my experience more than the Quintet Black S, Rega Planar 3, Stein Music "Perfect Interface" carbon mat, and MoFi UltraPhono combination, which specifically demonstrates the album's excellent production and black backgrounds.
Another record I played early in the review period was Kendrick Lamar's brilliant 2015 album To Pimp A Butterfly (180g 2LP, TDE/Aftermath/Interscope B0023464-01). Initially, I only listened to "i" and "Mortal Man," the latter of which's deep bass sounded uncontrolled and soft. However, I played it again after breaking in the cartridge, listening to more of the album this time. Thundercat's bass on "King Kunta" and "Mortal Man" was tight and the latter's dialogue between Kendrick and a sampled Tupac sounded pure, complimented by quiet RTI vinyl. Additionally, the electronic snare drum during the intro of "Institutionalized" was startlingly "there," and I'd never before heard Terrace Martin's keys on "These Walls" sound as gentle as they did with this cartridge.
That being said, those accustomed to the sound of mid-priced MM cartridges may need time to adjust to the Quintet Black S's sound. To me, Rega's $295 Elys 2 MM cartridge sounded more "exciting" than the Ortofon at first, but I eventually came to appreciate the Quintet's added nuance and purity.
Not only does the Quintet Black S enhance the sound of excellent recordings, it also reveals flaws in poor ones. When I first heard Mobile Fidelity's One-Step remaster of Simon & Garfunkel's Bridge Over Troubled Water (45rpm 2LP, MFSL UD1S 2-0004), I listened with the Elys 2 and the built-in MM phono stage of my Onkyo TX-8260 integrated stereo amp/receiver. I thought the record sounded fantastic. However, system upgrades changed my opinion: using the UltraPhono and the Quintet Black S, I can attest that this reissue only has surface-level detail and is spatially flat with shallow bass, clear yet buried acoustic guitars, and lifeless presentations of the title track, "So Long, Frank Lloyd Wright," and "The Boxer." Even "Cecilia," with the extreme clarity of its drums, sounds as if it's trying too hard to cover up a poor-sounding tape source. According to engineer and producer Roy Halee, the first-generation master was lost in 1970, and the details of the tape currently in use are unknown. I respect MoFi's effort to extract as much sonic information as possible from the source, but the existing source simply isn't very good. Given that Mobile Fidelity is careful to not label secondary source material releases as "Original Master Recordings", I assume a later generation tape was labeled as the "original master" and given them to use.
For those of us who don't want to switch to a mono cartridge to play mono records, the Quintet Black S tracks mono LPs better than I expected. I played my 80s UK mono repress of Beatles For Sale with -3N/-3N matrices, and found only the slightest hints of distortion during peaks. When I pressed the mono switch on the UltraPhono, I didn't hear any differences. In comparison, the same record exhibited much more distortion on the Elys 2, which the mono switch eliminated. Hearing the Quintet Black S's ability to track mono records has dried up any desire I had for a mono cartridge.
The only problem I have with the cartridge itself is the extreme width of the body. The outer lip of "domed" (slightly warped into a bowl-like shape) records scrape against the cartridge for a short period of time at the beginning of each side. Neither the records nor cartridge were visibly damaged, but the scraping sound is extremely annoying and disruptive to the listening experience.
Conclusion
Setup may be difficult and time-consuming for some, but the Ortofon MC Quintet Black S offers a detailed and fairly neutral sound for a more than reasonable price tag of $999. It tracks like a champ, and the simple and clean look will visually match most turntables and tonearms. Most importantly, the cartridge appropriately represents the music within the grooves, and is an excellent entry into the moving coil world for those who can afford it. Despite the minor issues I had with the Quintet Black S, I highly recommend it to those looking for a great all-rounder cartridge in this price range.
<!- ------------------------------------>