Sumiko's Songbird is a New, Moderately Priced High Output Moving Coil Cartridge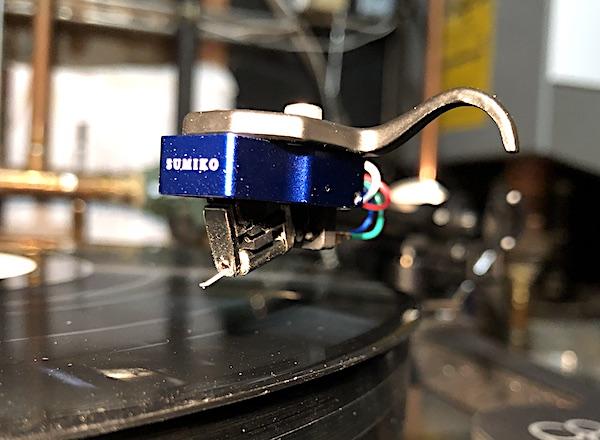 Any resemblance between Sumiko's $899 "Songbird" high output moving coil cartridge and the rest of the Reference line's "bird" cartridges—the $1249 Blackbird (available in both low and high output versions) and the new $1899 "open architecture" flagship Starling is strictly intentional. Sumiko has been in the cartridge business for decades and these are all made in the same reliably high-quality factory that I visited a few years ago.
One of these two new cartridges is priced below and the other above the long-established Blackbirds, so clearly the goal in this time of increasing interest in analog was to fill in the line with an entry level $899 high output MC and a "luxury" model priced close to $2000. The two more costly Reference series cartridges, the Pearwood Celebration II ($2799) and Palo Santos Presentation ($4499) both "sport wood" and are more traditional looking designs, the former fully enclosed and the later open on bottom.
While there are obvious differences among the three "bird" named cartridges, they are more similar than they are different in terms of the basic motor construction, though these also resemble the top of the Oyster line Blue Point Special EVO III ($549). The biggest differences are in cantilever material, stylus profiles and of course coil turns, which affects output and internal impedance. Another significant difference is that the new "Songbird" and "Starling" feature hefty CNC machined aluminum top plates to which the motors are attached. Both the material mass and the method of motor attachment will seriously affect sound. The in between Blackbird's mounting plate is noticeably thinner, though the total weight is similar to the more costly Starling (an interesting name! Though "star" has a positive connotation, Starlings are considered unwanted pest-birds. Perhaps someone at Sumiko thought "pest" was fine if the cartridge was seen as a nuisance to more costly moving coils from other companies!).
Sitting at the bottom of the Reference line, the $899 high output "Songbird" represents a serious value proposition for those interested in trying a moving coil cartridge without having to invest in either a new phono preamp or a step-up device. The circa $900 high output MC price-point is crowded with contenders, which no doubt helped push Sumiko to enter the field. The Songbird features a coated aluminum pipe cantilever to which is attached a 0.3 x 0.7 micron Elliptical stylus. The coils are wound of an unspecified purity copper wire, and not surprisingly the 135 ohm internal impedance suggests many turns of wire required to produce a medium/high output of 2.5mVs.
Spec'd frequency response is 12Hz-40kHz (which is beyond the response of any CD). Channel separation is spec'd at 30dB@1kHz, while between channel balance is 0.5dB@1kHz. Compliance is spec'd at a moderately low 12x10-6cm/dyn@100Hz. Load impedance is the standard MM 47kHz, while recommended load capacitance is 100pF-200pF (when calculating this in your setup be sure to include cable capacitance!). Recommended tracking force range is 1.8g-2.2g with 2.0 grams recommended.
Set Up
I set up the Songbird on the Rega P8 and of course it was easy since you can't adjust VTA/SRA or azimuth. Nonetheless I checked out SRA, crosstalk and channel balance and found that SRA was 93 degrees, crosstalk was in excess of 25dB (measured using digital oscilloscope, which can underestimate actual separation) and channel balance was within 1dB, which is all very good!
As sweet and pleasing as was the $299 Sumiko MM Moonstone cartridge, swapping it out for the Songbird produced blasts of detail resolution, transient precision, dynamic slam and spatial delineation that modestly priced MMs can't deliver, though if you just want sweet and pleasing musical escape you might find your happiness right there in an Oyster.
However, if you want greater intensity of sound, to be pushed back in your seat a bit and see further into the sonic picture, the Songbird will deliver that without adding the edginess or peakiness MC detractors say they produce, though some of the budget MCs can lean in that direction. Credit the Songbird's generously voiced midrange for that. In fact, the older Blue Points from Sumiko could be kind of brittle but even those have been smoothed out and made more sonically pleasing while delivering fast, precise transients, good detail resolution and punchy bass performance.
Conclusion
I'll skip the usual long series of recorded references to albums you don't know and concentrate on one: the Blue Note Tone Poet reissue of Chick Corea's "Now He Sings, Now He Sobs" (Solid State SS18039/B0029363-01) featuring featuring Miroslav Vitous on bass and Roy Haynes on drums, engineered by Don Hahn at Phil Ramone's A&R Studios in 1968. I don't mean to pick on the Moonstone, which produced enjoyable results with this record, but the Songbird made Roy Haynes's stick work and tom slams sounded "live" in the room, in ways the Moonstone did not. The Songbird gripped Vitous's bass lines producing ripples of excitement with each pluck, whereas the Moonstone produced more of a pleasant, warm sensation.
If you want to try a high output moving coil cartridge that's well-built, reasonably priced does everything well, and resolves sufficient detail to make you sit up and take notice without making you feel as if you're dissecting instead of listening to music, Sumiko's new Songbird is a well-voiced, high performance choice I don't think you'll regret making. And it even comes with a "full body armor" stylus protector in case you have cats and/or a cleaning person with "busy " hands
<!- ------------------------------------>