Who's Umami?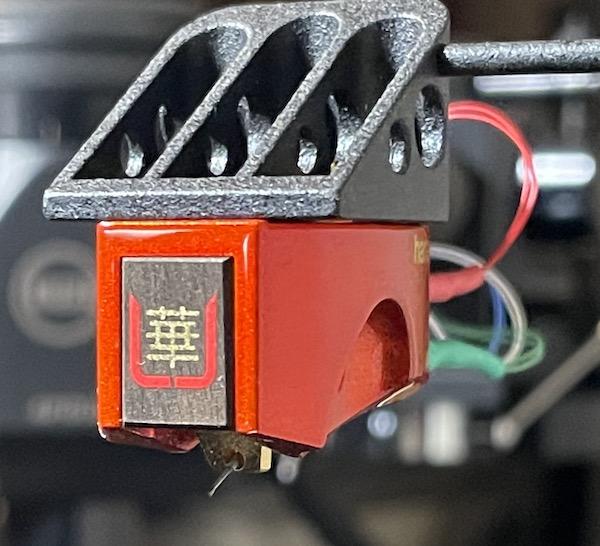 The extensive Hana moving coil cartridge lineup manufactured in Japan by the half-century old Excel Sound Corporation ("controversial" factory tour embedded below) is a high value, performance, and quality, logically progressing array that until the release of the $3950 Umami Red was priced from a $475 low to a $1200 high. Remarkably moderate prices in today's cartridge market.
In 2015 with the analog revival in full swing, Excel founder Maseo Okada-San, who years earlier had sold the company, returned to develop the Hana cartridge line. At the time Excel was exclusively building OEM cartridges for other companies.
All of these cartridges are built to a consistently high standard and are easy to recommend—especially because of their reliable sonic consistency. Everyone who buys based on a recommendation responds if not gushing, then supremely satisfied.
"Hana" in Japanese means "brilliant and gorgeous", and while that descriptor can rightly be used to describe the Hana sound, with the Umami Red, Excel goes "downtown", offering exceptional visual beauty along with build quality and sonic luxury not often achieved at or around its $3950 price point.
The A7075 Duralumin (a hard aluminum alloy) body's "Auricle"™ (ear-shaped) sculpted sides, not there for looks (though they help give the Umami an especially graceful appearance), place the partially exposed generator in close proximity to the body sides, both to increase stiffness and to decrease resonances.
"Open" generators were once all the rage and full exposure has certain sonic benefits, especially in terms of cost-efficient resonance control, but they also leave it all "hanging out", which makes them more prone to dust collection and physical damage. The Umami combines the benefits of semi-open architecture with secure physical protection.
The body incorporates an Ebony inlay and is finished in a luxurious multi-layer lacquer (Urushi) coat, beginning with a black lacquer undercoat followed by a red silver powder layer, which is then clear lacquer coated and polished, giving the body a luxurious, satiny shine.
While this would seem at first to be merely visual candy, it does "tune" the sonics, though the bulk of the Umami's sound results from the sophisticated generator system featuring a boron cantilever to which is fitted the company's "nude" microline stylus also found in the ML. A square plate Permalloy armature hand-wound (using a winding machine of course),with 30-micron copper wire and a Samarium/cobalt magnet form the generating system. The front and rear yoke, the pole piece and the terminal pins are cryogenically frozen ("cold annealed").
The cartridge outputs a generous .4mV and has a low 6 ohm internal impedance, the result of fewer coil turns and a powerful magnetic system.
Tracking force is 2 grams, while recommended resistive load is (as it should be) 60 ohms or greater. Claimed frequency response is 15-50,000Hz, channel balance is .5dB@1kHz, separation 30dB@1kHz. "Trackability" is rated at 70µm/2g, dynamic compliance 10x10-6 cm/dyne@100Hz and the cartridge weighs 10.5 grams.
Set up and Measurements
I ran the Umami in both the Kuzma 4Pt and Acoustic Signature TA-7000 arms—appropriately luxurious rides for a $3950 cartridge. If you're going to invest in a costly cartridge featuring a microline stylus you really must carefully set it up. I used the WallyTools WallyTractor Universal for overhang (Löfgren A), and the WallySkater to set anti-skating. Using a digital USB microscope, I found that with the arm(s) parallel to the record surface, produced close to 92 degrees stylus rake angle so I nudged it up a bit and was done. I set azimuth using a digital oscilloscope and easily achieved close to the claimed spec (29dB channel separation L-R and R-L within 1dB versus 30 spec'd) by nudging the arm minimally from the headshell being parallel to the record surface and at 2 grams the arm tracked cleanly the 70µm band on Ortofon's test record. In other words, the Hana Umami sample I received was built as well as a cartridge can be— at least for the aspects I can measure. I've encountered far more costly cartridges that didn't do as well. And kudos to Excel for supplying a "full body armor" stylus protector.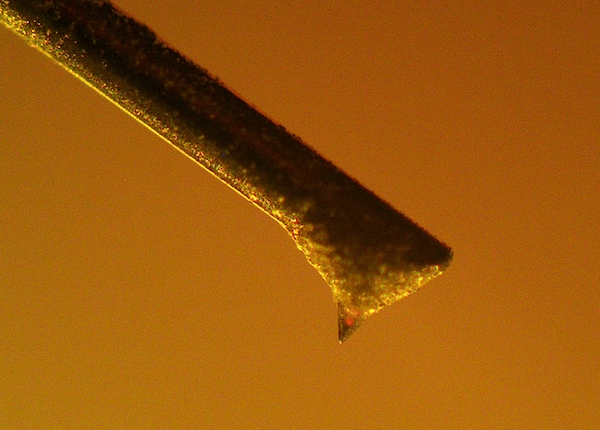 More Of What You Are Looking For
While most of the Hana line shares a warm, rich, inviting, yet not soggy sonic signature, which is what makes the line so easy to recommend, the Umami pulls away from the pack thanks in part to the boron cantilever, which as is typically the case, produces speed, precision, and excellent transient detail. At the same time the Umami retains the attractive midrange richness and depth found in the rest of the Hana line.
Mack Avenue recently released a three LP set A Time For Love The Oscar Peterson Quartet Live in Helsinki, 1987 (Mac 1151LP). Full review coming up. Peterson was traveling with Joe Pass on guitar, Dave Young on bass and Martin Drew on drums. The recording by the Finnish Broadcast Company,YLE is closely mic'd yet spacious sounding. The timbral picture is warm yet the stick on cymbal sound is fast and clean. Young's direct feed electric bass digs really deep without "overhang" and the presentation of Pass's guitar has the familiar sonic signature of the hollow-bodied Gibson Es175 that he most often played: full, rich yet with super-clean transient articulation. Peterson's piano is equally satisfying. It's closely mic'd so it looms large and hasn't spatial context within a hall but it's timbrally believable, neither "tinkly" nor swamped. Like the recently reviewed Mack Avenue Christian McBride & Inside Straight release Inside Straight Live at the Village Vanguard I think Chris Muth cut lacquers because there's a "CM" on the lead out groove area and if so, he did another super job from digital files. Oops this is turning into a record review. Sorry. I'll just say this cartridge impressed sorting out the group play on Peterson's lovely "Love Ballade". A lot of low frequency energy could produce warm mush. The Umami maintained a good balance between warmth and detail and sorted out all of the information lurking in a very narrow frequency range.
The Umami's supple midrange is a gift to vocal recordings—and not just for Ella, Peggy and Frank (etc.). I played The Clash's London Calling (CBS CLASH 3) and, for instance, not only did Mick Jones's guitar intro to "Brand New Cadillac" have a newfound "Les Paul"-edness (could have been a Jr. or a standard), but Joe Strummer's vocals really sat in "the pocket"—throat rich. All of this rich, sculpted dimensionality coming without any price paid for when the sound needs to be edgy. That said, if your system accents the upper mid-bass, this region through the Umami might be too much.
A friend raved about the Classic Records reissue of Shostakovich's "The Age of Gold"/"Symphony No. 1" (RCA LSC-2322) with Jean Martinon conducting the LSO. I admit I've not played it since it was originally reissued so on it went. Incredibly, it was recorded in stereo in 1957 and the sound is spectacular. The recording produces a wide, deep soundstage that the Umami delivers. Not surprising since it was a Decca recording done at Kingsway Hall. From the opening clarinet solo, which sounded timbrally spot on through the strings and percussion, the Umami's rendering left very little on the (turn) table in terms of dynamic contrasts, spatial generosity or any other checklist item. Plus the Umami rides "quiet in the grooves" and isn't prone to "dust capture", which is good because the stylus is somewhat tucked under and easy to ignore if you don't go looking. So go look!.
I'll just conclude by writing that if you own a Hana ML and wondering if dropping 3X the ML's pricetag gives you 3X the sonic glory, the answer is a qualified yes if your turntable and phono preamp—not to mention the rest of your rig— are up to delivering it. Qualified only because in audio the law of diminishing returns sets in for some earlier than it does for others. There's a reason the Umami, despite the considerable price, has been a great success for Excel Corporation and American Importer Musical Surroundings.
Now as for the "controversial" video embedded below. It's controversial for me only because the reaction from so many was so negative regarding how I dealt on camera with the Excel people.
I've traveled the world visiting factories and always enjoy adding humor to the tour videos rather than producing boring ones. I find that humor is a "universal language" and I've been able to get people to laugh everywhere. If I get the vibe that it's not working, I pull back. While the Japanese tend to be somewhat reserved, I left Excel (having gotten there somewhat jet-lagged) thinking it really went well. When I posted the video, the only objection from the company is that I'd accidentally shown a few OEM cartridges they didn't want seen so I went back and re-edited to remove them. They seemed happy with the final version. Your call, of course.
<!- ------------------------------------>