ARC, the Literal ARChive of Contemporary Music, Is Looking for New, Permanent Home to Continue Preserving More Than 3 Million LPs and Other Historical Recording-Related Materials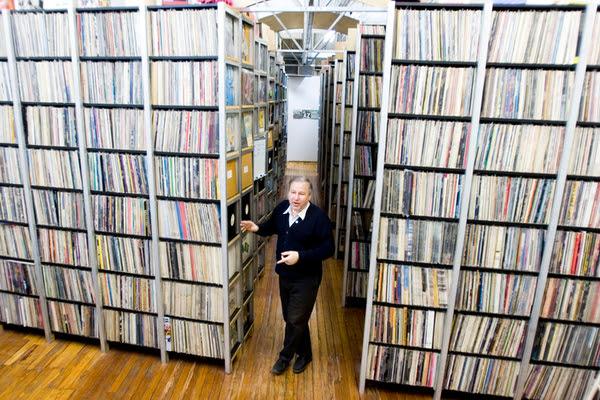 Have you heard of ARC? Short for ARChive of Contemporary Music, ARC was founded in 1985 by current director B. George and the late David Wheeler, with the clear mission to literally preserve as many historical recordings as possible — the overwhelming majority of them being LPs that span a multitude of decades and genres, as culled from locations all across the world. In short, the ARChive essentially functions as the rightful home of recorded music as we know it.
The not-for-profit ARC archive, music library, and research center was originally located in New York City. Since its mid-'80s inception, hundreds of record companies, publishers, distributors, collectors, artists, and music fans have all donated countless albums to this important collection — one that has also been designated as being the largest popular music collection in the world.
"ARC is. . . the future of music, inspired by the history of music," observes Craig Kallman, CEO of Atlantic Records, in an official ARC statement. Adds guitarist/songwriter/producer Nile Rodgers, "It's so important to preserve our music and have a place where it's accessible, to go back and listen to old recordings and experience firsthand what life and the art form was like at that time. The ARChive is the only place that is saving our product."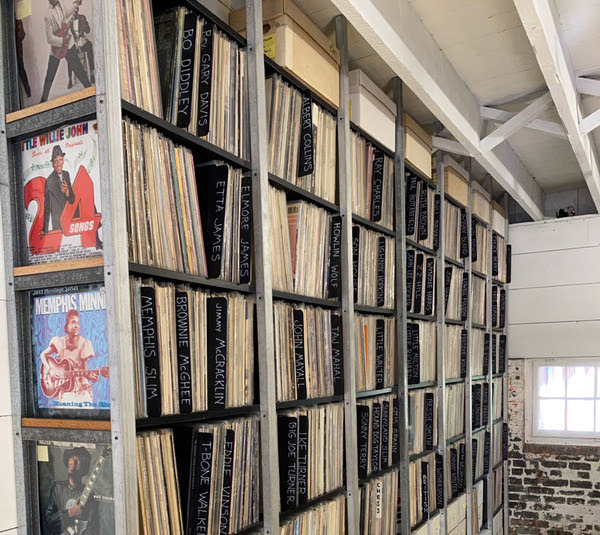 Collections that are proudly part of the ARChive include Rolling Stones guitarist Keith Richards' blues collection of well over 18,000 recordings — a number of which can be seen in the photo above — and it's considered to be one of the most extensive collections of blues and R&B records in the world. Richards, who himself is also an ARC board member, has funded its ARC housing for than 16 years, as well as having taken care of the Zero Freitas Brazilian Music Collection which in turn has made ARC home to the largest collection of Brazilian music outside of Brazil.
Other important ARChive items include a) the Jeep Holland Collection, which contains more than 125,000 classic rock and pop recordings and over 2,500 signed albums from the likes of The Rolling Stones, Jimi Hendrix, Bob Marley, and Sex Pistols; b) the Jonathan Demme Haitian Music Collection, which contains the late ARC board member and noted film director Jonathan Demme's personal collection of Haitian albums; and c) large collections of mint and/or sealed recordings from the estates of Richard W. Zirinsky Jr., Mark Steven Jacobson, Malcom Forbes, and many others.
ARC also maintains leading collections of Broadway, African, punk, jazz, C&W, folk, hip-hop, and experimental recordings. Music critics and artists — including the likes of John Rockwell, Jerry Bock, David Byrne, and Jon Pareles — have all entrusted ARC to preserve their own recordings, books, and papers. Byrne himself has already theorized that, quote, "in the future, recordings will be hard to come by — [but] ARC will have them all." (Well, we certainly hope so!)
For the record, ARC's current board of advisors includes Jellybean Benitez, Youssou N'Dour, Q-Tip, Keith Richards, Nile Rodgers, Todd Rundgren, Fred Schneider, Martin Scorsese, Paul Simon, and Mike Stoller, with an emeritus board of Carl Bernstein, David Bowie, Jonathan Demme, Michael Feinstein, Ellie Greenwich, John Hammond, Jerry Leiber, Earl McGrath, Lou Reed, and Jerry Wexler.
Through a generous facilities donation courtesy André Balazs, the ARC collection has been safe and in storage for close to 3 years running — and while the collecting, collating, and cataloging has continued essentially unabated, strict zoning laws are currently preventing ARC's expansion and public access, so the organization is seeking that new, permanent home we mentioned earlier.
To that end, the organization is soliciting donations to assist in that endeavor — and you can find out more about how to help out by going here. According to an official ARC statement, initial donations will "provide the first step in constructing a new facility that will allow students, educators, historians, musicians, authors, [and] journalists as well as fans and general public access to the world's rich musical heritage." Furthermore, ARC adds, "donations for a new building are not only essential in supporting the archives and collections themselves, but will help the expansion of educational programming, community gatherings, listening events and more towards ARC's ultimate goal of transitioning from an archive to a thriving, living public institution with the creation of The Center for Popular Music in New York."
ARC also confirms that it has already received a generous, albeit anonymous, donation of $1M that will help move this extensive collection out of its current Hudson Valley space — but every little bit helps.
If the AP audience would like to hear more specifics about all the great LPs and other related collections and historical materials housed in the abundant ARChive directly from co-founder B. George, and why it should be properly preserved in perpetuity, we will endeavor to set up an exclusive interview with him in the not-so-distant future.
<!- ------------------------------------>