DÉJÀ VU : 50TH Anniversary Edition Coming May 14th From Rhino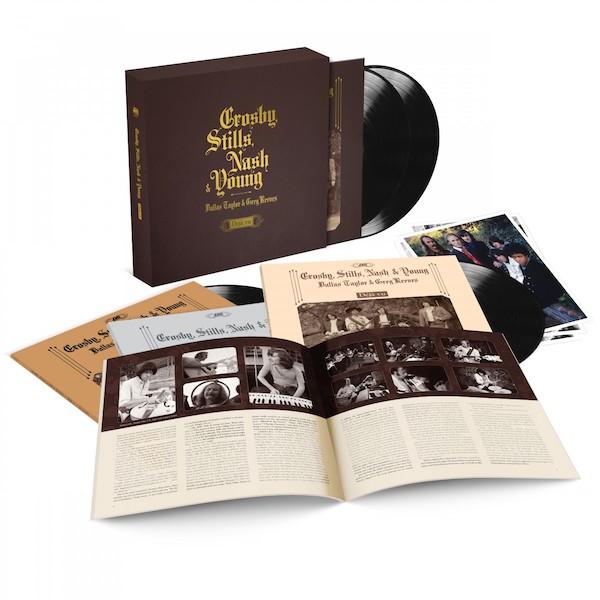 DÉJÀ VU: 50TH ANNIVERSARY DELUXE EDITION
will be available from Rhino on May 14 for $99.98. Presented in a 12 x 12 hardcover book, the collection comes illustrated with rarely seen photos from the era and annotated by writer/filmmaker Cameron Crowe, whose revealing liner notes recount the making of the album through stories told by the people who were there, including David Crosby, Stephen Stills, Graham Nash, and Neil Young.
On the same day, a deluxe vinyl version will also be available with the full content across 5 LPs of 180-gram vinyl. The deluxe vinyl version is available for pre-order now exclusively at CSNY50.com (and Rhino.com) for $249.98. The music will also be available on digital download and streaming services and in high-resolution audio at The Neil Young Archives (customers who purchase any version of the release at CSNY50.com or Rhino.com will receive a high-resolution download version as well).
As has become Rhino's habit of late, there's no information about who mastered from what source, whether or not the LPs (or at least the original release) was cut directly from tape, nor do you know where these records were pressed. It's a 100% win for the zero information age. AnalogPlanet will attempt to get this information for you as soon as possible but why should anyone have to ask? However, a digital hi-resolution advance sounded extremely promising and clearly the file was not "smashed", which is a good sign.
Also, expect here soon an interview with Stephen Stills and Graham Nash about the making of the album and the production of the reissue.
<!- ------------------------------------>