Ella The Lost Berlin Tapes Found (In Late Verve Founder Norman Granz's Private Stash)!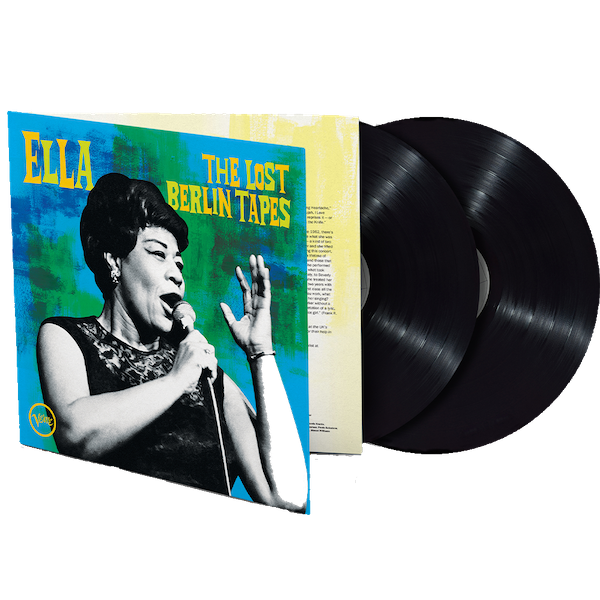 Verve will release on October 2nd, 2020 a never before issued Ella Fitzgerald concert performance recorded
in stereo
at Berlin's Sportpalast March 25th 1962. Ella recorded in Berlin 1960, one of her best known, most popular, double Grammy Award winning albums
Mack The Knife: Ella in Berlin
in which she bobbled the words. She remembers them here, but forgets where she is—understandable when you're in the middle of a long European tour. That one was recorded only in monophonic.
She's backed here by pianist Paul Smith, bassist Wilfred Middlebrooks and Be-bop drummer great Stan Levey. The 17 tracks are divided into two LPs but in the press release they are listed contiguously:
1. Cheek To Cheek
2. He's My Kind Of Boy
3. Cry Me A River
4. I Won't Dance
5. Someone To Watch Over Me
6. Jersey Bounce
7. Angel Eyes
8. Clap Hands, Here Come Charlie
9. Taking A Chance On Love
10. C'est Magnifique
11. Good Morning Heartache
12. Hallelujah, I Love Him So
13. Hallelujah, I Love Him So (Reprise)
14. Summertime
15. Mr. Paganini
16. Mack The Knife
17. Wee Baby Blues
Ryan K. Smith cut lacquers from tape at Sterling Sound, Nashville. Pressing was done at Precision, Ontario, Canada. You can listen to one track on YouTube accompanied by some animation.:
<!- ------------------------------------>