"Live From Van Gelder Studio" Second Show Featuring Joey DeFrancesco & All-Star Band May 15-16!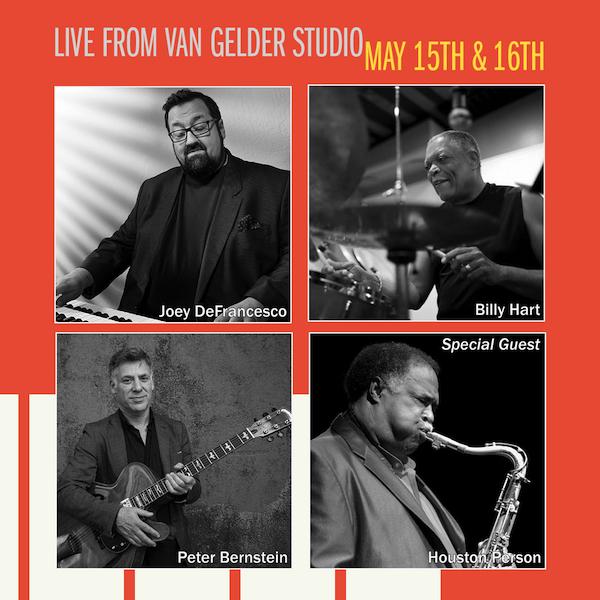 Legendary Englewood Cliffs, NJ Van Gelder Studio, the famed recording venue in which hundreds of the greatest jazz records
ever
were produced is the site for this recently announced second "Live from Van Gelder Studios" virtual music concert, happening on May 15th at 9PM EDT, with live re-streams on May 16th at 8PM JST for Asian markets and 8PM CEST for European markets.
The second show, part of a multi-part immersive music series that debuted in late 2020 to critical acclaim, will feature legendary jazz organist, Joey DeFrancesco, drummer Billy Hart, guitarist Peter Bernstein and special guest tenor saxophonist Houston Person who since 1966 has recorded almost 50 albums at the studio.
DeFrancesco will perform on Van Gelder's Hammond organ featured on albums recorded there by Ray Charles, Jimmy Smith, Larry Young, Shirley Scott, Jack McDuff, Jimmy McGriff, Charles Earland among others.
The show and future shows stream on a state-of-the-art platform created with Amazon technologies. According to the press release, "the platform is engineered to accurately broadcast the unmistakable Van Gelder Studio sound...".
Purchase $15 tickets here.
The team of jazz industry veterans that created and produces "Live From Van Gelder Studios", includes:
Don Sickler, producer of five Grammy award-winning albums, who also produced many Van Gelder-recorded artists including Joe Henderson, Freddie Hubbard, Cedar Walton, Larry Coryell and Cindy Blackman-Santana.
Phil Coady, producer of John Coltrane's "Ultimate Blue Train" where he and Van Gelder first connected, as well as projects with NEA Jazz Masters & NBA athletes.
Sam Kaufman, who as a talent agent worked with Van Gelder-recorded artists including Ray Charles, Pharoah Sanders, and Jason Moran.
Maureen Sickler, audio engineer, distinguished associate and long-time assistant engineer for Van Gelder, who now carries on the traditions forged in their 30+ year collaboration.
This sounds like a not to be missed event!
<!- ------------------------------------>