Manley's Magical Chinook MC/MM Phono Preamplifier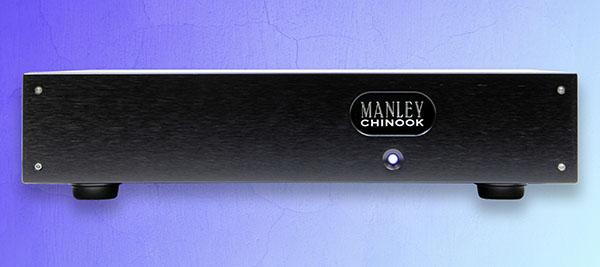 The Manley Chinook phono preamplifier is one of the most highly regarded, favorably reviewed phono stages on the market. A true hi-fi bargain in audiophile terms — a veritable giant killer, you might even say — we think it's a perfect candidate for an AnalogPlanet review.
First up, I wanted to hear/review as many phono stages as possible, using my Tavish Audio Design Adagio, Luxman EQ-500, and Sutherland Little Loco phono stages for comparison. (For the record, the latter two are on loan.) I checked out a handful of new phono stages as seen in recent AnalogPlanet and Stereophile show coverage — but, to a fault, they were unavailable for further reportage. Enter Kevin Deal of Upscale Audio, one of the hardest-working, most enthusiastic hi-fi distributors in the States. When he offered up the Manley Chinook for review, we eagerly accepted.
The Manley Chinook is as plain a black box as exists in the world of phono stages. The front plate includes the Manley logo, Chinook derivation, and a blue-lit, LED pushbutton to power the unit. (In case you're wondering — the Chinook doesn't completely power down; it goes into sleep mode.) Its aluminum casework sports a crosshatched, mesh ventilation scheme. On the Chinook's backside, you'll find an IEC power receptacle, two pairs of Manley Teflon gold-plated RCA jacks for input and output, and a row of small dip switches that accommodate loading for MM and MC cartridges. Internally, low and high gain switches enable settings from 45dB to 60dB. "Typically," states the manual, "45dB is for moving-magnet cartridges, and the 60dB setting is for moving-coil. Your Chinook comes factory set for 45dB gain."

What are the differences between the Manley Chinook, which retails for $2,899*, and its newer SE Edition (also $2,899*), you may ask? "The standard Chinook has 45db and 60dB of gain, and a purple-ish faceplate," Kevin Deal explained via email. "The Chinook SE has 45, 50, 60, and 65dB of gain, black or silver faceplate (along with standard color), and upgraded Gold Lion 6922 tubes that have been specially selected through testing as well as by ear and cryogenically treated." [*Editor's note: The price of the Chinook has been revised to $3,199 for 2023 customers.]
I used low-output MC carts for this Chinook review, including an Ortofon SPU GE Classic MkII (0.2mV) and a Pure Fidelity Stratos (.45mV). I activated the 60dB gain bump available from two switches inside the Chinook, which produced excellent results.
The California-designed-and-manufactured Chinook offers tons of loading options via its back-panel dip switch array, making choice of resistive loading for my MC carts a breeze. Input impedance is enabled by user-selectable resistor values of 50, 100, 200, 400, and 800 ohms. There are 32 possible loading scenarios in total.
Furthermore, "Input Termination Capacitance: 3-position user-selectable capacitor values of 50pF, 100pF, and 200pF yield resultant combinations of: 50, 100, 150, 200, 250, 300, and 350pF," according to the manual. "Use these settings typically for Moving Magnet (MM) cartridges. Default Input Impedance: 47k Ohms, with no other DIP switches selected. Use this setting typically for Moving Magnet (MM) cartridges."
A tubed phono stage, the Chinook employs two 6922 tubes (gain stage) and two more 6922s (output stage). 6DJ8, 7308, ECC88 types may be substituted, if tube rolling is your thing.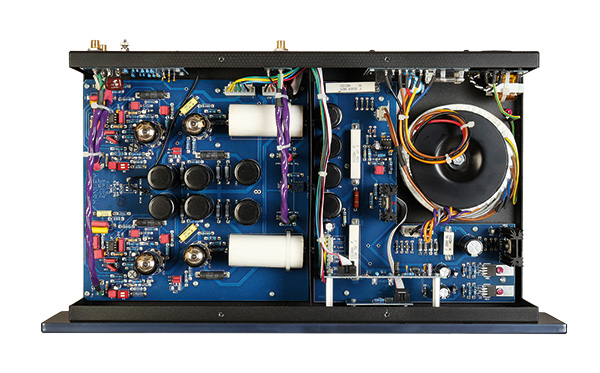 Power Up, and Listen On
On power up, the Chinook's output jacks mute for 45 seconds. "Automatic mute circuit allows tubes to warm up and circuitry to settle," notes the manual. "At power down, output jacks are immediately muted."
Though you can use a SUT with the Chinook, I plugged in my carts — solo, as it were — to hear direct differences between the Manley and my in-house phono stages.
As the Chinook has been extensively reviewed elsewhere, I won't get into the weeds of its build quality — which is exceptional, by the way — and instead will focus on its sound in my reviewer's system, including the aforementioned phono stages. Turntables utilized for this review included Pure Fidelity Harmony and Thorens TD 1500 'tables, joined to Ayre EX-8 or Parasound Halo 6 Hint integrated amplifiers, and DeVore Fidelity O/96 loudspeakers.
Straight out of the box, the Chinook exhibited a grand sense of orderliness and spaciousness — a very coherent, wide-open, and frequency-neutral phono stage. The Chinook may use tubes, but its neutrality is first rate. The Chinook presented a large, deep soundstage with excellent ambient cues and precisely focused images. It produced a large soundstage, similar to the Luxman EQ-500, another giant soundstage-producing machine. With the RSD release of Steely Dan's Two Against Nature (Giant Records 603497849093), the Chinook drew deep low notes from bass drum and electric bass, which gilded my ears with excellent weight, robust tone, and visceral textures, though not as viscous (nor as wooly) as my Tavish Audio Design Adagio. (This review isn't unfolding chronologically, per se, as I began comparison listening with the Luxman, followed by the Manley; then came the Tavish.)
The tubed Luxman EQ-500 is one of the most feature-rich phono stages available, with inputs for three turntables, on-the-fly adjustment dials for gain, impedance, capacitance, and choice of MM or MC cartridges. No dip switches required. Also available, toggle switches for phase, low and high cut, balanced or unbalanced inputs, mono/stereo, and a switch labeled "articulator."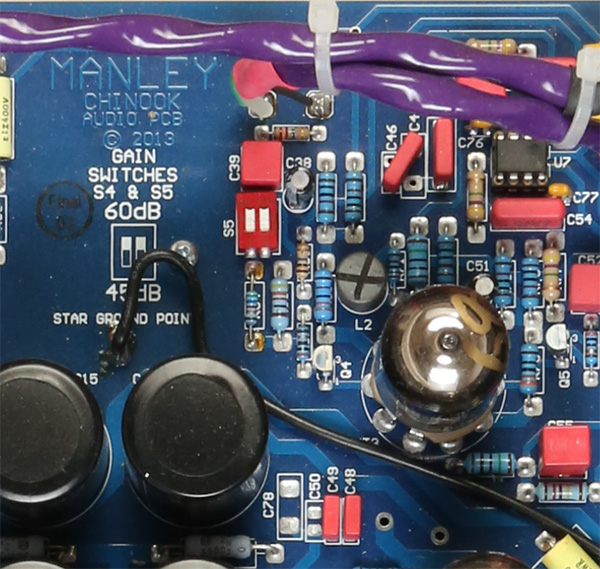 The Luxman reproduced the treated piano discourses of Nils Frahm's Felt (Erased Tapes Records ERATP033LP) with strong left-to-right separation and layering, with a consistent focus on upper-mid to treble frequencies — snare drums, airy ambient space, and prattling treated noises had a dazzling, burnished quality. The Luxman is a refined machine, leaving nothing to the imagination. Its resolution of ambient information aided its huge soundstage capabilities. Its rendering of Frahm's treated piano was visceral, at times sounding like two seashells rubbed together.
Spaghetti western trio Kruangbin's Mordechai (Dead Oceans DOC193LP) also benefitted from the Luxman's delicacy and shading, the album's gently played snare drum popping with just the right degree of light-wristed attack. The Luxman also rendered deep bass synth notes, as on dance duo Tosca's Osam (!K7 Records K7411LP). The Luxman's large stage was weighted by Tosca's plentiful, at times, ominous synth bass tones, with touchable textures. (No, this isn't a Luxman review, but it's the Chinook's competition in this review; that's what it's up against.)
The Luxman could occasionally sound less full or corporeal, as on ZZ Top's Tres Hombres (London Records XPS 631), with Billy Gibbons' guitars on the band's signature track "La Grange" sounding smallish and faint. Instruments on Steely Dan's Everything Must Go (Reprise Records 603497849109) sounded crisp and tight — but, occasionally, I heard more surface than body. The EQ-500 is a detail-retrieval king, has a humongous soundstage, a clear midrange, a healthy low-end, and gobs of air and atmosphere, as heard to great effect on "Trane's Blues" from Workin' With The Miles Davis Quintet (Prestige PRLP 7166). The EQ-500 excelled at classical and jazz, acoustic instruments beautifully portrayed.
The Manley Chinook was more like the EQ-500 than not, especially in its rendering of soundstage width and depth. But it dug deeper in midrange and bass, "Trane's Blues" resounding with more natural high-hat and cymbal body, more distinct and slightly weightier upright bass, and a tad more immediacy overall. The Chinook didn't separate instruments as well as the Luxman and had less interior definition, but it bettered the EQ-500 in top-to-bottom coherency and overall sense of flow. It played Steely Dan's "Green Book" (also from the aforementioned Everything Must Go) with impressive rhythm section weight albeit on a smaller soundstage, with silkier guitars and better attack and weight from drummer Keith Carlock's bass drum.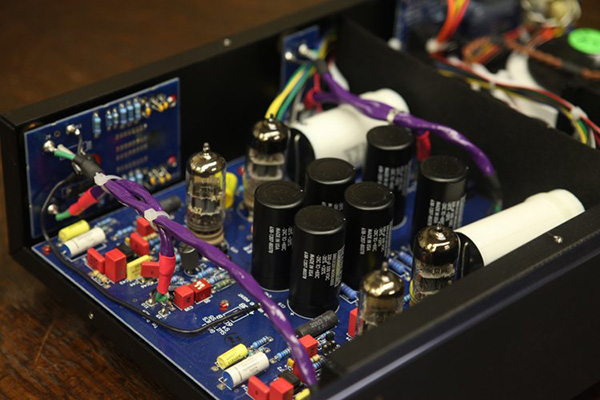 The Manley was more laid-back than the Luxman and generally sounded creamier, with better low-end punch and weight overall. Where the Luxman was intricate and detailed, the Manley was more fleshed out. In that regard, the Chinook was similar to my Tavish Audio Design Adagio phono stage.
Speaking of, the Tavish Audio Design Adagio is an all-tube affair (three 5751, two 6267/EF86, one 12AU7A), with a separate solid-state power supply, and front-mounted dials for capacitance and resistance. It's easy to operate, and there's no denying its rich tube sound. It has the largest, most bloom-adorned soundstage of any phono stage I have in house, and it excels in saturated tone and low-end weight, but is nowhere as detailed, resolute, or coherent as either the Manley or the Luxman. The Tavish didn't play "Trane's Blues" as dramatically or dynamically as the Manley and had less bass drive. Its rendering of "Green Book" also lacked the punch and excitement of the Manley, which had more snap, drive, and tension.
The Manley strikes a good balance between all these preamplifiers, providing the flow and warmth of tubes with the coherency of the best solid state. (Unfortunately, I couldn't compare the Chinook to the Sutherland Little Loco phono preamp, as I am currently without a low impedance, low output MC cart, a must for use with the very fine Little Loco.)
Conclusion
The Manley Chinook deserves all the praise it's received by the audiophile press cognoscenti. At $3,199, it's admittedly not cheap — but it's worth saving up for. Its excellent coherency, neutrality, and resolution is balanced by excellent overall tone, spaciousness, and ability to sound very, good, no matter the genre of music. The giant killer lives!
For more information, head to the official Manley site. If you want to order a Chinook, go here.
Author bio: Former musician, former artist, and former legal wastrel Ken Micallef has written numerous hi-fi equipment reviews for Stereophile and AnalogPlanet, and his byline has also appeared within Mojo, Electronic Musician, and The Grammys. You can also find him at YouTube (Ken Micallef Jazz Vinyl Audiophile).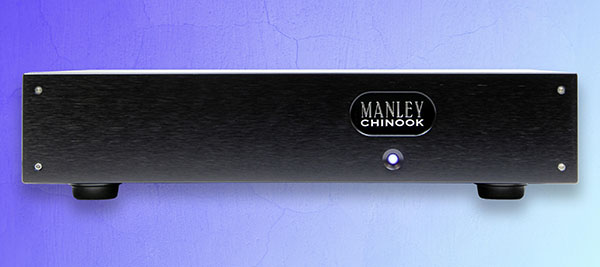 Note: Manley Chinook image above updated August 24, 2022 to reflect proper faceplate.
<!- ------------------------------------>