Pathos In The Groove MM/MC Phono Preamp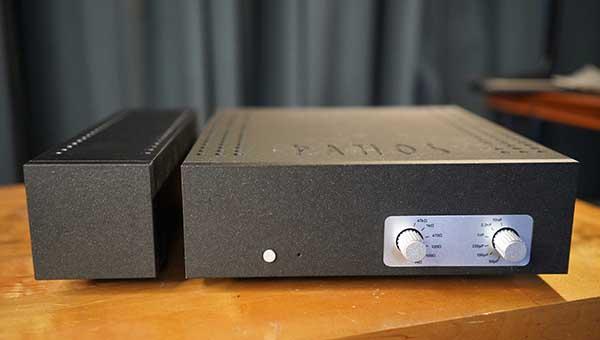 We're always on the lookout for good — if not certainly great — phono preamps to get our hands on to review here for the AnalogPlanet faithful. Since I had recently reviewed the Pathos InPol Remix MkII integrated amplifier for our sister site Stereophile, I was intrigued to see if the company's latest iteration of the Pathos In The Groove phono preamp might be worthy of our attention.
"Entirely redesigned," claims the Pathos site about the In The Groove unit, further stating it "features high quality integrated circuits, fitting with flexibility to any kind of phono detector. It is an analog solid state product featuring passive RIAA preamplification made up by two chassis, equipped with multi-tension linear power supply and three settings: impedance and capacity can be set by the front panel, while sensitivity [gain can be set] by the rear panel. These settings allow finding the perfect match to get best performance and make the most of your audio system." (Hmm, sounds like our kinda gear. . .)
At an SRP of $1,895, the In The Groove phono box is competitively priced, and monetarily similar to my own reference piece, the all-tube Tavish Design Adagio MM/MC phono stage that goes for $2,290. Once I got the greenlight from AP major domo Mike Mettler, I connected with U.S. Pathos distributor Kevin Deal of Upscale Audio in La Verne, California to get a review unit sent my way — and we were officially ready to roll.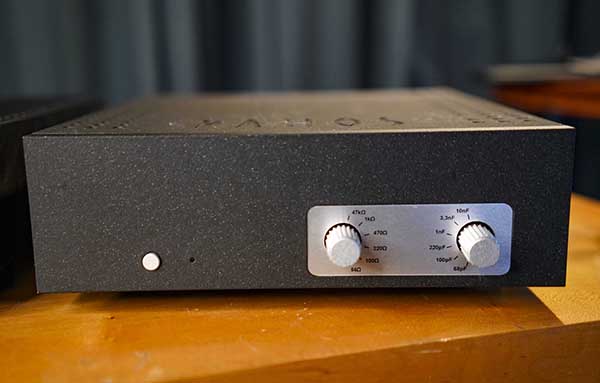 Specs & Setup
The Pathos In The Groove — a.k.a. the ITG — is smaller than most phono preamps. It can fit practically anywhere — as long as you make room for its sidekick-like power supply, that is. The PSU is less than half the size of the main unit, making for a cozy fit wherever the two are situated. The main ITG unit stands 7.87 x 2.75 x 10.2 inches (w/h/d) and weighs 5 pounds, while the power supply is smaller, measuring 2.36 x 9 x 2.75 inches (w/h/d) and weighing in at 2.64 pounds — practically two peas in the proverbial phono-stage pod. Available in two finishes — black and silver — the In The Groove collective, both its business box and external power supply, are constructed of aluminum, and handmade in Italy. (As you can see here, my review unit sports the black finish.)
A spartan-looking machine, and subtle in appearance (unlike its more visually bold Pathos siblings), the In The Groove phono preamp presents an uncluttered façade. A small button activates power, and a tiny green LED indicates the unit is electrically active. (It turns red when not in use.) Two metal dials handle moving coil (left) and moving magnet (right) cartridges, respectively. Both knobs feel substantial to the touch, though they don't make audible clicks when rotated through the settings.
Each dial is covered in a latticework of raised metal nubs, affording a tight grip. The left dial is marked in ohms for MC/impedance, offering 47k, 1k, 470, 220, 100, and 56 ohms respectively. The right dial handles MM/capacitance, marked, in descending order, 10nF, 3.3nF, 1nF, 220pF, 100pF, and 68pF. This multitude of settings insures a comfortable fit with a wide array of stereo cartridges.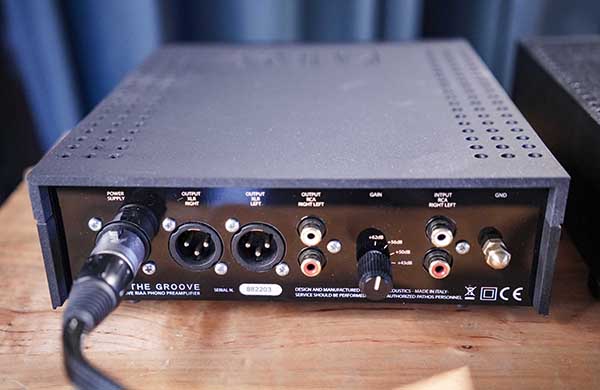 The rear of the main unit reveals a five-pin power supply connector, two XLR and two RCA output jacks, a gain dial with four settings (+62dB, +56dB, +50dB, and +43dB), and a pair of RCA inputs. The In The Groove's master power toggle switch is located on the butt of the power supply. Each unit is heavier than it looks, and each piece has four hard rubber feet.
Other ITG specs include a frequency response of RIAA ±0.2dB; THD as 0.04% @1V RMS, 1kHz; max output level as 5.5V RMS unbalanced, and 5.5+5.5V RMS balanced; output impedance as 75 ohms unbalanced and 40 ohms balanced; and power consumption as 10W max (<0.5W in standby mode).
For this particular ITG review, I used my reference system, in addition to some other equipment in hand, including a Kuzma Stabi R turntable with a Kuzma 4Point tonearm and a Clearaudio Jubilee Panzerholz MC cartridge; a VPI Avenger Direct turntable with a VPI Fatboy 12in gimbal tonearm and an Ortofon Verismo MC cartridge; Miyajima Wo-1 preamplifier; Shindo Haut-Brion power amplifier; and DeVore Fidelity Orangutan O/96 speakers. Cabling consisted of Triode Wire Labs Spirit II (RCA), Analysis Plus Silver Apex (RCA), Shindo (RCA), and Analysis Plus Silver Apex speaker cables (bananas).
Listening Sessions
Playing a variety of records and genres, the In The Groove phono preamp spoke with alert boldness, commanding clarity, and attention-grabbing dynamics. It didn't favor a particular area of the frequency range — its sparkling clarity made for an equal-opportunity phono signal interpreter. It lacked the honeyed tube bloom of my Tavish Adagio, but it played more cleanly and crisply overall. Its soundstage also seemed tighter and more condensed, but didn't lack depth compared to the Tavish. Generally, the ITG was very engaging, emotionally stimulating, and quite brilliant in following a musical line. It had flow — that quality of momentum and life force — in spades.
When playing orchestral music though the ITG, each instrument was sharply realized and resolved in a very well-layered soundfield. Fan of tubed electronics that I am, I wished for a little more warmth or bloom at times, but was usually satisfied with the ITG's exceptional dynamics, cleanly layered soundstage alignment, and ability to pull every iota of detail from a recording. In short, it's a resolving beast of a phono stage.
Thanks to its low noise floor, the ITG offered fine low-level detail with micro-dynamic shading, drawing me into well-recorded orchestral and jazz vocal recordings. Arguably a shade or two drier than my Tavish, the ITG's clarity, drive, and ambient cues of musicians playing in physical space gave it added oomph and high value.
Tonally, the ITG was consistently neutral and transparent to both turntables and recordings, but its overall footprint was lighter yet more forceful and well-controlled than my tubed Tavish phono preamplifier. The ITG had a focused density that gave each instrument a jolt of power and presence.
Classic Records' reissue of Béla Bartók's Concerto For Orchestra / Music For Strings, Percussion And Celesta (RCA Living Stereo, Classics Records) played with pulse-pounding dynamics via the ITG, VPI Avenger Direct turntable, and Ortofon Verismo cartridge. The orchestral musical line held together at the most intense crescendos. Even with massed instruments zooming at fff, the ITG kept its cool demeanor, operating with stellar power reserves and rapt dynamics. Though things were hardcharging and well-controlled, I at times wished for a touch more flesh on the bones. The ITG never strained to complete its mission, its ability to thrill and chill breathtaking, and while it lacked the tonally saturated quality of tubes, it imaged far more distinctly, with better focus and clarity than my Tavish Adagio. The ITG delivered music with force and exacting, determined instrumental power.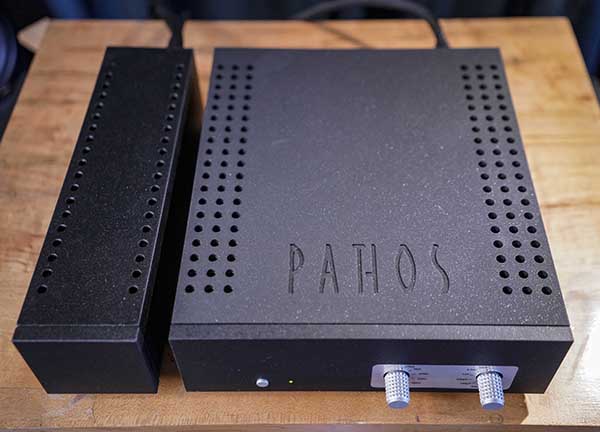 Head-to-head vinyl comparisons between the ITG and the Tavish proved enlightening. In terms of playing David Grisman's Mondo Mando (1981, Warner Bros. Records BSK 3618, Art Dudley's collection), Pink Floyd's Obscured by Clouds (1972, Harvest ST-11078), and Art Pepper's Smack Up (1968, Contemporary Records S7602), both phono stages sounded exceptional, albeit in different ways.
The Tavish played with a larger stage, more blustery atmospherics, deeper yet looser bass, and a certain, undeniable swagger. By contrast, the ITG was far more detailed, incisive, and better sorted, offering exceptional, clear image placement and super-defined top octaves — and tighter bass. Where the Tavish played Pink Floyd's Obscured by Clouds as if in a large Italian amphitheater with echoes of history all around, the ITG was like hearing Floyd in the studio, ear-hugging headphones leaving nothing to the imagination. Similarly, Art Pepper's Smack Up wailed, kicked, and swung loosely and lavishly, drums and bass especially deep and voluminous through the Tavish. The ITG made Pepper stand up straight and follow the chart, while tightening up the acoustic bass and slightly damping down the drums.
Conclusions
The Pathos In The Groove MM/MC phono preamp worked quite well in my all-tube system, though I'm not sure it would work as well in an all-solid system. Surrounded by similar solid-state components may close-in the sound of the ITG, not free it and add bloom as did my tube gear. Even so, given its highly detailed and well-sorted soundstage, tight low-end fundamentals, and largely neutral midrange (with a dash of lushness), Pathos' In The Groove phono preamp is a solid, winning performer, and it deserves a serious audition if your pocketbook allows.
For more information about In The Groove, head to the official Pathos site here.
If you want to order In The Groove, go here, click on the Dealers header located on the right of the page, and scroll down to find one near you (Upscale Audio handles U.S. distribution).
Author bio: Former musician, former artist, and former legal wastrel Ken Micallef has written numerous hi-fi equipment reviews for Stereophile and AnalogPlanet, and his byline has also appeared within Mojo, Electronic Musician, and The Grammys. You can also find him at YouTube (Ken Micallef Jazz Vinyl Audiophile).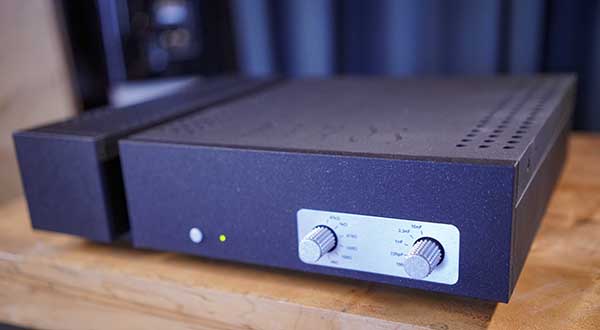 <!- ------------------------------------>