Review Explosion: Adele, Silk Sonic, Damon Albarn, Eric Clapton, & More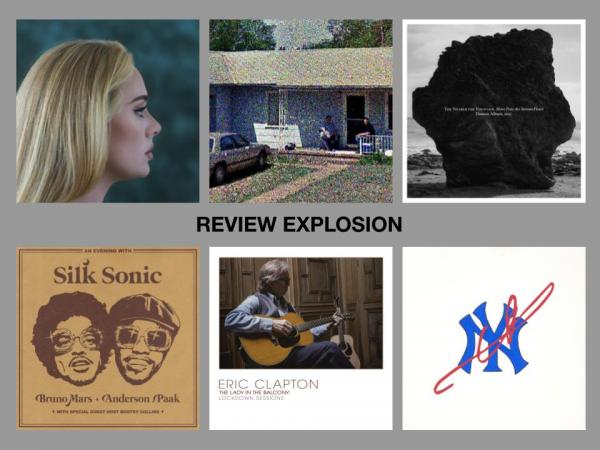 (Review Explosion, curated by contributing editor Malachi Lui, is AnalogPlanet's guide to notable recent releases and reissues. It focuses on the previous few months' new releases for which we don't have time or energy to cover more extensively.)
Adele - 30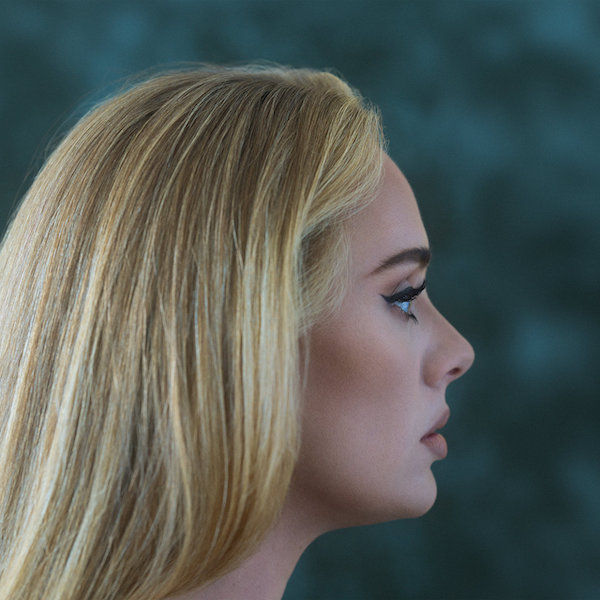 Melted Stone/Columbia stream (2LP, CD, and cassette variants available)
Produced by: Various
Engineered by: Various
Mixed by: Various
Mastered by: Randy Merrill at Sterling Sound
Music: 6
Sound: 7
Following a recent divorce, Adele returns with 30, her first album in six years. Produced mainly by Greg Kurstin and Inflo with contributions from Ludwig Goransson and Max Martin among others, 30 finds the singer slightly altering her formula—just enough to keep it interesting. "Strangers By Nature" and "All Night Parking" take cues from classic vocal jazz, and "Cry Your Heart Out" is lively electro doo-wop. "My Little Love" finds Adele explaining the divorce to her son, and on many songs she takes accountability for some of her marital issues. "Easy On Me," "Hold On," and "I Drink Wine" are typical Adele ballads, while "Oh My God" and "Can I Get It" are the obligatory radio-oriented tracks. Penultimate track "To Be Loved" is 30's highlight; over nearly seven minutes, her powerful and vulnerable vocals soar over a simple piano. Whether or not you love Adele's voice, 30 features some of her best performances. As her most emotionally bare album, it's well worth a listen.
Silk Sonic - An Evening With Silk Sonic
Aftermath/Atlantic stream (CD and cassette available)
Produced by: Bruno Mars & D'Mile
Engineered by: Charles Moniz
Mixed by: Serban Ghenea
Mastered by: Randy Merrill at Sterling Sound
Music: 4
Sound: 8
On their first collaborative LP as Silk Sonic, Bruno Mars and Anderson .Paak present a Grammy-bait facsimile of 70s Philly soul and R&B that desperately lacks artistic sincerity. The Bootsy Collins-"hosted" An Evening With Silk Sonic is an incredibly taxing half-hour; as they fill the songs with excessive drum rolls and obnoxious vocal acrobatics, Mars and Paak can't shut up about how they think they're the world's flyest dudes who've been maliciously manipulated by evil women they still welcome. Unlike its inspirations' seemingly effortless polish, An Evening With Silk Sonic sounds incredibly manufactured and labored over. It's passable background music, but upon closer listen you realize these songs suck. "Silk Sonic Intro" drums up non-existent excitement, lead single "Leave The Door Open" presents the pair as annoying tryhards and show-offs, "Fly As Me" sounds like a royalty-free cross between Sly & The Family Stone and the Native Tongues, "Smokin' Out The Window" has some of history's most dreadful ad-libs, and the new jack swing touches on "777" quickly grate. An Evening With Silk Sonic mostly appears as validation for the industry establishment's throwback R&B obsession, and as a vehicle for Bruno Mars and Anderson .Paak to get more RIAA certifications and Grammys. Unfortunately, it's probably succeeded.
dltzk - Frailty
deadAir download (CD and cassette available)
Produced by: dltzk
Engineered by: N/A
Mixed by: N/A
Mastered by: N/A
Music: 8
Sound: 7
While their February 2021 hyperpop EP Teen Week showed promise, 18-year-old digicore artist dltzk's debut album Frailty is a rare work of youthful energy and emotion with incredible maturity and reflection. Transcending any notion of a digicore "sound," dltzk ("delete Zeke," who also works under the moniker Leroy) folds vaporwave, emo, video game music, and cloud rap into a singular blend most closely resembling indietronica. Combining blown-out drums, fuzzy guitar layers, video game sound effects, and Ecco2k-esque vocal alterations with the haze of a distant memory or the glitchiness of an old videocassette, dltzk is at turns contemplative, depressive, and wistful. Their mesmerizing, often multi-part songs sometimes last 5-6 minutes, at one moment existing on sanity's fringes before gracefully simmering down. While Frailty explores failed relationships and social rejection, it's also preoccupied with death. Yet through it all, dltzk pairs their raw emotions and near-unintelligible lyrics with brilliant melodies and lighter nostalgic touches. Album centerpiece "movies for guys" encapsulates Frailty's innovation best: moving between processed guitar leads, bubbly synths, and distorted rock freakouts before its calmer, spacious ending, it perfectly backs their anxious vocals about a crush not accepting them. As hyperpop gets exhaustingly commercialized, dltzk's left turn on Frailty is extremely refreshing; even within the still-mostly-independent digicore space, its sonic and emotional ambition and scope boldly stands out.
Damon Albarn - The Nearer The Fountain, More Pure The Stream Flows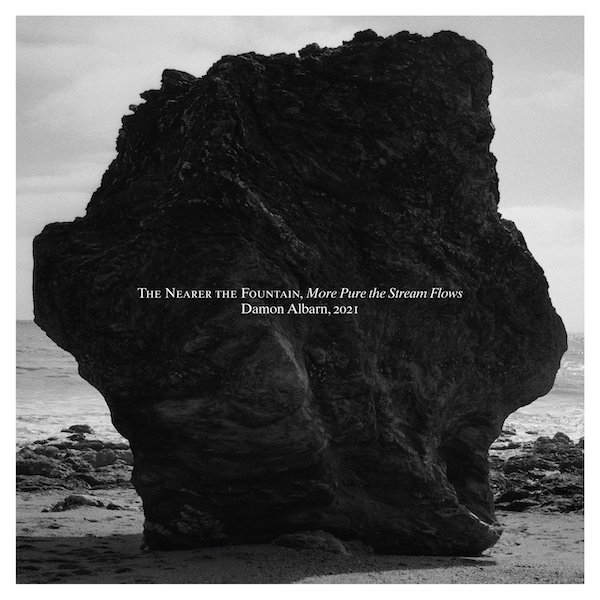 Transgressive Records/13 stream (LP variants, CD, and cassette available)
Produced by: Damon Albarn
Engineered by: Samuel Egglenton
Mixed by: Stephen Sedgwick
Mastered by: John Davis at Metropolis
Music: 7
Sound: 7
53-year-old Damon Albarn remains prolific as ever, though his post-Demon Days output is inconsistent: a great record here and a couple decent albums there among dreary mediocrity. Thankfully, his new solo album The Nearer The Fountain, More Pure The Stream Flows falls in the former camp. Albarn's songwriting has long emphasized melancholy, though nowadays it often descends into depressing grey fog: take, for example, his two albums with The Good, The Bad, & The Queen, which feel like sitting through England's funeral. The Nearer The Fountain, like parts of Gorillaz' Song Machine Season One last year, molds Albarn's melancholic ballads into lush, beautiful compositions that spotlight his simultaneously observational and introspective lyrical craft. Forgoing flashy guest appearances in favor of simple, quality songs, its 40 minutes feel complete but not overbearing. The Nearer The Fountain is easily one of Albarn's best works within the past 15 years, and could possibly signal a new phase in his career.
Eric Clapton - The Lady In The Balcony: Lockdown Sessions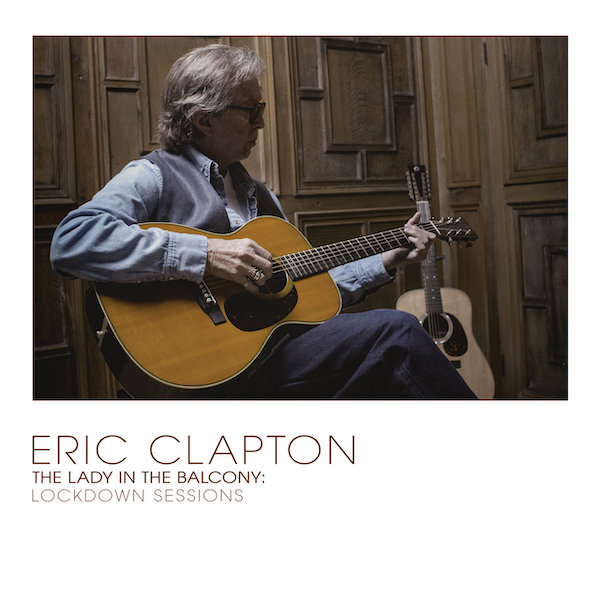 Bushbranch/Mercury/UMG stream (2LP variants, CD variants, Blu-ray, and DVD available)
Produced by: Russ Titelman, James Chads, and Peter Worsley
Engineered by: Richard King and Robert Collins
Mixed by: Richard King
Mastered by: Marc Theriault
Music: 6
Sound: 8
When in May 2021 COVID lockdowns cancelled Eric Clapton's Royal Albert Hall shows, the unfazed 76-year-old guitarist took his band to his countryside estate. They played a mostly acoustic set for Clapton's wife, but the already insanely wealthy Clapton couldn't just play for his wife—he had to record and release it as this month's The Lady In The Balcony: Lockdown Sessions. At this point, his anti-vax stance and questionable political views attract more attention than his actual music. The Lady In The Balcony, advertised as a sequel to 1992's Unplugged, shows Clapton sticking to his usual repertoire of originals and blues covers, leaving out socio-political comments and his recent "protest" songs "Stand And Deliver" and "This Has Gotta Stop" (which of course both involve fellow paranoid conspiracy pundit Van Morrison). It's nothing you haven't already heard from him, but it's nice to hear acoustic versions of songs like "Bell Bottom Blues." While it makes even more obvious Clapton's incessant greed (he's already worth a few hundred million dollars, and his concert tickets aren't cheap), diehard fans will enjoy the surprisingly decent The Lady In The Balcony. (My favorite "Clapton by the numbers" album is 1994's From The Cradle, whose vinyl edition is well mastered, pressed, and packaged. And for the record, I sold my copy of Happy Xmas.)
Rx Papi & Gud - Foreign Exchangep>
YEAR0001 stream (no physicals yet)
Produced by: Gud
Engineered by: N/A
Mixed by: Gud
Mastered by: Gud
Music: 6
Sound: 7
Following a prolific mixtape run, Rochester rapper Rx Papi teams up with Swedish producer Gud (Sadboys, Drain Gang) on a new YEAR0001 release, Foreign Exchange. Rx Papi and his frequent companion Rxk Nephew have over the past couple years established a unique (if not very accessible) style: stream-of-consciousness verses, delivered at rapid paces oblivious to the beats. That continues on Foreign Exchange, which pairs Rx Papi's descriptive verses about street life and drug abuse with Gud's hazy instrumentals. The former's voice has an aggressive yet vulnerable gruffness, though it unfortunately obscures the production; if you can overlook or accept this major listenability flaw in Rx Papi's style, Foreign Exchange is a decent effort.
(Malachi Lui is an AnalogPlanet contributing editor, music obsessive, avid record collector, and art enthusiast. Follow him on Twitter: @MalachiLui and Instagram: @malachi__lui)
<!- ------------------------------------>