Review Explosion: Coldplay, John Coltrane, Lana Del Rey, James Blake, & FINNEAS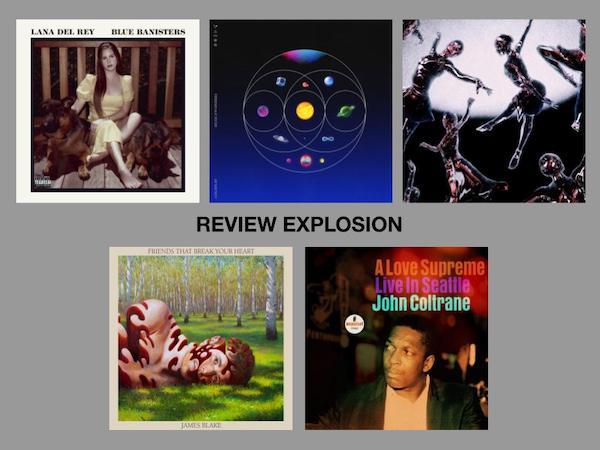 (Review Explosion is a recurring AnalogPlanet feature covering recent releases for which we either don't have sufficient time to fully explore, or that are not worthy of it. Curated by AnalogPlanet contributing editor Malachi Lui, Review Explosion focuses on the previous couple months' new releases and reissues.)
Coldplay - Music Of The Spheres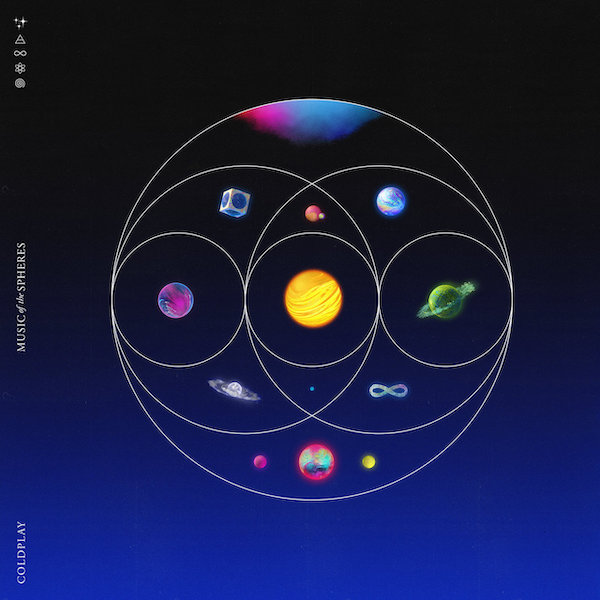 Parlophone/Atlantic stream (LP variants, CD, and cassette available)
Produced by: Max Martin, Oscar Holter, others
Engineered by: Various
Mixed by: Various
Mastered by: Randy Merrill at Sterling Sound
Music: 5
Sound: 7
Coldplay's ninth album Music Of The Spheres supposedly centers around a fictional universe called The Spheres, but if you didn't read that, you wouldn't know it. It's a half-baked concept album replete with vague political ramblings, embarrassing visuals, and "we're all human and should get along!" posturing, calculated for maximum commercial impact and minimal risk. Like U2, Coldplay is no longer a group of professional musicians or artists, but rather a team of professional crowd pleasers; it's a miracle they didn't force Music Of The Spheres: Vol 1. From Earth With Love into our iTunes libraries.
By singing at everyone, frontman Chris Martin—never a great lyricist, mind you—sings to very few. There's the empty excitement of "Higher Power," the meaningless positivity of "Humankind," and several filler interludes of manufactured cosmicism. "People Of The Pride" sounds like Muse but somehow more obnoxious, with godawful lyrics about some sort of dictator; it'll likely soundtrack a military recruitment ad when America declares pointless war on North Korea. With euphoric production and slick vocal performances, the BTS-featuring "My Universe" is the record's highlight, where the lyrical vagueness actually serves a purpose. The algorithmic "Infinity Sign" precedes the 10-minute closer "Coloratura," where Chris Martin provides an elementary analysis of love, the universe, and Galileo. Music Of The Spheres is obviously expensive: in-demand Swedish hitmaker Max Martin (no relation to Chris Martin) produced the entire thing, and the abysmal CGI music videos weren't cheap. But of course, money can't buy good taste—just how many of us rolled our eyes at the "My Universe" video's opening text, or the landscapes of Kaotica? You'll wish Chris Martin could stay in The Spheres, the presumably utopian universe where he remains oblivious to his aging, and never come back.
Lana Del Rey - Blue Banisters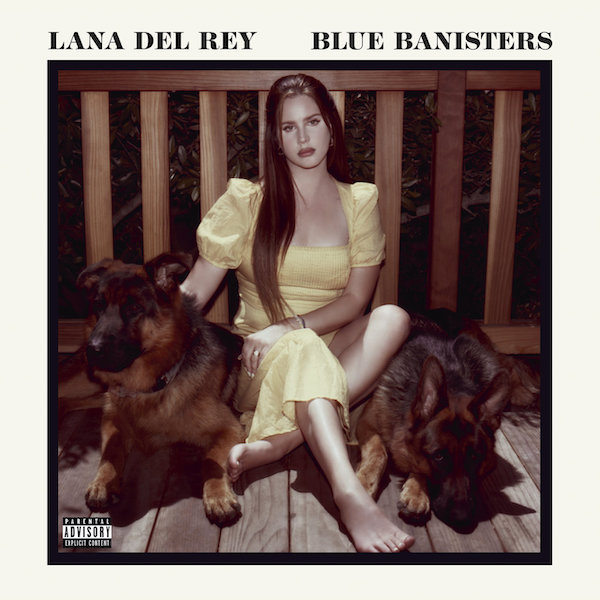 Universal Music stream (2LP variants, CD, and cassette available)
Produced by: Various
Engineered by: Various
Mixed by: Various
Mastered by: Adam Ayan and Mike Dean
Music: 7
Sound: 8
Lana Del Rey (Elizabeth Grant) returns with Blue Banisters a mere seven months after Chemtrails Over The Country Club, which I found a dull rehash of 2019's far superior Norman Fucking Rockwell!. Blue Banisters, which (thankfully) doesn't involve NFR! and Chemtrails producer Jack Antonoff, is dark, gripping, and more rewarding than Chemtrails. The latest LP's sparse production hardly features drums, with Lana's carefully recorded voice accompanied by piano, atmospheric background textures, and the occasional string section or acoustic guitar. This new LP won't convert those who don't already like Lana's schtick, nor will its dreariness be for everyone. Blue Banisters is a bit long-winded (which Lana album isn't?), though compared to Chemtrails its songwriting is surprisingly great, and the colder sound moves her style forward.
John Coltrane - A Love Supreme: Live In Seattle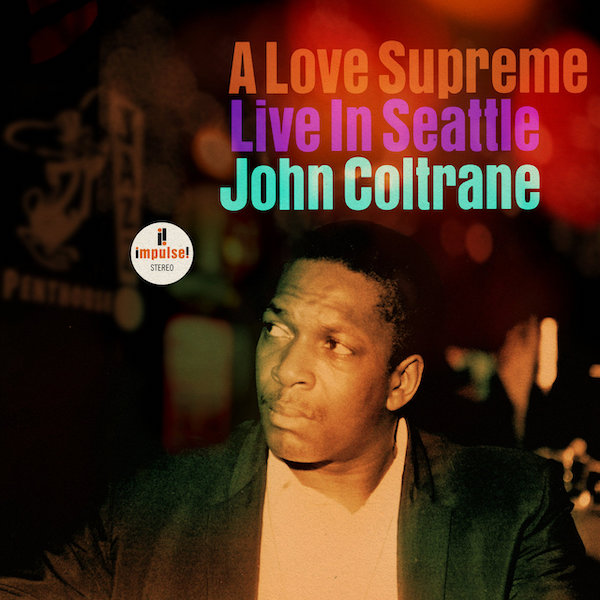 Verve Label Group/Impulse stream (2LP and CD available)
Produced by: Ken Druker, George Klabin, and Zev Feldman (reissue)
Engineered by: Joe Brazil
Mixed by: N/A
Mastered by: Kevin Reeves
Music: 7
Sound: 6
Admittedly, it's hard to properly rate John Coltrane's recently unearthed A Love Supreme: Live In Seattle. The second known A Love Supreme live recording (the first being the Antibes concert), this 1965 set captured by saxophonist and amateur recording enthusiast Joe Brazil on The Penthouse's two microphone set up feeding a 1/4 track Ampex deck (that he quickly flipped over during "Acknowledgement" to capture on the other side the rest of the performance) shows Coltrane's "Classic Quartet" joined by Pharoah Sanders and second bassist Donald Rafael Garrett. It's a revelatory listen… that is, if you can actually hear everything going on. Garrett and Jimmy Garrison's bass interplay is often muddled, and Coltrane and Sanders are off-mic. Elvin Jones is the most audible here, to the point where some could mistake him as bandleader. Regarding the performance itself, Coltrane greatly builds upon the original suite, to varying results. The interplay and intense spiritual passion on the 22-minute "Acknowledgement" is particularly captivating, though I find Jones' and especially McCoy Tyner's playing on "Pursuance" cluttered and over-the-top. Compared to the short studio LP, the live album's 75 minutes can be exhausting; the former succeeds as much in its 33-minute brevity as its compositional complexity. A Love Supreme: Live In Seattle would still get a higher score if I could hear and distinguish everything going on, but the problematic sound quality renders the music more difficult to appreciate. I can't recommend spending money on this, unless you stream it and feel the need to own it.
(Kevin Reeves restored the tape [which he said was in generally excellent condition] at his Nashville-based East Iris Studios using a 1/4" head stock "imported" from his New York facility once the Covid lockdown had ended. Though the initials "KR" are also on the double 180g vinyl he did not cut lacquers nor does that "KR" stand for Kevin Reeves. That "KR" is an Optimal "in-house" lacquer and/or DMM cutting engineer. The double LP set comes in a gatefold jacket that includes Ashley Kahn's extensive annotation and additional notes by Coltrane biographer and educator Lewis Porter in the included booklet, all of which adds value to the problematic recording_Ed.)
FINNEAS - Optimist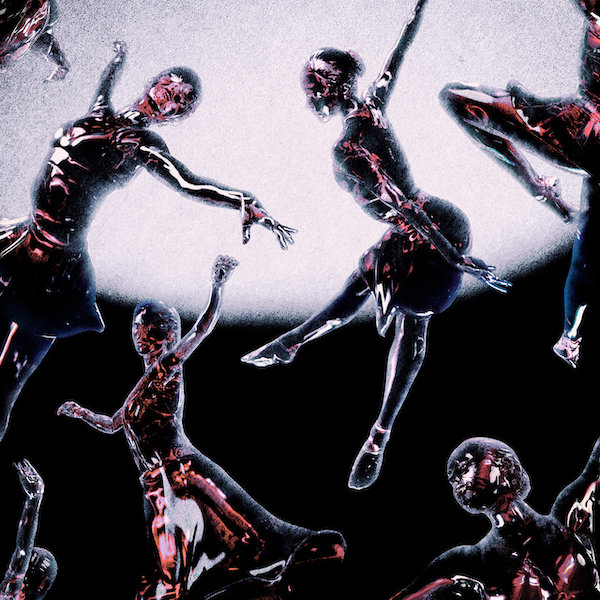 OYOY/Interscope stream (LP variants, CD, and cassette available)
Produced by: FINNEAS
Engineered by: Finneas O'Connell
Mixed by: Rob Kinelski (assisted by Casey Cuayo and Eli Heisler)
Mastered by: Dave Kutch at The Mastering Palace
Music: 6
Sound: 8
Finneas O'Connell, best known as Billie Eilish's older brother and musical collaborator, now has his own debut full-length, Optimist. It's an average LA singer-songwriter pop record—Spotify playlist filler, in other words—that chooses safe, "natural" sounds over his electronic-leaning style for Eilish. Lyrically, FINNEAS isn't fully formed; "A Concert Six Months From Now" is convoluted, "The Kids Are All Dying"'s tone isn't immediately clear, and the songs lack strong personality. FINNEAS isn't disappearing anytime soon, though; despite Optimist's run-of-the-mill nature, his melodic sense shows incredible promise, and on other work he's already proven himself a gifted producer.
James Blake - Friends That Break Your Heart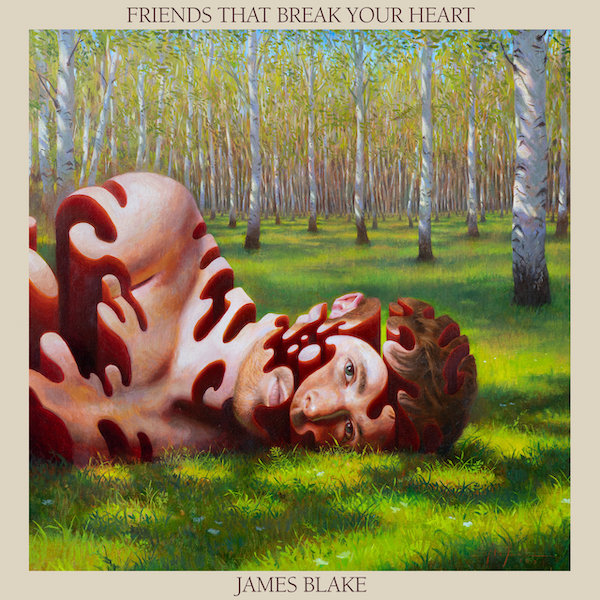 UMG/Republic stream (LP variants, CD, and cassette available)
Produced by: James Blake, various others
Engineered by: James Blake, et al
Mixed by: James Blake, Tom Elmhirst, Dean Reid, and Take A Daytrip
Mastered by: Randy Merrill at Sterling Sound
Music: 5
Sound: 8
Alternative R&B singer-songwriter James Blake now follows last year's underwhelming Before and Covers EPs with his underwhelming new LP, Friends That Break Your Heart. Its electronic textures aren't as uniquely used as in his early work, nor are the songs as optimistic as his previous album Assume Form's. Rather, conventional pop ballads about friend breakups comprise the monotonous, almost instantly forgettable Friends That Break Your Heart. There's nothing to actively like nor dislike about this record; it simply exists. Don't waste your time.
(Malachi Lui is an AnalogPlanet contributing editor, music obsessive, avid record collector, and art enthusiast. Follow him on Twitter: @MalachiLui and Instagram: @malachi__lui)
<!- ------------------------------------>