Sweet Vinyl's SugarCube SC-1 Real Time Pop and Click Remover—Any Good?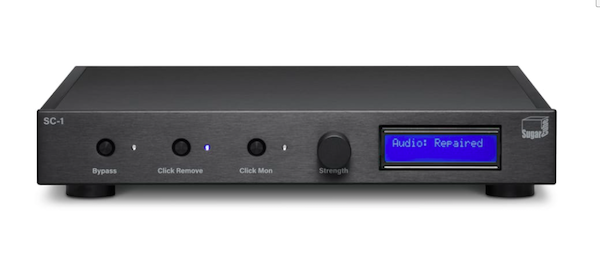 About a dozen years ago at a used record store in San Francisco I bought a "mint" original German pressing of
The Beatles
("The White Album"). It was up on the store wall at $75.00. The laminated "top loader" jacket was mint, all of the head shots the poster and the black sleeves were inside looking as if none of it had been touched and the records appeared as minty as advertised.
Of course I bought it. The first side played through "minty" though it was immediately clear that though this version sounded good, the original UK pressing was sonically better. No problem. I was sure I could always sell it and get my money back or more.
"Martha My Dear" sounded "minty" starting side two, but there were a few clicks on "So Tired". No problem. Then came "Blackbird" and rhythmic, once per revolution "POP" "POP" "POP". We can all put up with a few pops and clicks on a record. No big deal. Like I tell people who say they can't stand them on classical music "Then you've never been to a live concert. The people there are old. They are coughing, sneezing, spitting up mucous and occasionally keeling over. How can you stand it?" Of course they can because the music is so compelling it's easy to ignore the EMTs and their stretchers. Same with vinyl.
But if Morris sitting behind me taps his cane to the music, it's very distracting as are rhythmic "clicks" produced by radial scratches. This one sounded like The Grand Canyon had opened across "Blackbird."
Examining the record in the kind of good light you never have in a used record store, which is why you should never shop without a flashlight (a dated suggestion now that everyone's carrying one in his or her smartphone), made obvious what had happened. The record's last owner or another along the line had dropped the arm and the stylus skidding across three tracks. Fortunately only one was seriously injured. Unfortunately it was the quietest, most sublime on the entire album.
Did the seller know about the defect? Who knows and what's the difference now? But that bottom line is I haven't played that side since….until the arrival of Sweet Vinyl's Sugar Cube SC-1. It was the first record I played after the installation.
The Two SugarCubes
The SC-1 reviewed here is the "basic" $1999 version that offers real-time pop and click removal said to be "non-destructive", while the more costly SC-2 offers one button USB 3.0 recording and graphic display plus automatic metadata identification and tagging and track splitting.
I chose to start with a review of the "basic" unit because if it wasn't as "non-destructive" as claimed, why bother with the more costly one? The SC-1 incorporates a 192/24 bit A/D and D/A as well as the aforementioned algorithm based adjustable pop and click remover. Build quality is high, especially the use of rugged, chassis-mounted, gold-plated RCA jacks for signal "in" and "out". The back panel also includes a wired LAN jack, a USB port for the supplied WiFi adapter, a "pair" button to link the unit to the smartphone or tablet app (for iOS and Android), the power adapter jack and the power switch. When the power is off an internal relay bypasses the "Line in to Line out" (so the signal will pass even when the unit is switched off).
SC-1 Back Panel
The unit's front panel includes "bypass", "click remove" and "click mon" buttons and a "strength" knob plus a status screen. The app reproduces all of the functionality. It's how most users will access and control the unit.
SugarCube app screen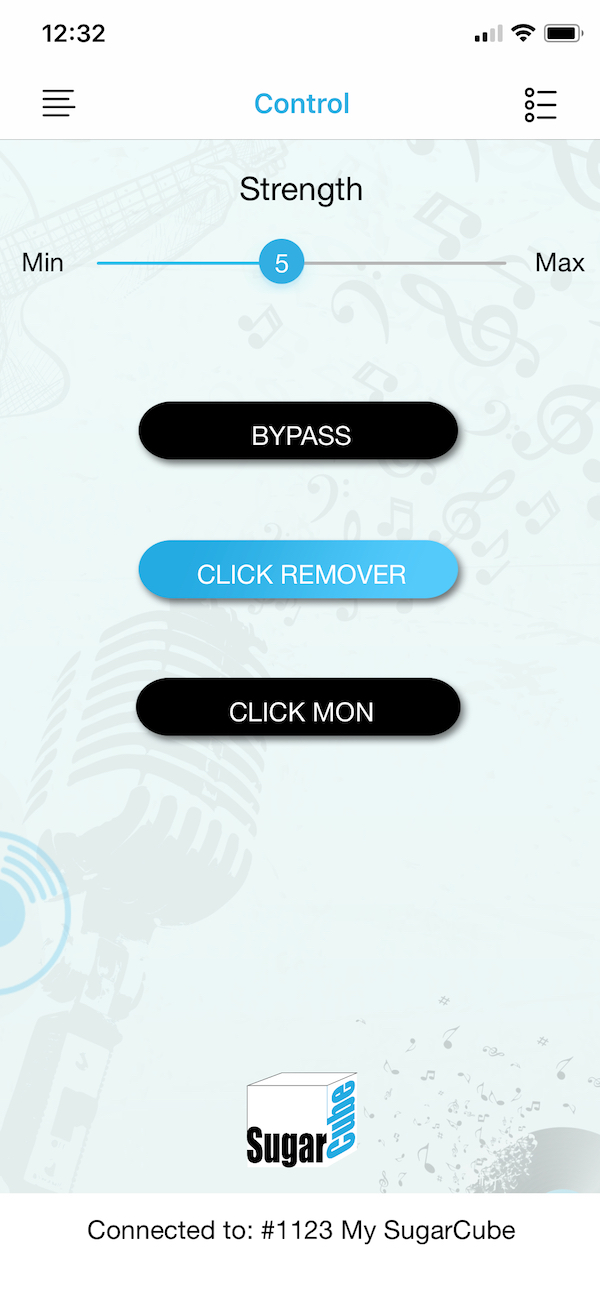 Setting up the SC-1
Regardless of your system, chances are there's a way to connect the SC-1. You can run the phono preamp into the SC-1 and its output into your preamplifier. Or if you have an integrated amplifier with a "tape loop" definitely use that. If your integrated amp doesn't have a tape loop but has "jumpers" the can be removed to separate the preamp and amp sections, remove the jumpers and insert the SC-1 there. If your turntable has a built-in phono preamp, plug the turntable's equalized and amplified "line level" output into the SC-1. And of course never plug the SC-1's output into an active "phono" input (there are some integrated amplifiers that have an input labeled "phono" that's not really connected to an active phono preamp and is meant for use with an outboard phono preamp but be sure you know you've got that before using it with the SC-1's output.
Putting any device, regardless of its claimed transparency, between a preamplifier and amplifier is less than ideal, though the designers have done their best to provide a transparent, relay based bypass for when you don't want to listen to digitized vinyl. While you may be saying here "which is never", after spending some time with the SC-1 you might want to amend that!
My situation provided a challenge. My preamplifier has single-ended RCA "record out" jacks but no "loop" so there's no way to monitor the results. In other words, the preamp routes to the "rec out" whatever input is selected, so switching to any other input would cut the phono preamp input's signal from the preamp's output.
So what to do? I'm currently running balanced XLR between preamp and a pair of Moon 888 amplifiers under review so I couldn't even do that less than optimal method. Then I realized my CH Precision P1 has both single-ended and balanced outputs. I ran that balanced too, so I could run the phono preamp's single-ended output into the SugarCube SC-1 and the SC-1's output into an unused input of my darTzeel preamp. Problem solved! Set to the balanced input would give me the P1's direct output. Set to the Sugar Cube's output would give me either its pop and click removed signal or set to "bypass" its direct output.
Is it okay to use both phono preamp outputs simultaneously (one single ended, one balanced)? I don't want to get into the technical aspects of this here other than to write that the SugarCube's input impedance is a usefully high 100kOhms. Check on your phono preamp's specs. Mine has to "see" at least a 10kOhms, so the SugarCube's 100kOhms of course is fine and adding the second load is well within the recommended spec. There is a minor issue related to adding a load to one side of a balanced load, but not worth getting into here and it's not something most SugarCube end users will encounter. Another issue is that depending upon the cost of your interconnects, you'll have to invest either lightly or heavily in another set to go from the SC-1 to your preamp.
I used a wired LAN network connection but if you don't have one, SweetVinyl provides a WiFi USB stick to connect to your network. Once the SC-1 (or 2) is connected to your system, you download the App to your phone or tablet and pair it with the hardware. Of course you can use the front panel controls instead but that would be foolish. Another thing that's foolish is the few emails I get about this device that claim "real analog record fans would never use it". Foolish isn't the word, but this a family website.
(End of Part 1)
<!- ------------------------------------>