Tom Petty's Wildflowers & All the Rest (Not Quite) "All Analog" Box Set Cut From ½" Master Tapes Coming October 16th From Warner Records (SOURCE CLARIFICATION 8/21/2020)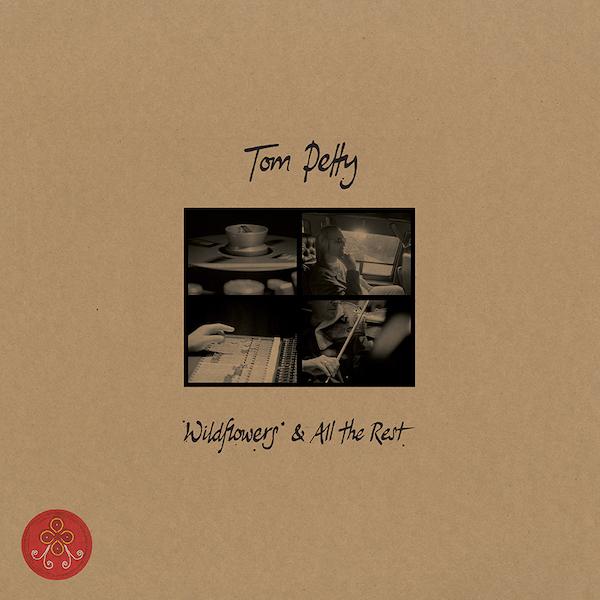 (Just off the phone with Ryan Ulyate who co-produced this box set. First of all, regardless of what's posted elsewhere, the 1994 2 LP "Wildflowers" was cut from a 1630 CD master and was not AAA. Until 2015 tapes of the individual songs had never been assembled so it could not have been cut from tape. Ulyate and Chris Bellman put together the individual tapes to produce cutting masters. Careful engineering meant uniform azimuth so the spliced together tunes, with spacing carefully done to match the original release, could be used to cut lacquers. The new "Wildflowers" uses that spliced together master tape for two more "go-rounds" as referenced in what's below. However, I erred in asserting that everything else was also cut from tape and for that I apologize. After receiving the test pressings last April I was asked to not write anything about this project and I kept my word. There was a publicity screw-up and the world announced the release yesterday (August 21st) and I was "left in the dust" and so had to scramble to in haste post a story. According to Mr. Ulyate, the home recording material was from Tom's private stash of A-DAT tapes recorded at 48K/24 bit resolution. All of this material was transferred to ProTools and brought to Chris Bellman's mastering suite where it was converted back to analog, through the board, processed in the analog domain, and then re-digitized so that all of the set's material would be at the same resolution. The alternate takes material was all sourced from 24 track analog tapes (many dozen), which were baked then played back on Mike Campbell's Studer A800 to Pro-Tools at 32 bit/96K resolution and processed at Chris Bellman's the same way as the A-DAT material. The live stuff was a combination of multi-track analog tapes recorded on various "mobile recording studios" and some sourced from 48K/24 bit A-DAT board recordings and all processed as above.
According to Ulyate, the other LPs in the box sets were cut from 96/24 files that were not limited and/or compressed. The CD box sets were produced to be "almost" as dynamic, with some limiting and were not "slammed" as is typical these days, but, he told me the downloadable 96/24 files are also full dynamic range. The files created for streaming are the most compressed. All of this came at me in a phone call at "high speed" so Mr. Ulyate said he'd read it later and give me corrections if necessary. I've always said I care more about the results than the sources used, though if there's tape it should be used. In this case much of the source material (other than the AAA "Wildflowers" album itself) originated in the digital domain and the material sourced for 24 track analog tape would have been impractical and difficult to mix down to analog tape given the 24 track tapes' fragility after baking. When I checked out these 9 test pressing I found the sound to be as I wrote below "10-11" as long as you take into consideration that the "home stuff" was never intended for release (but still sounds great). That's it—MF
Arriving October 16th in multiple formats and configurations, Wildflowers & All the Rest features the original 1994 Wildflowers album, newly re-mastered and cut directly from the original ½" analog master tapes by Chris Bellman at Bernie Grundman Mastering and pressed at Record Industry in The Netherlands, plus unreleased tracks, solo demos, live performances, alternate versions and more—many of which were sourced from analog tape but then of necessity digitized..
The 15 song Rick Rubin-Mike Campbell co-produced original released on CD November 1, 1994 also saw a vinyl issue cut from the digital master, though the album as well as all unused material was originally recorded to analog tape. Originally intended by Petty as a double CD set, it was released per the label's insistence as a single CD, double LP set.
Petty had intended to later release a collection he named All The Rest featuring ten un-released songs recorded during the Wildflowers sessions and five unreleased tracks that were different versions of four songs later appearing on the soundtrack to the 1996 film "She's The One".
Tom's daughters Adria and Annakim with his wife Dana curated this compilation along with Heartbreakers Mike Campbell and Benmont Tench. Petty's longtime co-producer and engineer Ryan Ulyate produced.
Wildflowers & All The Rest is a 2 CD ($19.98) and 3 ($39.98) LP 25 track set featuring the 15 original tracks on one CD or 2 LPs and the 10 All The Rest tracks (10, including 5 unreleased songs) on a second CD and 3rd LP.
Wildflowers & All The Rest—Deluxe Edition is a 4 CD ($49.98) and 7 LP ($174.98) set featuring 54 tracks, eight unreleased songs, and 24 previously unreleased versions. The 4 CD set includes Rick Rubin's introduction, track-by-track for all songs included on these formats, while the 7 LP set also includes David Fricke's essay as well as song lyrics. In addition to what's listed above, this set includes Home Recordings/Demos and Live versions on 2 CDs and 4 LPs that includes 15 tracks—3 unreleased songs; 12 unreleased versions and 14 live tracks—12 unreleased versions; two distributed to Fan Club only).
Wildflowers & All the Rest—Super Deluxe Edition is a 5 CD ($149.98) and 9-LP ($249.98) Direct-to-Consumer, Limited Edition set featuring 70 tracks, nine unreleased songs and 34 unreleased versions. It includes Rick Rubin's introduction, David Fricke's essay, track-by-track for all music and lyrics to all songs on Wildflowers & All The Rest. Also included is a hardbound book, a Wildflower cloth patch logo, a sticker, a "Dogs with Wings" tour program replica from the 1995 Tom Petty and The Heartbreakers tour, hand-written 4 song lyric reprints in vellum envelope, a litho of new and exclusive art by Blaze Ben Brooks for the song "Only A Broken Heart" and a numbered Certificate of Authenticity.
In addition to all of the Deluxe Edition content, the 5th CD and 8th and 9th LP feature alternative takes (Finding Wildflowers) (16 tracks—one unreleased song; ten unreleased versions).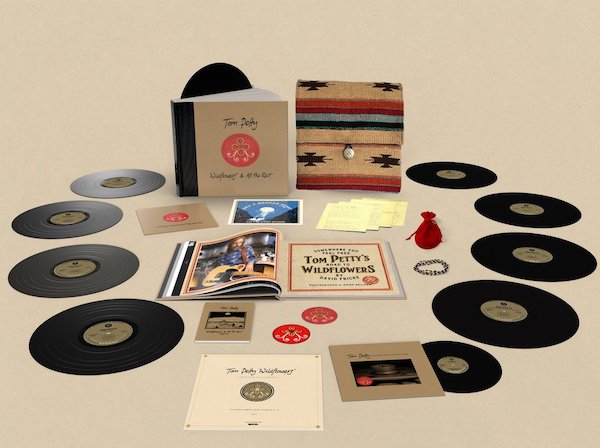 Wildflowers & All The Rest—Ultra Deluxe Limited Edition
( $499.98, limited to 500 copies) includes all of the
Super Deluxe Edition
content plus an exclusive unisex necklace—hand-made by Maria Sarno in a faux suede pouch, an exclusive lyric book with illustrations by Blaze Ben Brooks, an exclusive 7" of "You Don't Know How it Feels", packaged in a custom fabric bag with a metal
Wildflowers
logo as the closure—designed and fabricated by Los Angeles-based, Made Worn.
Visit The Tom Petty website for more details, to watch video and to order the limited edition boxes.
AnalogPlanet Exclusive! All 9 LP Preview!
Rick Rubin asked me back in April, as "the only person in North America with a turntable" (lol) if I'd please listen to test pressings of the 9 LP set. Regularly having one's vinyl chops busted by RR is a distinct pleasure and an honor! Of course, I said "yes".
Soon thereafter 9 Record Industry test pressings arrived, and I began listening, stopwatch in hand. That's how you do this. You have to watch the numbers go by and when you hear a blemish you note the time. Normally when it's a single or double LP set you get two copies so you can determine if the sonic blemish is a "one-off" or related to the stamper.
The process is hardly like listening for pleasure but in this case even listening this way produced nothing but pleasure throughout the 9 LPs. This was Petty peaking creatively and the band playing live, so locked in. If you were lucky enough to have watched the "Shangri-La" Showtime documentary filmed at Rubin's studio (which is not where this material was recorded) that gives you an eye-witness view of at least part of his creative process working with artists. Listening to the demo, unreleased and alternative versions of familiar tracks, you can almost hear Rick saying to Tom "why not try it this way?" or "how about if you?". Now maybe that's just my imagination, but that's where it went while listening.
Many stuffed with extras "deluxe sets" being released lately are often forgettable once you get past the actual re-issued album. In this case, once I finished listening for sonic blemishes, of which there were not many, I went back for a "listen for pleasure" session (over two days) and I'll tell you that if you are a Tom Petty fan, you will not regret getting at least the 7 if not the 9 LP sets. The sound is uniformly 10-11 on the AnalogPlanet sonic scale. In case you are wondering, the original album here is not sourced from the 2015 all-analog reissue. They went back and re-mastered it from the original tape for this box. In fact, after I'd finished my listening I was sent another version of the album because Mr. Ulyate and Bellman felt they could get an even better cut (and they did). Like all great analog (unlike digital), the louder you crank it, the better it sounds. A box set review with "opening video" will appear on AnalogPlanet as soon as it arrives.
<!- ------------------------------------>