Vincent Audio PHO-701 MM/MC Hybrid Phono Preamp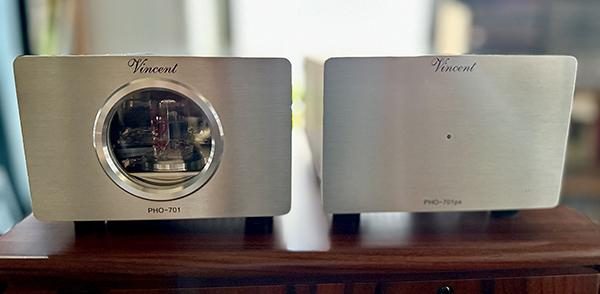 When AP previewed Vincent Audio's PHO-701 MM/MC hybrid phono preamp back in January, I had a feeling I was going to get the chance to review it myself.
Why did I think that? Well, for one thing, I had previously reviewed Vincent Audio's SV-737 integrated amplifier for our sister site Stereophile in July 2021 (which you can read right here). In that review, I concluded, "the Vincent Audio SV-737 was great fun with all the music I played. It's a powerful beast of an integrated [amp] that can probably drive just about any loudspeaker. Its best traits were its see-through, near-rich midrange and generous, tight low-end that added a little warmth to most music — plus, it comes with a more-than-solid, detailed, musical DAC."
Spartan in its appearance, that Vincent Audio SV-737 integrated amp is also a hybrid machine (tube input, solid-state output) that outputs 180Wpc into 8ohms, is a German/Chinese product that was cool and neutral-sounding without being clinical, and it offered both a robust low-end and a balanced midrange — balanced being this integrated amp's operative word. I'd happily and readily pair that amp with clear, warm-sounding speakers (Dynaudio, anyone?), and, definitely, vinyl playback options.
Hence. when AP head honcho Mike Mettler asked me to review its baby brother — the aforementioned Vincent Audio PHO-701 MM/MC hybrid two-chassis phono preamp, which has an SRP of $799.95 — I immediately pondered, could these two machines share a house sound? Naturally, there was only one way to find out — and thus, I was quite game for tackling this review.
Features, Specs & Setup
Consisting of two black or silver boxes stationed one upon the other, as shown directly above — or side by side, as I've done for this review (which you can see at the very top of this review, and elsewhere throughout the text, in the photos I've taken of my Vincent setup) — and connected by a DIN cable, the Vincent Audio PHO-701 MM/MC (moving magnet/moving coil) phono preamp looks to be cut from the same cloth as its big brother. It has the same single glowing tube viewed through a circular glass display on its façade, similar simple rubber feet and brushed black finish with silver trim. Running a single JJ ECC82/12AU7 double-triode input tube, the PHO-701 offers the following specs: a frequency response of 10Hz to 20kHz; MM input sensitivity of 58mV; MC input sensitivity of 6.8mV; input impedance for the MM as 47k ohms and for the MC as 99ohms to 1kohms; and an output impedance of 250ohms.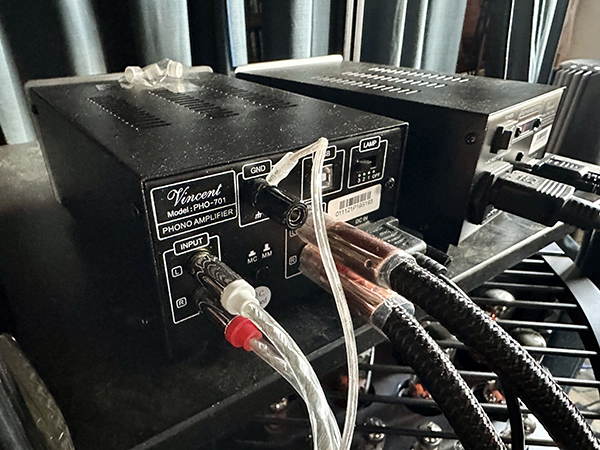 On its butt end, the PHO-701 has two pairs of RCA jacks — one for input, one for output — and it includes a USB input should you care to digitize your vinyl by using the 701. Each PHO-701 metal box stands 5.11 x 3.22 x 8.85in w/h/d (130 x 82 x 225mm), weighs 4.85lb (2.2kg), and is available in black or silver.
Also around back, the PHO-701 includes a "lamp dimming switch," should you care to turn down the light on the display tube and turn up the late-night mood of your listening room. A small button enables the choice of using MM or MC cartridges.
And now, a word or two from the PHO-701 manual as a means of further MM/MC explanation: "There are two different kinds of pickup systems on the market, the MM (Moving Magnet) and MC (Moving Coil) systems. [With MM], a magnet attached to the pickup moves inside a [coil] and a voltage proportional to the vibration amplitude is induced. On the other hand, when you have a MC system, the coil is wrapped around the needle and the magnets are arranged around the coil. As the coils used in MM systems have to be rather small to save weight, a higher output voltage is needed. While MM systems usually deploy a voltage of several millivolts, most MC systems only use 100µV. You often find mixed types, as well, they are called high-output MC systems and have a voltage of up to 2.5mV."
Continues the manual, "The PHO-701 was designed to handle both systems without any loss in quality. To handle the differences between them (MC: higher amplification, adjusted by resistors; MM: adjusted by capacitors) there are four adjustment units on the bottom of the unit, two for each channel."
For MM, the PHO-701 offers basic input impedance of 47kohms and input capacitance of 15pF, which can be expanded to 115pF, 235pF, and 350pF. MC settings include standard input impedance of 1kohms and input capacitance of 15pF, with further settings available between 783, 130, 600, 514, 120, 405, 116, 364, 109, 319, 102, 293, and 99ohms.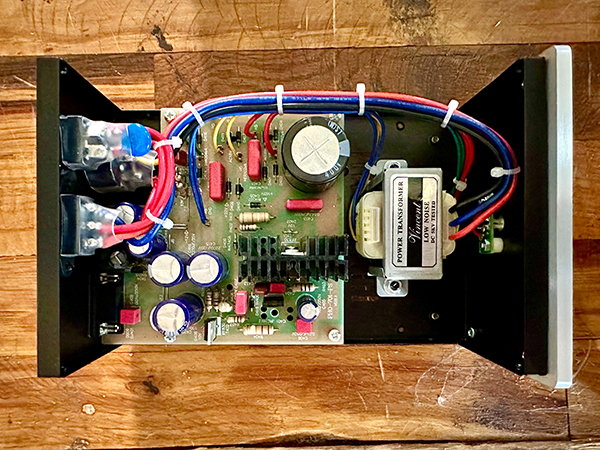 I believe a component's internal build quality gives an indication of a manufacturer's care and design intelligence, so I peered inside the control unit. Six densely populated, tightly arranged PCBs of various sizes held a collection of WIMA capacitors, various diodes, and the like, with tiny digital chips on the USB board, and two large Sounder 4.7uf 100V caps on the 12AU7 board. A neatly organized jumble of point-to-point wiring wound from the RCA jacks beneath the larger circuitboard to the JJ ECC82/12AU7 tube. Separate small metal boxes around the MM/MC and USB boards isolated their components from the control unit's internal circuitry; the single tube was also secluded within a thin concave metal divider, which also acted as reflector. All in all, a compactly organized, cleverly streamlined, beautifully constructed control unit.
Power supply internals were no less orderly. Unlike the donut-shaped toroidal transformers commonly seen in phono stages and amps in this price range, the PHO-701 included an old school (to me), tried-and-true, EI-type transformer — no doubt chosen for its smaller size, which aids in fitting components within the same enclosures for control and PS. Also onboard are a fat Japanese Nichicon cap, five smaller no-name caps, larger WIMA caps, and a gaggle of hefty wires carefully organized and running from the transformer to the main PCB board to the power switch. This is one seriously well-made piece of kit.
Of late, I've been lucky to review some excellent phono stages here on AP, including the top-of-the-heap Manley Chinook ($3,199) and the Pathos In The Groove ($1,895). Both of those products withstood the tremors of my reference Tavish Audio Design Adagio tubed phono stage ($2,290). With each of those phono stages far more expensive than the Vincent (which, as noted earlier, comes in at a quite reasonable $799.95), comparisons were in order — and anxiously awaited.
I enlisted various kit for this review, including AudioQuest's Pegasus ZERO-Tech analog interconnects ($1,435/pr), which, incidentally, deposed my prior feelings regarding this revered cable brand. In the past, in my rig, AQ ICs/speaker cables were commonly bright, etched, or thin-sounding, regardless of model. In essence, I could never relax into the sound. Their Pegasus ICs changed all that by hitting all the sweet sonic zones, with a relaxed center. Excellent resolution, robust force, and impressive soundstage depth were aligned with a touch of warmth and sweetness. Overall, the sound was more natural and with greater resonance qualities than I recall with any prior AQ cable I'd deployed, or any interconnect I've had in-house. True, $1,435 is super-expensive for a pair of 1m interconnects, but you can spend far more and not get the absolute sonic benefits of the Pegasus. Finally, imo, AudioQuest gets it right.
Also in use in my rig for this review were the EAT C-Dur turntable with EAT Jo No. 5 MC cartridge, PrimaLuna EVO 400 integrated amp, Triode Wire Labs Spirit II interconnects, Analysis Plus speaker cables, and Harbeth SHL5plus XD stand-mount loudspeakers.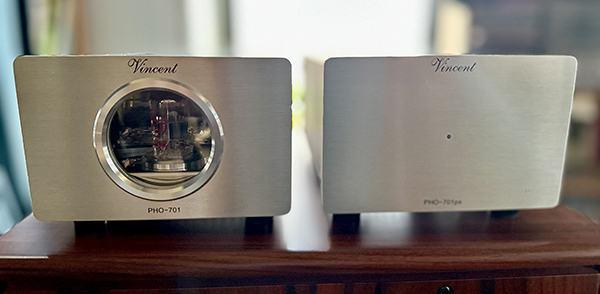 Listening Sessions
And then, it was time to listen. I used a handful of newly released vinyl for this review, including Jazz Is Dead 17 from Lonnie Liston Smith via (of course) Jazz Is Dead; new Candid reissues of Stacey Kent's 2003 offering The Boy Next Door and Joanne Brackeen's 1975 classic Snooze; and the recent Geffen/UMe 180g reissue of Steely Dan's 1973 sophomore album, Countdown to Ecstasy, as remastered by Bernie Grundman from digital files.
Out of the gate and broken-in by way of Roon/HoloAudio May DAC/Small Green Computer streaming, the PHO-701 impressed with its drive, energy, and wide soundstage. This is no shrinking violet of a phono stage, folks. There's nothing closed in, reserved, or sixth-row recessed about the 701. Its locomotive force was allied to strong treble detail, neutral midrange, and bass response that, while clean, ample, and warm, lacked ultimate weight, depth, and extension. But, given the 701's consistently dramatic, widespan soundstage, force, and excellent price, its deficiencies seemed minor.
The 701 isn't as natural-sounding as the 4x-expensive Manley Chinook, and its top-end lacked the sweetness and fluidity of my reference Tavish Audio Design Adagio — an all-tube unit that, while not as uber-detailed as the 701, produced a more mellow, lavish, and opulent tonality. That said, the 701 offered greater resolution.
But for $799.95, the 701 had me crowing. My crooning didn't always match the 701, which sometimes played music with a plasticky veil. An OG 1965 Columbia/Six Eye copy of Tony Bennett's If I Ruled the World: Songs for the Jet Set LP sounded huge and dynamic through the 701, but also veiled. Usually, "veiled" means shutdown or lacking in treble extension, and/or soft and murky. Not so for the 701, which performed with an open top-end and reliable neutrality to records and source components. It didn't put lipstick on a pig, and records like Songs for the Jet Set and Stacey Kent's The Boy Next Door had plenty of air, ambience, and resonance. Only a minor unnatural sheen, like a layer of sonic congestion sweetener, mired its otherwise clear, wide-open top end. Midrange also experienced the sticky sonic goo, but less so. But, again, these are sonic subtleties. The 701's big sound, wide stage, and generous character made the best of most recordings, if well-recorded in their genesis.
Meanwhile, Jeff "Skunk" Baxter's lead guitar on "Show Biz Kids," from Steely Dan's Countdown to Ecstasy, ripped and roared with visceral textural shading and razor-sharp tone within stable images. Walter Becker's electric bass was sufficient and clean and the top end was slightly grainy, but superbly defined.
However, Jazz Is Dead 17 with Lonnie Liston Smith may very well be a wretched recording akin to a cassette dub of a '70s-era festival concert, but the 701's energy, drive, and explosive dynamics made for a very live-sounding production. Again, the 701 didn't add lipstick to the pig, transparency being one of its strong suites.
Stacey Kent's Next Door rendition of "Too Darn Hot" had plenty of jump and jive through the 701, and her vocal was sweet and palpable on "What the World Needs Now Is Love." The production leaned towards gossamer on Joanne Brackeen's Snooze, with upper-register piano, snare drum, and cymbals floating in their own chambers, while bass was practically MIA, the latter being most likely more a trait of the recording itself.
The 701 outdid itself on Tony Bennett's Jet Set, framing the large production in a vast stage, with cleanly detailed sounds, and fast release of notes. Only the consistent sonic sweetener undermined. The 1961 Prestige edition of John Coltrane With The Red Garland Trio's essential 1958 release Traneing In played with speed, open-ended mid-to-treble profundity, and small but direct acoustic bass. Body and physicality were first-rate, with nothing to be desired.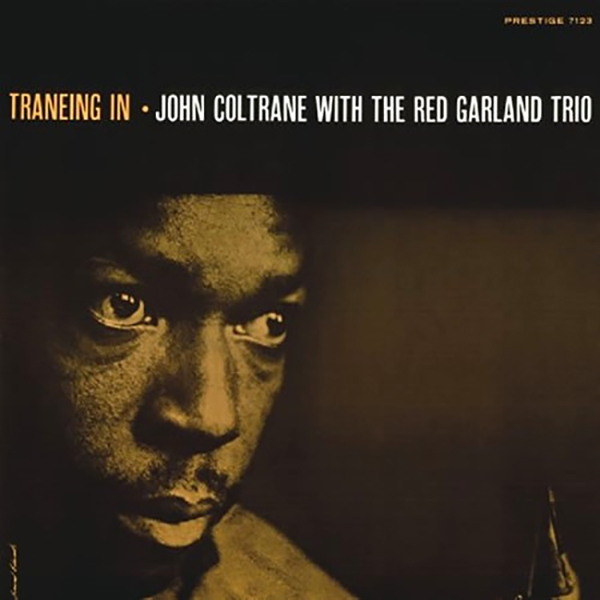 At times, the 701 sounded more hi-fi than absolutely natural, but its large character and forceful personality balanced any sonic deficiencies. In playing Traneing In through the Pathos In The Groove phono preamp, the space between instruments grew larger and more well-defined, acoustic bass had more of a fingers-on-strings snap and pluck, and overall spaciousness and depth improved. Soundstage grew both spatially, front to back, and physically, as if erupting from a small Metro North train tunnel into the majesty of Grand Central Station. Red Garland's piano became more tonal and upfront, while Art Taylor's drums and cymbals were cleaner and better-defined. Low-end weight improved markedly. Trane's horn was equally pungent, piquant, and sweet, and it projected like the dickens. Though small-sounding by comparison, the 701 otherwise provided at least half of this overall level of performance for mucho less dinero — but the differences are real.
For further comparison listening, I jacked in the Tavish Design Adagio, hit the play button on the EAT C-Dur, and spun Traneing In again. In my review of the In The Groove preamp, I make mention of the dramatic differences between it and the Tavish, which remain. The Tavish is all about color, tube bloom and flow, tonal magnificence, soundstage projection, and easy-going attitude. The In The Groove is more a spec'ed-out scientist to the Tavish's good-natured bartender, the last iota of resolution for the former, a wonderfully tone-ful, big-hearted performance from the latter. Different design goals, different sonic deliveries.
One caveat regarding the cart used in this review. EAT's Jo No. 5 cartridge has a recommended load of >20ohms, which none of my stages, including the 701, could muster to the literal jot and tittle. Writing this review with a broken ankle prevented me setting up another cart in the short term, but as all stages were set as close to >20ohms as possible, mismatching was ameliorated to the greatest degree probable — and, respectively, all phono stages offered similar load settings.
Conclusions
A quick search provides a few options for quality phono stages in the PHO-701's $799.95 SRP ballpark. (None of them have a separate power supply, which helps keep RFI goblins at bay.) The Pro-Ject Phono Box DS3 comes in at $799, while iFi's Micro iPhono 3 also clocks in at $799, and has been praised high and low. Germany's Clearaudio makes a fantastic kit, and their smart phono V2 is a serious contender at $774.95. Additionally, British electronics firm Musical Fidelity offers the MX-VYNL for $849.
So there you have it. For its sturdy build quality, excellent sense of lifeforce, dynamics, upper-tier resolution, and big-as-a-barn soundstage, Vincent Audio's PHO-701 hybrid MM/MC phono preamp can now be included in this illustrious lineup of quite-worthwhile $800-ish phono signal amplifying products. Indeed, the PHO-701 is a truly meaningful addition to this vaunted phono stage price tier. The bottom line is, it is an all-around phono preamp performer worth getting your hands and ears on for further listening edification.
For more about Vincent Audio, go here.
To find an authorized Vincent Audio dealer near you, go here.
VINCENT AUDIO
PHO-701 MM/MC HYBRID PHONO PREAMP
($799.95)
Specs
RIAA tolerance/deviation: 10Hz – 20kHz (max. 0.5dB)
Output impedance: 250ohms
Input sensitivity (MM): 58mV
Input sensitivity (MC): 6.8mV
Input impedance (MM): 47kohms
Input impedance (MC): 100ohms
Distortion: <0.05%
Signal-to-noise (S/N) ratio: MM >81dB; MC >69dB
Power consumption: 15W
Dimensions (w/h/d): 5.11 x 3.22 x 8.85in (130 x 82 x 225mm)
Weight: 4.86lb (2.2kg)
<!- ------------------------------------>