Parasound Z Phono XRM MM/MC Phono Preamp Offers A lot For $595

Parasound
's $595 ZPhono XRM is a compact, versatile MM/MC phono preamplifier that offers flexibility and features not usually found at this price point including gold-plated balanced XLR outputs (and gold-plated single-ended RCA outputs), a mono switch, an 18dB/octave rumble filter and for its MC input, continuously variable loading from 50ohms to 1050ohms.
Separate circuitry for MM and MC allows you to have two turntables simultaneously connected. Unlike some other modestly priced phono preamplifiers, instead of a "wall-wart" type external power supply the ZPhono XRM features an internally mounted linear high capacity/low-noise one. That's an awful lot for $595! MM gain is switchable between 40dB and 50dB. MC gain is between 50dB and 60dB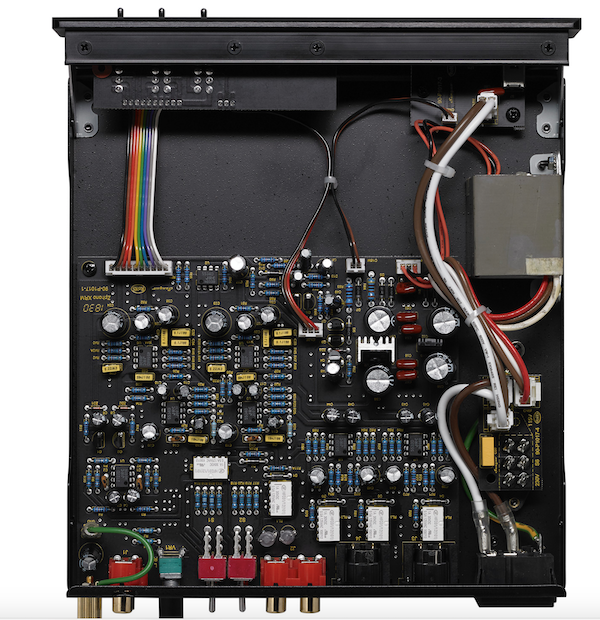 Job number one for a moderately priced phono preamp like this is handling MM cartridges. Considering the high price of today's low output moving coil cartridges most buyers would not likely consider mating even a moderately priced $1500 MC with a $595 MM/MC phono preamplifier but it's there if you need it (let's say you buy this for your MM cartridge and then upgrade to MC before having the money for a phono preamp upgrade).
A "rumble" filter is certainly useful at this price point, especially for use with lower-priced, rumble-prone turntables, but the "mono" switch is the real prize for vinyl fans whose arms have non-removable head shells (Rega, Pro-Ject, etc.). Flip the switch and all of the useless vertical components "cancel out" giving you a good taste of what true mono playback delivers.
Moving Magnet Mode
I used the best MM cartridge I have here, the Audio Technica AT150ANV, which sold for $1549. I know, that blows my theory about how much someone buying this might spend on a cartridge, but I have this one here and I know how good it is (sapphire cantilever, titanium body, MicroLinear stylus, etc.). I also ran the unit single-ended.
The first record I played was one I'd never before heard. It's the one Charles Lloyd mentions in the interview: A Different Journey (Reprise R9 6078) featuring Lloyd, George Bohanon (trombone), Albert Stinson (bass), Gabor Szabo and of course Hamilton.
This copy isn't even an original "deep groove" Reprise. It's a second cut done at Columbia and those usually are not as good but this one through this $595 phono preamp drew me right in. Surely through the "big" phono preamp the sound will not be as bright or forward as here and the bottom end and especially the midbass will be more fully expressed but the first listen through was fully enjoyable: big stage, quiet backdrop, nimble though not the deepest bass, wide stage and free of the steely or alternatively, the rolled top you sometime get at this price point.
I flipped the mono switch and played the ERC mono Way Out West (ERC 053M), which is the best version of this record that I've heard (I believe an affordable and available one is coming soon cut by Kevin Gray from the same mono mastertape) and again, this Zphono XRM impressed with clean, reasonably deep and nimble bass, clean cymbal transients and a surprisingly full accounting of the space around Rollins's sax, which was also portrayed honestly. Manne's drum kit had plenty of wallop too!
An original mono Parlophone issue of Help (PMC 1255) delivered clarity, transparency and thanks to the mono switch, quiet backgrounds. The vocal double tracking on many cuts was cleanly laid bare. The A-T is among the finest MM cartridges ever made (in my experience anyway) and this modestly priced phono preamp well communicated that.
Moving Coil Mode
This was of course ridiculous: I plugged into the $595 phono preamp the SAT CF1-09 arm to which was fitted the Ortofon Anna D.

The Anna D has a super-low .2mV output and likes to be loaded way down so I set it for 50 ohms. The Hamilton record sounded better than I could possibly have imagined though the top end was somewhat squelched (even opening up the loading) dimensionally flattened, and dynamically somewhat limited. I can hear Parasound's Richard Schram saying "Waddaya expect for $595?" Frankly I wasn't expecting it to sound this good! Or, using a .2mV output MC, this quiet.
Conclusion
Unlike the more costly phono preamps in Parasound's lineup, the $595 ZPhono XRM was not designed by phono preamp guru John Curl, which is no great surprise, but I think if he gave this a listen he'd be impressed by its features and performance, especially given the price. Build quality is quite high too, both inside and out.
If your budget is around $600 and you consider these features useful for you and you are considering upgrading to MC in the near future, the ZPhono XRM is certainly worth considering. There are some others at around this price point, but none that I know of with built in power supply, as useful a feature set, and enclosed in such a deluxe package. On the other hand, if you plan on sticking with MM only, you might be better off putting all of your money into a MM specific phono preamp, although Parasound has so aggressively priced this, and it offers so much sonic performance for the money, finding a better MM-only phono preamp for around the same money might be difficult! (as would finding a similarly priced phono preamp with such detailed and well-measuring specifications).
Specifications
Frequency response"
20-20kHz±0.2dB
THD:
0.02@1kHz
S/N ratio MM 40dB setting
>94dB, input shorted, IHF A weighted
>90dB, input shorted, unweighted
S/N ratio MM 50dB setting
>94dB, input shorted, IHF A weighted
>90dB, input shorted, unweighted
S/N ratio MC 50dB setting
>92dB, input shorted, IHF A weighted
>88dB, input shorted, unweighted
S/N ratio MC 60dB setting
>82dB, input shorted, IHF A weighted
>80dB, input shorted, unweighted
Inter-channel Crosstalk
>80dB@1kHz
Input impedance
MM: 47kOhms
MC:50-1050ohms
Output impedance
Unbalanced: 150ohms
Balanced: 150ohms per leg
Input Sensitivity@1kHz, 4mV input
40dB: 5mV for 500mV output
50dB: 5mV for 1.5Volt output
60dB: 5mV for 3Volt output
Input Sensitivity@1kHz, 1V input
40dB: 10mV for 1 Volt output
50dB: 3.5mV for 1 Volt output
60dB: 1.8mV for 1 Volt output
Total gain
40dB/50dB/60dB (unbalanced output)
46dB/56dB/66dB (balanced output)
Rumble Filter
40Hz high pass, 18dB/oct.
Dimensions
Width:8.5"
Depth:10"
Height with feet:2"
Weight
Net: 3.9lbs
Shipping:6.8 lbs
<!- ------------------------------------>