Schiit's $199 Modius DAC Is Total Schiit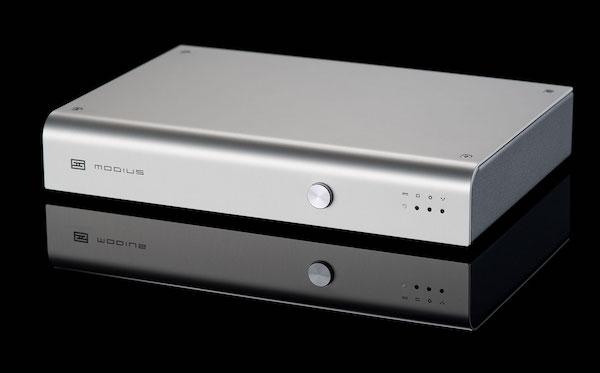 Unlike many of their competitors, Schiit Audio seemingly intends to guide hi-fi beginners up the quality/price ladder. Their direct-to-consumer standalone components, some advertised for gaming and office setups, start at just $99. Schiit's products appear feature-packed, but does the sound live up to the specs? Or are Schiit products, well, total shit?
Features
The new $199 Modius multibit DAC, available in silver and black finishes, utilizing the popular AKM AK4493 converter chip, handles audio up to 192kHz/24bit resolution. (There is no MQA decoding, but 44.1kHz MQA files don't need the "unfold"). It has micro USB, optical, RCA, and XLR digital inputs – the analog outputs are RCA and balanced XLR (rare for a budget DAC). The balanced output stage is based on a Texas Instruments LME49724 op-amp and the SE output is a TI OPA1662 (both outputs are independent). When using the USB input, that cable is both the power and audio source; otherwise, the included micro USB to USB-A cable plugs into the dedicated 5V USB power input. Next to LED input indicators, Modius' sleek metal chassis' front has a somewhat loud input selector button. The unit measures 9"x6"x1.5", and save for the wall wart is entirely US-assembled and/or manufactured. Schiit offers a 2-year parts and labor limited warranty and 15-day returns (with 85% refunds).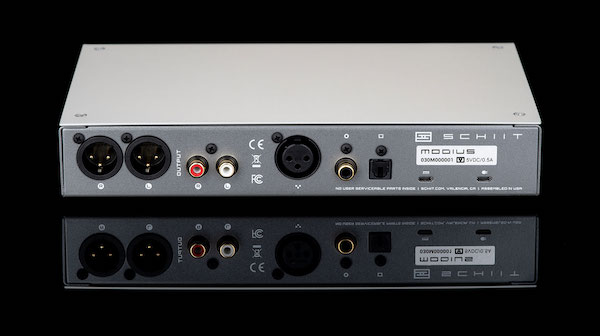 Listening
Right out of the box, compared to my well broken in $299 reference DAC, Modius sounded lifeless and thin. Modern pop recordings, such as Carly Rae Jepsen's "Run Away With Me" (Emotion, 44.1kHz MQA stream), lacked bass drum punch and top end energy. Folk singer Laura Marling's latest album Song For Our Daughter (44.1/16 stream), recorded much like the 70s records of which it's musically reminiscent, through the Schiit had especially weak drums. It wasn't bad, it just sounded rather unappealing.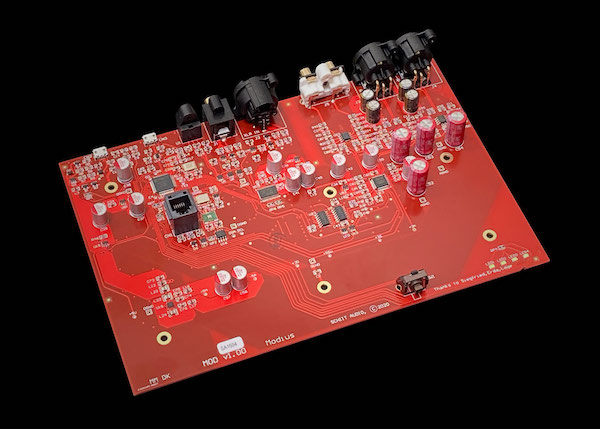 After a few days, however, the sonics improved. The Carly Rae Jepsen album, while still sounding lackluster, had more percussion excitement, and Marling's album had greater acoustic guitar presence. LCD Soundsystem's Sound of Silver (256kbps Apple Music stream) sounded reasonably full-bodied, and Bob Dylan's Rough and Rowdy Ways (44.1/16 Tidal stream) had decent vocal staging. Still, other genres unfortunately were lacking. Ecco2k's cloud rap masterpiece E (44.1/16 stream) was spatially deficient, and K-pop girl group LOONA / ODD EYE CIRCLE's Max & Match (256kbps Apple Music stream), recommended by a friend, sounded slightly muddy and compressed. Herbie Hancock's "Maiden Voyage" (192/24 FLAC) neither impressed nor disappointed – the dynamics were intact, but the presentation was timbrally flat. With the exception of Fishmans' superbly engineered final concert 98.12.28 Otokotachi no Wakare (48/24 FLAC), which sounded reasonably vibrant, the Schiit murkily reproduced live albums. As a monitor DAC, Modius' sound works, although for that purpose I prefer a brighter tonality. The input switching is quick and convenient (the transition takes as long as the button press), especially for those with larger setups. Modius well-serves entry-level listeners with older stylistic preferences, but for genre- and era-generalist audiences produces mixed results.
Conclusion
For $199, the Modius DAC is decent. It's total Schiit in that it's totally made by Schiit Audio, but thankfully not total shit. Its flat timbral character (not "flat" as in "flat frequency response") works for some purposes, and although not to my taste, I appreciate its practicality. If you prioritize high quality audio performance no matter the analog output, I suggest saving further for the Audioquest Dragonfly Cobalt. However, Modius is by far the most affordable, well-built, output-flexible DAC made by a reputable (and for that matter, recognizable) hifi company. Newcomers willing to sacrifice some sonic versatility will be well-served with the value-minded Schiit Modius, which at the price point is the best DAC of its type—at least that I've heard, and I've heard more than a few (M.F.s review of the Schiit SOL turntable coming up shortly).
(Malachi Lui is an AnalogPlanet contributing editor, music lover, record collector, and highly opinionated sneaker enthusiast. When he registers to vote in 3.5 years, he certainly won't join the Birthday Party. Follow him on Twitter: @MalachiLui.)
<!- ------------------------------------>