John Lennon/Plastic Ono Band The Ultimate Collection From UMe Drops April 16th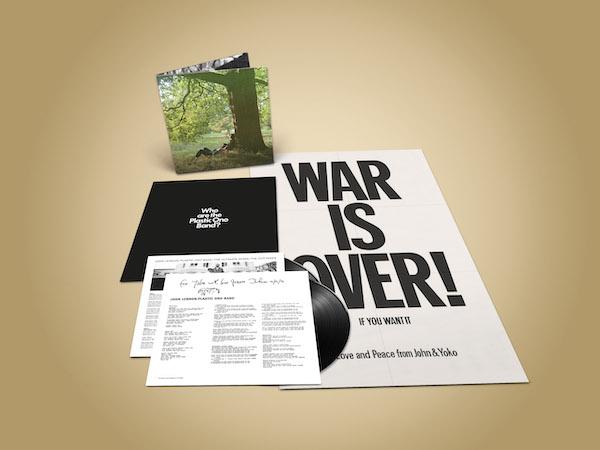 John Lennon's raw, jarring solo debut album first released December 11, 1970 gets the 50th anniversary treatment in a multi-release series coming this April 16th. For those experiencing the album when it was first released 50 years ago, it was at first an ugly shock to hear a former Beatle (the phrase "former Beatle" was to fans shocking enough) bare his soul and express his personal anguish and pain, while simultaneously declaring "the dream" (whatever it was) "over".
At the time the word "betrayal" was how some saw and heard an album of almost antagonistic eruptions aimed at Beatles loyalists resulting from Lennon's therapeutic transformation influenced by "primal scream" psychotherapist Dr. Arthur Janov. Others took the cold water dousing as a call to grow up and did.
While the album delivered to the artist at least a partial unshackling from a decade's worth of cultural chains, to many fans, listening delivered a series of painful blows even as it gave fans an intimate look at the damaged human being behind the legend.
For many at the time the album was a too difficult to actually enjoy "listen once and leave on the shelf" record. Having shattered the myth, Beatles fans took solace by returning to the decade of enchanting Beatles albums. Those who took a deep breath and returned to John Lennon/Plastic Ono Band were rewarded with a deep and thoughtful album that actually enhanced rather than diminished listening to the rich Beatles catalog. In retrospect, the album's raw, direct communication and production clearly provided the template for the refreshing punk and "new wave" revolution that came more than a half decade later.
As with previous Lennon projects, this one is available in a variety of formats and depths. There's an eight disc (6 CDs, two Blu-rays) "Super Deluxe" box that in addition to new "ultimate mixes" includes elements, raw studio and "evolution mixes" plus scores of never before heard demos, outtakes, jams and for the first time the companion LP Yoko Ono/Plastic Ono Band album and live sessions—over 11 hours of audio featuring 159 new hi-res 192/24 stereo mixes plus 5.1 surround and a Dolby Atmos mix that literally takes the album to "new heights". the deluxe package includes a 132 page hardback book with lyrics, photos, tape box images, memorabilia and other "stuff".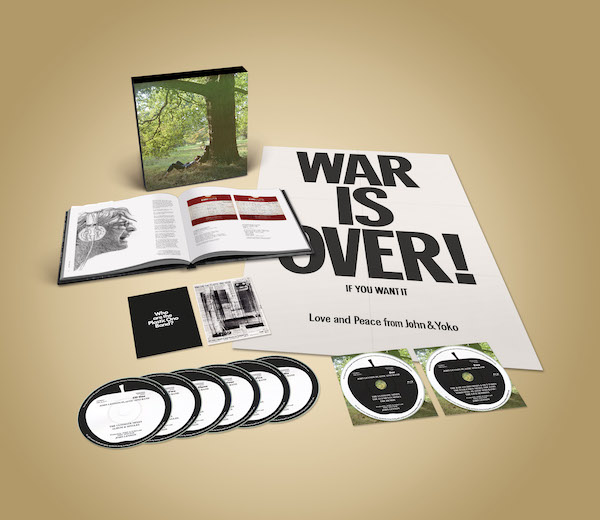 The set reprises previous box sets' most interesting feature: the "Raw Studio Mixes", the unmastered live without effects, reverb or tape delay that lets you hear how things actually sounded in the studio, though the finished product was a spare minimalist record, especially compared to Beatles albums. The album reached the top 10 in both America and the UK. No doubt songs like the jarring "Mother", the bitter "I Found Out" and the others were not what most Lennon fans where anticipating when they plunked down their $4.98 or whatever the original cost.
For those less interested in the deep dive, there's a 2LP edition, one of which is the original album remixed and half speed mastered on 180 gram vinyl and the other two sides of out-takes plus a photo booklet and a "WAR IS OVER!" poster, which sadly turned out to not be true. There's also a two CD set containing the album plus singles "Give Peace a Chance", "Cold Turkey" and "Instant Karma (We All Shine on)" on one disc and 14 album and singles out-takes and a single CD edition containing the remixed album+ singles.
The remixes and audio production is from the same team that worked on 2018's critically acclaimed Imagine – The Ultimate Collection, that included triple GRAMMY®-Award winning engineer Paul Hicks and mixers/engineers Rob Stevens and Sam Gannon.