Yellow Magic Orchestra: Prologue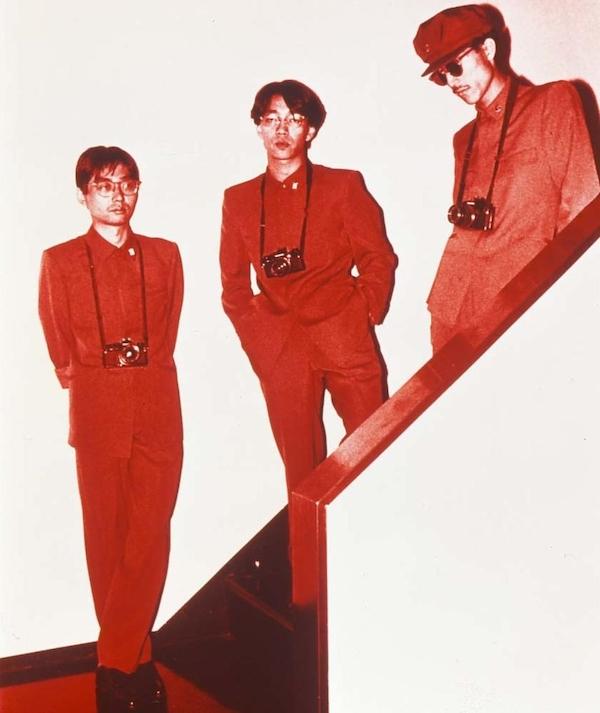 This week, AnalogPlanet begins a multi-part exploration of Japanese synthpop pioneers Yellow Magic Orchestra (YMO). Through reviews of their core releases and YMO-era side projects, we'll dissect how, by incorporating elements of exotica, video game music, musique concrete, and more, the trio of Haruomi Hosono, Yukihiro Takahashi, and Ryuichi Sakamoto transformed electronic music. They gained massive success in Japan but are also credited for influencing hip-hop and Detroit techno. First, however, we'll explore the individual members' pre-YMO work.
Haruomi Hosono
Already a known figure, prior to YMO's formation Haruomi Hosono spent a decade in the music industry. Initially the bassist for the short-lived psych rock band Apryl Fool (whose 1969 sole album takes heavily from the Yardbirds and Cream), he then formed Happy End, a folk-rock group recognized as the first popular Japanese rock band to (controversially) sing in Japanese. By the mid-70s, Hosono worked as a solo artist, record producer (helping craft the studio-polished Japanese jazz-pop sound now called city pop), and started another band, Tin Pan Alley. Throughout the decade, he played with Western "exotica" stereotypes of Asian music. He told The Guardian in 2008, "The thing was to take these Western ideas of the exotic, but to subvert them. With Martin Denny, the exotica is kind of fake. But I am real! I am the target of that Western exotica. So what I wanted to make was exotica from an oriental perspective."
Most important to the YMO story are Hosono's 1978 releases Paraiso (released in April), Pacific (a CBS/Sony Sound Image release with Tatsuro Yamashita and Happy End guitarist Shigeru Suzuki, released in June), and Cochin Moon (released in September). Paraiso is exotica-influenced city pop with Hosono's first synthesizer experiments including the first simultaneous collaboration between him, Takahashi, and Sakamoto (the subtly funky "Femme Fatale"). Hosono's contributions to Pacific, a record designed to evoke Pacific beaches, blend faux-nostalgia-inducing synth-based tropical exotica and jazz fusion that lives on through the infamous YouTube algorithm. Around this time, a trip to India with illustrator Tadanori Yokoo resulted in a severe diarrhea outbreak, influencing Cochin Moon, Hosono's most bizarre 70s work. Soundtracking a fictional Bollywood film, it's a dizzying suite of entirely synth-based psychedelic music, with accompaniment by Ryuichi Sakamoto, keyboardist Hiroshi Sato (known for 1981's city pop classic Awakening), and programmer Hideki Matsutake.
Yukihiro Takahashi
The drummer for the funk and jazz rock-based Sadistic Mika Band (and later its fusion/pop spinoff, the Sadistics), Yukihiro Takahashi also recorded a 1978 solo album, Saravah!. Taking strong cues from French vocal jazz, Saravah! is enjoyable albeit cheesy and dated, with Takahashi's vocals a notable weakness (dissatisfied with the original, for 2018's remix/remaster Saravah Saravah! he re-recorded his vocals). Still, it's a worthy listen that features the other YMO members plus Shigeru Suzuki, Kenji Omura, Tatsuro Yamashita ("the king of city pop"), and Minako Yoshida. Listen to Takahashi's "Mood Indigo" rendition below:
Ryuichi Sakamoto
In 1970, Ryuichi Sakamoto commenced studies at the Tokyo National University of Fine Arts and Music, earning a bachelor's degree in music composition and a master's degree in electronic and ethnic music. Sakamoto worked as an arranger for pop artists such as Taeko Ohnuki , but soon recorded his own compositions. Thousand Knives of Ryuichi Sakamoto, accompanied by Hideki Matsutake and guitarist Kazumi Watanabe, dropped a month before YMO's self-titled Japanese debut. A progressive electronic LP thematically exploring China's Cultural Revolution, Thousand Knives' syncopated layers of minimalist analog synthesizers are immaculately structured; with percussive sound effects and tight basslines, the stereo mix renders the sophisticated compositions immersive and accessible. While not consistently excellent, the album includes "Thousand Knives" and "The End Of Asia," both standards of Sakamoto's discography.
Stay tuned for AnalogPlanet's exploration of Yellow Magic Orchestra's 1978-1981 releases, to be posted later this week.
(Malachi Lui is an AnalogPlanet contributing editor, music lover, and avid record collector. He's highly anticipating Kanye West's upcoming DONDA, assuming it even drops. Follow Malachi on Twitter: @MalachiLui and Instagram: @malachi__lui)
<!- ------------------------------------>