7" Review Explosion: Blur, Spiritualized, and Billie Eilish (+ An Art Book Flexi)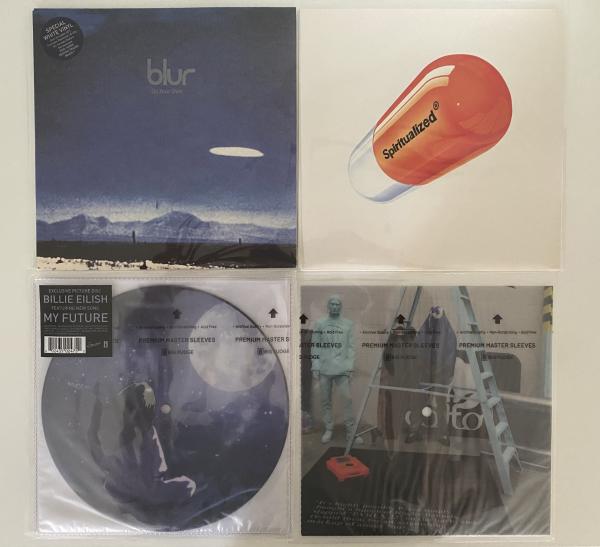 (Review Explosion is a recurring AnalogPlanet feature covering recent releases for which we either don't have sufficient time to fully explore, or that are not worthy of it. Curated by AnalogPlanet contributing editor Malachi Lui, this particular Review Explosion focuses on new and old 7" releases.)
Before full albums were the standard medium, listeners bought 7" singles of whatever caught their ear. By the 60s, albums were commonplace, although expensive and often comprised of filler. You'd buy the single of the song you liked, and artists (especially in the UK) also released 7"'s with non-album tracks. New 7" releases are generally collector's items, in part to boost a song's sales. Still, they're fun products that I buy and actually play. I don't listen to singles nearly as much as LPs, but if I don't own the full LP I might play the 7"'s obsessively. For example, my first ever Third Man purchases at age 9 were Jack White's "Love Interruption" and "That Black Bat Licorice" singles, as those were all I could afford at the moment. I played them nonstop, and of course the obsession only grew. In February 2016 at Grimey's Too in Nashville, I bought a used 2CD Space Oddity ($12 then, now worth $25) and original "Fame" and "Golden Years" tan label US RCA singles ($3 each, yet the cashier overlooked the records and didn't charge for them. Simply finding those in the floor singles bins took lots of flipping past utter garbage. And of course, there's the still-developing story of Frank Ocean not shipping BLND02-3 and -4 almost a year after I ordered and paid for them. It's cliche around here now, but you simply don't get these memories with streaming. I unfortunately don't go through the 7" bins during real life shopping anymore. I should change that. Anyway, here's the first AnalogPlanet 7" Review Explosion:
Blur - "On Your Own" b/w "Popscene" / "Song 2"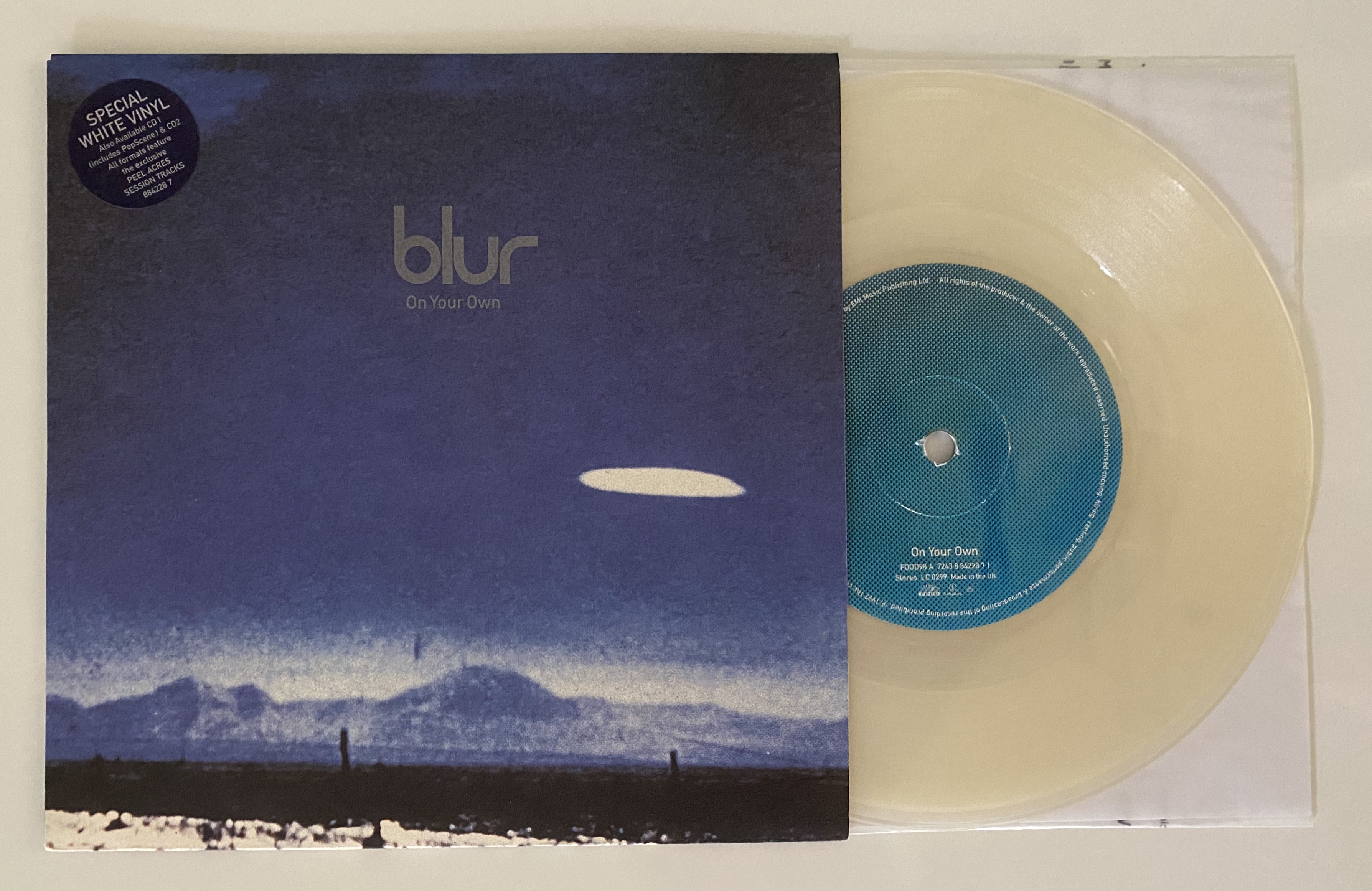 FOOD/EMI FOOD 98 white vinyl 7"
Produced by: Stephen Street (side A), Alison Howe (side B)
Engineered by: John Smith (side A), Miti Adhikari (side B)
Mixed by: N/A
Mastered by: Unknown
Music: 8
Sound: 8
While their fairly recent critical reevaluation helped, Blur still seems under-appreciated in the US. Maybe it's because radio normies only know their one major American hit "Song 2" (or the "'woohoo!' song"), or because they're "too British" (after all, 1993's Modern Life Is Rubbish launched the Britpop movement and 1994's Parklife was even more British), or because 13 was as a whole an inaccessible follow-up to the self-titled album's US success. As an American fan not around during Blur's prime, I enjoy the earlier records but still prefer their late 90s art rock masterpieces. Their 1997 self-titled fifth LP moved away from Britpop and embraced American lofi indie rock, with Damon Albarn's lyrics increasingly introspective and Graham Coxon's guitar tones more nuanced. 1999's complex and slightly overlong 13 furthered this direction, pairing lyrics about heartbreak and heroin addiction with noisy, abstract sonic palettes. "On Your Own," the self-titled album's third single, is a brilliant showcase of Albarn's exquisite pen—observational, personal, and vivid—and Coxon's beautifully compressed multitracked guitars (the subtle chorus riff is perhaps his best). It's difficult talking about such work outside of album context, so hopefully a more detailed Blur piece about full albums will eventually follow.
I bought this 7" on Discogs with the original import shrink wrap intact for $13 (UK vinyl releases didn't have shrink wrap, so US importers would apply it to meet American standards). Pressed at Orlake on milky clear/white vinyl, the flipback sleeve has a sticker boasting the "exclusive PEEL ACRES SESSION TRACKS," available across 7"/CD1 and CD2 variants and later consolidated on the Japanese Bustin' + Dronin' 2CD compilation. Compared to the 2012 remaster streamed at 96/24, "On Your Own" has a thinner mastering sound typical of the 90s and some IGD-induced loss of guitar subtlety, but still sounds good. The B-side here has the energetic Peel Acres versions of "Popscene" and "Song 2." Those recordings have open space, although the mix is congested and the master extremely compressed (but with sonic character). I might build a near-complete Blur UK 7" collection (omitting the expensive Think Tank singles and "The Wassailing Song"), since the old singles are reasonably priced and let's be honest: who's going to slog through all of Leisure and The Great Escape? Exactly. Just buy the singles.
Spiritualized - The Abbey Road EP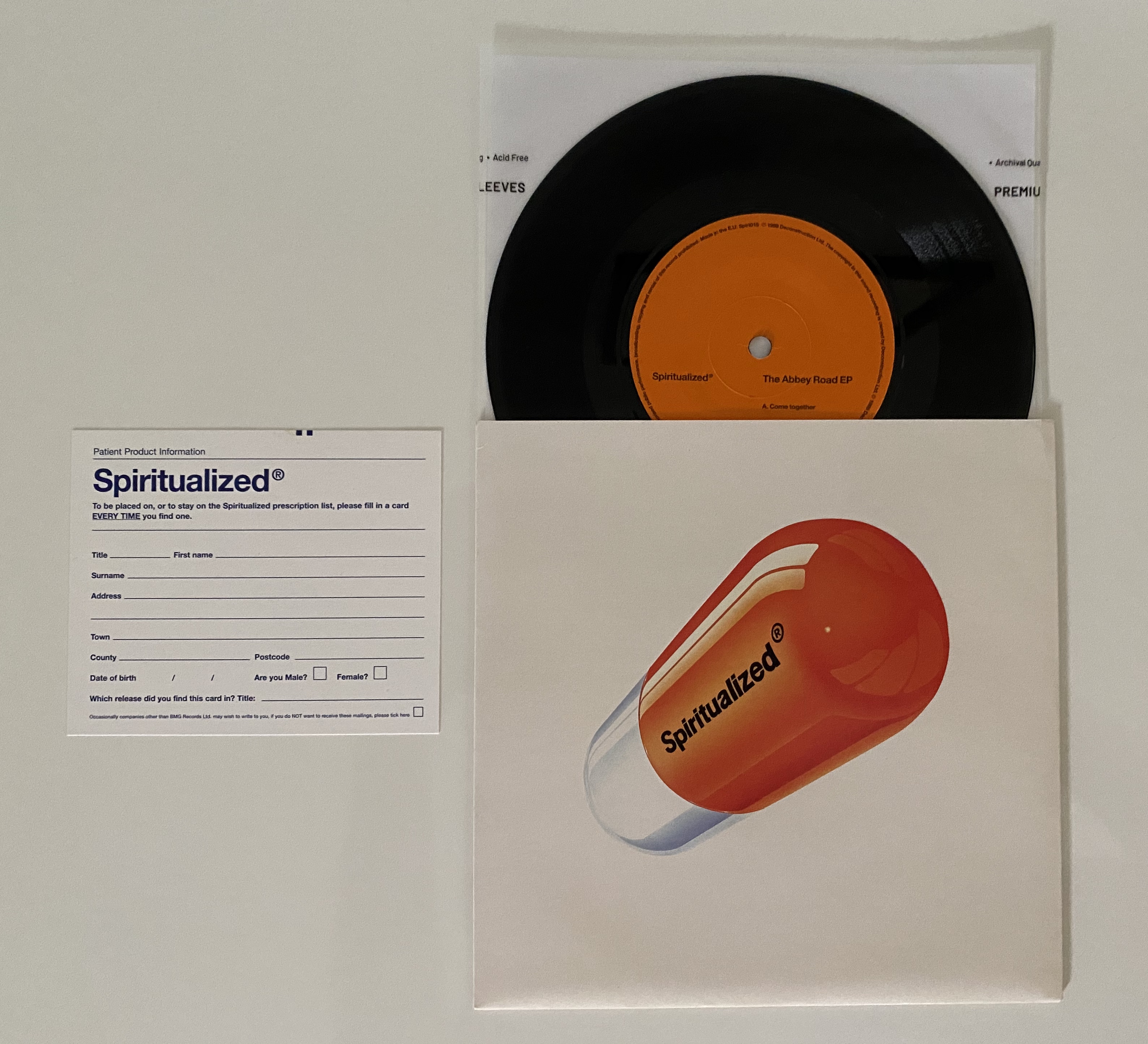 Deconstruction Spirt015 7"
Produced by: J Spaceman
Engineered by: Guy Massey
Mixed by: N/A
Mastered by: Nick Webb
Music: 6
Sound: 7
Following Ladies and Gentlemen We Are Floating In Space's release (review here), J Spaceman and crew recorded The Abbey Road EP, a CD/12"/7" release with Abbey Road re-recordings of album cuts "Come Together" and "Broken Heart." Considering the proper full-length's high original vinyl prices, that era's near mint singles' low cost surprises. I bought The Abbey Road EP EU 7", advertised as unplayed, for $9. The bonus Ladies and Gentlemen material, whether from the 2009 deluxe set or the original 7" and 12" singles, is not currently streaming, and I didn't bother to find YouTube uploads before buying the vinyl.
Those low prices are for reason; The Abbey Road EP is simply underwhelming. On side A, Spiritualized performs a looser rendition of "Come Together." While it's technically fine, Spaceman's vocal lacks the album version's necessary attitude, and the studio perfectionism essential to the band's sound is gone. With the London Community Gospel Choir, the Brixton Community Choir, and string and horn sections in tow on side B, Jason Pierce sings "Broken Heart" over a funereal backdrop, although it again lacks the Ladies and Gentlemen recording's emotional connection. It's hard to listen to these songs outside of the album's context; "Come Together" not segueing into "I Think I'm In Love" feels awkward. The Abbey Road EP is best left a curio for hardcore Spiritualized fans and collectors, not something for casual listeners.
As for the 7" edition's sound quality, it's exactly what you'd expect. 7" isn't an ideal format for clean, audiophile sound, and any Spiritualized vinyl will have at least some distortion. The recording, engineered by Guy Massey and cut DMM, is probably digital. The 12" edition might sound better – it's more expensive but has an additional "Broken Heart" instrumental (I don't know if it's a separate take or not). The vinyl pressed somewhere in the EU is of normal quality. The top-loading sleeve's typeface follows the album cycle's design pattern, but the front cover's orange pill annoyingly deviates from the main LP jacket's iconic blue and silver. My copy bought on Discogs came with the original Spiritualized "prescription list" mail signup sheet, unmarked and mint. Again, a nice novelty item, but far from essential.
Billie Eilish - "My Future"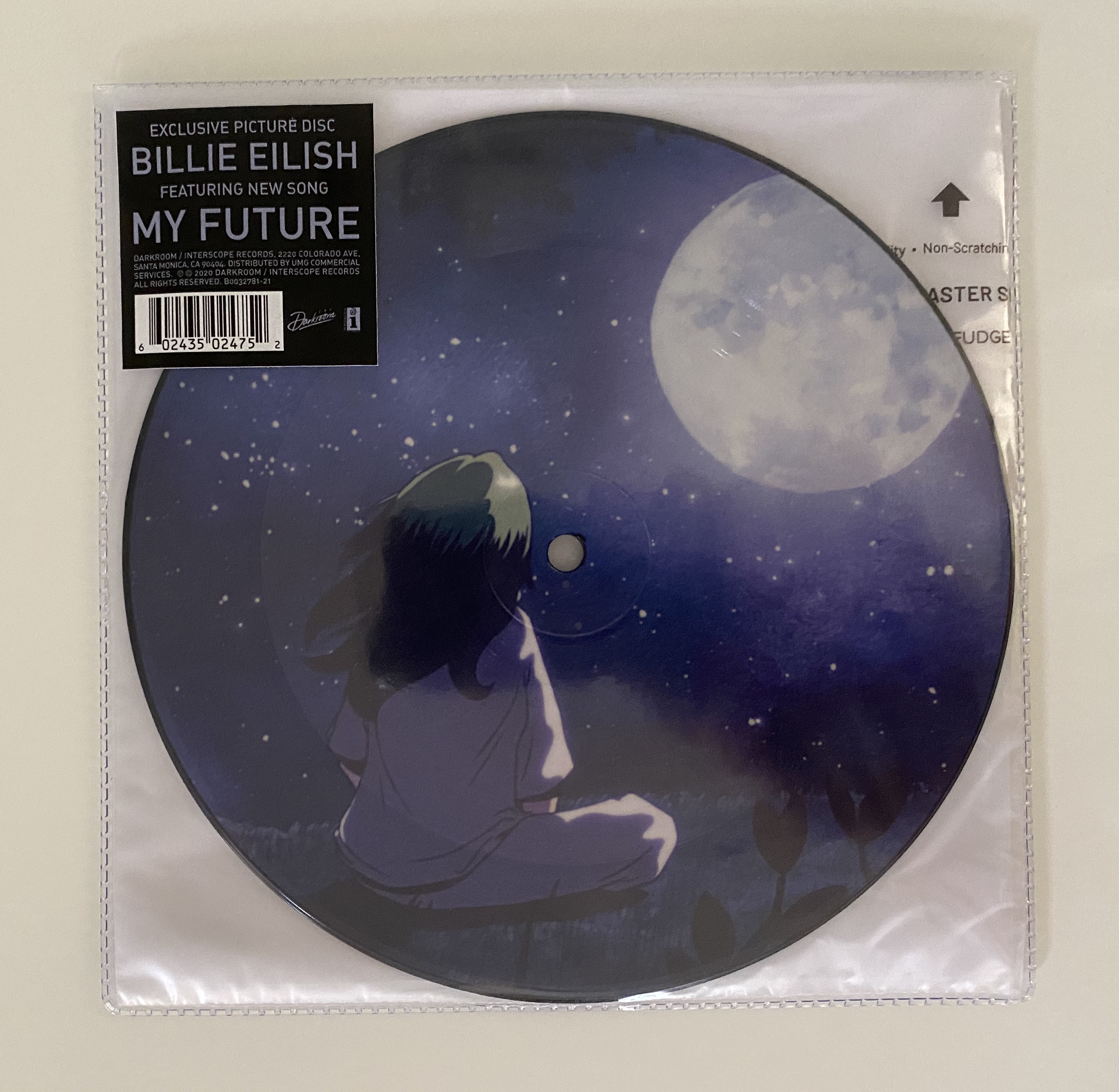 Darkroom/Interscope B0032781-21 webstore exclusive single-sided picture disc 7"
Produced by: Finneas O'Connell
Engineered by: Finneas O'Connell
Mixed by: Rob Kinelski
Mastered by: John Greenham (digital), GZ cutting engineer (vinyl)
Music: 6
Sound: 7
Nowadays, major artists' non-albums singles are more than mere songs: they're events. In many cases, the song is mostly a vehicle to sell tons of merch. Just look at Travis Scott: his recent singles "Highest In The Room," "THE SCOTTS" (with Kid Cudi), and "FRANCHISE" barely have choruses ("hooks" like "yuh in my white tee" are almost forgotten near-instantly), yet limited clothing and vinyl/CD/cassette drops relating to those songs propel the tracks to #1 and continue to build his empire. Billie Eilish's recent single "My Future" followed suit; announced prior to release, its drop (at 4pm PDT on a Thursday, to not collide with other releases) accompanied with clothes, toys, and this 7" picture disc probably left a greater impression on fans' wallets than the song did on their minds. "My Future" is really just yet another Billie Eilish song. Some critic desperate to switch to publicity could go on about "emotional growth" or whatever, but c'mon. Musically, the song mimics the "[song] by [artist] playing from a cassette on a rainy day" YouTube videos, while lyrically and vocally it's somewhat melancholic but doesn't attempt to be a "tearjerker." Thankfully, "My Future" has a decently memorable melody and actual song structure, unlike Travis Scott's aforementioned not-songs. Will this be remembered by the year's end? No. But is it pleasant enough now? Sure. (UMG must've known this too, as these picture discs shockingly shipped out a month and a half early.)
The single-sided picture disc 7", exclusive to Eilish's webstore, is cut and pressed at GZ. I read your minds: "PICTURE DISCS SUCK!" Not so fast there. Picture discs' quality is plant-dependent — GZ ones are fairly quiet, Optimal ones have a bit of noise, and Erika pressings are fine enough if your disc isn't warped. In fact, I have a Kanye "Homecoming" UK 12" picture disc, pressed at GZ, that is at times dead quiet (and not because it's a loud cut) and of true audiophile quality. Further, storage conditions are a huge factor. The clear PVC sleeves that often house picture discs can degrade the record, so buying and properly storing these can be time-urgent. This Billie Eilish 7" sounds fine, with average mastering and light to moderate surface noise. The B-side is completely blank, with only the copyright info printed, and the stickered outer sleeve is prone to splits. It's probably worth the $13 for completists (of which I'm not one) and definitely investors, as these will surely gain value. As for the copy I bought for review? I'll likely file it away and mostly forget about it.
Virgil Abloh - Figures Of Speech Interview
Museum Of Contemporary Art Chicago MCA-001 special edition book with square printed flexidisc 7"
Produced by: N/A
Engineered by: Chicago Recording Company
Mixed by: N/A
Mastered by: GZ cutting engineer (vinyl)
Composition: 6
Sound: 6
As evidenced by the scoring format, this release is unlike anything else ever reviewed here. This is a 33rpm flexidisc housed in contemporary artist Virgil Abloh's "FIGURES OF SPEECH" (title in bolded Helvetica for maximum effect) MCA Chicago exhibit book. Abloh, who runs high-end streetwear brand Off- - -White and is Louis Vuitton menswear head, is an innovator like no other. He grew up near Chicago to Ghanian immigrants, and found himself immersed between both skate and hip-hop cultures (very distinctly different, especially at that time). He studied as an architect, then became Kanye West's creative director before launching his first brand, Pyrex Vision. As the painstakingly thorough book introductions explain, Virgil jumps between fashion, furniture, album art (including the iconic Yeezus package), installations, and whatnot with ease. Anyway, the special edition book (packaged in a clothbound slipcase with special binding and a tape measure bookmark) is a fascinating object of the highest quality, completely worth the $75 cost.
The book is divided into four parts: "MUSEUM" (showcasing the art alongside highly detailed analysis of his overall work), "INDEX" (a set of green pages cataloging the presented works in chronological order), "ARCHIVES" (fascinating behind-the-scenes images spanning his career), and "SOUND" (this flexi). The square 7" flexidisc, printed with an image of an exhibit display, is bound into the book's end on a perforated sheet. It runs at 33rpm and is utterly weird; snippets from an interview between Virgil and Playboi Carti are transitioned with cartoonish sound effects. It's cool to actually hear Virgil touch on his creative ideologies and artistic process, but if you've read the book analysis (not the easiest task, to be fair), the flexi doesn't add anything other than confusion on its necessity. Then again, I'm probably one of three people who actually tore it out, and some of the book's owners probably didn't even notice it.
Unlike picture discs, flexidiscs sound as mediocre as everyone says they do. Cut and pressed at GZ through broker Pirates' Press, the noisy "FIGURES OF SPEECH" flexi sounds flat and dead but for its novelty purpose suffices (also worth noting is that GZ flexis have an overly tight spindle hole, which leads to creasing and/or cracks in the center). Plus, it looks better in the book. If only those Volkswagen record spinners didn't ruin your records…
(Malachi Lui is an AnalogPlanet contributing editor, music lover, record collector, and highly opinionated sneaker enthusiast. He's currently debating whether or not to listen to all Thousand Albums of Ryuichi Sakamoto. Follow Malachi on Twitter @MalachiLui and Instagram @malachi__lui.)
<!- ------------------------------------>