AP Exclusive: David Rawlings on How He Turned Gillian Welch's Acclaimed 2011 Album The Harrow & The Harvest Into a Modern Reel-to-Reel Tape Masterpiece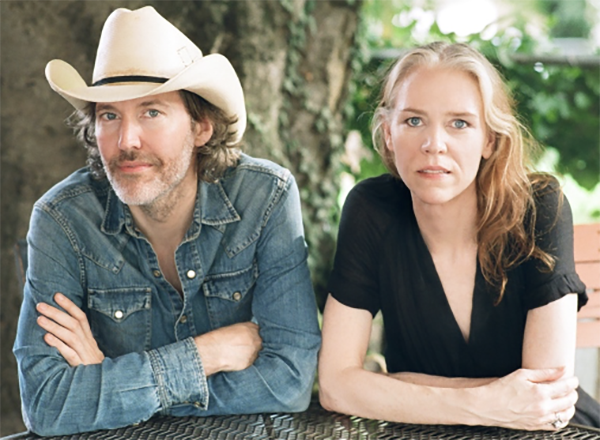 David Rawlings had a clear mission ahead of him. His dream was to release Gillian Welch's acclaimed June 2011 alt-rural album The Harrow & The Harvest on reel-to-reel tape — but just how would he go about doing it? One word: DIY.
As Rawlings — who co-produced, co-wrote, and played guitar and other instruments on Harrow alongside his lifelong musical partner/co-muse Welch — explains exclusively to Analog Planet, he and his technician Brent Bishop essentially had to invent a duplication system all on their own since construction of a new state-of-the-art tape-centric pressing plant has yet to be finalized, and they simply weren't going to wait any longer for that to happen.
Here's the gist. Each Harrow reel-to-reel set is personally produced by Rawlings at Woodland Studios in Nashville, having been hand-leadered on two ¼-inch archival quality SM911 tapes. The ¼-inch, 2-track 15ips one-to-one duplicates have been produced in real time from an original 30ips ½-inch master tape on "meticulously calibrated" Ampex ATR 102 tape machines through the custom distribution system that is said to provide "proper impedance matching and the most direct path for the highest possible fidelity."
Housed in a deluxe slipcase and custom tape boxes made by Stoughton Printing and featuring the original album artwork by John Dyer Baizley, each Harrow set also includes a complete song lyric sheet plus an exclusive hand-printed photo by Mark Seliger that has also been signed by Welch, Rawlings, and Seliger. The initial Rawlings hand-manufactured Harrow run is truly limited — just 30 copies to start — and it sports an SRP of $699. Said Harrow reel-to-reel sets began shipping earlier this week, in fact, and you can order it directly from Welch's official Acony Records site right here.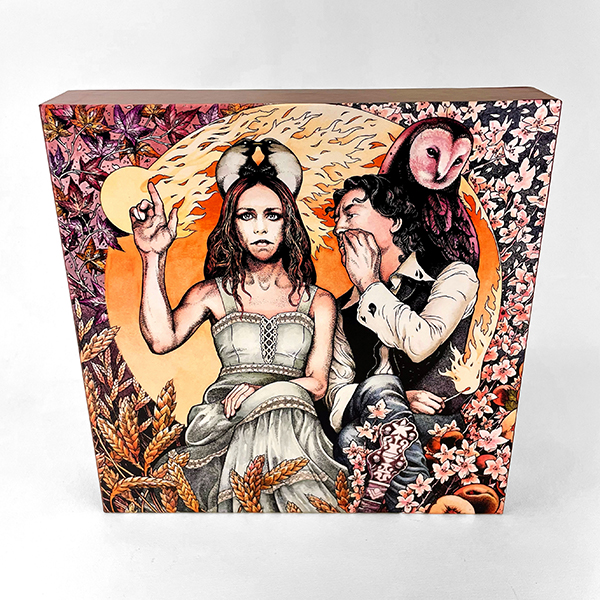 Rawlings' personal tape journey got underway about a decade ago once he got his hands on the aforementioned Ampex ATR-102 mastering tape recorder via John French, a machine that he wound up restoring himself. "I spent endless hours calibrating that ATR — learning how to set the tensions, going through the manual, and learning everything about it, and it was a really satisfying experience," he confirms. "I come from a family with a background in engineering and inventors, so this was right up my alley." Not too long after that, Rawlings got a second machine that was previously used in a CBS mobile truck, one with a ¼-inch headstack ("it's still one of my favorite machines"). He then gleaned some tape-related techniques via his friend, engineer Paul Kennedy, who himself learned how to cut tape when he worked with Glyn Johns across the Pond. "That taught me how to edit," Rawlings observes.
Not only that, but Rawlings has spent quite a lot of time working live to 2-track. "Most of the time, I actually mix to ¼-inch tape," he clarifies. "When Gillian and I are doing what I would consider to be our 'normal' acoustic stuff — or if I was recording other bands — I would work at 30ips and then I would also mix at 30ips, but I have also done other things at 15[ips]." Without a doubt, Rawlings is indeed the, er, reel deal.
Rawlings, 53, and I got on the horn together recently to discuss just how The Harrow & The Harvest made its transition to tape, why making tape duplicates is a challenging process, why he also still loves cutting lacquers, and which Gillian Welch album just might make its reel-to-reel debut next. Say you wanna see my garden / And you wanna make it shine. . .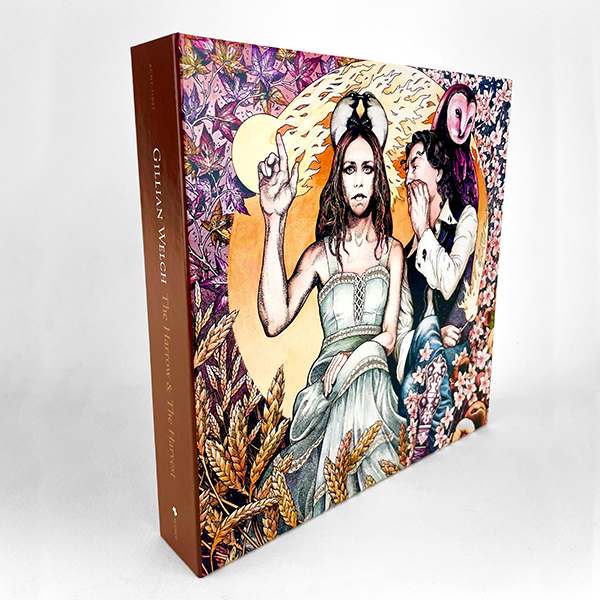 Mike Mettler: Tell me how your Harrow/Harvest reel-to-reel project got underway.
David Rawlings: The reason I started the tape project with Harrow is because when we went in with Stephen Marcussen to master it initially [in 2011], it was only digital mastering since it was just being released on CD, and we didn't do anything to it. Stephen liked the record as is, and the only thing that was changed were level changes — as in, we just leveled the tracks, and that was it.
But when I started thinking about doing a tape project for Harrow, I thought, "Well, this is fantastic. We obviously have the masters, and it requires almost no processing. In fact, what I ended up doing to do the level changes was adjust the alignment on the machines, so we didn't actually even go through anything. We went through no gear — it was literally machine to machine, basically creating the ½-inch bin master that we were going to run from.
When Brent Bishop, [a technician] who works here with me [at Woodland Studios], and I conceived of doing this, we thought, "What is the most pristine way we can imagine to make these tapes?" I mean, I do think lacquers are an amazing format. When you cut to a lacquer, that's just an incredibly good sound. Making a tape duplicate is its own challenge — to make a really great-sounding safety, which is something I've always gone down the path of thinking about. Like, "What's the cleanest way you can do this with a couple of tape machines?"
Mettler: What's the secret for how you're able to do that?
Rawlings: Well, we basically designed a system that links the machines together without just daisychaining them. We wanted to eliminate a lot of the electronics that are in each machine, and really just get as close to using as few electronics between the machines as possible — and we achieved that. We got all the impedance matching and the level matching with a discrete amp driving the machines.
I mean, I tried to hook the machines together. I tried to do what I think other people might be doing, making these tapes, and that wasn't what I wanted. It wasn't the sound we were looking for, so we just designed our own custom distribution box.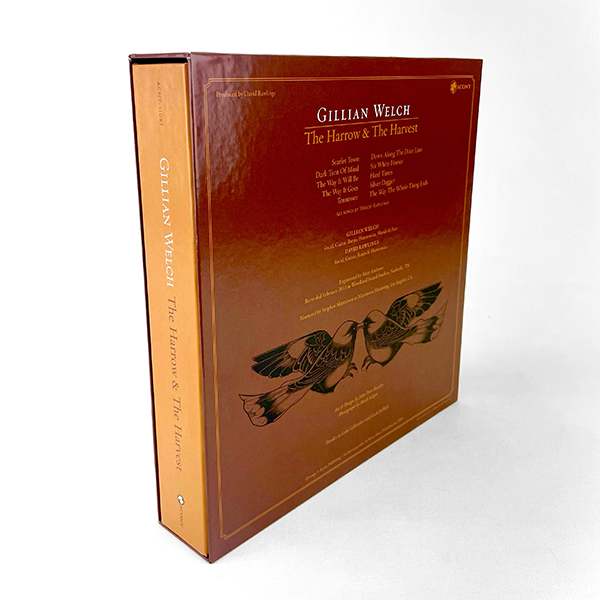 Mettler: Did you run into any challenges in terms of the level matching? To me, Harrow is a very intimate record, so I think it kind of lends itself to the process you've been describing.
Rawlings: Yeah, and let me take a step back here for a moment. I think the vinyl is slightly different than the CD, because when we were doing that with Stephen [Marcussen], the gain matching was done in half-dB step, but it wasn't closer than that. In the digital world, when he originally made the CD, the leveling might have been done in tenths. The vinyl is a tiny bit coarser than the CD, but I think that, with what I did with the tape, things should be very close to vinyl — or actually identical.
Mettler: Yeah, and when I'm thinking of a track like "Six White Horses" (Reel 2, Track 2) where you have that kind of hand-clap intimacy going on, that song has a certain resonance to how it sounds better on vinyl than on CD — and probably better on tape as well. You're not compromising anything there.
Rawlings: Well, I'm so happy that's the case on a record like Harrow & The Harvest, yes.
Mettler: "The Way the Whole Thing Ends" (Reel 2, Track 5) is a song that really has a very tight, intimate feel to end the album on vinyl, and that's gotta be something special to experience when the second reel-to-reel runs out on that six-minutes-and-change track. It's gotta be pretty powerful when you get to the end there, right?
Rawlings: Yeah, that's a beautiful one. I think that is the longest song, and I remember when we mixed that. That, and "Tennessee" (Reel 1, Track 5) — those are the two longest ones. And if you want to hear a comparison of mixing techniques, "Tennessee" is the only song on that record that was mixed to ½-inch, which is why it has a little bit different top. It's not quite as packaged — it's a little bigger, and it kind of bursts at the seams. I like having that feel for that track — particularly in the scope of the record, where it sort of jumps out.
Mettler: True. In a song that talks about Beefeater [gin] and whiskey, and all that kind of stuff, it needs a little more punch, so to speak.
Rawlings: That's how that one was cut, yeah. And what I was going to say about "The Way the Whole Thing Ends" was, I remember when we were working on that song and cutting it in the studio, and as we were playing it, [our engineer] Matt Andrews had dialed up a mix that was very similar to what we ended up with. I don't know if we changed much of anything at all, but it was completely dry. There's no reverb on that track, and that's why it sounds so close, you know? It's just the sound of the room there. So, yeah, that's a fun one.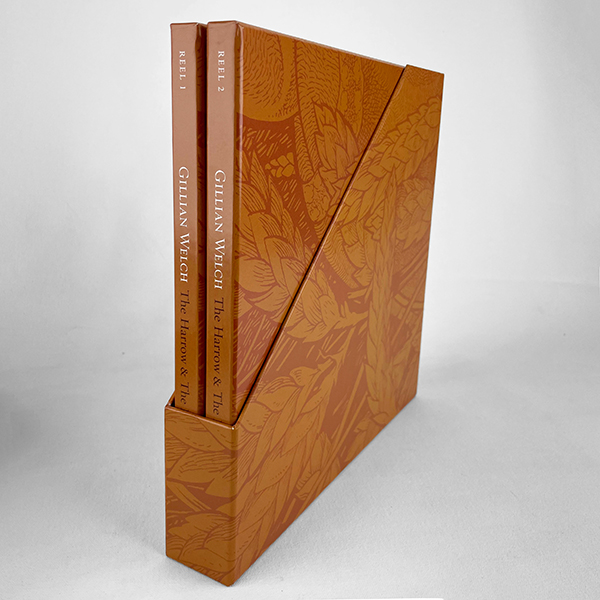 Mettler: Packaging is also very important for how the Harrow reel set looks and feels.
Rawlings: Yes. One of the things that made me very excited about the Harrow tape project was to actually be fully vertically integrated, or whatever you want to call it — as in, we wrote the songs, made the music, and recorded the music. And, at this point, we're basically making the product ourselves, and getting it to people ourselves. It's exciting now to be in the position where it's all in-house.
Mettler: Yeah, it's literally from Harrow to Harvest, so to speak.
Rawlings: (laughs) Yes! Yes, exactly — literally! It was very sweet when we were trying to figure out what to do with the photograph that's on the gatefold of The Harrow & The Harvest. We talked to [photographer] Mark Seliger and we explained how this was a fully handmade project, and he said, "How about I hand-print that photograph, and we include it as an art print? We'll all sign it, and put it in there." And I thought, "Well, that's a great little perk."
The only thing that was rough about it all is custom making the slipcase and the boxes, and having Mark do the print [separately], and all that stuff. Plus, the way that tape prices have gone up, it made the overall package really, really expensive. I don't expect we'll ever really make our money back unless we sell a large number of these. (chuckles) We did already have some pre-orders in, so that's been great. And I have a feeling — well, I'm hoping that people who have reel-to-reels are excited about this stuff. I'm hoping that they love it.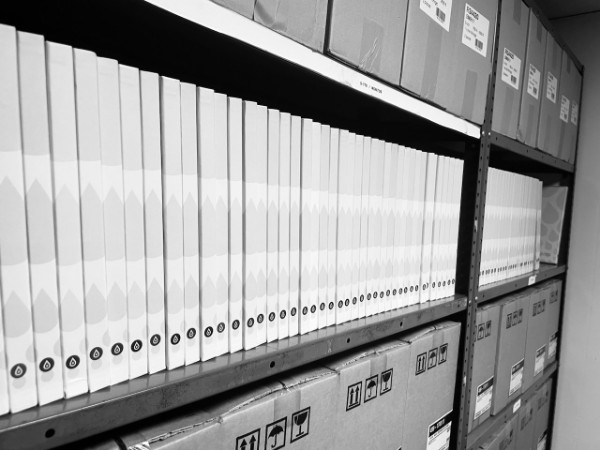 Mettler: Tell me more about the challenges you had related to the reel-to-reel packaging for the initial run you have for Harrow.
Rawlings: We have a maximum run based on the number of the boxes that we had made by Stoughton [Printing]. There isn't going to be that many of them. Currently, I'm making them to order. I initially ran off 30 sets to start with, and that's what I've got on the shelf here for the first run [as seen above, pre-final packaging]. If we sell out, I'll make more.
We also had custom inner tape boxes made. What I'm excited about is to be able to offer a product that is literally 100-percent custom. A lot of other tape projects may have similar boxes, but the artwork isn't done for the record.
What's also interesting is, I considered doing this with Time (The Revelator) [initially released on Acony Records in 2001, albeit on CD only]. And the thing about Time (The Revelator) is, I had started down the path before the tornado of cutting the lacquers for that happened. It's an incredibly challenging record because of the sheer length of it.
Mettler: Yeah, because it's like 50, 51 minutes long, right?
Rawlings: Yeah, and also, it is incredibly dynamic and uncompressed. And what I mean is, if you want the guitars to be at a healthy level on a lacquer, the vocal is tearing. It's too dynamic for a lacquer. No one ever would have made that record in the lacquer era. That record only got made because it was the CD era, and you had all this extra headroom.
Mettler: Right. A track like "Elvis Presley Blues" (Track 7) — would you have to think about that one differently?
Rawlings: Well, yeah/ "Elvis" has some peaky vocals, but even something like "Everything Is Free" (Track 9) — I mean, the guitars are so delicate, and the vocal is so loud over the guitar. In the vinyl era, that just would have gone off to a mastering engineer who would have put the whole thing through a [Universal Audio Teletronix] LA2A [tube compressor], and just squashed the heck out of it, you know? (laughs)
Mettler: Sadly, yes, I do. So, would you do a 2LP set for Time (The Revelator)? Are you thinking about what you'd do for that album?
Rawlings: Well, this is the big question. To be honest, for the experience, I think a lot of people don't love jumping up to keep switching sides. I think it would be three-sided, because I don't want to put two songs on a side. But there is a real dream that, if we can figure out how to get it sounding good enough on one disc, then that's a great experience for people.
Mettler: Yeah, that's going to be an interesting challenge, because you probably don't want to be pushing 25 minutes a side there.
Rawlings: It's going to be very, very difficult. But where I was leading with this is, if we did do a reel-to-reel project on Time (The Revelator), there is an opportunity where you can get it, and it is on tape currently — and granted, 15ips doesn't have quite the headroom that 30ips has — but I think the Time (The Revelator) reel-to-reel would be less of a challenge in getting it to lacquer.
Mettler: Okay, well, consider this as my official vote for you to do Time (The Revelator) as your next reel-to-reel project, please.
Rawlings: Yeah, that's a fantastic idea. I mean, we just wanted to put out The Harrow & The Harvest on reel-to-reel to see what happened because, given that I'm running all these things myself, it's a little bit of a (laughs) — well, if we sell a ton of them, I'm going to be like, "Ooh, what have I done?" (more laughter)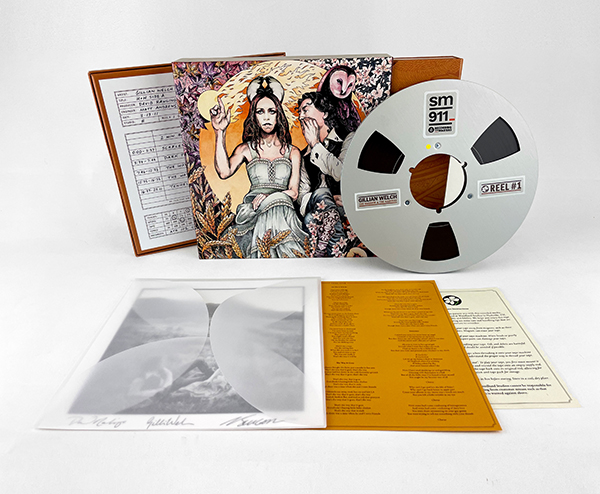 GILLIAN WELCH
THE HARROW & THE HARVEST
2 reel-to-reel tapes (2011/2023, Acony Records)
Reel 1
1. Scarlet Town
2. Dark Turn Of Mind
3. The Way It Will Be
4. The Way It Goes
5. Tennessee
Reel 2
1. Down Along The Dixie Line
2. Six White Horses
3. Hard Times
4. Silver Digger
5. The Way The Whole Thing Ends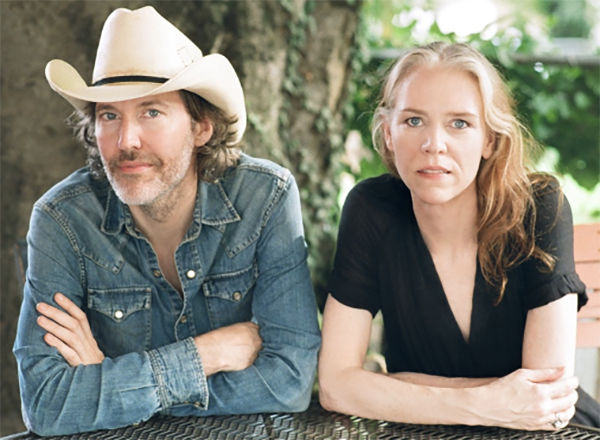 <!- ------------------------------------>