Billy Byers—Impressions of Duke Ellington —Mercury PPS 6028—The Records You Didn't Know You Needed #10—Part 2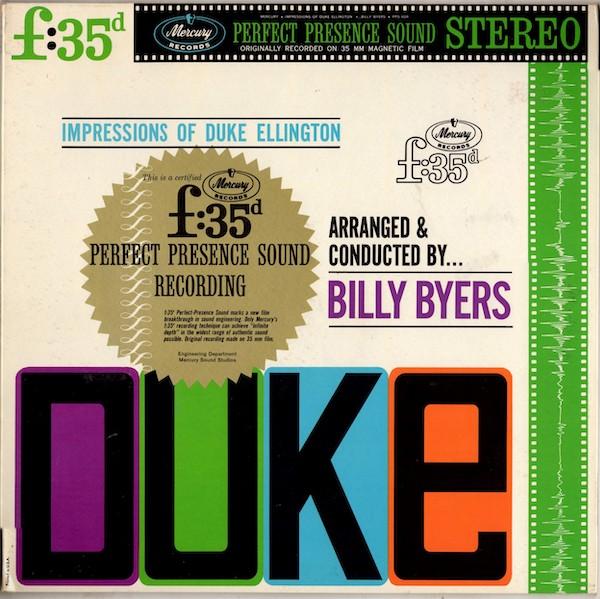 "Chelsea Bridge" is a bit of a ringer and "Satin Doll" and "It Don't Mean A Thing (If It Ain't Got That Swing) are missing, but the ten tunes on the album are the Ellington Orchestra hits and almost every adult in 1962 would have known them. They range in length from two minutes thirteen seconds to just over five minutes with most approximately three minutes. Solos are generally short and the focus is on the arrangements and the playing of the band. Byers didn't forget the squares.
The album begins with Duke's alter ego, Billy Strayhorn's "Take the A Train." It's a flashy "kitchen sink" arrangement with a tympani, a marimba, brass imitating subway horns and a slide whistle, which was probably included to show off the tweeters and that's only in the first chorus. There's a Latin beat for eight bars and then it basically follows the Ellington arrangement with Ernie Royal taking a trumpet solo in the manner of Ray Nance's classic solo on the original record.
"Sophisticated Lady," one of Ellington's greatest ballad creations, is presented in a beautiful and elegant arrangement featuring the tenor sax of Eric Dixon who plays superbly with an appropriately sad, wistful tone. Dixon was a very talented musician and a mainstay of the Count Basie Orchestra from 1961 to 1973 (No, he wasn't seen in Blazing Saddles .), but surprisingly, never made his own "solo" record.
"Just Squeeze Me" was usually played by Ellington at a slower than medium swing tempo to emphasize the sly sensuality of the melody and lyric. Byers' arrangement is a bit show-offy with shouting, punching brass over a rhythm that comes perilously close to the dreaded "businessman's bounce," the bane of the working life of band musicians. Dixon takes a wailing, aggressive tenor solo that is the highlight of the track.
"Chelsea Bridge" was written by Strayhorn and is one of his greatest compositions. Intended as a tone poem, its harmony and structure are closer to Debussy than jazz. The Ellington band performed it a bit slower than mid-tempo with subtle, moderate dynamics. Byers speeds it up and expands the dynamics with bolero percussion and aggressive playing by the brass. It's a well-crafted arrangement that makes us hear the piece in a different way. Clark Terry plays a beautiful trumpet solo by staying close to the melody.
"Caravan" starts off with a cliched Middle Eastern theme appropriate for the soundtrack of a casbah scene in an early sixties spy movie. It was musical kitsch, even in 1962 and I can't believe Byers was serious. He had to be parodying the late 50s "exotica" music craze. After the goofing around is done, the band goes into a swinging jazz feel under a Jimmy Cleveland trombone solo and then plays the Ellington theme, superbly orchestrated. Then we get bongos, a hard swinging alto solo, marimba for four bars (can't forget the tweeters), and drums and shakers before we're back to the Middle Eastern theme. The arrangement is ultra busy and the musicians must have been flipping pages like crazy but they nail it. It's overdone and a bit corny but the wild exuberance and seemingly effortless mastery of Byers and the band is just plain exciting.
"Mood Indigo" from 1930, was one of Ellington's earliest hits. He performed it as a slow melancholy tune. Byers' first chorus is dramatic with aggressive playing by the trumpets. The second chorus slows the tempo to a more jazz feel and then there is a charging Eric Dixon tenor solo that shows some Coltrane influence over a shout chorus by the rest of the band.
The cheerful, upbeat, "I'm Beginning to See the Light" was a top ten hit for Duke in 1945. His arrangement was aimed at the pop charts, emphasizing the vocal, lyrics and the catchy melody without any solos. Byers' version is a hard swinging up tempo instrumental with the band sounding fiery and aggressive, powered by the drumming of the great Osie Johnson. Jerry Dodgion's alto solo is long and a wonderful combination of wildness and technical brilliance with some bop licks. The tune ends with Joe Newman playing a simply amazing trumpet solo, using a mute while the band roars, almost out of control. This track must have been recorded after a long "lunch break."
"Solitude," one of the most beautiful and haunting jazz ballads, begins with bass clarinet playing a short intro passage immediately followed by baritone sax playing the melody. It's an instance of Byers' creativity and sensitivity to instrumental color and texture and makes the listener notice the different dark tone shades of the two instruments playing in the same range. It's a dramatic arrangement that goes from soft to loud and back, from melancholy to angry, expanding the dynamic and emotional range of Ellington's composition. Clark Terry and Joe Newman exchange some two and four bar trumpet breaks that are exciting and it seems like they are having fun trying to outdo each other. It ends with the celeste alone, playing two notes which were probably not part of Byers' arrangement, but after the preceding sturm und drang , are a perfect touch musically, not to mention a hi-fi treble sweetness demo.
On "Don't Get Around Much Anymore" Byers gives the "hi-fi nuts" something to play for the neighbors at the cocktail party after everybody's had three martinis. The tuba (!) plays the melody while the drummer, using some borrowed shoes and "by putting his hands in them puppeteer-style", imitates a tap dancer on a box covered with sand. I couldn't make that up. Things stay odd and we hear the melody played on a set of bells, the band starts swinging and there's a hot muted trumpet solo, probably by Joe Newman. It ends with a single celeste note (Listen to how clear that sounds! These speakers are rated at up to 15,000 Hz…. Oh really? Can we listen to Andy Williams, now?) and more sandbox soft shoe. Hi-fi foolery aside, it's a brilliant arrangement with a swing and swagger that would have been perfect for Sinatra.
On "All Too Soon," Byers as usual, increases the tempo and the dynamics a bit from Duke's 1940 recording. It's a creative and pretty arrangement, opening with the unusual instrumental combinations of celeste and French horns, followed by flutes and brass. Byers gives himself a trombone solo, his only one on the album, and acquits himself admirably, staying close to and bringing out the beauty and sadness of the melody.
Sonically, Impressions of Duke Ellington is the best recording of a jazz big band I have ever heard. Ellington's own Piano in the Background (Columbia CS8346), musically a superior album, recorded at Radio Recorders in L.A. in 1960, is a beautiful recording and is in second place. But it's a fairly distant second. The dynamic range on Impressions , probably due to the use of 35-millimeter tape is astonishing. This is a recording that gets loud and powerful very fast and disappears into silence instantly. There is never that feeling of "compression frustration" when you know that the big, exciting payoff crescendo should be louder.
The sonic perspective of the recording is front row, almost sitting in the band. Imaging is ultra focused and sharp. At the beginning of "Sophisticated Lady," it is clear that when the baritone sax is playing alone, he is standing up and when the tenor sax takes over the lead part, the baritone continues playing while sitting down. The instruments are clearly layered with the trumpets at the back, behind the trombones. On several occasions, it is obvious that one of the trumpets has moved forward closer to the mike to play a lead part.
The tonal balance of the record is warm and natural. The liner notes state that Fine used Telefunken U47s, a microphone known for a full, sweet and airy sound to record the woodwinds and French Horns. Highs are extended but never harsh. The trumpets are bright and brassy but do not blare. Midrange on the record is not overly lush, but clean and sweet. Notes are not tonally blurred or softened. Bass is not super deep, but tight and rhythmic. Soundstage is huge and wall-to-wall with more front-to-back depth than I've heard on any other record. The mastering is superb. Highs are extended, there is no distortion, sonic blur or sense of dynamic restriction and boy, oh boy, does the record play loud.
Robert Fine brilliantly captured on 35-millimeter film, not only the sheer sonic power but the beauty and grace of world-class musicians playing in a jazz big band. Fine was one of the greatest recording engineers and very possibly his best work was done in 1961 and 1962, using 35-millimeter film. Billy Byers was one of the great jazz arrangers and together they created a sonic masterpiece.
Impressions of Duke Ellington has never been issued on CD. The original record comes in a heavy, glossy gatefold without session pictures but lots of recording info and Perfect Presence Sound hype. The pressing is excellent. Mercury did a reissue in 1969 on their Wing subsidiary. The pressing is inferior and the cover is ugly. Original stereo copies of Impressions of Duke Ellington in clean condition can be purchased for less than $10.
All rights reserved by Joseph W. Washek
Copyright 2022
<!- ------------------------------------>