Review Explosion, Short Cuts Edition Vol. 10: A Quintet Of Classic, Darkly Beautiful Tom Waits Albums From the '80s and '90s All Receive the 180g 1LP Reissues They (and We) Deserve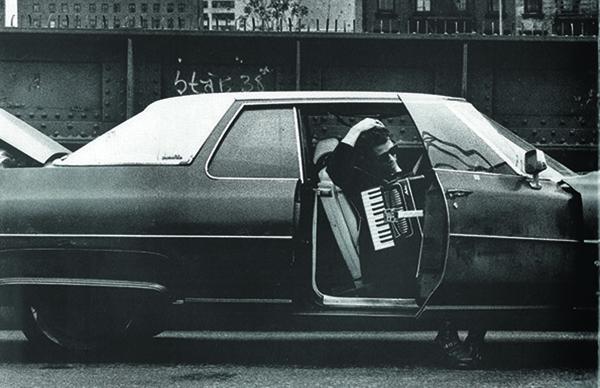 In retrospect, Tom Waits' trajectory from singer/song writer to down-beaten jazz-fueled street person scowling at the piano in the 1970s made perfect sense. But when he came out of the gate in the early 1980s, his transformation was almost as dramatic as David Bowie's Ziggy Stardust reinvention. It was as if Waits had ingested a special Dr. Jekyll & Mr. Hyde cocktail of William Burroughs-ian beat generation underground cool ice, Kurt Weill and Bertolt Brecht's Berlin-flavored dark-spiced bitters bathed in a smokey cinemascopic-kaleidoscope surrealist sideshow whiskey brew this side of Jean Cocteau, David Lynch, Tod Browning, and Fritz Lang.
Before we go further down the white rabbit hole of these passionate, purposeful post-psychedelic musical psychodramas — 1983's Swordfishtrombones, 1985's Rain Dogs, 1987's Franks Wild Years, 1992's Bone Machine, and 1993's The Black Rider — let's first look at the dynamic DNA beneath the canvas of these five new 180g 1LP releases from Island/UMe.
From the official press release (and as recounted here in our News post back on July 19, where you can also find the complete track listings for each LP), we learn that "all albums were mastered by Chris Bellman at Bernie Grundman Mastering under the guidance of Waits' longtime audio engineer, Karl Derfler. Swordfishtrombones was sourced from the original EQ'ed ½" production master tapes while Rain Dogs, Franks Wild Years, Bone Machine, and The Black Rider were sourced from the original ½" flat master tapes. Bellman meticulously transferred the tapes and then remastered the audio in high resolution 192 kHz/24-bit. The lacquers for all titles were cut by Alex Abrash at AA Mastering. The new vinyl editions include specially made labels featuring photos of Waits from each era in addition to artwork and packaging that has been painstakingly recreated to replicate the original LPs, which have been out of print since their initial release. Surprisingly, The Black Rider and Bone Machine were never released on vinyl outside of Europe and make their vinyl debut in most of the world."
Since that paragraph was, frankly, a little unclear, I directly confirmed with Universal's publicity team that these lacquers were in fact cut from those 24/192 digital files. But fear not, digital-phobes, as these very high fidelity — and periodically lo-fi — recordings sound pretty sweet in their own right. All five of the Waits pressings I received for this combo review have generally been quiet and well-centered, with some minor exceptions I'll discuss in a bit. The cover art appears to be of high quality on each album, and the new label designs are also a treat — and arguably much nicer than those now-dated Island Records label designs of the 1980s. Also, from what I can gather, these albums have all been pressed in the Czech Republic, likely at GZ.
And for those who are wondering why any of these reissues have not been spread across 2LPs, according to Universal, apparently Waits himself wanted the albums to be reproduced as closely to the their original presentation as possible. They went so far as to discover that, since the originals were made via DMM, these new editions were created in a similar process. According to those official press materials, "the remastering process and reissue series has been personally overseen by Tom Waits and longtime songwriting and production partner, Kathleen Brennan." Respect.
Before we get into the album-by-album nuances, I thought you'd appreciate a snapshot of why you might be interested in buying any or all of these new 180g 1LP reissues, each of which carry an SRP of $29.99. At the time of this posting, in looking at Discogs, the six available original NM 1983 U.S. original pressings of Swordfishtrombones range in price from $60 to more than $300. Similarly, Rain Dogs originals — 13 of them in NM condition — range from $99 to more than $500! NM copies of Franks Wild Years stretch from about $60 to $184, whereas — brace yourself — Bone Machine ranges from $150 to nearly $2,000! Finally, the 14 original vinyl pressings of The Black Rider that are available range from just over $200 to more than $700. Knowing all this, the thought of dropping around $150 for five brand new, 180g high-quality reissues of these classic recordings feels like an utter bargain.
And now, it's time to do some (with apologies to the first album title here) Waitsianalbumreviewing for this special all-Tom Waits edition of Short Cuts. For the purposes of this review, I listened to all five of these albums chronologically. Here's how they stack up.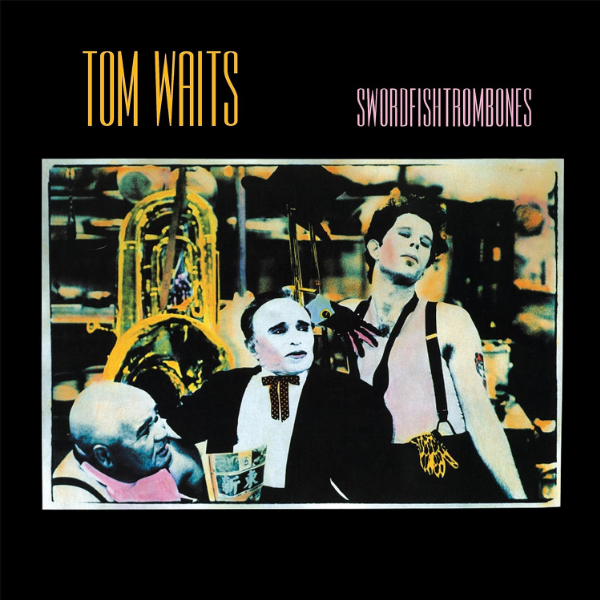 SWORDFISHTROMBONES (1983)
MUSIC: 10
SOUND: 8
This is the only one of these Waits albums I've had on vinyl. The new edition stacks up nicely with only a hint of that — for lack of a better word — different presence, compared to my 1983 pressing. Now, it's not a harshness I am hearing — or feeling, really — but there is a slightly palpable sense of coolness vs. the relative warmth on my original. This is not bad, necessarily. But it is a different thing, as they say.
The new Swordfishtrombones vinyl is mastered more quietly than my original U.S. pressing (on the purple Island Records label). Songs like "Frank's Wild Years" (Side 2, Track 2) sound quite nice, with the sweet Jimmy-Smith-like Hammond Organ jazz comping in the background delivering a lovely jazzy soundstage. The vibraphone on the title track (Side 2, Track 3) displays a quite wonderful presence, and the separation of the individual instruments feels a bit more distinct than my original. "Down Down Down" rocks madly (Side 2, Track 4), while "16 Shells From a Thirty-Ought-Six" (Side 1, Track 5) literally hammers home — on a brake drum, according to the album credits — the reality that a new Tom Waits had arrived, and fully formed.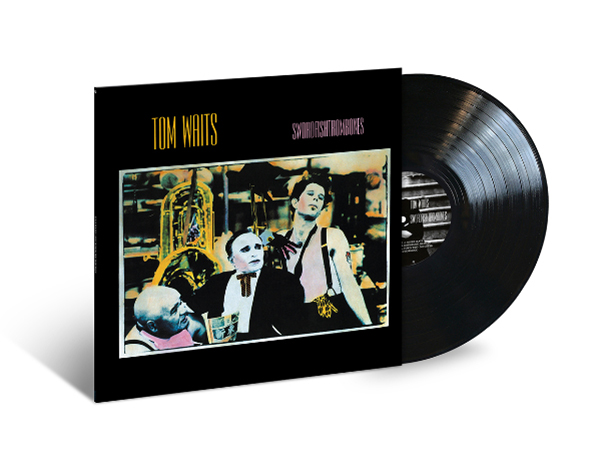 The only glitch is that I did hear a fleeting bit of surface noise — non-fill — but thankfully, it was very short-lived, and thus not a deal-breaker for me. In short, Swordfishtrombones is a great starting point for this new Tom Waits reissue series.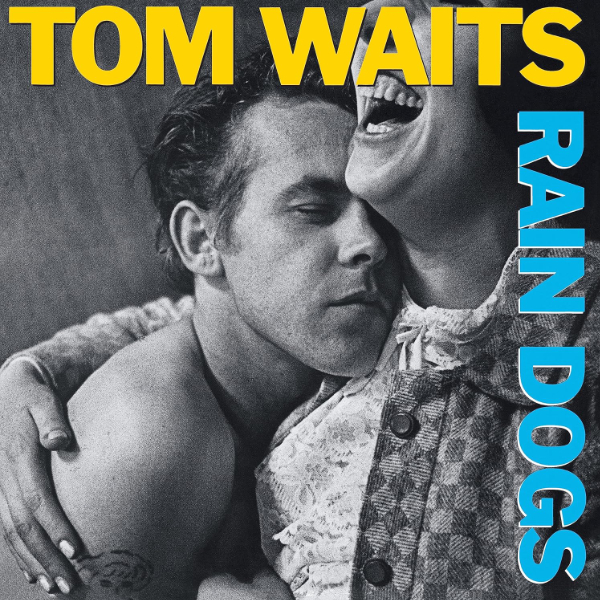 RAIN DOGS (1985)
MUSIC: 10
SOUND: 8
Curiously, Rain Dogs is mastered more quietly still than Swordfishtrombones — and I only noticed this when switching between the albums and I had to turn it up a bit to match that level. That said, even when you play it quietly, Rain Dogs is indeed a masterpiece, with Marc Ribot's angular guitar soloing on "Clap Hands" (Side 1, Track 2) really calling attention to the fact that you've entered into Waits' latest mad universe.
I also like how "Jockey Full of Bourbon" (Side 1, Track 4) sounds when played very loudly. The brilliance of bringing in Keith Richards to play guitar on songs like "Union Square" (Side 2, Track 5) is probably part of the reason this album commands more coin on the collector's market — seeing how Rolling Stones fans will pay extra for Richards riffs! Meanwhile, "Blind Love" (Side 2, Track 6) recalls the loose country vibe the Stones captured on the 1978 Some Girls track "Far Away Eyes," so Keith fit right in with Waits' musical landscape on this recording.
Again, there were a couple teensy moments of non-fill-like surface noises happening here, but nothing repetitive or super-annoying. Like the prior album, Rain Dogs comes housed in a nice recreation of the original lyric sheet-covered inner sleeve.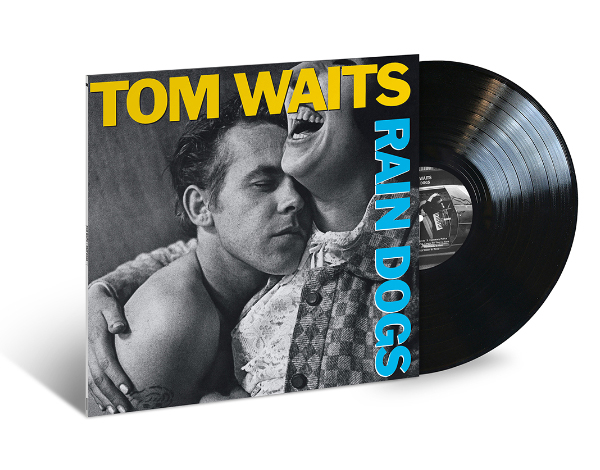 I do wish UMe had included the custom inner sleeve and packed the vinyl disc in its own plastic lined sleeve separately. But, hey, every additional item added to a production can bump up the cost to the consumer, so I get it.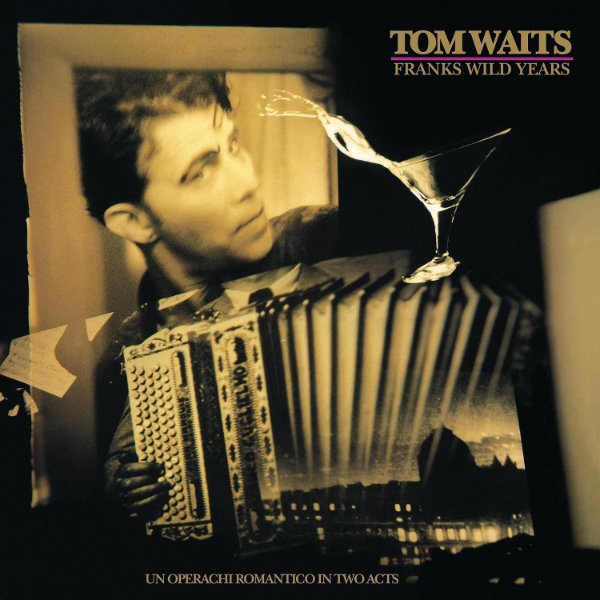 FRANKS WILD YEARS (1987)
MUSIC: 10
SOUND: 9
I actually don't have as much to say about Franks Wild Years, as it is pretty much my favorite album of the original trilogy and probably my favorite of Waits' albums overall. This LP contains some of his greatest compositions and musical constructions, such as the two versions of "Innocent When You Dream" ("Barroom" version, Side 1, Track 5, and "78" version, Side 2, Track 8), "Temptation" (Side 1, Track 4), "Cold Cold Ground" (Side 2, Track 6), and "Straight to The Top (Vegas)" (Side 2, Track 3).
This music here in many ways takes the sonic ideas outlined on the prior two albums and packages them up in an operatic form, as both Act I and Act II are split on each side of this disc. Overall, the sound on this new Franks Wild Years reissue was excellent. Album opener "Hang On St. Christopher" (Side 1, Track 1) delivers a big sonic punch with throbbing low bass, skronky horns, and a wonky guitar solo supporting a floating rhythmic clang that sounds like someone smacking a metal sheet with a hammer in a concrete room — the latter of which I wouldn't be at all surprised if it actually is! Finally, "Please Wake Me" (Side 1, Track 8) — with its warped oompah circus organ feel — always sends a shudder down the spine.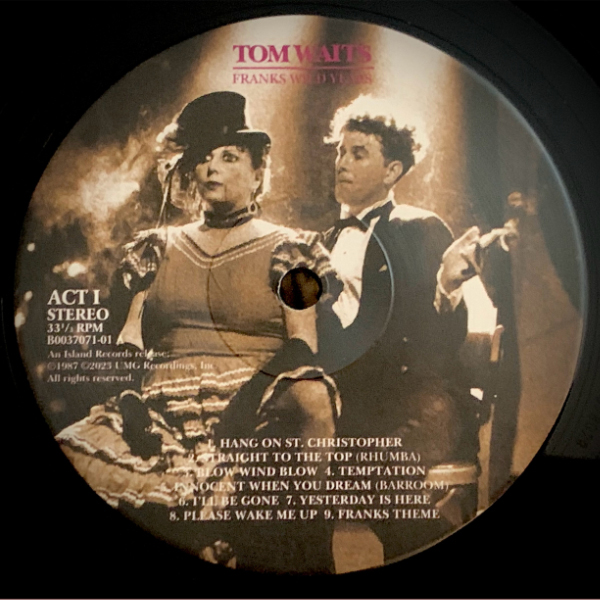 The vinyl for Franks Wild Years came housed in a plastic-lined black paper inner sleeve, which neatly showcases the neat new picture label. My pressing of this LP was quiet, and well-centered, so nuff said. If you need a good place to start in exploring this particular period of Waits' music, Franks Wild Years would be my first recommendation. Finally, I would love to see a stage production of this work of his someday.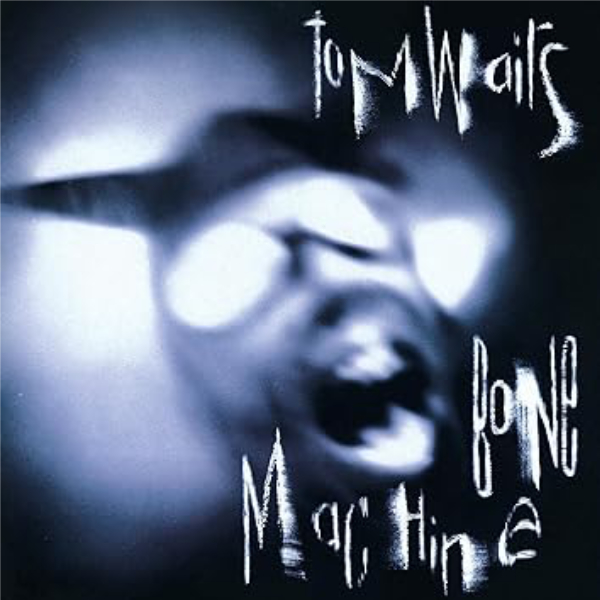 BONE MACHINE (1992)
MUSIC: 9
SOUND: 8
This album addresses the question for any artist who achieves a pinnacle of success with a certain release — or, in the case of Tom Waits, a series of releases — namely, what do you do next to top that last act? Well, if you are Tom Waits, you re-emerge with the aggressive, raw-sounding, and at times heart-wrenching Bone Machine.
Of the five albums reviewed here, Bone Machine is probably the one I'm the least familiar with, as I didn't fully connect with it back in the day. The feel is bare bones (no pun intended), stripped back, less lush, and more intensely percussive overall. Heck, there is even a tune titled "All Stripped Down" (Side 1, Track 4). <> Bone Machine is, at its heart, a sort of proto-21st century blues with a nod to Captain Beefheart by way of the darker side of Howlin' Wolf — and going into it with that expectation may help in your appreciation for it.
Lyrically, "Earth Died Screaming" (Side 1, Track 1) resonates more strongly than ever in these scary climate-changing times we live in. "Jesus Gonna Be Here" (Side 1, Track 7) feels like a lost southern gospel tune recorded on the back porch of a home in the neighborhood of one of David Lynch's movies. Bone Machine contains at least one bonafide Waits classic in "I Don't Want to Grow Up" (Side 2, Track 6), a song that gained some notoriety not only from its fabulous music video directed by Jim Jarmusch, but also when it was later covered by the Ramones and Broken Social Scene.
Frankly, it's been so long since I'd listened to Bone Machine that revisiting it for this review on vinyl was like hearing it for the first time, in many ways. I am digging it much more now than I did when it came out in 1992. Hearing it on vinyl for the first time may be helping me connect with the music more, as the new mastering feels more welcoming. (Perhaps I'm just more ready for its message, I'll admit.)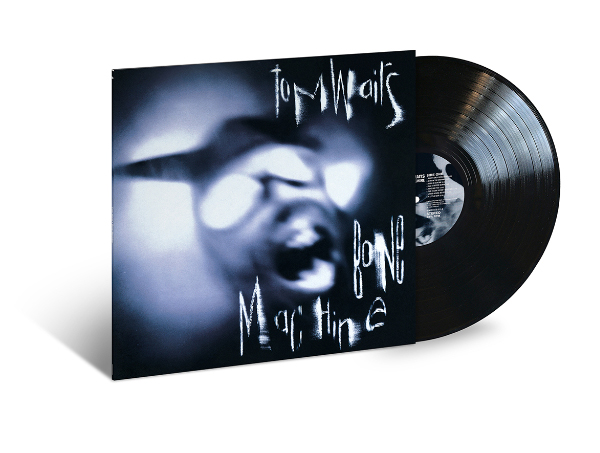 Pressing-wise, my copy of Bone Machine was generally fine, although I did hear a couple of very minor and non-repeating moments of surface noise happen at random points. Given that it is such a musically raw album, the split-second of noise didn't detract from my listening experience. Other than that, this pressing of Bone Machine seemed very quiet and transparent.

THE BLACK RIDER (1993)
MUSIC: 9
SOUND: 9
My love for the last album in this combo review, The Black Rider — which was co-written with Robert Wilson and William Burroughs — is no doubt enhanced by the fact that I happen to live in San Francisco and was fortunate to see its jaw-dropping 2004 stage production here.
A heavy classic story about a deal made with the devil, like many of Waits' best albums, The Black Rider immerses you in a musical universe that feels at times like you are listening to an original cast recording of a 1920s off-the-Reeperbahn theatrical production run through 21st century eyes and ears. This album clangs and clinks, and clutters and flutters like nobody's business. My vinyl copy of The Black Rider sounds real good, too.
The official press release supporting all five of these reissues offers some more colorful insights about The Black Rider: "Based on the 19th century German/Bohemian folk tale of a young clerk who makes a deal with the devil ("Der Freischütz," famously an 1821 opera by Carl Maria Von Weber), The Black Rider is Waits at his most surreal, playful, musically gnarled. Think: 1929 Berlin cabaret meets "Frankenstein" if F.W. Murnau movie sets could sing. This two-and-a-half-hour musical fable (Wilson calls it an opera) premiered March 31, 1990, at the Thalia Theater in Hamburg, Germany, and is still part of standard repertory in Europe. Waits did not sing or appear in the production, which featured a cast of eleven (Marianne Faithful played "Pegleg" — the devil — in a 2004 Wilson world-touring revival), and has been extensively staged in the U.S., Canada, Australia." (Sidenote: Sadly, Marianne Faithful was sick the night I went to see The Black Rider, but her understudy was fantastic!)
The Black Rider is an amazing journey that includes at least one out-and-out Tom Waits classic — the album's near finale "Lucky Day" (Side 2, Track 8) — but also, the title track (Side 1, Track 2) will sink its earworm into your soul in short order. There are many, many joys to discover here. Highly recommended.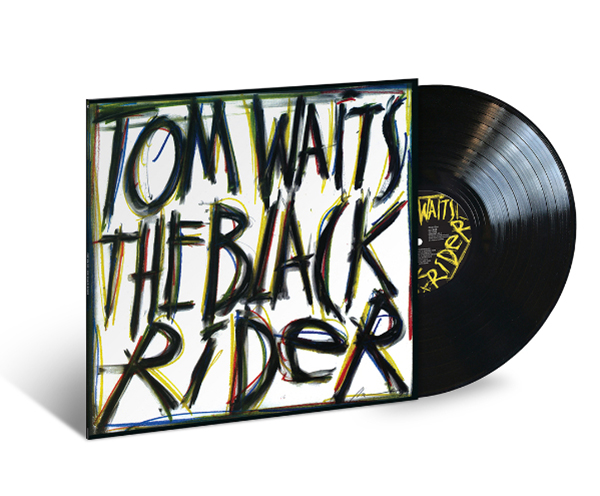 The bottom line is, any one of these fine five Waits 180g 1LP reissues from Island/UMe are well-worth your listening time and your LP-spending money. You really can't go wrong here, so if you can afford the freight for all five of these reissued Waits LPs, then I say, go for it!

(Mark Smotroff is an avid vinyl collector who has also worked in marketing communications for decades. He has reviewed music for AudiophileReview.com, among others, and you can see more of his impressive C.V. at LinkedIn.)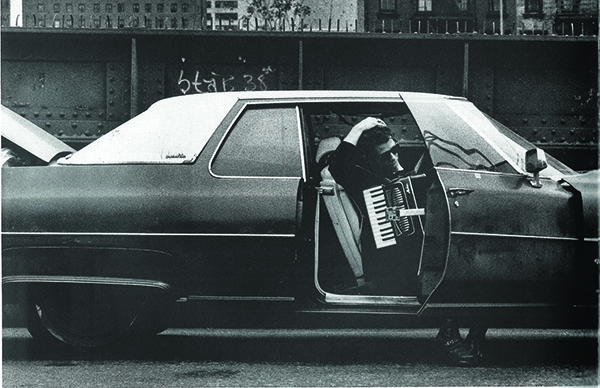 <!- ------------------------------------>