Review Explosion, Short Cuts Edition, Vol. 11: Recent Studio and Live LPs From a Trio of Cool Indie Artists Including Guided By Voices, The Flaming Lips, and Thomas Walsh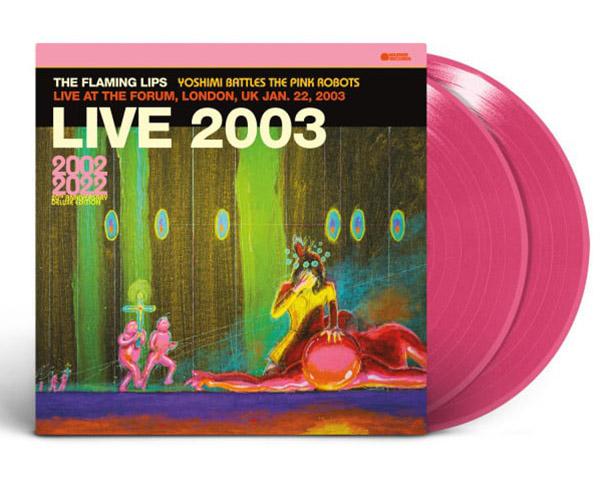 These days. it's amazingly difficult to keep up with the constant flow of music hitting us from every which way. Thus, we've been investing our time in producing more of these theoretically shorter-form Short Cuts review bursts under the Review Explosion banner, something that enables us to give you the skinny on music we are enjoying on vinyl that might otherwise get overlooked. Here are a trio of new indie-oriented LPs I've been digging lately — and, hopefully, you will dig them too.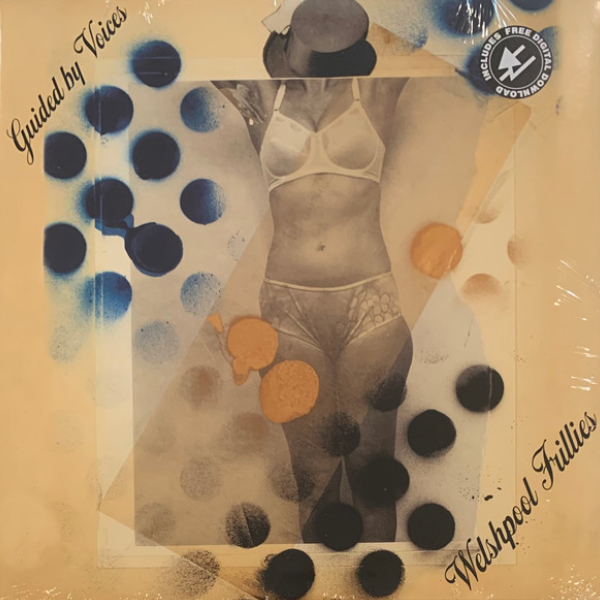 GUIDED BY VOICES
WELSHPOOL FRILLIES
1LP (Guided By Voices Inc.)
MUSIC: 8
SOUND: 7
By the time this review posts, there may well already be another new Guided By Voices (GBV) album released and in the stores. Seriously! This Ohio-bred group — and their founder, Robert Pollard — are so incredibly prolific, it's quite mind-boggling how many albums they consistently put out, which translates to at least two LPs per year, and often times more! (When do they sleep?)
The current incarnation of GBV is arguably at its best in terms of finding and achieving a balance between brazen indie rock bravado and advanced musicianship. On their new Welshpool Frillies album, the band took their prog rock-worthy chops a step further by recording the entire album in live takes at a studio in Brooklyn, New York.
Pretty much every GBV album has grown on me rapidly with repeated listens, as each spin plants another insidious earworm that makes you want to play the record over and over again. This is a good thing indeed, and Welshpool Frillies is no different in that regard.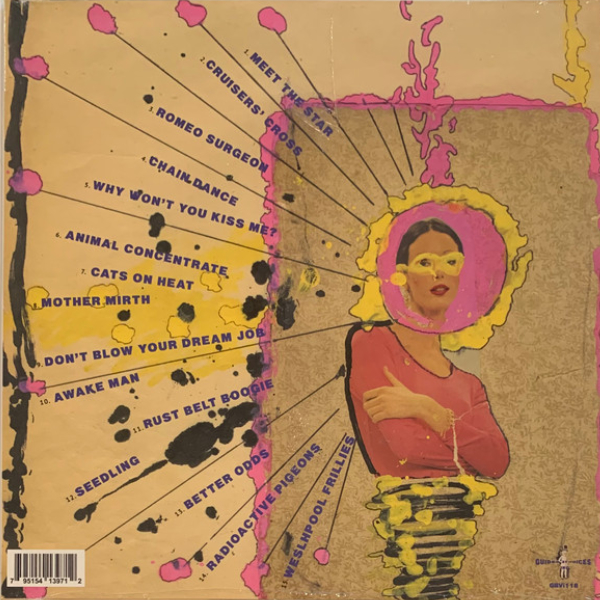 The riffs on tracks like "Cruiser's Cross" (Side 1, Track 2) and the lush power pop of "Why Won't You Kiss Me" (Side 1, Track 5) are great examples of that GBV magic in action. And "Radioactive Pigeons" (Side 1, Track 6) is pretty much one continuous chorus glued together with the essence of Pete Townshend and The Who.
For a group that has thrived for 40 years on the independent music scene, GBV still sounds remarkably fresh and alive, a spirit belying their age and experience. Drummer Kevin March and bassist Mark Shue have formed one of the most powerful GBV rhythm sections to date. Coupled with the one-two punch of dueling guitarists Doug Gillard (a modern-day Mick Ronson, in many ways) and Bobby Bare Jr. (yes, he's the son of that legendary country artist), the current GBV is one palpable rock force.
The price of entry into picking up a new GBV album is not super-heady, but be forewarned that finding originals of their earlier albums is not that easy, as those records were typically limited editions and are thus always in demand among collectors.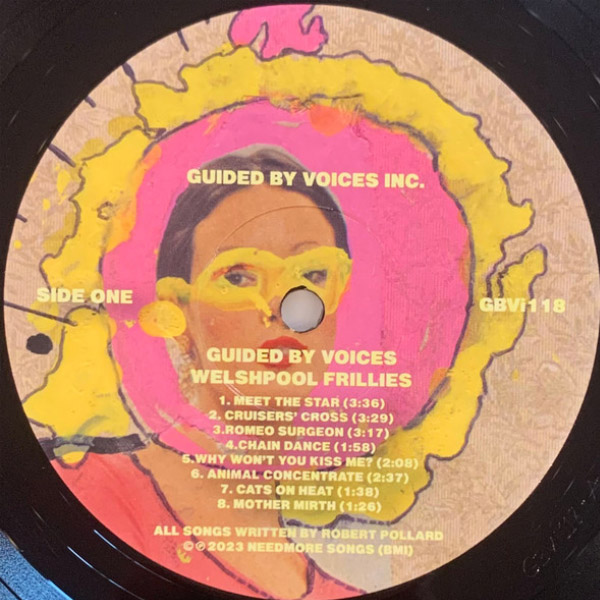 To that end, the SRP for Welshpool Frillies is $23.99, and the production quality is generally quite high. This quiet and well-centered LP comes housed in an audiophile-grade plastic-lined inner sleeve, plus a sheet of lyrics. Lately, GBV albums are even sporting custom label designs, while the covers often feature artwork collages crafted by founding member Pollard himself.
If you aren't familiar with GBV, an alternate universe of hard rock glory awaits you. GBV exists in world where The Who, The Kinks, The Stones, and The Beatles reign supreme, and the singer feels like he might have cut his teeth playing gigs at The Marquee Club in the swingin' '60s. In a word — fun!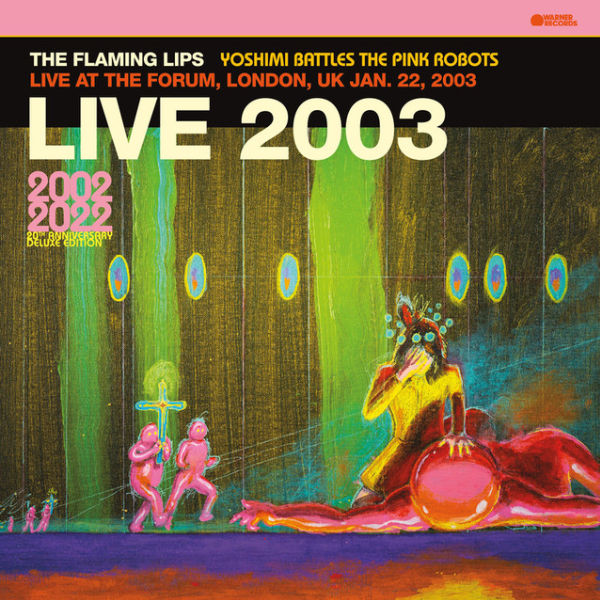 THE FLAMING LIPS
LIVE 2003 (YOSHIMI BATTLES THE PINK ROBOTS LIVE AT THE FORUM, LONDON, UK JAN. 22, 2003)
2LP (Warner Records)
MUSIC: 9
SOUND: 7
The Flaming Lips have been on quite the tear of late, celebrating the 20th anniversary of their July 2002 breakthrough album Yoshimi Battles the Pink Robots. Not only have this Oklahoma-based collective conducted a major tour performing the whole album from beginning to end, but they've even issued several elaborate box sets with all manner of bonus tracks and rarities. (You can read AP editor Mike Mettler's interview with Lips frontman Wayne Coyne about the core Yoshimi 180g 5LP box set right here.)
The Lips recently issued a previously unreleased-on-vinyl live show from 2003, recorded in London on their last night in the UK on that tour. While likely recorded digitally, the professionally mixed soundboard recording quality beneath the 2LP set Live 2003 (Yoshimi Battles the Pink Robots Live at The Forum, London, UK Jan. 22, 2003) is quite excellent — and actually, if I'm not mistaken, I think it was recorded for a UK radio broadcast at the time (in a country where the band was enjoying significant radio hits).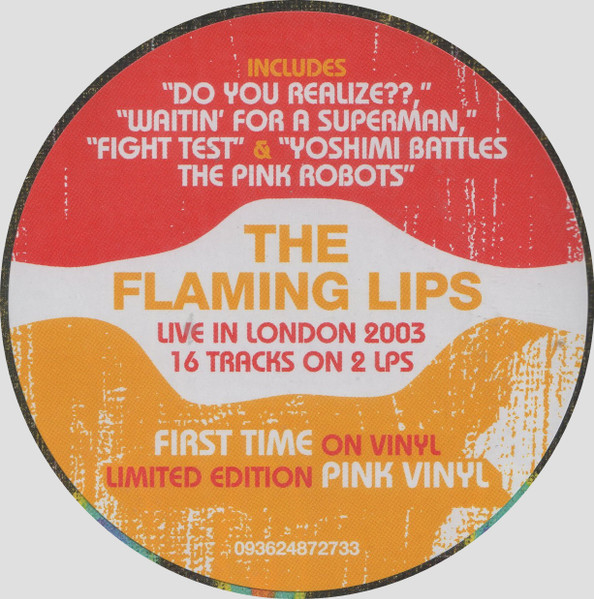 This recording was good enough that the band had the disc lacquer mastering handled by Bernie Grundman of Bernie Grundman Mastering. Pressed on standard-weight, opaque pink vinyl — in a limited edition 2LP set that is mostly very quiet — I've been pleased how good Live at The Forum, London, UK Jan. 22, 2003 sounds overall. Unfortunately, I did hear a bit of significant pressing noise at the end of Side 4 that forced me to ding my Sound rating down a notch, especially as it came during a quiet section of the performance — but, hopefully, my copy is just a one-off anomaly.
It is also interesting to hear how different The Flaming Lips sounded at this point in time, as they were embracing then-new stylistic directions and finding their future groove, one that leaned more toward progressive rock flavors. Like Yes before them, The Flaming Lips open this show with a dynamic classical recording — in their case, Carl Orff's Carmina Burana. (As some/many of you likely recall, Yes used to open their shows with a snippet from Igor Stravinsky's Firebird Suite.) The impact of that opener before The Lips kick into "Race for the Prize" (from May 1999's The Soft Bulletin) packs quite an emotional wallop, setting the stage for the exciting show to come.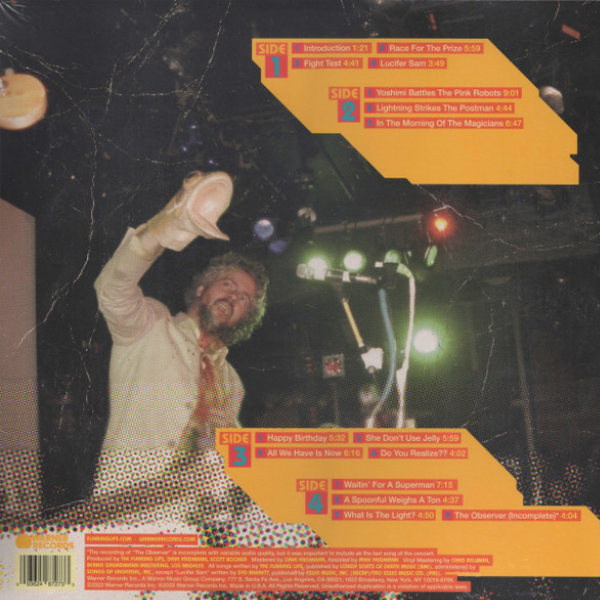 The Flaming Lips sound great on Live at The Forum, London, UK Jan. 22, 2003, if a little bit raw in some ways. Coyne was clearly having a little trouble with his voice that night, but once you get past those moments (yes, it does get better!) and just bask in the power of the performances, you realize why they decided to issue this concert as a special-edition 2LP pink vinyl set. The no-doubt adoring Lips-loving audience is clearly very much right there with the band for a joyous rollercoaster ride — which is very much the case at every Flaming Lips concert I've ever seen!
Along the way, expect to hear The Flaming Lips remain wonderfully adventurous, and they even throw in some special jams. Their cover of Pink Floyd's classic "Lucifer Sam" (Side 1, Track 4), from that British band's groundbreaking August 1967 debut album The Piper at the Gates of Dawn, rocks madly!
There have been many Flaming Lips albums released in the past 15 or so years — almost as many as GBV, depending on your perspective. In my experience, as a fairly completist collector, those LPs are mostly wonderful, always interesting, and many times exciting — and that also well describes Live at The Forum, London, UK Jan. 22, 2003, which is available for a very reasonable SRP of $34.99.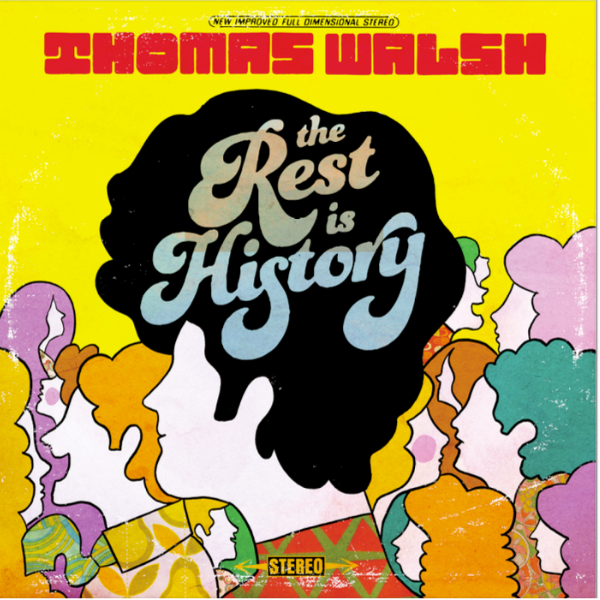 THOMAS WALSH
THE REST IS HISTORY
1LP (Curation Records)
MUSIC: 10
SOUND: 8
It finally hit me while I was listening to The Rest Is History — the wonderful new 1LP set on Curation Records by Ireland's Thomas Walsh — as to why this exceedingly talented and brilliant composer/singer's music has been resonating with me so strongly these past several years since I discovered his music.
And that is, I really do believe Walsh has unlocked the DNA of British pop music as we know it today, unraveling those magic secret messages (if you will) of songcraft within music by The Beatles, The Kinks, Electric Light Orchestra, and XTC, and reimagining them into something new, fresh, and forward-looking. Of course, that is precisely how the best new music is often created, and Walsh is clearly a musical heir-apparent in carrying forward the musical torch of melodic British rock.
On The Rest Is History, his seventh release — and the first released under his own name instead of under the umbrella of his fantastic band, Pugwash — Walsh has effectively crafted a soaring love letter of an album to both the special person in his life and his passionate, ever-growing global fanbase.
Global, you ask? Why, yes! Walsh has even had his music issued in Japan by Sony Music, not "just" in Europe. Here in the U.S., Walsh is the best-kept indie-rock secret whose music isn't really indie rock. Instead, this is music that I think can stand tall alongside your favorite tracks by any of those classic British bands I mentioned earlier.
In fact, Walsh has befriended and received gracious support from many of his (and my) musical heroes including no less than Jeff Lynne of the aforementioned ELO, Ray Davies of The Kinks, and Andy Partridge and Dave Gregory of XTC, all of whom have made guest appearances on Walsh's albums with Pugwash. Even Brian Wilson of The Beach Boys has expressed his joy for Walsh's modern-day classic "It's Nice to Be Nice," the opening track on September 2005's Jollity. Incidentally, that song was recently used in Disney's The Ghost and Molly McGee. Watch for Walsh's animated guest appearance in the short YouTube clip below, at around the 0:44 mark.
There are special guest musicians on The Rest Is History including Michael Penn (with whom Walsh composed "Take Your Time," Side 2, Track 1), Neil Hannon of The Divine Comedy (who co-wrote the infectious album opener "A Good Day for Me"), and even Joe Elliott of Def Leppard (on "All This Hurt," Side 1, Track 4). Walsh certainly travels in fine musical circles — and, in many ways, he is a classic "musicians musician" whose time is way overdue for broader audience discovery.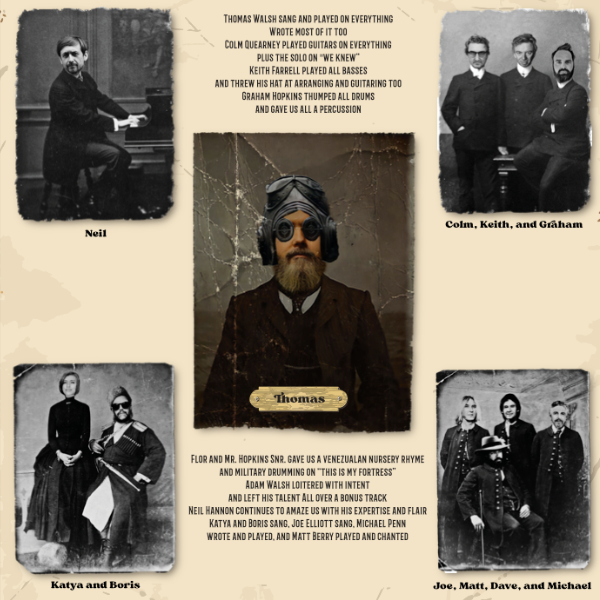 The Rest Is History is Walsh's first album to be released by the Curation Records label, and the sound quality here is quite wonderful, and possibly the best-sounding production I've heard from the artist to date. There is a nice sense of instrumentation detailing and studio presence. It is also worth noting the string sections for this album were recorded at Abbey Road Studios and conducted and arranged by XTC's Dave Gregory.
Incidentally, I purchased my copy of The Rest Is History as part of a GoFundMe campaign Walsh conducted to get this album made. You can order your own copy of it now on the Curation Records Bandcamp page right here, with a starting SRP of $27.99 for either the classic black or day-glo yellow LP options.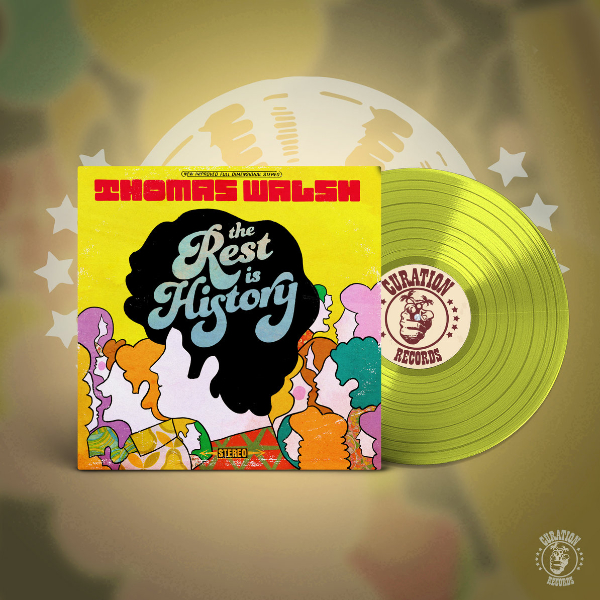 Standout tracks on The Rest Is History that embedded instant deep-root earworms for me include the above-noted album opener "A Good Day for Me" and the soaring Side 2 jangly kickstarter "Take Your Time." Another fave is "Man Lies Down Again" (Side 2, Track 4), with its impossibly hooky 7/4 stop-time chorus and brilliant Beatles/Abbey Road-homage ending.
As I mentioned earlier, The Rest Is History is peppered with love letters, including (I suspect) those to his wonderful partner Katya, who lives in Los Angeles. I've been recognizing the thread of this sweet long-distance relationship percolating across many of the earlier Pugwash albums, but it is even more direct in new songs such as "A Good Day for Me" and the swaying soft samba of "Love in a Circumstance" (Side 1, Track 3) and "Born of Kamchatka" (Side 2, Track 3), another charmer which actually includes Katya on guest backing vocals.
I find it really heartwarming to find that kind of love coming through pop music in the 21st century, something you don't hear much in these cold-hearted times. In fact, when I stopped to think about it, I realized I haven't really felt this kind of spirit on record to this degree since the '70s heyday of Beatle relationships, especially those between John Lennon and Yoko Ono, and Paul and Linda McCartney.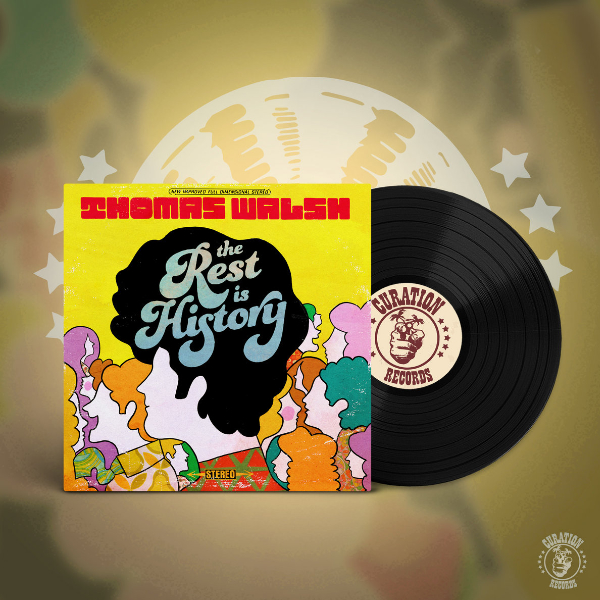 While his touring group is presently on hiatus — Walsh has been doing acoustic house concerts here in the U.S. the past few years — I have great hopes that he will eventually pull together a new band, and/or perhaps/hopefully enact a proper Pugwash reunion. (Hint hint: GBV should have him as an opening act!)
Do listen to and support Thomas Walsh, an indie artist who's trying to make a difference with his music. The Rest Is History is a magical spin, hopefully marking the beginning of a new chapter of such a worthy artist's rich musical future.
(Mark Smotroff is an avid vinyl collector who has also worked in marketing communications for decades. He has reviewed music for AudiophileReview.com, among others, and you can see more of his impressive C.V. at LinkedIn.)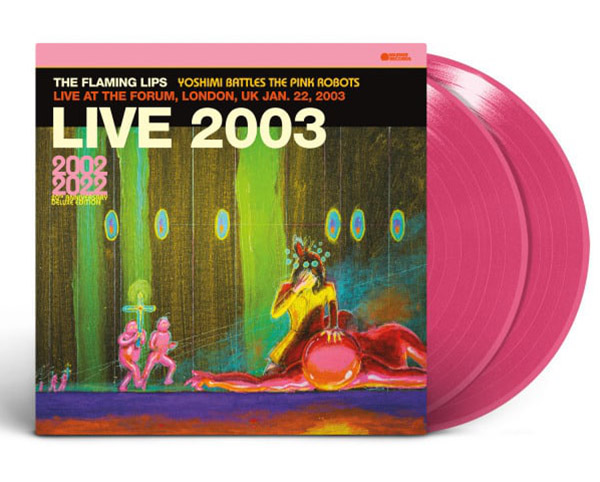 <!- ------------------------------------>