AXPONA 2018 Day One Video Coverage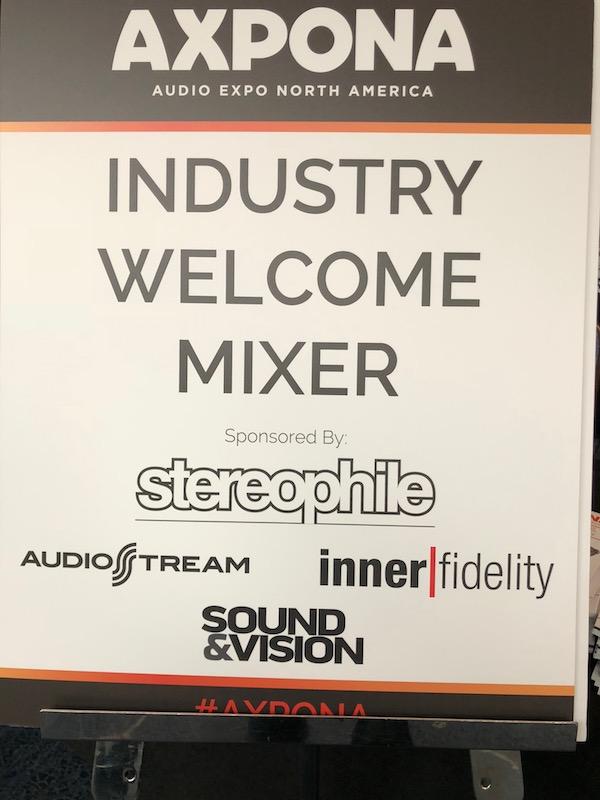 Show time! Thursday April 12th began poorly with the AnalogPlanet inbox filled with "in case you missed it, there's this big news about HD Vinyl" that this website
covered a year ago
and it continued poorly when, as I was getting my badge, I spied the sign in the image that leads this story. See what's missing?
I fixed it, adding "AnalogPlanet" using a big Sharpie. There was no time to steam or even to attend the event. The hectic schedule began with a planned visit to MusicDirect where MD's Josh Bizar took me on a video tour of the company's gigunda warehouse filled with records, SACDs and all of the equipment the company offers for sale on its website and sumptuous print catalog. The video will post after AXPONA coverage.
The show moved this year to the sprawling, architecturally dramatic Renaissance Schaumburg. The only disadvantage to the location was the additional distance to downtown, which meant fewer show participants were willing to fight traffic to get there for dinner. Fortunately the hotel food was good and the prices not exploitive.
The show itself was 30% larger than last year, sprawling across six upper floors, the large conference room filled lower level floor, the mezzanine and especially a positively enormous EXPO hall where the vinyl vendors, headphone and cable companies and the rest of the entrepreneurial class congregated. It took much of the first day just to cover the EXPO as you'll see in this hour long plus video.
It starts with a quick run through the large lower level rooms, most of which were hosted by Ann Arbor, MI based Paragon Sight and Sound and Chicago-based Quintessence Audio. Dealer support for this show has historically been strong. The video "breezes" through those rooms just to give you a show "flavor", in part because there was little analog news there. You'll see more detailed analog coverage in the EXPO coverage later in the video and especially in the hotel room show coverage where there was a great deal of news and new product introductions.
Large and friendly crowds populated the entire show. While rooms were crowded most of the three days, because of its overall size and the way it was spread out, it never became claustrophobic. What's more, while many of the 15th and 16th floor rooms were small, most everyone got good sound. For some reason the usual toxic mid-bass "bump and bloat" found in most hotel rooms was refreshingly absent.
AnalogPlanet editor Michael Fremer moderated a "vinyl industry update" panel with William Voss, Technics, Josh Bizar, Music Direct, Mat Weisfeld, VPI and Discogs' Jeffrey Smith. Music Direct's Bes Nievera video'd the panel, streaming it live on Music Direct's Facebook page, where it's still up and available for you to watch.
Among the more striking looking new products debuting at the show was the Audio Research REF 160M monoblock tube amplifier. Look closely at the transparent front panel and you'll see the working meter etched into or reflected upon the glass. It's a great look! The amp outputs approximately 160 watts using 4 KT90 output tubes.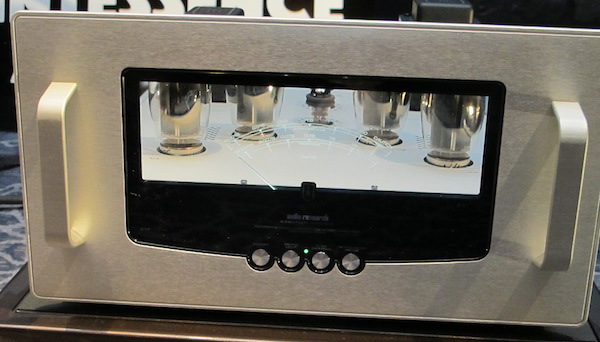 Also striking was the pair of giant Avant-Garde horn speakers including subwoofers that somehow were made to fit into a hotel room. They're not new and have been seen in other shows, especially at Munich High End, but they popped in a small space both visually and sonically.
I hope you enjoy this first video. More to come ASAP!
<!- ------------------------------------>