"Cozy" Rocky Mountain Audio Festival Off To Good Start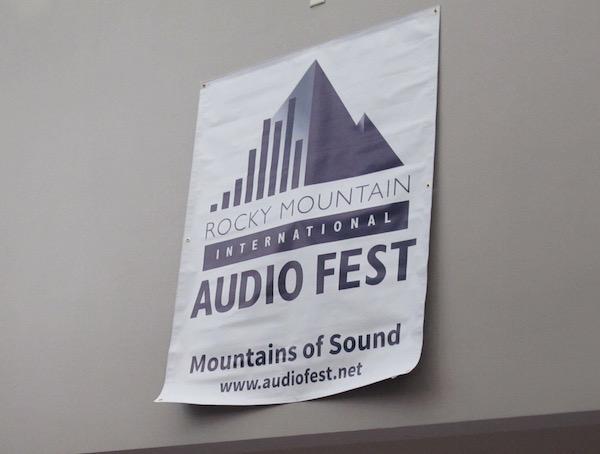 With half the Denver Tech Center Marriott closed for renovations and the other half newly renovated, the audio industry approached RMAF 2016 with caution and some cancellations. Nonetheless, industry participation was strong and most were satisfied with their rooms—at least for this transitional year.
With the entire left side of the hotel closed, only a few of the larger ground floor exhibition rooms were open. The Atrium, where people congregated for meals and to drink at the bar, was closed as was the large auditorium where seminars were held.
To compensate, show organizers added a large circus-like giant tent. All that went missing were the elephants. In was the "Can Jam" headphone exhibition that filled the entire enormous space. There were also large, portable trailers used by a few exhibitor. The sound in the trailers was better than some had expected.
Another trailer was used for seminars. I moderated a well-attended one called "The Future Of Vinyl", with participants Chad Kassem of Analogue Productions, Music Direct's Josh Bizar and Mat Weisfeld, president of VPI Industries.
It was a freewheeling discussion covering where the business is now and where everyone expects it to be down the road. Kassem said his pressing plant was operating at capacity and that he's getting read to bring online at least four of the eleven Hamilton record presses he'd recently bought in Chicago. His turntable business was also strong, he said.
Josh Bizar had similar news: vinyl record sales are strong and growing, as are turntable sales. Mobile Fidelity's new turntables will be introduced shortly.
Mat Weisfeld said VPI sales were "gangbusters" and that the company will soon introduce a completely new and simplified turntable line-up designed to make easier decision making. The optimism seemed absolutely genuine, especially because the customer demographics were spread across the age spectrum, even though most of the seminar attendees were middle age and up.
More show coverage coming up with pictures and videos, including a surprising number of new analog introductions.
<!- ------------------------------------>